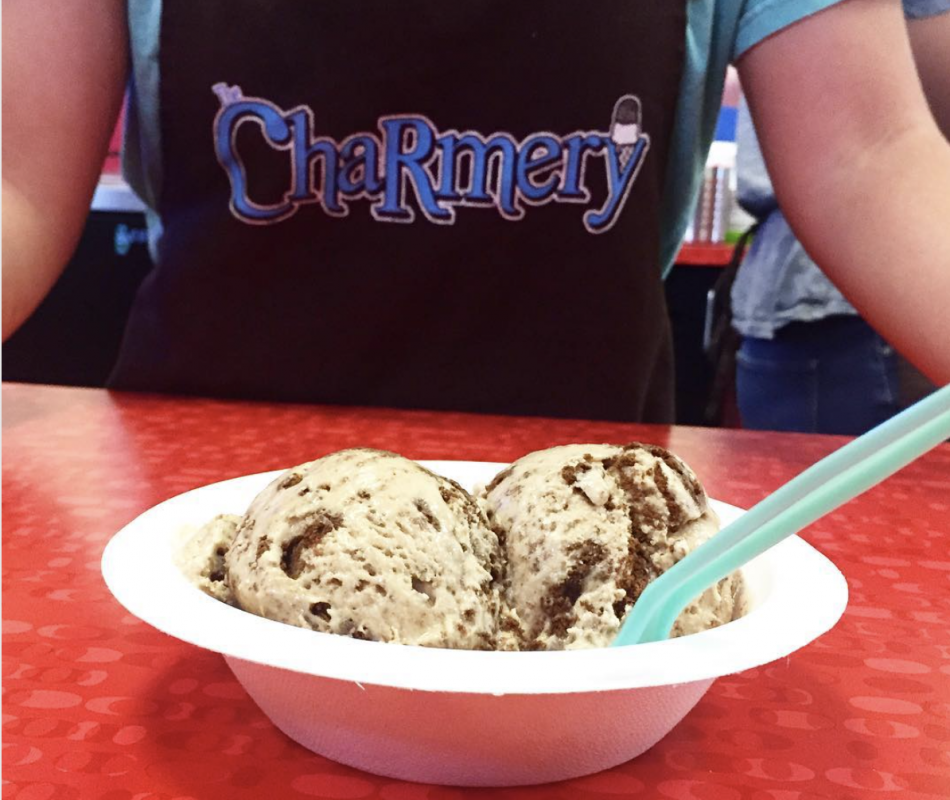 @pauliegee123 via Instagram
For the past four years, husband-and-wife duo David and Laura Alima have become known for churning out creative confections at their corner ice cream shop on the Avenue in Hampden. Though the tight-knit North Baltimore neighborhood was an ideal starting off point for The Charmery, the owners are now looking forward to serving the community in which they live.
"We have a lot of friends in the neighborhood," Laura says of the couple's home in the Govans area. "And I often see the same people walking around Belvedere Square that I see all of the time here in Hampden. It's going to be great to be able to provide another option for them to get our ice cream closer to home."
Next spring, The Charmery will debut its first Baltimore County shop in the Rodgers Forge/Stoneleigh community. The 2,057-square-foot spot will take over the vacated Mini Mart building at 6807 York Road, which neighbors other small businesses including Villagio Cafe, Pure Raw Juice, and Ayd Hardware.
"It's a really cool little spot," David says. "One of the things I love most about our shop in Hampden is that it's this neighborhood unifier. We want to be what the neighborhood wants us to be."
The news of the expansion comes on the heels of The Charmery's announcement that it will be relocating all ice cream production to a 5,500-square-foot factory inside Union Craft Brewing's new communal marketplace Union Collective later this year. The shared space will sit inside a 10.5-acre warehouse property in Medfield, and will also house Union's production facility and taproom, an Earth Treks bouldering gym, and a new distillery for Remington's Baltimore Whiskey Company.
Though the duo had been approached about expanding to many different areas outside of the city before, they say that when they came across the Stoneleigh space, they knew that it was the right fit.
"We didn't necessarily have any ideas going into it," Laura says. "But when we left the first walkthrough, it was just this visceral moment where it felt right. We never really had that feeling about any other space before. It was just like, 'That's it, that's the next Charmery.'"
The new digs will boast significantly more indoor seating than the Hampden flagship, as well as al fresco accommodations for the warmer months. David says that the increased production space at Union Collective will also allow for a boost in offerings at the Stoneleigh location—including additional baked goods, craft sodas, and grab-and-go pints.
"When it comes to ice cream flavors and what he's creating, David's mind goes in 20 different places any given day," Laura says. "To have a facility that allows him to expand upon that—I can't even imagine what he's going to come up with."
Adds David, with a laugh: "I'm going to have so many more toys to play with."
In addition to the familiar flavors (think favorites like Old Bay caramel, Maryland Mud, and Mint Mountain), the shop's whimsical aesthetic will also be recognizable to regulars. The owners plan to commission local artists like Matt Muirhead and Steve Baker to put their own colorful stamp on the interior.
"The Hampden shop is my favorite place in the world," David explains. "Ultimately that look and feel is Laura and me. It's the music that we like, my toys are all over it. Every shop that we open is going to be a reflection of what we love."