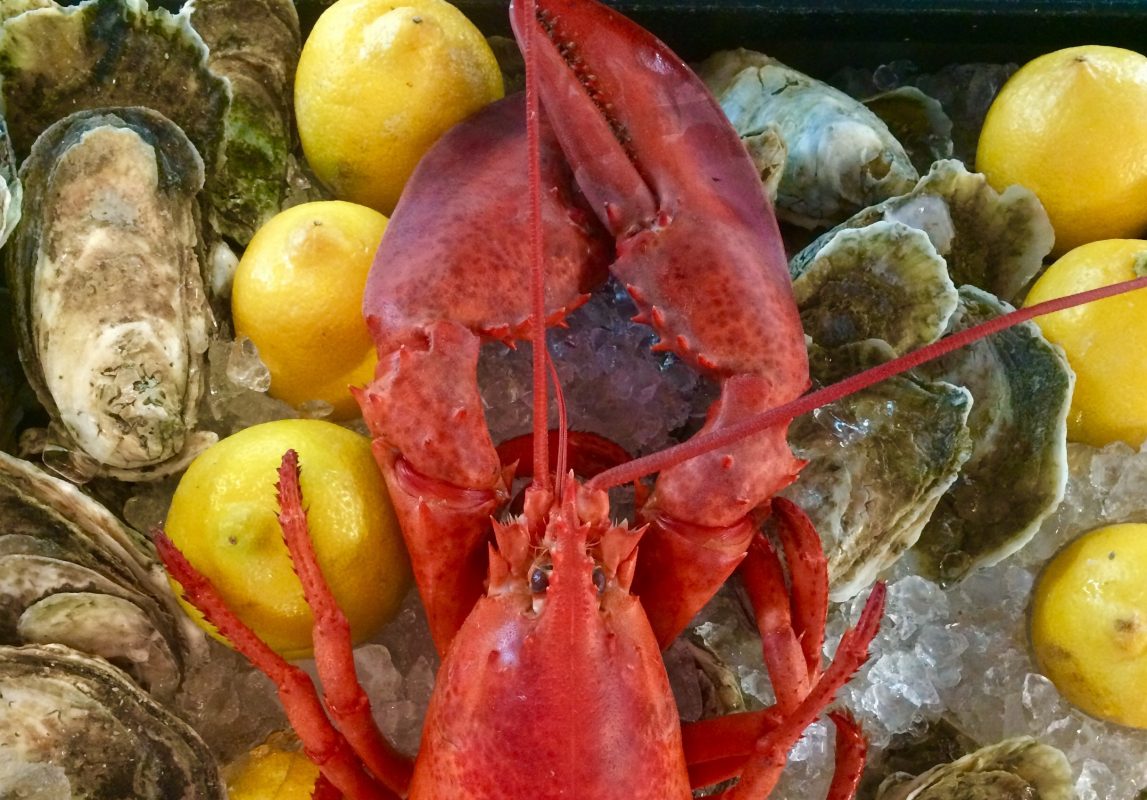 Courtesy of Tedd Henn
Next week, two of the liveliest personalities in the local food scene are teaming up to host an entertaining evening full of tender tails and cracked claws.
The Local Oyster owner Nick Schauman and chef Erik Berlin, more fondly known as Chef Egg, are continuing their recently launched seafood demonstration series with a lobster class inside Mount Vernon Marketplace on Tuesday, June 28 at 6:30 p.m.
The duo, who met at last year's Baltimore Seafood Fest, previously hosted oyster and shrimp tutorials earlier in the spring, and seminars emphasizing Union Craft beer and crabs are scheduled for later this summer.
"We're going to try to do it every month until we run out of animals in the ocean," Shauman says with a laugh.
Adds Berlin: "When you have a great idea, food, fire, beverages, and two great people working together, nothing can go wrong," he says of the partnership. "I'm all about turning people less into foodies that just enjoy the food, and helping them understand how easy it is to go into the kitchen and make these things themselves."
Berlin, a Baltimore native who got his start as a culinary instructor for Whole Foods, says that the series is a great way to dispel the intimidation factor of cooking with certain ingredients.
"Risotto is just a fancy word for creamy, cheesy, rice," he says. "Whether it be filet mignon, oysters, or lobster, I don't want people to be scared by a big name because you can cook anything with a solid technique."
For next week's lobster class, Schauman will take the lead in teaching skills like how to dig for optimal meat and how to utilize lobster shells, while Berlin will offer step-by-step instructions for whipping up dishes like Barcelona-style seared lobster, lobster roll sliders, and lobster bisque with fresh herbs. Though the chefs play different roles in the demos, they both agree that simplicity is key.
"Our whole concept for The Local Oyster is not necessarily to dumb things down, but to keep it as simple as possible," Schauman says. "There are a lot of oyster bars where you can walk in and be instantly intimidated by the selection and presentation, and Erik is really on the same page as we are in that we want to make everyone feel comfortable."
On July 26, Schauman and Berlin are collaborating with Union to host a demo at the brewery, featuring dishes like poached Skinny Dipper oysters paired with Union's Anthem ale and butter-poached cod paired with Duckpin pale ale. A crab class, complete with plenty of chilled crab salad and broiled crab imperial to go around, is scheduled for August 17 at The Local Oyster.
With a combination like seafood and summertime, both chefs are excited about getting more people on board.
"For me it's about tradition," Schauman says. "If you're born and raised in Baltimore, you eat oysters and you pick crabs. When there's a sense of tradition attached to what you're eating, it sometimes makes the food taste a little bit better."