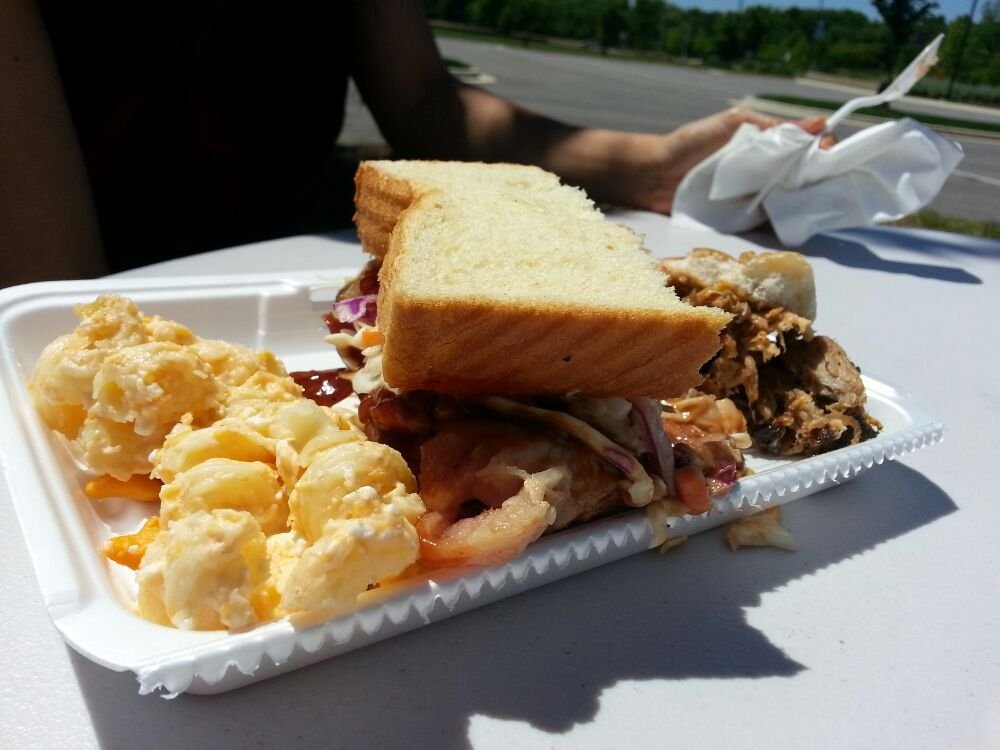 Courtesy of Yelp
Guy Fieri is showing the Baltimore food scene some serious love this year.
Back in January, the spiky-haired Food Network star showcased local staples Alewife and Miss Shirley's on his long-running series Diners, Drive-Ins, and Dives (DDD), and now, beloved meat mecca The Smoking Swine is on deck to be featured in an upcoming episode airing March 11 at 10 p.m.
While he was in town filming the segment at Miss Shirley's in October, Fieri climbed on board the silver Smoking Swine truck to whip up barbecue dishes alongside owner and executive chef L. Drew Pumphrey.
"It was brief, but it was everything that I expected it to be in a good way," Pumphrey says. "Talking to him feels like talking to someone you've known for a long time."
Pumphrey mentions that, although the show has attracted such a huge following throughout the years, bringing attention to budding businesses across the country remains Fieri's main priority.
"People like to trash talk him, but I'll tell you what, he's one of the best things to happen to the modern American culinary landscape," Pumphrey says. "You can tell from just being around him that local businesses are his entire life."
Since hitting the streets in 2012, The Smoking Swine has become known for its mouthwatering specialties like pulled pork sandwiches, smoked ribs, and the fan-favorite "Slap Yo Mama Mac and Cheese" topped with Goldfish crackers. Although Pumphrey is keeping details about the dishes featured on the show under tight wraps, he says that viewers can look forward to seeing him prepare one of the truck's most popular items.
To celebrate the episode's premiere, The Smoking Swine crew is teaming up with longtime friends at Waverly Brewing Company to host a viewing party at the brewery on Friday, March 11 at 9 p.m., complete with plenty of beer and barbecue to go around.
Although a handful of other area eateries, including Swallow at the Hollow, Joe Squared, and Johnny Rad's, have previously been featured on DDD, The Smoking Swine is the first local food truck to score its own segment.
"From day one, The Smoking Swine has strived to represent the food truck scene, not just in Baltimore but on a national level, as something that is a viable and serious business," Pumphrey says "It's not what a lot of people think—it's restaurant-quality food from eight-by-10-foot kitchens with just three people jammed inside."