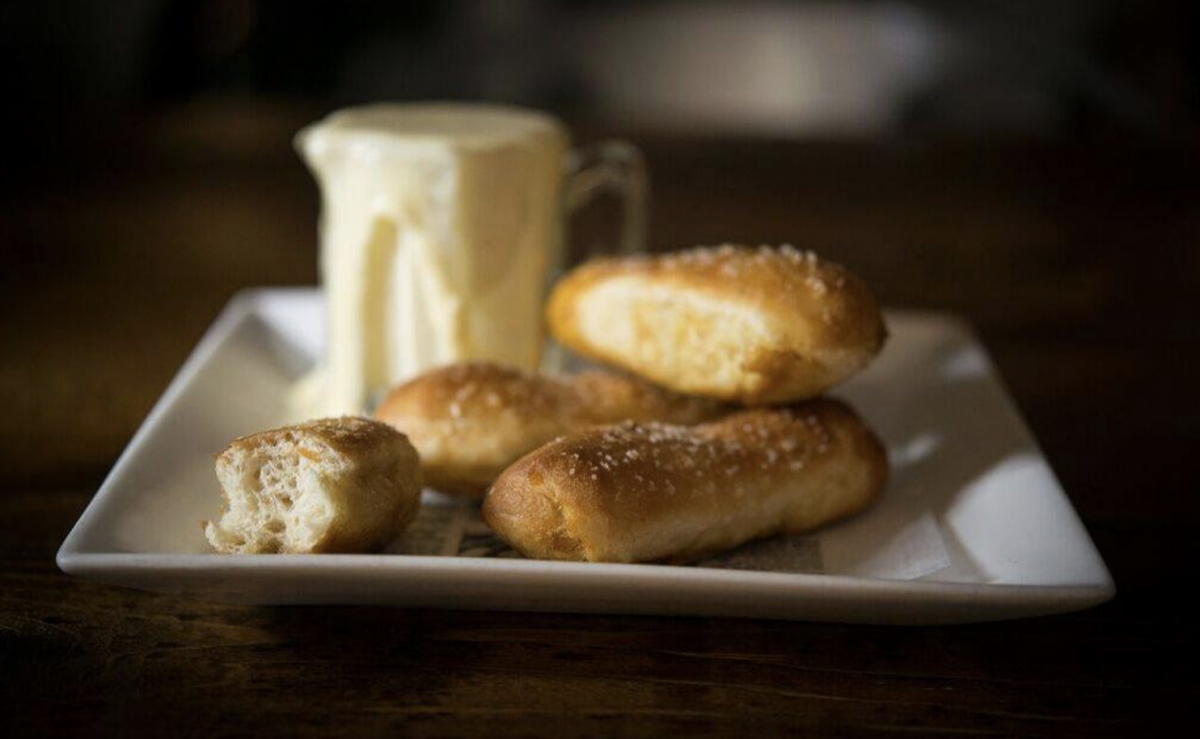 Courtesy of The Food Market
When faced with a menu of savory snacks, soft pretzels are tough to pass up. Whether you're hanging out at your neighborhood bar or strolling around an outdoor festival, you can't go wrong ordering a fresh-baked twist—with its warm inside and crisp exterior enhanced by a requisite pinch of salt. (Just thinking about it makes us channel our inner Stanley Hudson from The Office.) Locally, there are plenty of places to get your fix in honor of National Pretzel Day on April 26.
Some of the most beloved soft pretzels in the city can be found at The Food Market, Chad Gauss's comfort food spot on the Avenue in Hampden. Gauss says that the restaurant's signature sticks—which were inspired by visits to Pennsylvania's Amish markets with his grandparents as a kid—have been a hit since day one. In celebration of Pretzel Day, he will be offering free orders to all tables during dinner service. 
"That first day we tried to cook them from raw dough to order and it was literally impossible," he says. "They're just so easy-going. It's something that you can order to really excite your palate for dinner."
In crafting the dish, Gauss says he opted for the pull-apart, breadstick-style pretzels (rather than a traditional twist) to promote sharing and expose an optimal amount of crust. Each order is served alongside an overflowing cup of Natty Boh beer-cheese fondue.
"I had to use the Boh," Gauss says with a laugh. "Pretzels and cheese and pretzels and mustard are the two real ways to go, but with mustard you aren't really making anything. Beer, pretzels, and cheese all incorporate so well together. I thought, 'I can make a cheese fondue as good as anybody.'"
From traditional twists and braids to unique nuggets and knots, here are a few other top spots to partake in National Pretzel Day.
Alexander's Tavern: The soft pretzels at this Fells Point mainstay shine on a lengthy menu that highlights all kinds of pub grub. The butter-basted braids are jumbo-sized, and plated with three different dipping sauces. Pick your preference of white queso, honey-maple Dijon, or tavern mustard while catching a game or kick-starting a meal with friends. 710 S. Broadway, 410-522-0000
Brew House No. 16: Pair a flight of house-brewed beer with the pretzel bread and butter at this buzzed-about Mt. Vernon restaurant—which is housed inside a historic 19th-century fire station. 831 N. Calvert St., 410-659-4084
Crossbar der Biergarten: Federal Hill welcomed this spot—a project which took more than four years to get off of the ground—with open arms when it finally debuted on East Cross Street last year. The German beer hall is meant to harken back to the roots of Oktoberfest, with interior touches like steel doors, a living ficus tree, and communal wooden furniture imported from Munich. The German vibe is also reflected in the menu, which showcases sausages, schnitzel fingers, and, of course, giant Bavarian pretzels. Make the most of the experience by picking apart the twists while downing a boot of Warsteiner of Hefenweizen. 18 E. Cross St., 410-528-1186
Das Bier Haus: On the other side of Federal Hill, this corner hangout takes its pretzel game seriously—especially when it comes to the accouterments. Diners are encouraged to customize their giant or king-sized pretzels by choosing any of the spot's signature dipping sauces. The lengthy list features more than 20 condiments ranging from basic ranch and whole-grain Dijon to lemon-caper aioli, whiskey cream, honey-cardamom butter, and jalapeño nacho cheese. In honor of National Pretzel Day, the eatery is hosting its third-annual Pretzel Pairings Dinner featuring an array of different soft pretzels (think crab, pizza, and Buffalo-chicken flavors) alongside Devil's Backbone Brewing Company beers. 1542 Light St., 443-708-8854 
Pen & Quill: This Mt. Vernon favorite is an ideal pick for any occasion, and chef Bella Kline's snack menu certainly comes in handy if you're searching for a place to post up for drinks and light bites. Aside from deviled eggs, house-marinated olives, and French fries smothered in mushroom gravy, the list highlights a house soft pretzel with a hearty helping of porter cheddar sauce. Be sure to pair the specialty with one of the many local beers on tap. 1701 N. Charles St., 410-601-3588
Philly Pretzel Factory: As its name signifies, this Pennsylvania-based chain that recently landed in the Inner Harbor's Light Street pavilion peddles authentic Philadelphia-style soft pretzels in an array of different shapes and sizes. For adventurous diners, the shop also offers items including pretzel-wrapped hot dogs, cheesesteak pretzels, and cinnamon-sugar coated twists. 301 Light St., 410-230-0063
World of Beer: Both locations of this fan-favorite beer bar in Towson and Locust Point will be celebrating the food holiday accordingly by offering the German-style snack—which is served hanging from a hook with house-made stone ground mustard or beer cheese. The bar even recommends pairing the twisted treat with one of its pale lagers. Multiple locations including 1724 Whetstone Way, 410-752-2337