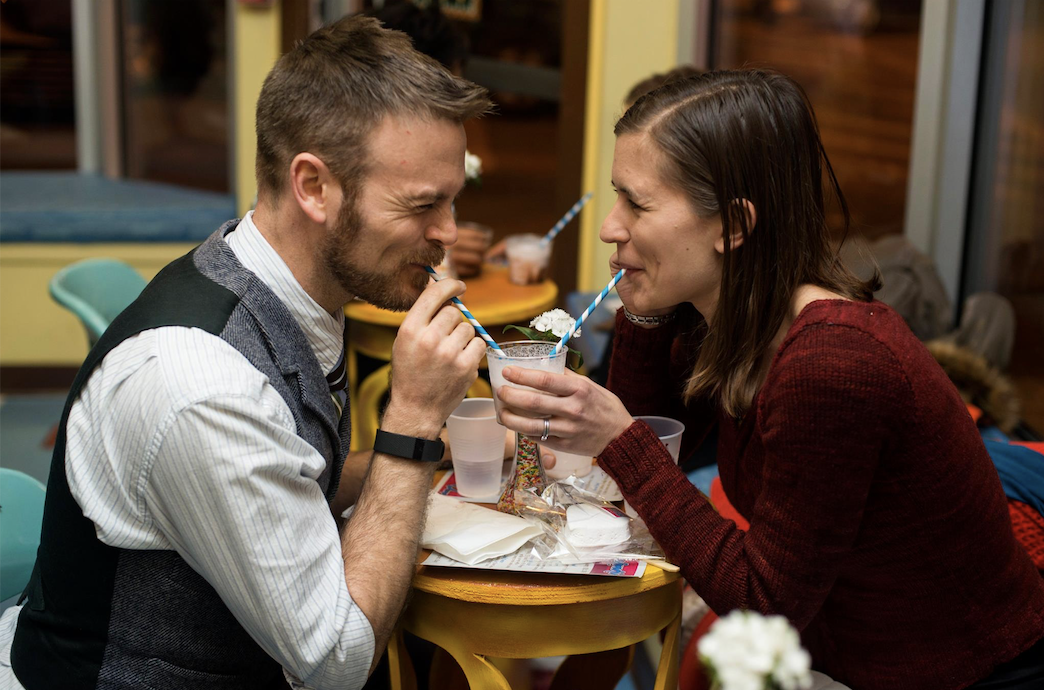 Courtesy of Elizabeth Rodenhizer Photography
Flowers and jewelry are all well and good, but the old adage rings true—the way to a person's heart is through their stomach.
David and Laura Alima, husband and wife owners of The Charmery on the Avenue in Hampden, can attest to the saying. Each year on Valentine's Day, the duo serves dozens of amorous patrons who are looking to get their fix of the shop's witty ice cream flavors like "Pure Love" (chocolate, strawberry, and champagne sorbet) and "Broken Hearts," made with mashed up conversation heart candies.
"David has this amazingly creative mind," Laura says. "He will come up with ideas and just run with them."
New this year will be a special concoction called "Swipe Right," which David says will taste like "optimism and Fireball whiskey, and leave you with a finish of regret."
Despite them naming a flavor after an online dating app, the couple met long before the days of Tinder—when they were both counselors at a sleepaway camp in Bel Air during the summer of 1998. After attending college in upstate New York (David went to Ithaca, Laura went to Cornell), they traveled around the world and later landed on the West Coast—but ultimately couldn't resist the pull of their hometown in Baltimore.
Inspired by all of the city-defining ice cream shops that they visited throughout their travels, they debuted The Charmery in 2013. Though opening a store together had its challenges, it didn't take long for the couple to get the hang of it.
"Running a business with your spouse is kind of a terrifying prospect," David says. "But I found out really quickly that Laura is just so good at this. Every day, people get to see her kick ass for our business. It's definitely drawn us closer."
Laura says that her management background combined with David's creativity strikes an ideal balance.    
"Even if we're going through tougher moments, we've been a team for so long that the only option is to move forward and figure things out," she says. "If we're not agreeing on something, we can take a step back and look to see who is the expert in that moment in time, and defer to that person. Or we just play rock, paper, scissors."
In addition to the scrumptious scoops at The Charmery, there are plenty of other local places to win over your date for the upcoming Hallmark holiday. Whether you're headed out with a group of friends or a special someone, here are our picks for the best eateries to indulge in a memorable meal.
New and Noteworthy
Ampersea: Take in the harbor-side views at this recently rebranded spot in the former home of Waterfront Kitchen in Fells Point, which is opening just in time for Valentine's Day. Chef Nelson Morton will be featuring a few amorous specials on the seasonal menu, which include dishes like oxtail stew with jalapeño cornbread and lump crab cake with a lemon aioli drizzle. 1417 Thames St., 443-681-5310
Bygone: Make it an evening to remember by heading up to the rooftop of the Four Seasons Baltimore. This new speakeasy-style spot with panoramic views of the city will be offering a special five-course menu for the occasion, highlighting regal dishes such as prime rib au jus, Dover sole, and a 16-oz. Delmonico steak. End on a sweet note with a chocolate torte or Cherries Jubilee sundae. 400 International Drive, $175, 443-343-8200
Foraged: Indulge in a three-course menu at this new spot from chef—and master forager—Chris Amendola. Be on the lookout for locally sourced specials including pastrami pork belly with a coriander glaze, grains risotto with seasonal vegetables, and braised lamb neck with glazed carrots. 3520 Chestnut Ave, $55, 410-235-0035
Rye Street Tavern: This new tavern next to the Sagamore Spirit Distillery in Port Covington is celebrating its first Valentine's Day with a three-course menu featuring its signature fried green tomatoes, wood-grilled Maryland rockfish, and dry-aged duck breast, as well as desserts like Carolina rice pudding and warm beignets with paw paw cream. 225 E. Cromwell St., $95, 443-662-8000

Fancy Fare
Charleston: Nothing says love like a meal at chef Cindy Wolf's Lowcountry restaurant in Harbor East. Make the most of your date night with porcini mushroom bisque, a toasted walnut salad with arugula and escarole, pan-roasted black bass, grilled elk tenderloin, and pan-roasted magret of duck with carrot puree and brandied cherries. End the evening with picture-perfect pastries like a Meyer lemon tart with toasted meringue. 1000 Lancaster St., $169, 410-332-7373
Citron: Delight your sweetheart with this Pikesville spot's special four-course Valentine's menu, featuring truffled cauliflower bisque, skillet prawns with Meyer lemon, beet salad with goat cheese, Hudson Valley duck, and lamb shank with black currant demi-glace. 2605 Quarry Lake Drive, Pikesville, $75, 410-363-0900
The Corner Pantry: If you're hoping to host a romantic dinner at home, this Mt. Washington staple—which celebrates its fourth anniversary this Valentine's Day—has got you covered. A special holiday catering menu boasts dishes like chocolate and espresso-rubbed short ribs, butter-poached lobster ravioli, cauliflower steak, and a pistachio and rosewater love cake with a citrus glaze.  6080 Falls Road, 667-308-2331
Gunther & Co: This beloved Brewers Hill spot is celebrating accordingly with a four-course Valentine's Day menu highlighting chef Jerry Trice's worldly dishes including soy-glazed quail, seared War Shore scallops, burrata with shaved fennel, crispy porchetta, and ice cream-filled profiteroles. 3650 Toone St., $85, 443-869-6874
Donna's: Chef Donna Crivello's Cross Keys café is getting in the spirit with a four-course menu offering pickled local oysters, black bean and mushroom empanadas, cream of celery and crab soup, slow-cooked duck in a chocolate mole, Jerusalem lamb shawarma, and mushroom ravioli in a brown butter sauce. 5100 Falls Road, $55, 410-532-7611
Minnow: Oceanic offerings take center stage at this South Baltimore spot. On Valentine's Day, enjoy a four-course meal with oysters Florentine, calamari with anchovy oil, Parisian gnocchi with English peas, and grilled rockfish with charred broccoli and black garlic turnip puree. 2 E. Wells St., $79, 443-759-6537
Hotel Hotspots
B&O American Brasserie: Snag a table at this modern dining destination inside the Hotel Monaco downtown to enjoy three courses from executive chef Scott Hines. Options will include roasted oysters with Thai basil and coconut milk, soft-boiled caviar eggs, spiced duck breast with a sweet potato puree, winter harvest paella, and a chocolate and chili soufflé with toasted almonds and a berry compote. 2 N. Charles St., $75, 443-692-6172
The French Kitchen: Love is in the air at the historic Lord Baltimore hotel downtown, whose restaurant The French Kitchen will be offering a four-course menu for the holiday. The hearty options will include classic French onion soup, crab fondue, filet mignon, beef bourguignon with Parisian mushrooms, and a roasted half chicken with Jasmine rice. Conclude the meal with sweets from the hotel's beloved LB Bakery (think truffles, Linzer cookies, and heart-shaped macarons). 20 W. Baltimore St., 410-539-8400
Magdalena: With its pretty plating and colorful artwork, this fine-dining den inside The Ivy Hotel in Mt. Vernon exudes elegance. Treat your date to a three-course dinner by executive chef Mark Levy, who is best known for his sophisticated dishes including butternut squash tortellini, smoked butter sautéed filet of stone bass, and Thai style sweet pork belly. 205 E. Biddle St., $75, 410-514-0303
Wit & Wisdom: Reserve a table near the warm fireplaces and glowing lanterns at this spot inside the Four Seasons Baltimore. Chef Zack Mills is whipping up a romantic four-course menu including dressed Chesapeake oysters on the half shell, split pea soup, butter-poached prime beef filet, Maine lobster with creamy polenta, and duck confit macaroni and cheese. 200 International Drive, $95, 410-576-5800
International Love
Alma Cocina Latina: Enjoy the interior greenery and colorful entrees at this Venezuelan-inspired spot, which is offering a three-course menu that starts off with an amuse bouche of potato and leek soup with vanilla apples. Other don't-miss dishes will include red beet salad with mussels and strawberries, Alaskan salmon with roasted lettuce, and a vegetarian potato cylinder with sofrito sauce and onion ash. 2400 Boston St., $65, 667-212-4273
Azumi: Take your taste buds on a trip to Japan at this hotspot on the waterfront in Harbor East. The chef's five-course menu highlights seared tuna and avocado, wagyu carpaccio, barbecue spare ribs, miso black cod, and a variety of special sushi rolls. 725 Aliceanna St., $95-235, 443-220-0477
Bar Vasquez: Executive chef Mario Cano-Catalan has dreamed up a three-course menu inspired by the flavors of Argentina. Snack on crispy oysters and tartare of Uruguayan filet mignon before enjoying entrees such as wood grilled lamb chops, pan seared duck, and octopus a la plancha. 1425 Aliceanna St., $85, 410-534-7296
Birroteca: This Hampden hangout is spreading the love for an entire week, offering a la carte Valentine's Day specials from February 14-21. Dig in to Italian dishes including smoked beet carpaccio, ricotta gnudi (a cousin to gnocchi stuffed with ricotta instead of potato), and scallops for two with fennel, endive, and roasted sunchokes. 1520 Clipper Mill Road, 443-708-1934
The Elephant: Spend the holiday at this elegant Mt. Vernon mansion owned by Steven and Linda Rivelis—who were married at the restaurant in the '80s. Executive chef Orlando Amaro is showcasing the spot's worldly focus with a four-course menu featuring roasted beets and coconut milk soup, blood orange glazed duck breast, grilled polenta with black truffle broth, wild mushroom and quail paella for two, and a chocolate truffle box for dessert. 924 N. Charles St., $85-115, 443-447-7878
La Cuchara: Travel to the Basque region by way of Clipper Mill at this fan-favorite. The romantic menu will spotlight plates including tuna crudo, forest mushrooms with duck egg yolk, charred radicchio with scallions, lamb shoulder, Roseda Farms strip steak, and grilled bronzino with roasted fennel and tomatoes. 3600 Clipper Mill Road, $89, 443-708-3838
Petit Louis: Cozy up next to the flickering fireplace at this Roland Park haunt, which offer a four-course menu to honor the occasion. French dishes to look out for include fois gras terrine, smoked salmon on a pumpernickel crouton, duck leg confit, grilled ribeye, and a grilled vegetable plate with couscous and green herb sauce. Don't forget to order the chocolate tart for dessert. 4800 Roland Ave., $79-119, 410-366-9393