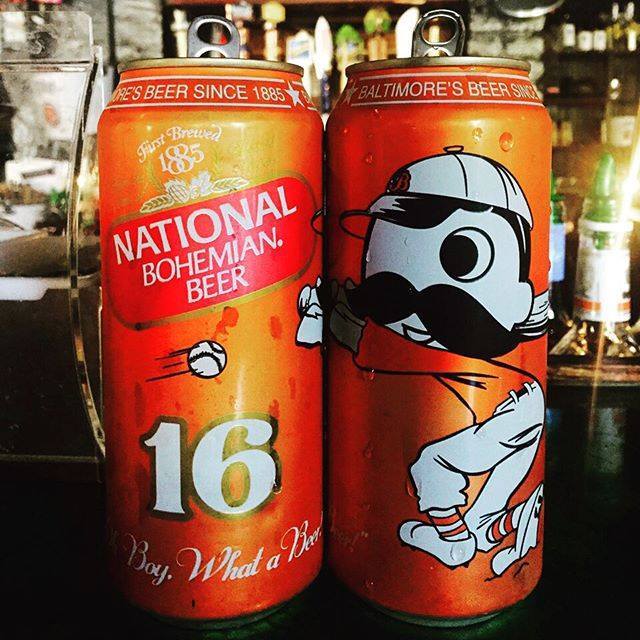 Courtesy of National Bohemian
Champagne showers filled the clubhouse after the Orioles clinched a playoff berth at Yankee Stadium this past weekend, and we're hoping that there's a little bit of that Orioles Magic left over for Tuesday's wild-card game against the Toronto Blue Jays. Though the O's won't have the home-field advantage, a handful of local watering holes are throwing viewing parties for fans to tune in from Birdland.
Bmore Around
Town:
The tailgating experts at Bmore Around Town are hosting an
Orange Watch Party at Nobles in Federal Hill starting at 7:30 p.m. For $30,
fans can enjoy an all-you-can-eat ballpark-themed buffet, raffles for tickets
to Opening Day next season, live DJ entertainment during commercial breaks, and
unlimited Bud Light and mixed house drinks until the final out.
1024 S. Charles St., 410-727-1355
DellaRose's
Avenue Tavern:
This gameday go-to is going all out to celebrate
the O's playoff run. DellaRose's will be setting up an outdoor pop-up bar on
the side of the building at 6 p.m., where fans can crack open $3 Bud Light
aluminum bottles and throw back $5 O's bombs (orange vodka and Red Bull). Other
specials of note will include the bar's signature mystery shots for $1, as well
as $1 hotdogs.
8153 Honeygo Blvd., Ste. A, 410-933-8861

Game: Featuring more than 20 big screens, old-school arcade games, and a menu full of greasy pub grub, this new sports bar in Federal Hill is a go-to hangout for Orioles and Ravens fans. To celebrate the wild-card, Game is offering guests open bar access for two hours before the first pitch for $20. Other specials will include $3 Natty Bohs and rail drinks if you'd rather pay as you go.
1400 Warner St., 410-385-0100
Huck's
American Craft:
This Brewers Hill beer bar is throwing a bird bash
featuring essentials like $2 Old Bohemian drafts, $5 Orange Bombs, and $6
Orange Crushes starting after the first pitch. No game-day watch party is
complete without greasy pub grub, and the menu lists plenty of options,
including beef sliders, cheese curds, and pretzel crust pizzas, to pair with
the boozy beverages.
3728 Hudson St., 443-438-3380
Jimmy's Famous Seafood: With a menu full of seafood specialties and
a jumbo screen around every corner, it's no wonder this Dundalk mainstay has
developed a reputation for being a game-day go-to no matter what the sporting
event. In addition to pouring free beers following every Orioles homerun,
Jimmy's will offer $1 Heineken, Dos Equis, and Tecate Cerveza bottles
throughout the game.
6526 Holabird Ave., Dundalk,
410-633-4040

Kooper's Tavern: If you'll be backing the birds
from Fells Point, head to this dog-themed community hangout to sip $4 Brewer's
Art Birdhouse cans, $5 20-oz. Miller Lites, and $5 Three Olives Orange Crushes
during the game.
1702 Thames St., 410-563-5423
The Local Oyster: Pull up a bright red barstool at this
fan-favorite stall inside the Mt. Vernon Marketplace to root for the birds
while slurping $1 Skinny Dippers tomorrow night. If you're in the mood for something a little
more hearty, pair one of The Local Oyster's signature lobster rolls or shrimp
salad sandwiches with drink specials like $3 Pabst Blue Ribbon cans, $5 rail
drinks, and $5 glasses of wine.
520 Park Ave.,
844-748-2537

Mt. Washington Tavern: This multi-level
neighborhood haunt is running specials on Brewer's Art Birdhouse cans in honor
of the wild-card game. Head to the tavern to sip individual cans for $3.50, or
order a Birds Nest Bucket of five cans for $16.
5700
Newbury St., 410-367-6903

Pickles Pub: To celebrate postseason, this Orioles
headquarters across the street from Camden Yards is throwing a bird bash
complete with a visit from Mr. Boh and live television broadcasts. From 3-9
p.m., fans will be able to indulge in extended happy hour deals including
two-for-one pitchers, $2 domestic drafts, and $3 rail drinks, as well as $8 orders
of wings and nachos.
520 Washington Blvd, 410-752-1784
Peabody Heights Brewery: It should come as no surprise that this craft beer incubator situated on the site of old Oriole Park—which houses the likes of Raven Beer and Full Tilt Brewing—is throwing a party to celebrate the birds' playoff run. Hang out in the brewery's tasting room to enjoy a $25 all-you-can-drink deal for three hours starting at 7:30 p.m. All fans who take advantage of the all-inclusive beer will get a free Old Oriole Park Bohemian pint glass to take home.401 E. 30th St., 410-467-7837
Mother's
Grille:
This Federal Hill fan favorite is always down to throw a
party in honor of the Orioles. Don your orange gear and grab a seat at the bar
to sip $2.50 Miller Lites, $3 Yuengling drafts, $4 Fireball shots, and $5
Orange Crushes.
1113 S. Charles St., 410-244-8686
Nacho
Mama's and Mama's on the Half Shell:
Squeeze your way up to the
bar at this Canton Square stalwart to order $5 Orange Crush and house
margaritas from 3 p.m. to close. The first playoff game also happens to fall on
National Taco Day, so to sweeten the deal, the Elvis-themed taqueria will also
be offering $4 chicken or pork taco bowls to pair with all of the discounted
drinks. Just down the block, the bar's sister spot Mama's on the Half Shell
will be pouring $5 Orange Crushes in honor of the game.
2907 O'Donnell St., 410-675-0898
Sliders Bar &
Grill:
Given its claim-to-fame location (771 feet away from home
plate at Camden Yards), this staple is an ideal hangout for bird watching. The
pub is featuring tons of specials for the game, including $3 12-oz. Bud Lites,
$3 Rocking Shots (Rolling Rock with a shot of whiskey), and, of course,
Sliders' signature 32-oz. birdbowls full of Orange or Grapefruit Crush for $10.
504 Washington Blvd., 410-547-8891.
Smaltimore:
This Canton beer bar known for its pages-long draft list of domestic and
international brews is running a beer-and-burger special for the Orioles-Blue Jays
matchup. Post up in front of one of the multiple flat screens to enjoy a
burger, fries, and any draft beer for $10.
2522 Fait
Ave., 410-522-1421

The Greene
Turtle:
You can always count on this Maryland staple to show off
its hometown pride during Orioles and Ravens games. The Greene Turtle is
backing the birds by offering fans $3 Natty Boh pints at all Baltimore-area locations
during the wild-card game.
Multiple locations
including 1606 Whetstone Way, 410-528-8606


Alexander's
Tavern:
This Broadway Square spot known for its Crushes and crab
tots is offering a handful of Orange-inspired game-day deals to celebrate
postseason. In addition to $2 Natty Boh cans and $2.75 Miller Lites,
Alexander's will highlight $3 Creamsicle shooters, $4 Birdhouse Cans and
Henry's Hard orange sodas, and $5 Orange Bombs.
710 S.
Broadway, 410-522-0000