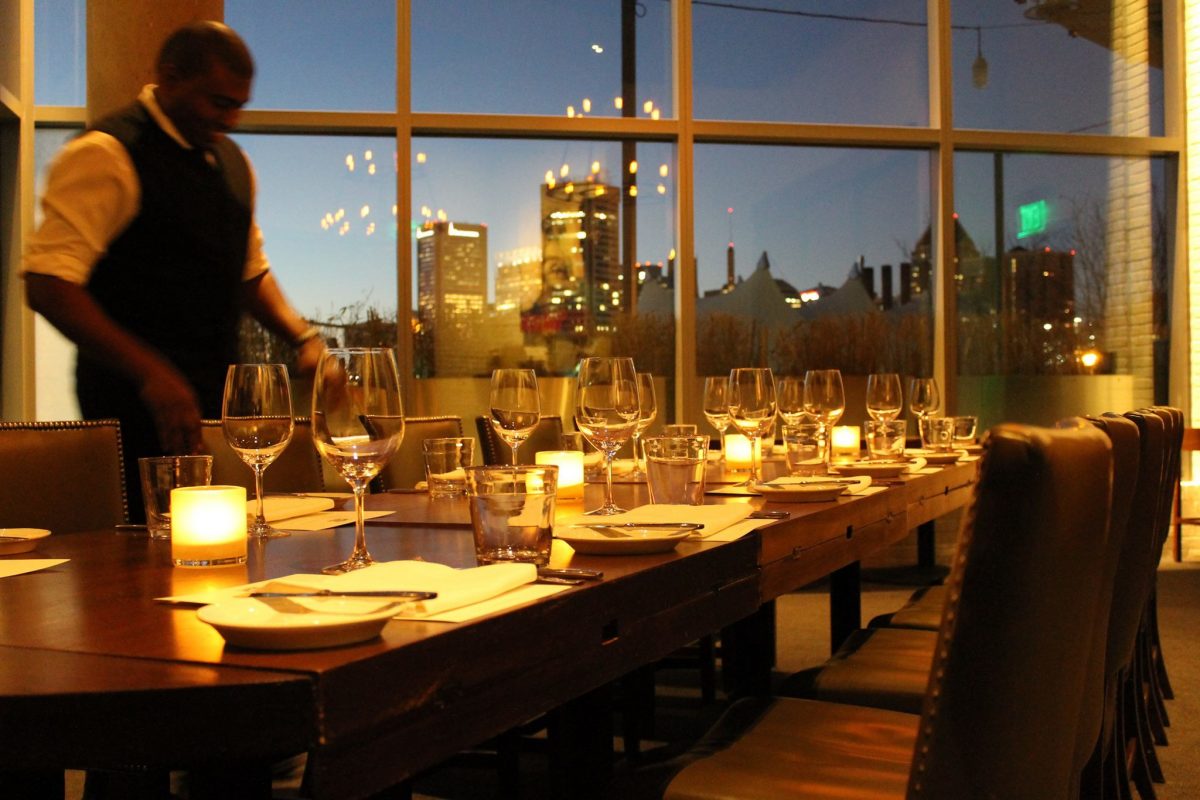 Courtesy of Wit & Wisdom
By now the Christmas trees have been kicked to the curb, the New Year's confetti has been swept up off of the floor, and the most amorous month of the year is officially within reach. Whether you're spending Valentine's Day with a significant other or a group of friends, make a reservation, splurge on a bottle of vintage vino, and feel the love at these charming spots around town.
Ananda: Complete with ornate chandeliers, comfy cushions, and flickering fireplaces, this Howard County hotspot exudes elegance. You can't go wrong with a bottle of wine or a pint of local craft beer to start, followed by Indian-inspired entrees like chicken vindaloo, crab Malabar, or almond-encrusted lamb chops with mint chutney. Flirty fact: The restaurant offers a daily "Bliss Hour" from 4-6 p.m. featuring $5 cocktails and small plates ranging from lemon-ginger-poached chicken to crab cakes. 7421 Maple Lawn Blvd., Fulton, 20759
Annabel Lee Tavern: This Canton pub, named after one of Edgar Allan Poe's most famous works, celebrates the Baltimore poet's melancholic-romantic style by highlighting hand-painted quotes, sculpted ravens, and vintage paintings. Enjoy a candle-lit meal with entrees ranging from burgers and nachos to meatloaf and hickory smoked barbecue ribs. Flirty fact: A rotating chalkboard menu lists daily specials based on what's in season. 601 S. Clinton St., 410-522-2929
The Brewer's Art: This 19th-century mansion, famous for its house-made ales, is adorned with marble fireplaces, intricately carved moldings, and vintage bookshelves. Reserve a table in one of the wood-accented dining rooms to dig into entrees like steak frites and grilled elk loin, or cozy up at the bar with friends for more casual offerings like burgers and sandwiches. Flirty fact: The space boasts a semi-private back dining room overlooking the brew house, perfect for an intimate meal. 1106 N. Charles St., 410-547-6925
Colette: With its signature French fare, dim-lighting, and an expansive drink menu full of pre-Prohibition cocktails, this brand new Bottega sister-restaurant makes for a romantic hideaway in Station North. Grab a seat at the granite-top bar to sip Sazeracs, or settle in at a table for two in the dining room to munch on bistro-style bites from executive chef Stefano Porcile. Flirty fact: The front bar area highlights window seating perfect for people-watching along Charles Street. 1709 N. Charles St.
Ciao Bella: Snag a white linen-clothed table at this Little Italy haunt, where nattily-dressed waiters serve hefty portions of classics like shrimp scampi, pasta primavera, lobster ravioli, and chicken marsala. The restaurant's old-school interior highlights exposed brick, wooden fireplaces, and plenty of fancy portraits of Italian landscapes. Flirty fact: Be on the lookout for owner Tony Gambino, who often greets guests at the door and is always on hand to ensure seamless service. 236 S. High St., 410-685-7733
Charleston: Feast on French cuisine fused with low-country inspiration at this swanky Harbor East haven from royal restaurant duo Tony Foreman and Cindy Wolf. The interior—complete with Bernardaud place settings, red accents, and bottles of wine on display—epitomizes romantic charm. Flirty fact: Chef Wolf is preparing two special four-course prix-fixe menus over Valentine's Day weekend. (And because no Valentine's Day meal is complete without a sweet finish, be sure to save room for dessert. Foreman Wolf's pastry program is top-notch.) 1000 Lancaster St., 410-332-7373
La Cuchara: Set in a revamped industrial space in Woodberry, this trendy Basque-inspired hangout boasts hanging lights and an ample 80-seat bar surrounding an open kitchen and a wood-fire grill. Nothing says love like plates meant for sharing, and the menu offers plenty of tapas options like squid ink pasta, patatas bravas, and grilled lobster. Flirty fact: Specifically for Valentine's Day, chef Ben Lefenfeld is preparing a four-course prix-fixe tasting menu complete with smoked salmon brioche, root vegetable gratin, and tuna crudo with saffron emulsion. 3600 Clipper Mill Road, 443-708-3838
The Milton Inn: The fieldstone building that houses this Sparks special-occasion restaurant has roots dating back to the 1700s. Its historical significance is carried over in its interior, with touches like high-back wooden chairs, elegant mantelpieces, and candle-lit tables. Flirty fact: The special prix-fixe menu for February 14 lists the likes of oysters imperial, a seafood martini, and filet mignon topped with jumbo crabmeat. 14833 York Rd., Sparks, 410-771-4366
The Oregon Grille: Situated in bucolic Hunt Valley, this farmhouse is bursting with countryside character. With its warm fireplaces, framed artwork, and impressive collection of vintage Maryland memorabilia, the multi-level spot gives off a posh horse-club vibe. Get comfy in one of the many dining areas and feast on steakhouse-style entrees like filet mignon, pan-fried rockfish, jumbo lump crab cakes, and ahi tuna au poivre. Flirty fact: No need to worry about not finding the perfect pairing—the restaurant's novel of a wine list is 27 pages long. 1201 Shawan Road, Hunt Valley, 410-771-0505
Sotto Sopra: Enjoy a taste of Italy by way of Mt. Vernon at this neighborhood restaurant, which features golden moldings, massive murals, and quirky chandeliers. The menu emphasizes contemporary staples such as spinach and ricotta ravioli, squid ink pasta with crawfish and crabmeat, and lobster bisque with mussels and clams. Flirty fact: The restaurant hosts a monthly live opera night, complete with a lineup of classical performers and a special prix-fixe menu. 405 N. Charles St., 410-625-0534
Waterfront Kitchen: Sweeping views of the harbor, twinkling lamps, and a lengthy wine list all contribute to the amorous ambiance at this farm-to-fork gem in Fells Point. The restaurant, which takes pride in its partnerships with area purveyors, offers locally sourced dishes ranging from roasted beet salad to Maryland wild catfish with bacon creme broth and confit garlic puree. Flirty fact: The restaurant is preparing a special four-course prix-fixe for Valentine's Day weekend, highlighting dishes like broccoli cheddar soup, a charcuterie platter, pan-seared scallops with fingerling potatoes, and a chocolate and red velvet cake duo accompanied by chocolate-covered strawberries. 1417 Thames St., 443-681-5310
Wit & Wisdom: Two fireplaces, twinkling chandeliers, and plenty of cozy lounge seating contribute to the romantic vibe that permeates throughout this trendy tavern inside the Four Seasons Baltimore. For Valentine's Day weekend, executive chef Zack Mills will feature a prix-fixe menu focusing on New American dishes like lobster bisque with lemon creme fraiche, roasted cauliflower steak, and grilled chicken with sweet onion jus. Flirty fact: Although Wit on the Water, the restaurant's lavish outdoor patio, is closed for the season, the interior's panoramic windows provide some of the best harbor views in town. 200 International Drive, 410-576-5800
Wine Market Bistro: Hang out beneath the glowing lamps at this South Baltimore gem, which features exposed brick, colony-style beams, and an inviting bar. The menu lists simple starters like mussels and flatbreads, as well as more intricate entrees like seared scallops and pan-roasted swordfish with suggested wine pairings. Flirty fact: The Wine Market also features an 800 bottle selection in its wine shop up front. If you're not feeling the by-the-glass offerings, your table can enjoy any of the bottles from the shop for a small corkage fee. Additionally, The Wine Market is known for its weekly specials including neighborhood night on Mondays and complimentary wine tastings every Saturday. 921 E. Fort Ave., 410-244-6166