Good Cop, Good Cop
Officers Evan Anderson and Charles Lee defy the stereotypes about city police.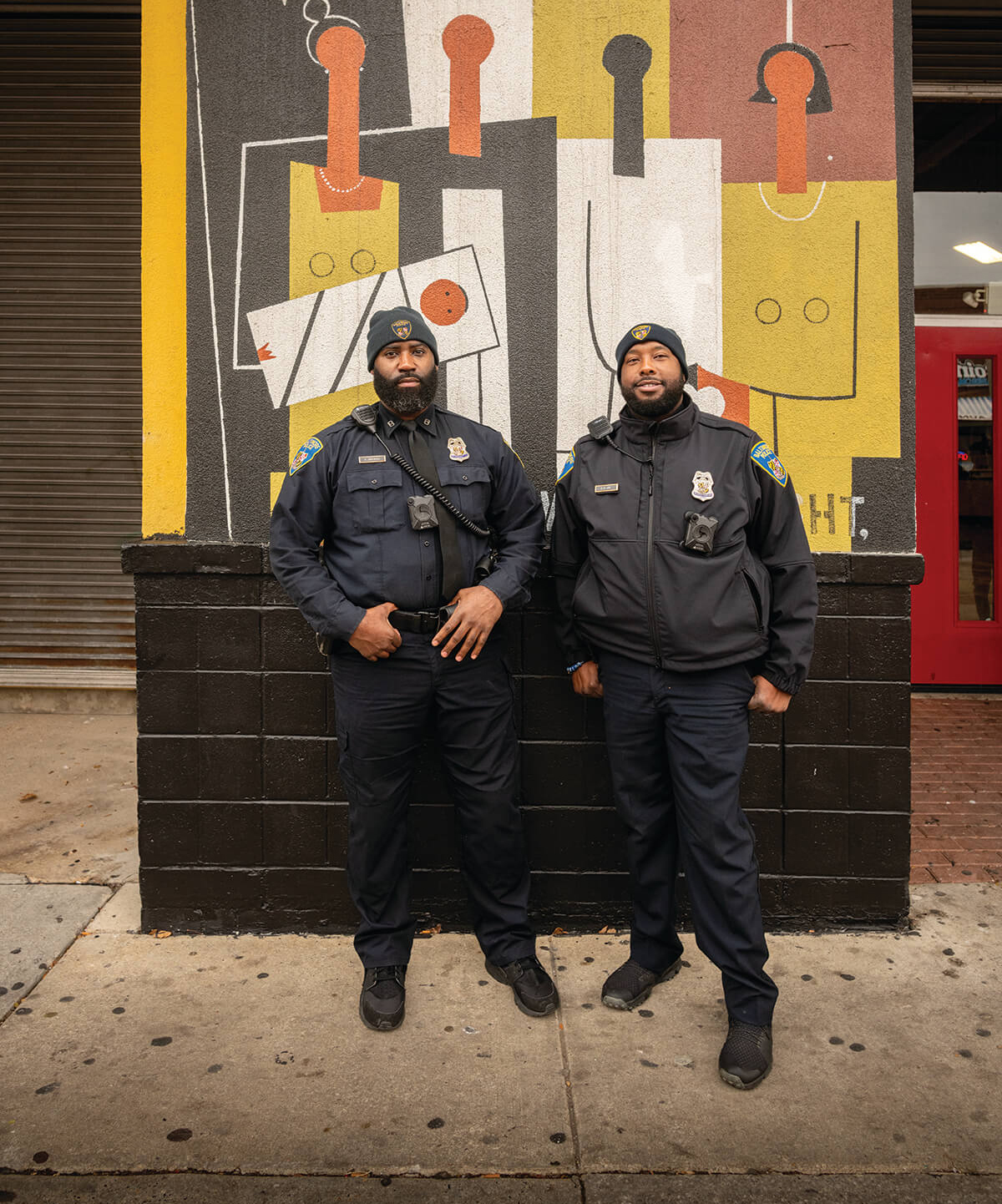 On a chilly late fall afternoon on Pennsylvania Avenue, in what's considered one of the city's most dangerous and drug-infested zip codes, Baltimore police veterans Evan Anderson (pictured left) and Charles Lee are sitting on a pair of plastic chairs ("Our recliners," Lee jokes) in a makeshift police office inside the Avenue Market, a landmark that brings with it all the good and bad of a high-traffic, mall-style building in a depressed area. They're keeping their eyes peeled for trouble, but what they're actually doing has much less to do with policing and more to do with relationship building.
The duo has some things in common: They were both born and raised in Pen Lucy, just east of York Road in North Baltimore, and gravitated early on to police careers.
"The community—that's where our heart is," says Anderson, a 17-year member of the department and an imposing yet affable figure. Lee, an officer since 1993, is a similar personality who just a few minutes earlier was greeted by several people in the market as if they'd known him forever. "I know my back is covered now!" one middle-aged man says as Lee arrives. "These are good people," Lee says later after a brief chat, "hardworking people."
And then there's the bad or, at the very least, the unfortunate. "Let's be honest," says Anderson, from his office chair, "we can go right outside and it's a drug strip, always has been." There are the dealers, and there are stories of people like a woman named Jackie, he says, an addict with "a heart of gold" who is apt to beg for money then give it away to someone else if they're hungry. There are the boarded-up rowhomes, the empty lots, the predictable string of convenience and liquor stores, the systemic violence, robberies, and the loss of hope, too.
But the two cops think they can make small, positive differences.
"You got to reach people," says Anderson, who brings his own story to the job he always wanted as a child—as a kid, he witnessed his alcoholic father attempt to kill his mother. "We can go out here every day and lock someone up for one pill, but that's not solving the problem. You have to get to the root, the core. You got to find out why people are hurting, what's going on. That's the main thing we do. It's not just enforce, enforce, enforce. You're not just going by the book, or talking down to them. Sometimes you just sit and listen."
In the wake of Freddie Gray's death in police custody in 2015, and the ensuing unrest (the infamous CVS off North Avenue was just a short walk away) and white-hot media attention, Anderson and Lee were among a group of officers who had heard enough to know they needed to do something so people could "see us as being positive," Lee says.
Four years ago, Anderson helped organize a block party on Laurens Street. That grew into a larger event near the Avenue Market and, last year, it expanded to a grand parade down Pennsylvania Avenue in a style that hadn't been held since 2011. It included 12 bands, classic cars, and hundreds of spectators. The next one
is scheduled for June 13.
"You do good things, and good things will happen," Anderson says, mentioning that they also organize drives for back-to-school supplies, food, and toys, as well as jazz and R&B concerts for West Baltimore residents. "That's what we believe," Lee interjects. "Every time we throw an event, there's no robberies, no assaults—zero. That day, nobody is on the corner. The drug dealers even get out there and clean the trash. You would be blown away."