Krish O'Mara Vignarajah is Redefining What it Means to Resettle Refugees
The president of Lutheran Immigration and Refugee Services says her experience growing up as an immigrant in Baltimore forever altered and molded her life.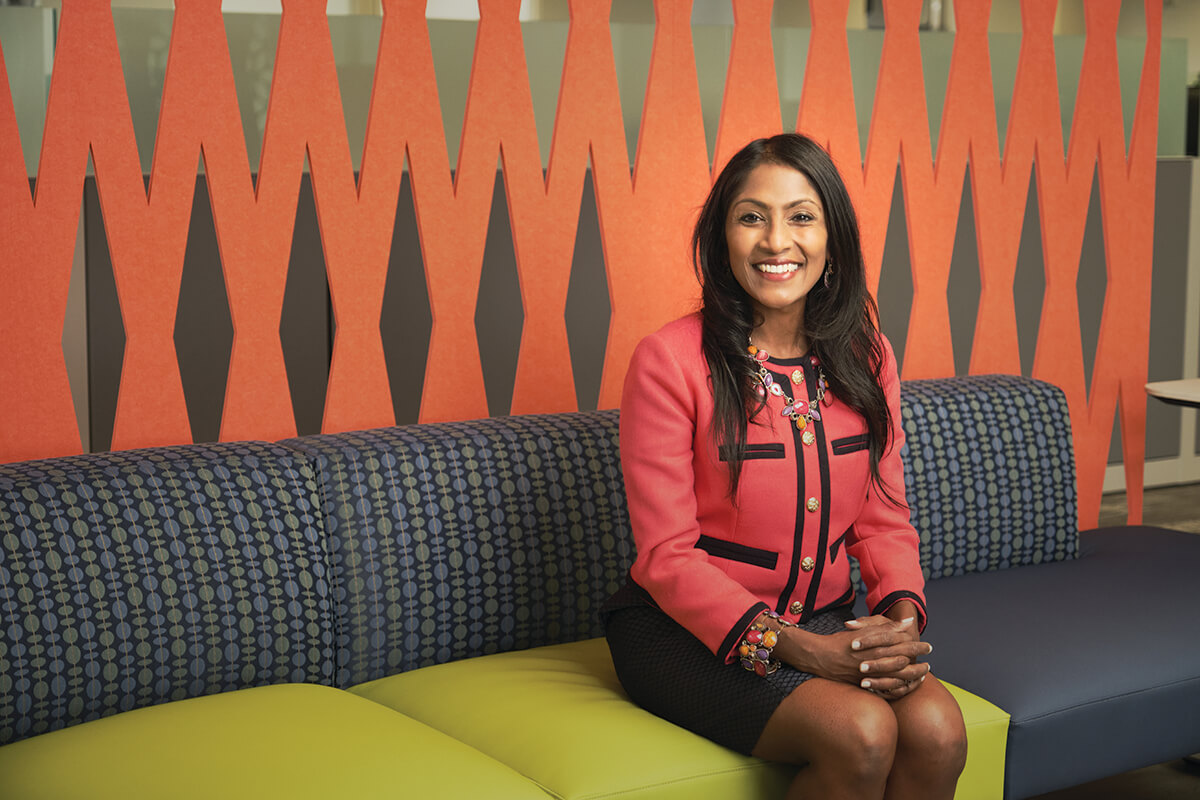 Krish O'Mara Vignarajah doesn't remember coming to the United States. After all, she was just 9 months old when she arrived with her parents and brother, seeking refuge after escaping tensions in Sri Lanka that escalated into a bloody civil war. Yet Vignarajah's experience growing up as an immigrant in Baltimore forever altered and molded her life. Today, she serves as the president and CEO of Lutheran Immigration and Refugee Service (LIRS), a national organization headquartered in Baltimore that is redefining what it means to resettle refugees.
We caught up with Vignarajah to discuss how her own immigrant experience shapes her work, the goals of LIRS, and the organization's response to the Ukrainian refugee crisis.
Your own immigrant experience is a real success story, taking you from Woodlawn High School in Baltimore to Yale Law School, positions at the State Department and White House, and a run for Maryland governor. Tell us about your experience.
In Sri Lanka, my family was part of the ethnic and religious minority being discriminated against and persecuted in the years leading up to the civil war. My parents applied for visas and, fortunately, were able to move our family to a basement apartment in Edmondson, in southwest Baltimore. They arrived with no jobs, two small children, and only $200. Over time, they found jobs as public school teachers and built a life for us that I've always felt lucky to have.
In high school, one of the first times I looked something up on the internet, I typed in my first name, Krishanti, and found a scrolling list of articles about a girl the same age as me, from the same area where my family left, who attended the same school I would have attended had we stayed, and who was from the same ethnic and religious background. She was stopped at a military checkpoint, gang raped, and dismembered. To me, that was the rude awakening of what life could have been if my family had stayed in Sri Lanka and, in part, why I decided to pay it forward with LIRS.
Under your leadership, LIRS is re-envisioning refugee resettlement. How so?
Our approach to the refugee crisis is not just humane and empathetic but also self-interested. Refugees make our communities economically stronger, physically safer, and culturally richer. But resettlement can't happen overnight and needs a long-term strategy.
That's why we focus the first months of resettlement on basic needs like securing a place to live, putting food on the table, and navigating systems like public transportation. Then the strategy shifts to mentorship, career counseling, and helping individuals reach their potential. Studies show, in fact, that refugees become business owners at nearly double the rate of native-born Americans. Data shows, too, that they pay employees higher wages. LIRS recently opened new Welcome Centers nationwide.
"Refugees make our communities economically stronger, physically safer, and culturally richer."
How do these contribute to your goals?
Part of a privately funded pilot program, our Welcome Centers streamline services for refugees, asylum seekers, and unaccompanied minors. Right now, the federal government has a complicated infrastructure in which three different agencies operate services for individuals and families. This leads to rigid programs that can create duplicative, wasted resources.
To solve the problem, our new centers integrate services for everyone into a one-stop shop. Just as we have embassies or consulates for foreigners abroad, these centers can serve as embassies or consulates for foreigners who are in the United States—and will likely build lives here.
When Russia invaded Ukraine, LIRS reacted quickly to set up refugee relief programs. Tell us about your efforts.
In the past decade, LIRS has resettled a quarter of the Ukrainian refugees who've come to the U.S., while making the case, even before Putin formerly invaded Ukraine, that much more needs to be done. Tragically, war produces humanitarian crises not just as a byproduct but also quite intentionally—which, I think, is what we are seeing here.
We greatly appreciate President Biden's plan to resettle 100,000 refugees, but Ukrainian refugees cannot access permanent legal residence and have no formal safety net, in contrast to other refugees. They are not entering the U.S. through the refugee resettlement system as refugees but rather are coming through a newly created humanitarian program called Uniting for Ukraine. As we push for solutions, we're using our Welcome Centers to serve Ukrainians in the interim. We've also launched an action hub online, where people can find ways to help.
How do you think the U.S. is handling the refugee crisis in general?
Right now, we're stuck in the rut of what I describe as a "scarcity mentality," due to political leaders pitting one side against another, as part of their strategy. But historically, resettlement has had strong bipartisan support. Yet few people know that.
The previous administration [under President Trump] conducted a study on how much resettlement costs taxpayers. Even accounting for the meager assistance received, refugees are a net positive contributor of $63 billion to federal, state, and local coffers. That's huge. We need to spread awareness.
We also need to prepare for climate displacement, which will be the biggest driver of migration in the 21st century. But we need to act now—and embrace the help immigrants bring. At a time when we have the lowest birth rate since the census started tracking it, record numbers of older adults retiring, and financial stresses on Medicare and Social Security, we need a younger, bigger workforce. Immigration must be part of the solution