How to Get Fit If You Hate the Gym
Six activities that take the work out of workout.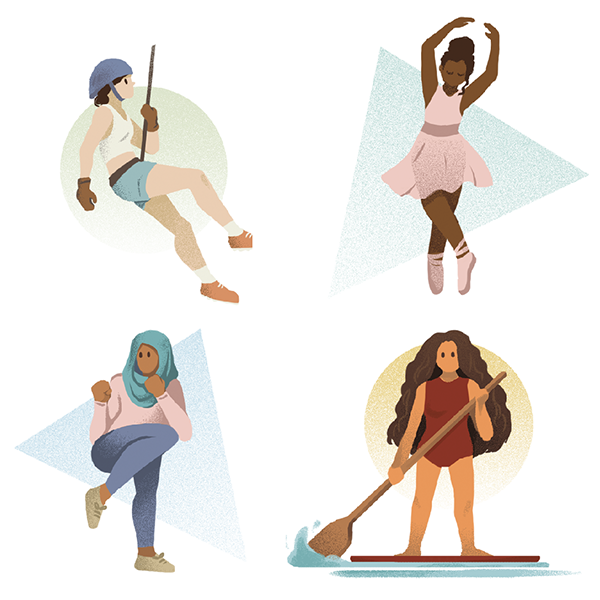 Rock Climbing
Contrary to what you may think, climbing uses lots of muscles in both the upper and lower body—including the ones you didn't know you had (hello, finger muscles). It can improve your stamina and strength while also boosting brain function. Where to go: Earth Treks, several locations, including 1930 Greenspring Dr., Lutherville-Timonium, 410-560-5665.
Ballet
Whether you took dance as a child, have tried a barre class, or have never danced in your life, ballet is a great way to improve flexibility, balance, and endurance in all adults. It can also build lean and toned muscles while improving core strength and posture. Where to go: Baltimore School of Dance, 4001 Falls Rd., 410-790-6742.
Horseback Riding
It may look like Preakness jockeys and Olympic show jumpers are having the horse do all the work, but keeping your balance on a one-ton animal takes a lot of core and leg strength. Start slow and learn the basics on a calming trail ride, then work your way up to trotting, jogging, and cantering. Where to go: Graham Equestrian Center, 10301 Harford Rd., Glen Arm, 410-663-4445.
Biking
As the weather warms up, save some gas money and opt to ride your bike. Benefits include muscle toning, improved cardiovascular health, better blood circulation, improved joint mobility, strengthened bones, and decreased body fat levels. Take a solo ride or join on the many group rides with The Baltimore Bicycling Club. Where to go: The Baltimore Bicycling Club.
Budoshin Ju-Jitsu
Budoshin ju-jitsu focuses on practical self-defense and teaches students how to protect themselves against a variety of attacks through proper holds, blocking, and striking. While training can help with your overall fitness level, ju-jitsu can also help increase your self-esteem. Where to go: Baltimore School of Self Defense, 11600 Crossroads Cir, Middle River, 410-529-1262.
Standup Paddleboarding
A low-impact, full-body workout, paddleboarding engages your core and legs for balance and your arms for momentum. Because it is low impact, it is also great for people with rehabilitation injuries because it is gentle on your muscles and joints. Where to go: B'More SUP, 8500 Cove Rd., Dundalk.