History & Politics
When Baltimore Burned
Fifty years ago this month, the assassination of Martin Luther King Jr. set off an upheaval in the city unlike anything since the Civil War.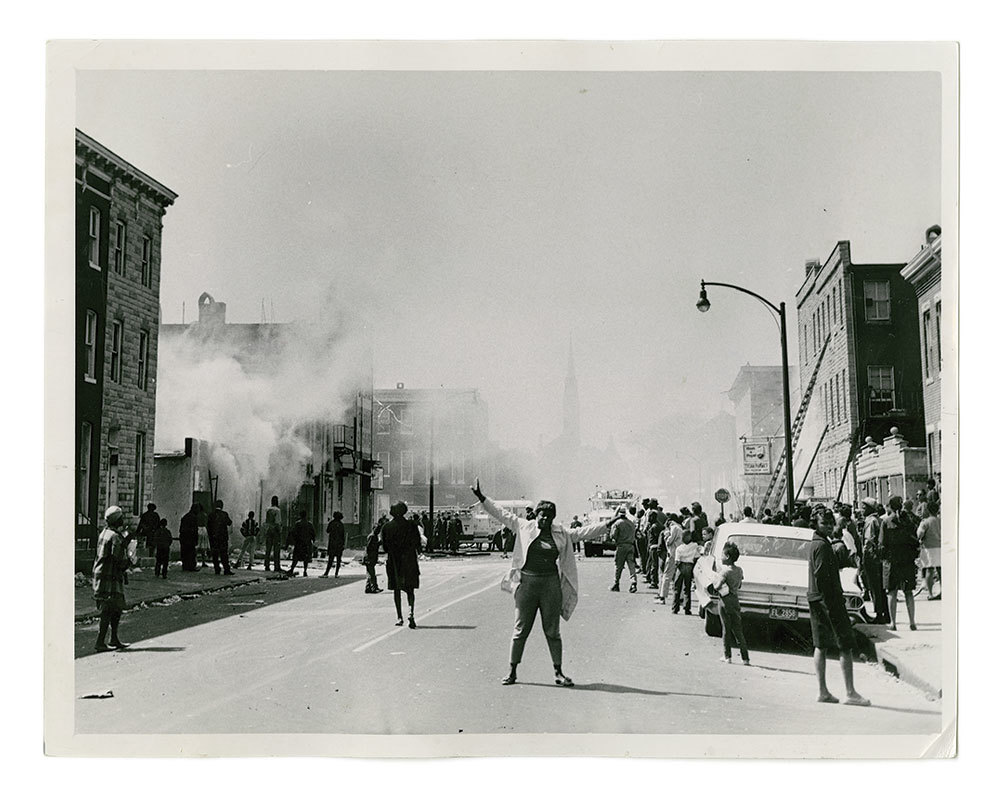 The Rev. Dr. Martin Luther King Jr., greets admirers on a motorcade tour up North Gay Street on October 31, 1964.

he morning following Martin Luther King's murder in Memphis, Dick Basoco found himself heading to the Sunpapers' Calvert Street offices in an elevator alongside publisher Bill Schmick. "By that time, Washington had already broken out," recalls Basoco, this magazine's former COO and executive editor, then a reporter for The Sun. "And let me preface this by saying Bill Schmick was as good, as decent, and as caring a man as you could hope to find publishing a newspaper in a big city. But his engagement with the city was coming to work, lunch or dinner and drinks at the Maryland Club, which was all-white, and then going back home up I-83.
 "I'll never forget what he said, 'Our negroes aren't going to do that.'
 "It wasn't the use of 'our negroes' that stood out to me," Basoco continues. "I didn't try to parse whether he believed that blacks in Baltimore were more civilized, or more cowed, than those in D.C. It was how out of touch he was. I found it astonishing. The general feeling in the city was one of dismay, and if you believed in what King stood for, a deep sense of loss."
 King was no mere television presence in Baltimore. He had visited the city at least eight times for public addresses, including twice in 1966. In fact, King had canceled a scheduled appearance in Baltimore in March of '68 to join striking sanitation workers in Memphis.
At noon on Saturday, April 6, two days after King was assassinated, with his shooter still at-large, 300 people attend a peaceful commemorative service in West Baltimore. Later, a second, interdenominational service is held. Then, suddenly, at 5 p.m., the first reports of smashed windows and crowds gathering in the 400 block of North Gay Street are called in to police. An hour later, the first report of looting in the East Baltimore commercial corridor—at a dry cleaner's on Gay and Monument streets—comes in. By 6:30 p.m., two Gay Street furniture stores are in flames, and all off-duty policemen are ordered to work. At 8 p.m., Gov. Spiro Agnew declares a state of emergency in Baltimore. At 9:15, with assurances from the Baltimore Police Department, Agnew declares the situation is under control. But even as he makes these remarks, an A&P on the 1400 block of N. Milton Street is being looted and torched along with three adjacent stores.
Meanwhile, Robert Bradby, a 21-year-old steelworker, has tossed a Molotov cocktail into Gabriel's Spaghetti House on East Federal Street, which will lead to the death of Louis Albrecht, a 58-year-old white resident. Bradby later will say he'd been angered by shots that rang out near him, believing they had come from the restaurant. Around the corner, the body of black 18-year-old William Harrison is discovered. At 10 p.m., Agnew reverses course and commits the National Guard. He bans the sale of liquor, firearms, and gasoline in the city and surrounding counties and puts in place an 11 p.m. to 6 a.m. curfew.  Over the next three days, Baltimore would witness unprecedented upheaval. Of the more than 100 cities across the country that experienced disturbances after King's death, Baltimore topped the list in damage along with Washington, D.C. The tally: six dead; more than 700 people injured; 5,500 arrested—filling city jails and the civic center with detainees—more than 1,000 businesses looted, damaged, and/or destroyed by fire; and $98 million in property damages in today's dollars. "It was horrible," Rev. Marion Bascom, a prominent civil rights leader, said later. "You could smell smoke anywhere in Baltimore City."
In a way, the city had been a pressure cooker for decades due to its racial divide. Then the sixth-largest city in the country, Baltimore's public and private segregation remained thoroughly ingrained, along with an indelible Southern ethos. White Baltimoreans cheered black Baltimore Colts such as Lenny Moore and Jim Parker at Memorial Stadium, but they did not socialize with black Baltimoreans any more than the Colts' white players socialized with their black teammates.
At the same time, Baltimore was also a blue-collar town, and by 1968 it was already hemorrhaging jobs, residents, and its tax base to the suburbs. The combination provided a double whammy to the city's mushrooming black population. Enabled by an array of discriminatory local, state, and federal policies and practices, surrounding Baltimore County was booming, further tightening the knot of poverty around the inner city. From World War II until 1968, the city's population remained stable, but its racial makeup had shifted dramatically. More than 700,000 whites lived in Baltimore in 1950; a generation later, fewer than 500,000 did. Meanwhile, Baltimore County's population exploded from less than 250,000 in 1950 to more than 600,000 by 1970 while the number of black residents remained static at 20,000. None of this was simply market-driven phenomena.
The key piece of legislation was a 1948 amendment introduced by Baltimore County officials to Maryland's constitution essentially outlawing further expansion by the city, which in the past had annexed land as residents and businesses spread outward. (Baltimore remains a rare large city not part of a broader county jurisdiction, hamstringing tax revenue and the potential to desegregate schools and neighborhoods.) From World War II to 1968, jobs in the city rose by 11 percent; in the county they rose by 245 percent. Despite civil rights victories, blacks were not gaining economically. "You can't help but think there was a mix of raised hopes and unmet expectations in black neighborhoods," says Peter Levy, author of The Great Uprising: Race Riots in Urban America during the 1960s.
The aftermath of King's death and subsequent riots in Baltimore were both profound and personal. One-third of businesses destroyed in rioting never reopened, leaving gaping holes in the Gay Street and Pennsylvania Avenue corridors that remain to this day.
On the other hand, for a 19-year-old Kweisi Mfume, who was arrested during the riot for breaking curfew, King's death and the uprising provided a starting point. By chance, Mfume, who had lost his mother years earlier and was working three jobs to try to support his family, came across civil rights veteran Parren Mitchell at the burned-out corner of Robert and Division streets in the weeks after the disturbance. Mitchell was running for Congress. "He was trying to organize people, and I said something like—'Man, what are doing you here? This is my corner'—and shot him an intimidating look. At least I thought it was intimidating," Mfume recounts with a laugh. Mitchell simply stared back and extended his hand. "He was not intimidated, and his look communicated he knew what I was going through."
Mfume ended up volunteering for Mitchell's campaign. Mitchell lost that race, but then won in 1970, becoming the first African American from a Southern state elected to Congress since Reconstruction. Mfume, of course, would later win Mitchell's former seat and go on to lead the NAACP. "I felt heartbroken and helpless when Martin Luther King was killed," Mfume says. "All the air went out of me, and when you went out into the street you could see everybody felt the same way. And people were angry. Before you knew it, someone was throwing a trashcan through a window. But that was also the time I decided I needed to do something."
When University of Maryland law professor Larry Gibson got the news of King's death, he was clerking for a federal judge—the first African American to do so in Maryland. "I had accepted an offer to join Venable, Baetjer & Howard, which was the biggest white establishment practice in the city," Gibson says. "I turned it down after his death and called the biggest black law firm in the city and I got involved in politics."
Gibson would organize the campaign of Judge Joseph Howard, who won a seat on Supreme Bench of Baltimore City that November, helping elect the first African American to a citywide office. Gibson would later direct the campaigns of Kurt Schmoke, who became Baltimore's first elected black mayor in 1987.
"You can't help but think there was a mix of raised hopes and unmet expectations in black Neighborhoods."
The most worrisome political outcome of Baltimore's 1968 riots would prove to be the meteoric rise of Agnew into national prominence. On April 11, shortly after the rioting had ended, the Maryland governor called 80 Baltimore black leaders to a downtown meeting that was, in truth, a setup for a scapegoating press conference. With members of the state police and National Guard in tow, Agnew castigated the city's black pastors and political activists for the violence. Most in attendance walked out on Agnew, who scolded them for being afraid to stand up to black radicals for fear of being called "Uncle Toms." Not only was Agnew's vitriol supported by many white Marylanders (who Agnew said sent thousands of telegrams praising him for his dressing down of Baltimore's black leaders), it caught the attention of Pat Buchanan, advisor to presidential candidate Richard Nixon.
With his hardliner bonafides assured, Agnew earned segregationist South Carolina Sen. Strom Thurmond's seal of approval as Nixon's running mate. Agnew, the palatable, suburban alternative to George Wallace, quickly emerged as the heavy in Nixon's law-and-order campaign and Southern Strategy, which continues to hold sway in the GOP to this day. Almost immediately, the Nixon Administration ditched Lyndon Johnson's War on Poverty for a war on drugs that specifically targeted African Americans and has yet to come to end.
A half-century ago, the National Advisory Commission on Civil Disorders described white America as "deeply implicated" in the poverty of black Americans. In February, a report from the Economic Policy Institute found blacks have made strides in educational attainment and family wealth, but in significant respects have made little progress, actually losing ground relative to whites, and, in a few cases, even to African Americans in 1968.
Black unemployment is up slightly from 50 years ago, and homeownership rates remain unchanged. The share of incarcerated African Americans has tripled—to more than six times the white incarceration rate.
"People naturally want to be hopeful, I understand that," says Paul Coates, who joined the Black Panther Party in Baltimore in 1970 and has been the publisher of Black Classic Press for the past four decades. "And I keep watching for signs that the state of this country is getting better, in terms of race. But I don't know that I can offer hope. It is better for some. The most encouraging thing I see when I reflect on 1968 and then the marches following the death of Freddie Gray is that the protests after Freddie Gray looked more like a movement of black and white people.
 "But overall, I don't see that things are getting better in America, not for black people, or more broadly, those in poverty. Not yet."
---
Ed Mattson
Baltimore police sergeant
I was assigned to the tactical squad—what had been the riot squad—at the old Southwestern District Police Station at Pratt and Calhoun. It was a citywide unit, and I supervised about 15 guys. The day after Martin Luther King's assassination, April 5, was quiet, but you could feel it coming. There were pockets of resistance. On the 6th, a signal 13—officer needs assistance—came in at about 4 p.m. from Gay Street, the 1200 or 1300 block, if I remember. It was full-blown when we got there. People were busting bottles, throwing bottles at us, all that kind of stuff. Officers were battling people. A warehouse went up in flames. The next two days, it blossomed. It wasn't anything organized. Just helter-skelter. People throwing Coke bottles filled with gasoline and a wick. Pure anger.
In all honesty, the National Guard, state police, and federal troops didn't do much. The Baltimore Police Department kept things from spreading further. Everything took place essentially in a rectangle in the inner city. We'd get a report of a mob forming, and we'd run to it, break it up, and arrest everybody. We made thousands of arrests. Filled the jails and civic center. I didn't go home for three days.
It had started to change, but probably 98 percent of the patrol officers were white males. After we were told to stand down a week and a half later, an undercurrent remained. There were pockets of resistance and small riots over the next few years. People forget that. The tension [between black neighborhoods and the police department] was always there after that.
---
Jewell Chambers
Baltimore Afro-American reporter
I had been involved [with the civil rights movement] prior to '68. I was arrested in 1960 for sitting-in and then at Morgan State in 1962 when Morgan took over the Northwood Shopping Center. You had Hochschild's [Hochschild Kohn's department store] that had a tearoom in which you couldn't eat; you had a theater that ran "B" films, the Northwood Theater, to which you couldn't go.
The idea of a riot by 1968 was not new. By this time you had gone through Detroit, Watts. I would say things were . . . tense is not the word . . . I think the idea was that things were changing.
I was 25. I had taken [a friend's] mother food shopping at Mondawmin Mall, and the notice went through that King had been shot. I went home to listen to the radio and listen to the television and find out what had happened. When they began to play the [speech], "I've been to the mountaintop, I may not be there with you," that just sent cold chills down you.
I was the only woman on city desk. This has stuck with me forever—I was up on Thomas Avenue just below North [Avenue], the black section—middle, lower-middle class. There is a corner bar, and they had already trashed it. So I'm in there and there's this black guy telling people what you can take . . . but the good stuff is gone. And he's sitting there and he's saying, "And don't be lighting . . . don't be lighting no matches 'cause I live upstairs. Take whatever is here, only thing here is cheap . . . but don't be lighting." He probably saved it. They didn't light any matches.
"And the whole block was in smoke and flames. That was the point that we freaked out."
One of the scariest things that happened to me, happened on Sunday night. I slowed down [my car] very nicely and here come these two little National Guard boys. One goes, "Why are you out?" I tell him I'm a reporter, and he has something smart to say. 'Cause I don't think he had seen too many [black journalists]. . . he's from the wilds of Baltimore County.
He wants my identification. I have to go [gestures reaching into her back pocket to retrieve ID]. When I did this, he jammed the bayonet in the window. Scared the absolute [crap] out of me. In retrospect, you can see how people get shot so fast.
I never did tell my mother that. And I'm stupid enough to get irate. I also know he didn't have any bullets, wasn't supposed to have any bullets, anyway. So I told him, "Get that goddamned [thing] out of my face, I'm getting you identification." I think we were both scared of each other."
Jewell Chambers' interview—edited for length and clarity—took place in 2008 as part of the University of Baltimore's "Baltimore '68: Riots and Rebirth" project.
---
Mayor Thomas D'Alesandro III surveying the damage during the 1968 riots.
Robert Embry Jr.
City Councilman
I represented the 3rd District, which was then Northeast Baltimore, an overwhelmingly white district at the time of the riot. They talked to me about their fears of unhappy African Americans coming out from the city to wreak havoc on their neighborhoods. It was based on nothing, but that's what was happening. I was only a city councilman for six or seven months. I put in an ordinance to create the Department of Housing and then, in July, Mayor Tommy D'Alesandro appointed me commissioner. I had been elected in 1966, defeating John Pica, who was a spokesman for white backlash. On the City Council, I believe, there were four African Americans out of 18 members—19 with the City Council president.
D'Alesandro, pictured below, was elected in part on a platform of building more schools in African-American neighborhoods and utilizing the War on Poverty programs of LBJ.
So-called "blockbusting" was in full swing in the Northwood and Edmondson Village neighborhoods, and that was a big issue. Essentially, a real estate agent would distribute pamphlets in white, borderline neighborhoods saying that an African-American family had bought a house nearby, causing white people to become afraid and sell their house at a steep discount. The real estate agent then turned around and sold the house at an inflated price to a black family, exacerbating the turnover in population. Neighborhoods became uniform.
There was also a great deal of animosity about urban renewal efforts in Bolton Hill, Camden Yards, and around Johns Hopkins and the University of Maryland. They were targeted toward slum housing, but there weren't any benefits going toward people who were displaced.
I had been involved with CORE and the NAACP, and I had campaigned for open housing laws. I demonstrated in front of the Northwood Theatre [which had refused to integrate]. I knew the history of race in his country. The suppression. I never asked anyone about the causes of the riot. It seemed self-evident.
The city is a complicated thing. But the main problems remain, namely poverty in many neighborhoods. One change is that the philanthropic community that exists today didn't exist. Philanthropy at the time just meant funding private schools, the symphony, and art museums. There weren't any of the foundations that have grown up since trying to relieve the inequalities. The France-Merrick Foundation, Open Society Institute, Aaron and Lillie Straus Foundation, Harry and Jeanette Weinberg Foundation, Blaustein Foundation, Annie E. Casey. We [Abell Foundation] are 30 years old.
The Goldseker Foundation was the first, in 1975, which is interesting. He [Morris Goldseker] was someone who served as the personification of a slumlord and blockbuster for many people. —Robert Embry Jr. is president of The Abell Foundation.
---
Rev. Marion Bascom
Pastor
There was so much hope, and it was shattered by the untimely death of Martin Luther King, and the town went crazy. Not only Baltimore, but almost every city in the country experienced the same thing. It was almost as if blacks in every community had suddenly been inoculated with a hypodermic needle and caught the disease of disturbance. And so they began to set fires, and it was just horrible. You could smell smoke anywhere in Baltimore City.
[After things settled down], Agnew called many black leaders downtown to his President Street office, and he began to berate the colored, Negro, black community for their backing up and not protesting other blacks who were running rampant in the streets. Governor Agnew said, "When the trouble came, you leaders ran." And he began to berate those of us who were there. There must have been at least 50 of us [that] got up and started walking out. We came up to our church [Douglass Memorial] to discuss what sort of action we would take.
Well, life for us after the disturbances is still trying to learn [from] each other as human beings. One of the tragedies, I think . . . lies in the fact that American society has developed around racial consciousness. So that even to this day, when I go into an establishment that is white-owned and operated, I have the feeling that someone is sort of watching me. I think all blacks are sensitive of it, of that same feeling, so that we have developed a society where, unconsciously, we are not able to react to others as human beings.
—Bascom's interview—edited for length and clarity—took place in 2006 as part of the University of Baltimore's "Baltimore '68: Riots and Rebirth" project.
---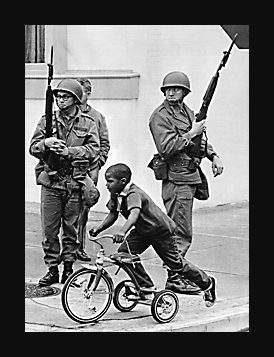 Milton Dugger Jr.
Singer
In 1968, I was with the Chaumonts, a pop and rhythm and blues band. I was the singer. We were playing in the Harrisburg area the weekend after Martin Luther King was shot. That was a Thursday. One of the days the Earth stood still. So we didn't know anything that was going on in Baltimore. We were driving down York Road from Towson after the job when we came upon the National Guard. That was disconcerting.
I grew up in Upton. The next day, I rode around and observed a lot of cars with out-of-state plates—P.A., New Jersey, and Virginia—and groups jumping out of cars. Pennsylvania Avenue was destroyed. I'm one of those people who don't think this was only Baltimore folks. The place where my family shopped—our corner store—got hit. The riots brought an end to a lot of corner stores. Jewish folks felt betrayed. Not ever so much over the looting, but the burning out.
People who are disenfranchised don't know who, or what, to strike out against, and they began doing stupid things. They weren't protesting Dr. King's assassination by destroying something in their own neighborhood. They were just angry and upset.
I spent almost nine years teaching English in Baltimore City public schools, and my students at Clifton Park Junior High School were very depressed afterward and I was concerned about them. It felt like a crucifixion. How can this be? You tried to calm the young people down, but there was a lot of crying. At the same time, you had to calm yourself down. The staff, the faculty, the administration was very upset, and they were crying, too.
---
Ralph Moore
High School student
I lived in Sandtown and took three buses to get to Loyola Blakefield High School. During the riots, I literally had to run past tanks and National Guardsmen with fixed bayonets to make it home before 6 p.m. so I wouldn't get arrested.
I had dozed off on the couch and remember my father waking me up to tell me Martin Luther King had been shot. When things exploded, I remember staying up all night with my mother looking out the window. The police were almost in a frenzy trying to keep the lid on things. From our house, you could look down Pitcher Street and see people breaking into the stores on Pennsylvania Avenue. I don't remember things feeling immediately bleak afterward, but a lot of merchants never came back.
Loyola was a different world. The Jesuits had wanted more diversity, and myself and three other guys had received $1,600, four-year scholarships. King's assassination was a big marker for us. We started wearing Afros. In 1969, we formed a black student union. We fought to have African-American literature included in the curriculum. But [my experience at] Loyola was a mixed bag. The racism could be subtle or overt, and it came from the adults, not our classmates.
After I graduated college from Hopkins, I taught at Loyola for two years. I still remember walking into a football game with a couple other white faculty and getting stopped and singled out by a parent volunteer who didn't believe I taught at the school.
---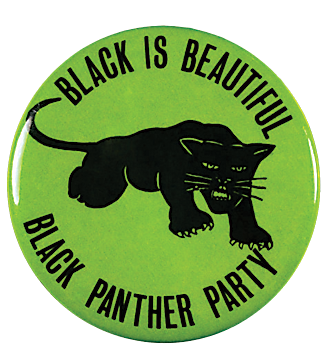 PAUL COATES
Future Black Panther leader
I was not an activist in 1968. I was 21, just out of the military after 19 months in Vietnam. I was living with my wife and daughter in Cherry Hill.
I remember thinking Baltimore would not riot. I am from Philadelphia, and Baltimore did not seem like a New York or Los Angeles in terms of its militancy. Baltimore was—still is—a strange place. People are quieter. It's the Southern influence. I just didn't think the response to Southern-style oppression was going to be violent here.
For many people, Martin Luther King was someone who delivered hope. Malcolm X had already been killed, and what do you when your leaders are assaulted? At first, I thought Martin Luther King's death might serve as the basis for a war in America. Not necessarily a race war, but war is what it looked like when you saw the fires and rioting breaking out across the country and the U.S. Army and National Guard getting called in.
It would have been hard very to grow up in this country and not understand that there was a social conflict going on, twisting around race. But I was not "woke," as they say today. I was still asking questions. King's assassination and the riots were part of that awakening process, drawing it all into a sharper perspective. Watching people on TV in the South being attacked by police dogs during peaceful protests had been part of that process; Emmett Till had been part of that process. There were 1,000 things and it took a thousand more. I started looking for more information, looking for other people who were also "woke." A year later, I volunteered with the Black Panthers.
Reflecting back, even as I say "riot," there is a change in perspective. I see it as resistance to a long, steady stream of abuse. People responded in a destructive way, and most of Baltimore thought they were crazy. But these people rioting in the street did not know what else do to. They were not being heard.
—For the past 40 years, Paul Coates has been the publisher of Black Classic Press in Baltimore. He is the father of National Book Award winner Ta-Nehisi Coates.
---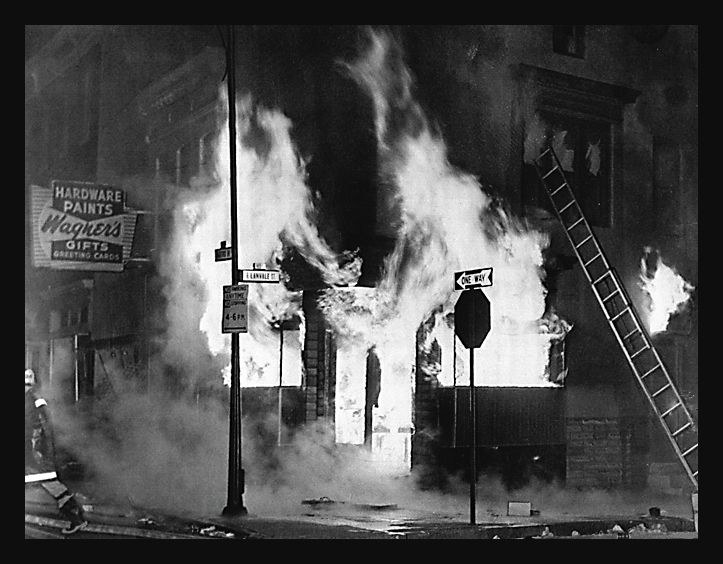 Sharon Pats Singer
Daughter of pharmacy owners
The [800 block of West] North Avenue was a white area when my parents bought the pharmacy in 1950. We lived upstairs, and my brother was born in 1950. I was born in '51. All we knew was North Avenue. That was our home. And then, as the years went on, the neighborhood did change and it became a mixed neighborhood. The store was a multipurpose kind of place. The customers, most of them were regular customers. My mother really was the proprietor, and my father was the pharmacist. Their life revolved around the store.
We would come home from school and go to work in the store. I would be down there and waiting on customers and talking to people, and it was great. I enjoyed it. I went to Western [High School] in the city. At that time it was down on Howard and Center Street. I would take the bus.
When the riots came, I don't think that we thought anything bad was going to happen. It was a trusting kind of thing where this was our neighborhood, and it just wouldn't happen, they just wouldn't do this, and it never occurred to us.
So, that Sunday morning, we went shopping. I took the car, and [afterward] I was going to pick up my sister, Betty [at Hebrew School].
"And the whole block was in smoke and flames. That was the point that we freaked out."
I came down 83, I'm 16 and I have this big car and I'm driving. We turn off on the exit, which is North Avenue, and make a right to go towards the house—you could see the neighborhood—it's a couple blocks up, right near Mt. Royal. And the whole block was in smoke and flames. That was the point that we freaked out. Now, we didn't know what was going on. My father was sleeping because it was Sunday morning, and we were like, "Oh my God! Is he okay?"
All I saw were masses of black people in the street. And flames. And they wouldn't let us get past, so I knew the back roads, and went around and came down to the Esso station, which was there across the street. There was my father, waiting for us, standing in the Esso station. I will never forget that. He got in the car, and we left. We picked up the Eisenbergs. They had no car. The Eisenbergs had the jewelry repair shop two doors down. We went to my aunt's house. And that was the end of my life as I knew it.
—Sharon Pats Singer's interview—edited for length and clarity—took place in 2007 as part of the University of Baltimore's "Baltimore '68: Riots and Rebirth" oral history project.
---
Bernard took the lead outside, wielding a chainsaw to cut back overgrown shrubbery and plotting the eight garden beds on the east side of the house. The lake-facing side of the house is now centered around the two-story bay window.
Kalman R. (Buzzy) Hettleman
Assistant to Mayor Thomas D'Alesandro III
Everyone hoped nothing would happen. But nobody was surprised [in the mayor's office]. Tommy was suspect initially in the African-American community because he was of the old Democratic establishment, but he was a very liberal mayor for the time. He brought African Americans into high offices in the city for the first time. He appointed George Russell to City Solicitor. Rev. Marion Bascom to the board of fire commissioners. Appointed Jim Griffin and Larry Gibson to the school board.
I remember the sense of helplessness riding around the city and seeing the fires.
I remember meeting with all the merchants at the Mechanic Theatre, who were outraged about all the stores that had been burned down.
As a white person, I'd have been hard pressed to fully empathize with the black community and understand what was happening and why. To use today's term, it just went viral in the street. It was a matter of long-simmering discontent. Martin Luther King's murder was the catalyst.
We were trying to do it all—improve schools, housing, community development, policing. Drugs weren't a big issue, but policing was. [Donald] Pomerleau was the commissioner, and he was a controversial figure. Gruff. The mayor was under great pressure to appoint an African-American police commissioner [which didn't happen until 1984 with Bishop Robinson].
I don't think there were any abrupt policy changes afterward. Tommy had been welcoming to the issues the African-American community raised before the riot. There was flight. People were going to the suburbs. That was a concern.
I do think we had more hope in the 1960s that we were going to make a difference.
---