---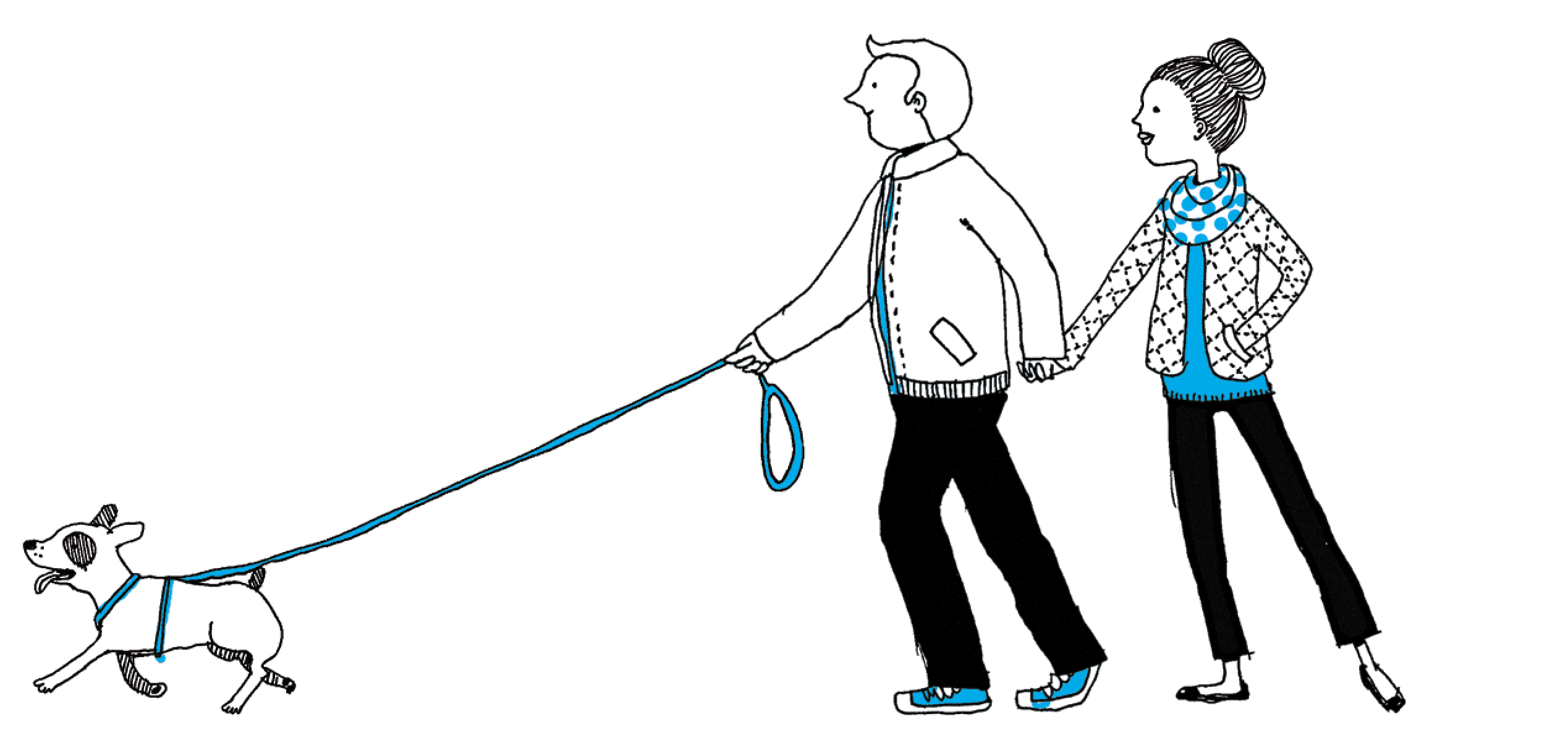 House hunting? Then, of course, you're looking longingly at uber-expensive "A-list" neighborhoods, right? Depending on where you work and what else you want to be near, those likely include communities like Columbia, Roland Park, Hunt Valley, or Severna Park. Then there's second-tier 'hoods in terms of price, from Catonsville and Pikesville to Towson, Bel Air, and Westminster.
But what about the little enclaves you might not have heard of, or that you assumed were subpar? In fact, there are lots of humble neighborhoods in need of a little P.R., but where you can find great values, family-friendly environments, manageable commutes, and good public schools, or some combination of those attributes.
So why do these neighborhoods remain under the radar? Largely because they're cursed (or blessed) with the same cartographical issue that sometimes faces Baltimore itself. Look carefully at many national TV weather maps or maps of the U.S. on the Internet, and, sure enough, there's Richmond, Washington, Philly, The Big Apple, and Beantown. But, wait a minute. Where's Baltimore? What are we, chopped liver? (We can only hope Vladimir Putin's nuclear missile targeting programs suffer from the same oversight.)
Likewise, even though our "hidden gem" neighborhoods have distinct personalities, these communities don't appear on many maps, meaning their real-estate sales data is often lumped together with that of the nearest larger community, such as Towson or Catonsville.
An exception is in the city, which prides itself on promoting its tiniest neighborhoods.
But which rocks do you look under for these unsung places? We already looked for you.
HUNTING RIDGE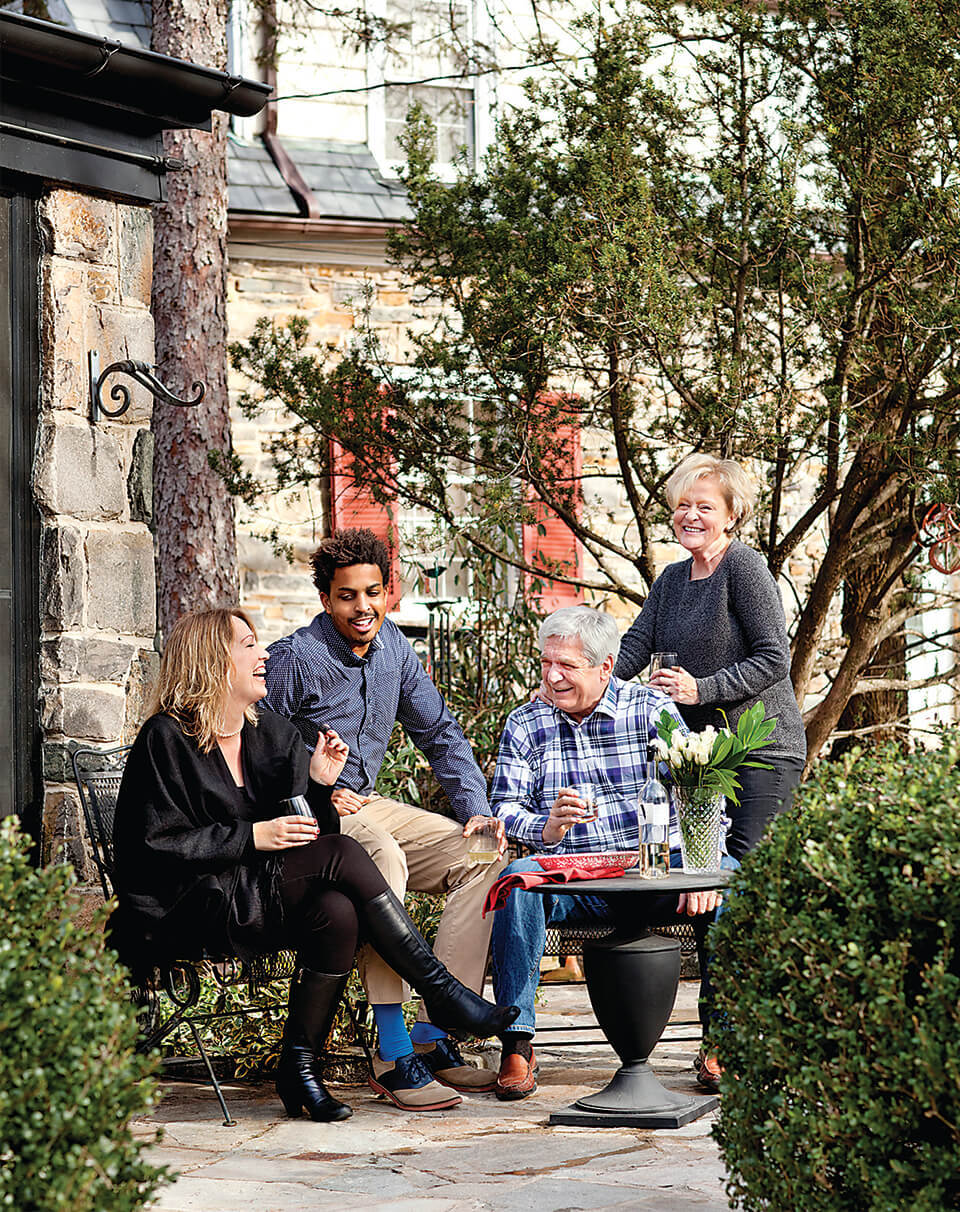 ---
At a Glance
Housing types Mostly single-family homes with yards and garages in styles ranging from bungalows to center-hall Colonials to the odd ranch house
Claim to fame Adjacent to Gwynns Falls/Leakin Park, one of the largest urban parks in the nation
Character Cultured, diverse, suburban, green
POPULATION 1,296
Median home price $222,500
DISTANCE TO DOWNTOWN 5.1 miles
Tucked just inside the city's western border, Hunting Ridge was platted in the 1920s with the majority of its development occurring during the '20s and '30s. As such, it boasts homes in a variety of historic styles, ranging from bungalows and center-hall Colonials to foursquares and Tudor-revival cottages. Most homes sit on generous, well-landscaped lots, and towering shade trees stand sentry over wide, winding streets that slope down to the 1,200-acre expanse of Gwynns Falls/Leakin Park, where residents hike, bike, and walk their dogs year-round.
In the center—both literally and figuratively—of the family-friendly community is Thomas Jefferson Elementary/Middle School, a public school with a good reputation thanks to its International Baccalaureate elementary curriculum, Spanish language instruction beginning in pre-kindergarten, and Arts Every Day program, which provides students with cultural education through museum visits and in-class activities. This quaint cosmopolitanism is mirrored in the community at large, which is racially and ethnically diverse and full of professionals who take advantage of Hunting Ridge's proximity to UMBC (12 minutes), BWI (17 minutes), downtown Baltimore (19 minutes), Columbia (21 minutes), and D.C. (a little over an hour).
"It's our little piece of Mayberry," says Nancy Smith, a longtime resident who heads the neighborhood's community association. "My husband and I moved from Kansas City, MO, and we came across this neighborhood that was easy access to the beltway, close to the airport, had beautiful trees, and all the houses were architecturally different—plus it was adjacent to a park." So Smith and her husband, Bud, a retired VP of an architectural woodworking company, bought their 1927 fieldstone Jefferson Colonial and never looked back. "We have the best neighbors in the world," says Smith, 62, the senior director of government relations and principal gifts for the Maryland Food Bank. "We can go away and they'll feed our cat. We can have an early-morning flight and they'll drop us off at the airport. The city has been good to us."
Original Northwood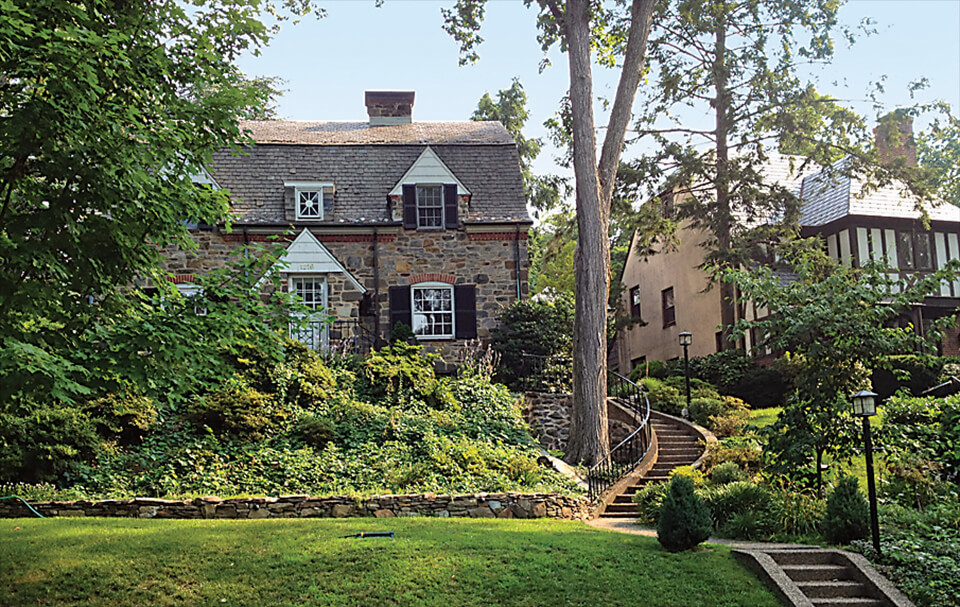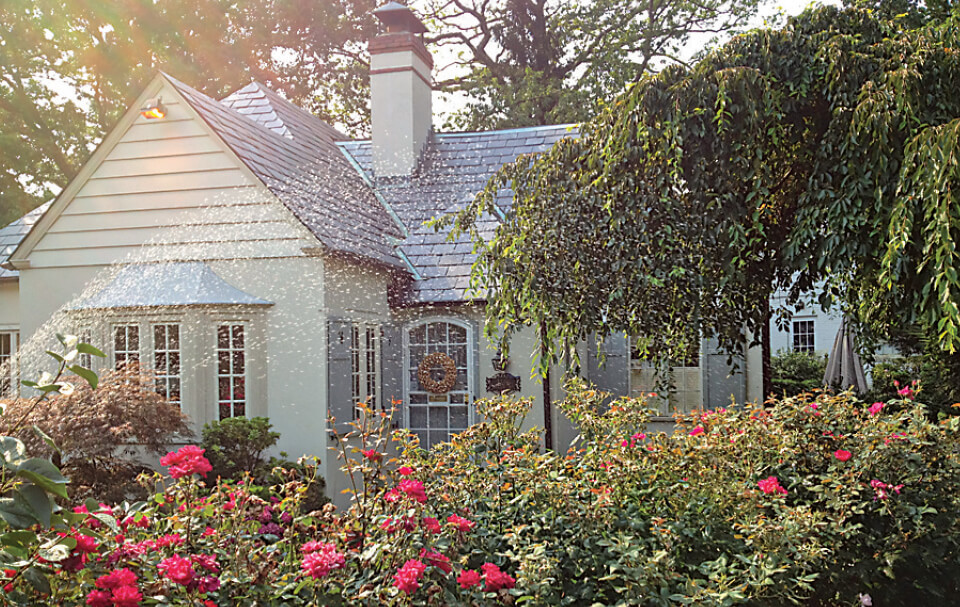 ---
At a Glance
Housing types Detached, semi-detached, and rowhomes in styles from half-timber Tudor revival to center-hall Colonials, many with yards and garages
Claim to fame A city and national historic district with homes designed by Roland Park Company architect John A. Ahlers
Character Friendly, diverse, suburban, green
POPULATION 1,241
Median home price $169,250
DISTANCE TO DOWNTOWN 4.4 miles
To know Original Northwood is to love it—but first you have to find it. An enclave of nearly 400 homes nestled on a maze of looping streets between The Alameda and Loch Raven Boulevard, Original Northwood is not a neighborhood you pass through by accident. Though surrounded by major thoroughfares, only one main road—Argonne Drive—traverses it. Once inside its boundaries, however, Original Northwood beguiles with both natural and man-made beauty. Developed in the 1930s by the same company that worked on portions of Roland Park, Original Northwood shares many characteristics with that tony nabe, not least of which are its park-like setting and its status as a covenant community, meaning changes to a structure's exterior need approval from the neighborhood's board of governors.
But unlike Roland Park, Original Northwood's housing stock—which ranges from rowhomes to duplexes to center-hall Colonials—remains modest and affordable. "You get a lot of bang for the buck here," says Richard Skolasky, 44, who moved to the neighborhood with his husband, Scott Eckhardt, and their two teenage daughters in 2012 and is now president of the neighborhood association. "Given the price point of these houses, it really is amazing to come in and see the mantels around the fireplaces and the molding around the windows and the doors."
Other selling points, says Skolasky, include the neighborhood's central location, "oasis-like" serenity, and inclusiveness, which neighbors maintain through six annual events ranging from a garden tour and plant sale in the spring to a newcomers picnic in September.
The one downside has been a lack of walkable amenities. (Lake Montebello is within walking distance, as is a branch of the Enoch Pratt Free Library, but for most errands, a car is required.) But that could change. Plans are afoot to renovate the nearby Northwood Plaza shopping center, adding a bookseller, student housing for adjacent Morgan State University, and a grocery store. "That's the one thing that's missing here," says Skolasky. "Soon, I think we'll be the envy of a lot of city neighborhoods."
Hollins Market/Union Square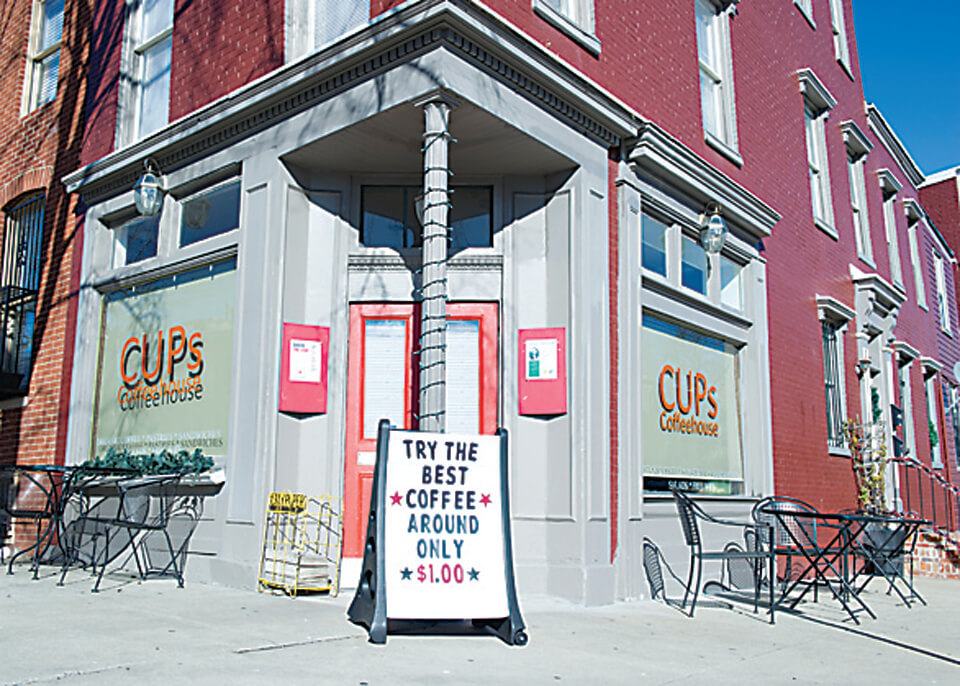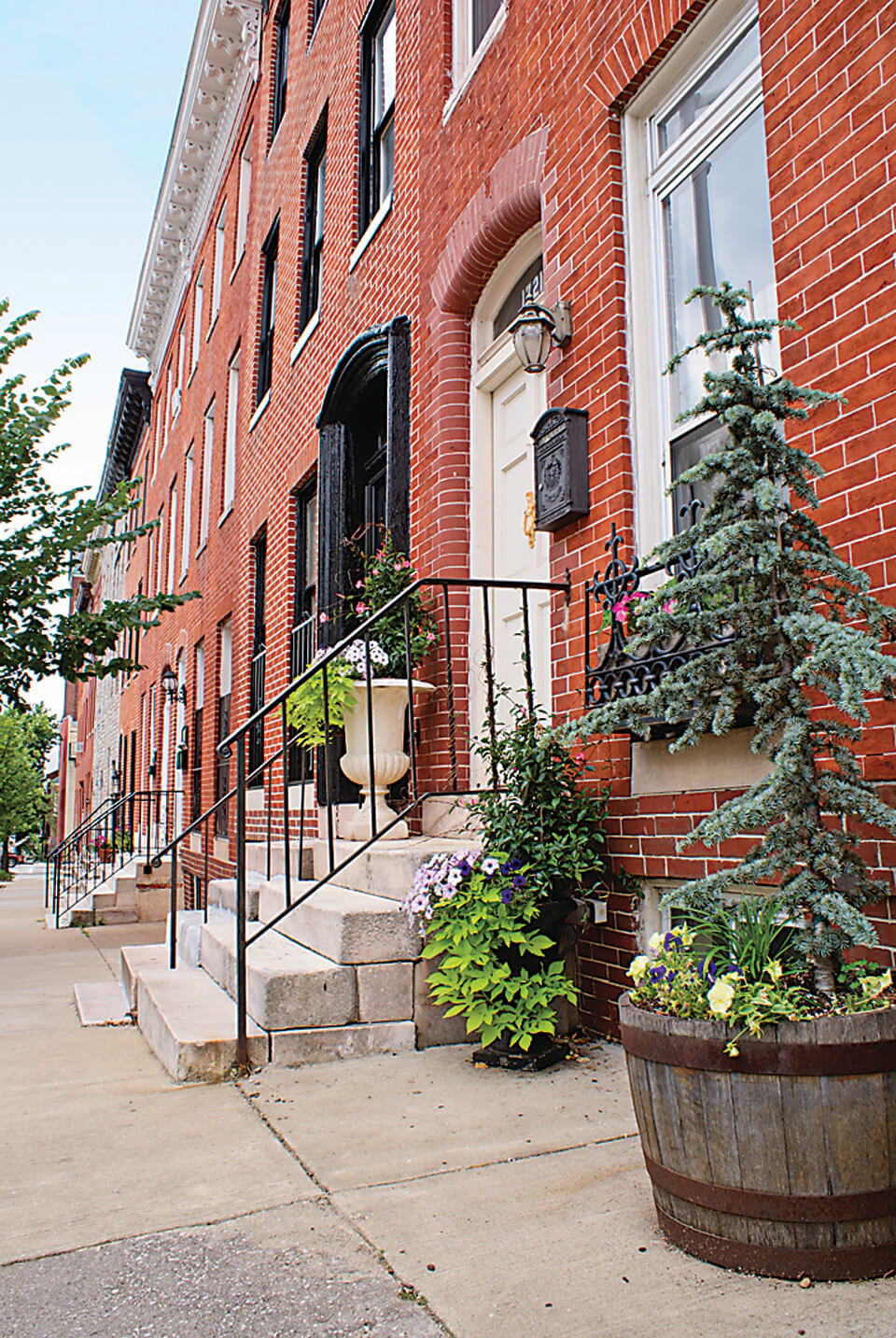 ---
At a Glance
Housing types Two- and three-story rowhomes (Hollins Market); grand Victorian townhouses, some with yards and garages (Union Square)
Claim to fame Both on National Register of Historic Places
Character Eclectic, hip (Hollins Market); mature, elegant (Union Square)
POPULATION 1,838 (Hollins Market)
1,187 (Union Square)
Median home price $42,500 (Hollins Market)
$160,000 (Union Square)
DISTANCE TO DOWNTOWN 1.2/1.7 miles
Think of these two Southwest Baltimore neighborhoods as fraternal twins—distinct, but inextricably linked.
Hollins Market is the funky commercial district reminiscent of Hampden 15 years ago, while Union Square is largely residential with elegant townhouses surrounding the 2.5-acre Union Square Park.
"In Hollins Market, you have the younger people moving in," says Kirstin Ramsay, 35, who, along with her husband, Brian Marick, moved to Hollins Market in 2012. "In Union Square, you see more established families."
Together, the neighborhoods are able to meet the needs of diverse demographics. "They don't have restaurants. They all come over here," says Ramsay, mentioning Hollins Market eateries such as Zella's Pizzeria, Cups Coffeehouse, and Primo Chicken as dining draws. Union Square, on the other hand, offers the park and a quieter lifestyle. "That's where we take our dog. I work out in Union Square Park," says Ramsay, an attorney with the Social Security Administration.
Betsy Nix, a 51-year-old history professor at University of Baltimore, has lived in Union Square since 2000, and agrees the neighborhoods are different but complementary, bonded by community events, including the Sowebo Arts and Music Festival each May and Union Square's annual Christmas Cookie Tour. Nix and her husband, Andy Imparato, have raised two sons in a Victorian brownstone overlooking the park, and have loved the experience. "A lot of places say, 'Oh, we're diverse.' But we really are diverse," says Nix. "That's what we've really liked about it because you get to meet interesting people you never would otherwise."
Whither the Millennials?
Even before the latest recession, Realtors and other market watchers have been asking, "When will the millennials start buying real estate?"
Some experts, including real-estate research firm Zillow, think the answer is "soon." That view is based, in part, on a poll the firm did in which 18- to 34-year-olds expressed more favorable views toward the idea of buying than older generations, with 65 percent believing it is the best long-term investment a person can make. But a study by the Pew Research Center begs to differ, noting that more adults ages 18 to 24 are living with their parents than in the past four decades.
Veteran Baltimore Realtor Joan Goldman of Coldwell Banker says that generation isn't necessarily living the cushy life with their parents because of the well-stocked fridge and cable TV, but because they face obstacles.
"Their incomes are lower than other generations due to the recent weak job market," she says, "and many were either unemployed or underemployed after college. Also consider that colleges today are more expensive than ever, and most twentysomethings have college loans to pay off."
Local Realtor Rachel Rabinowitz agrees—and thinks the 30-year mortgage is part of the problem. "Millennials are not yet seriously in the housing market because, like their essential devices, they've become increasingly mobile and that does not bode well for the idea of a 30-year mortgage," she says. "The millennials will enter the market in droves once the mortgage industry catches up with fresh financing options."
And, finally, there's the credit issue: "They use debit cards instead of credit cards and therefore are not building credit," says Goldman. "Paying college loans helps, but if they have deferred them, then it won't."
So Goldman suggests that young people who are even thinking of buying a home should get a credit card—now.
Seton Hill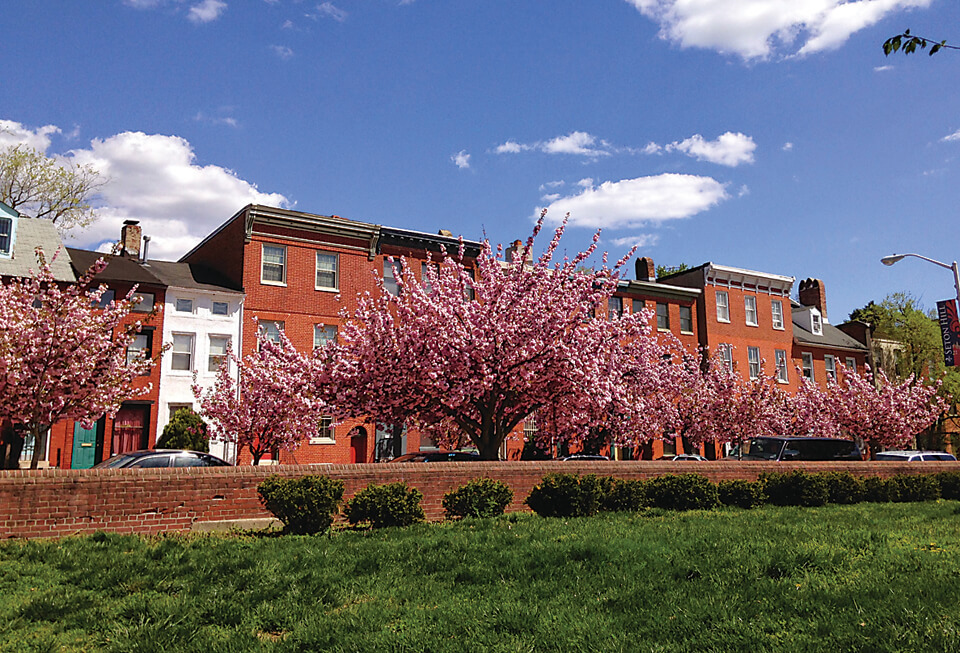 ---
At a Glance
Housing types Two- and three-story brick rowhomes and townhouses, some with colorful exterior paint jobs
Claim to fame St. Mary's Park; St. Mary's Spiritual Center and Historic Site; on National Register of Historic Places; partly in Bromo Tower Arts & Entertainment District
Character Urban, walkable, diverse, artsy
POPULATION 1,390
Median home price $222,500
DISTANCE TO DOWNTOWN 1.3 miles
Seton Hill, a tiny tangle of streets sandwiched between Martin Luther King Jr. Boulevard and Mt. Vernon, might not be well known, but it has a couple of notable features. The most surprising, perhaps, is that it was once Baltimore's French quarter, founded in the late 1700s by an order of French priests who started the first Roman Catholic seminary in the U.S. here, and whose early-1800s chapel still stands as part of the St. Mary's Spiritual Center and Historic Site on Paca Street. The community celebrates its heritage every fall with a French Fair and Fleamarket in St. Mary's Park, a 4.75-acre expanse of lawn with tree-lined walking paths that is, itself, another local landmark. Since 2013, the ever-popular Baltimore Bike Party has started its monthly ride from the park.
Even so, Seton Hill has managed to stay under the radar, and this isn't such a bad thing, says Kevin Macartney, who owns two homes in the neighborhood—one he rents and one he lives in.
"If you look at other safe, artsy, and cool neighborhoods in the city, you're going to find that the price point is so much higher than in Seton Hill, and there's really no reason for it other than people don't know about this neighborhood," he says. Macartney, who works for the federal government at Fort Meade, notes that the neighborhood's historic housing stock runs the gamut from 600-square-foot alley rowhomes to grand 3,500-square-foot brick townhouses. "It's one of the last remaining, intact rowhome neighborhoods in the country," he says.
And while there's not much retail in the neighborhood, Mt. Vernon and the up-and-coming Bromo Tower Arts & Entertainment District are just blocks in either direction, meaning Seton Hill residents get both convenience and quietude.
"It's close to downtown, but not too close," says Macartney.
WALTHERSON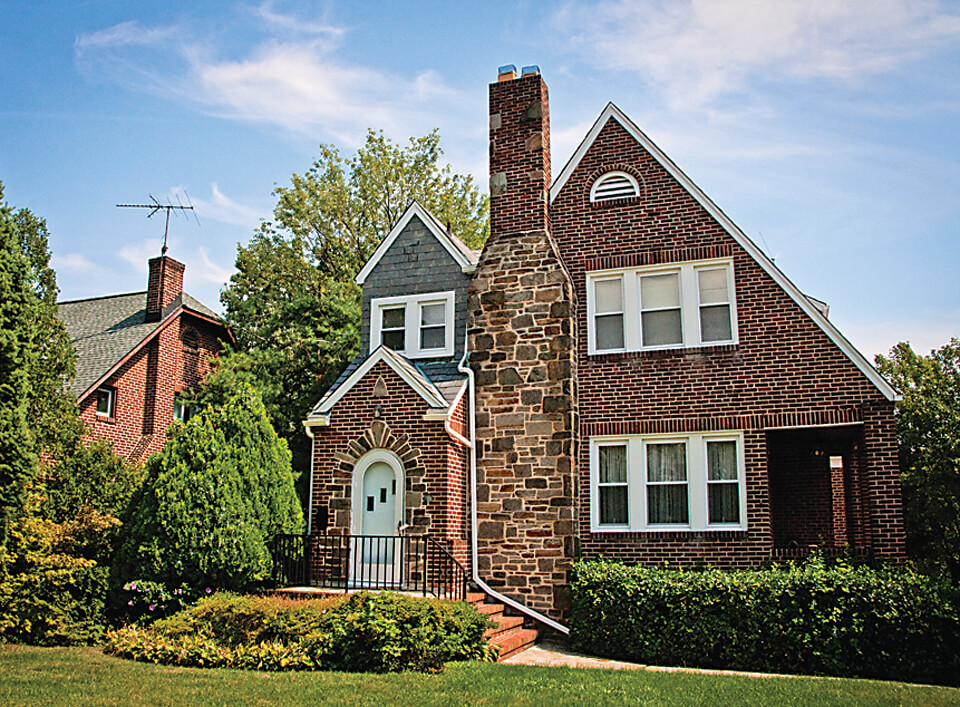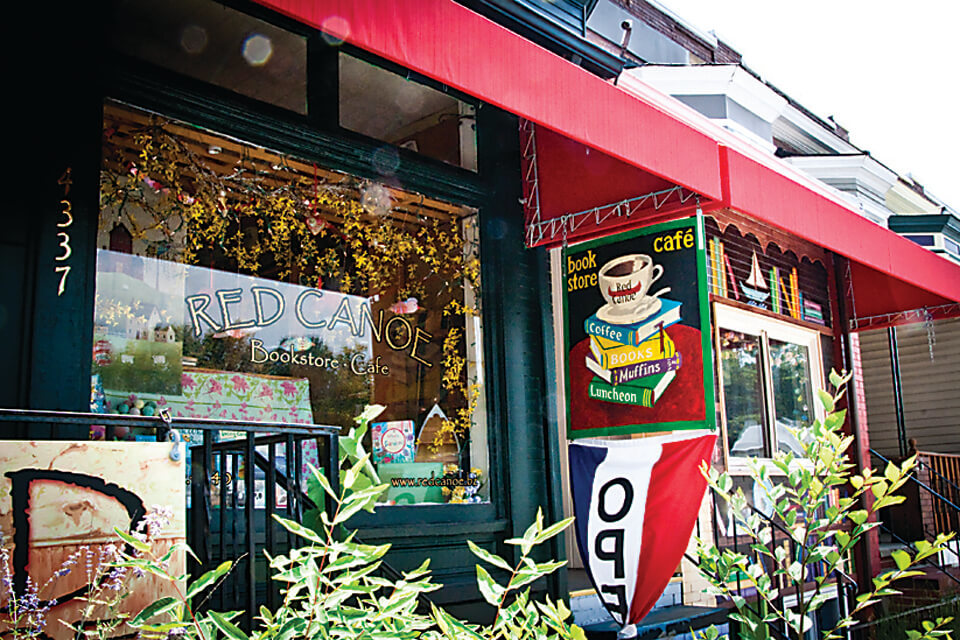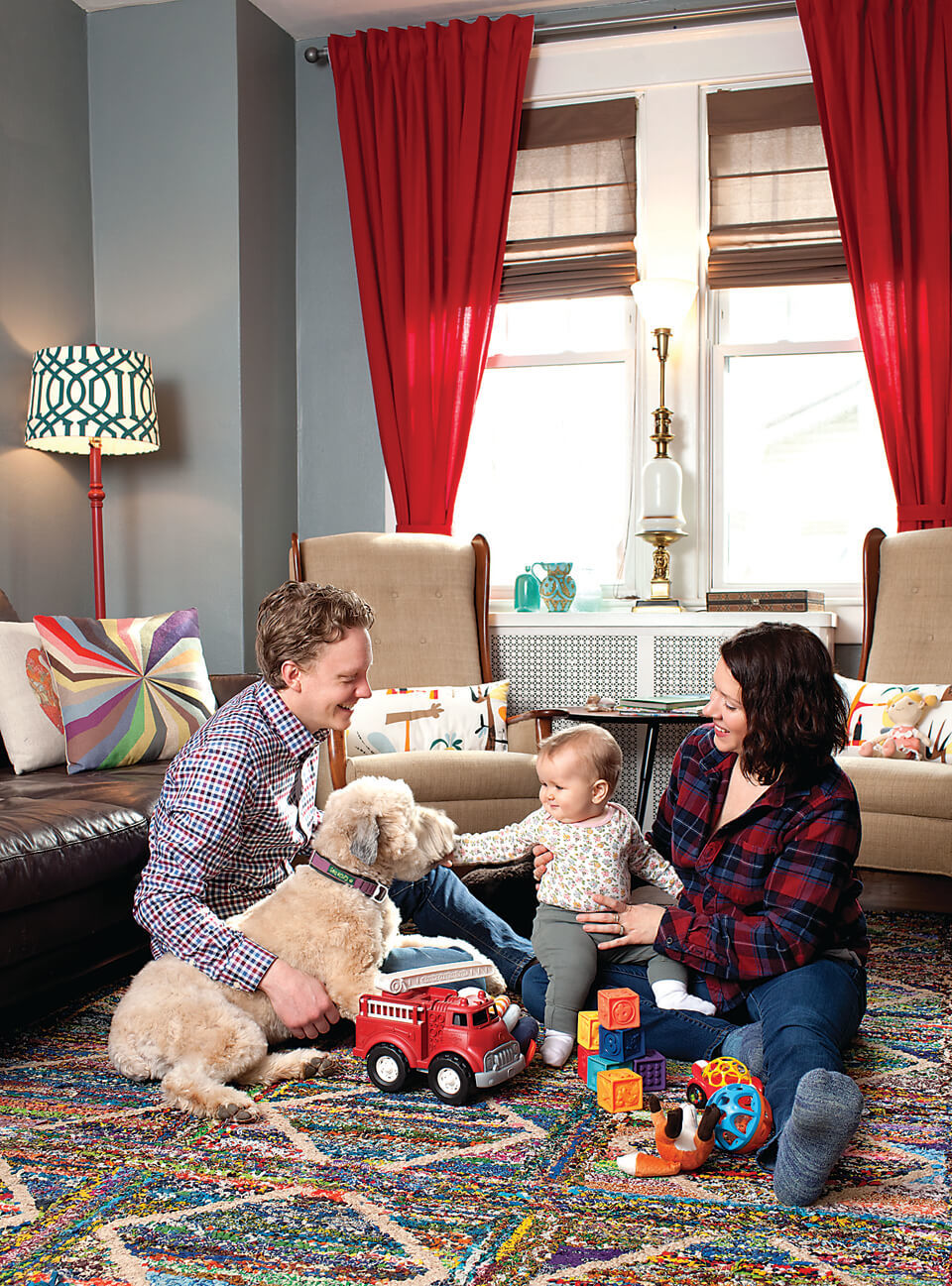 ---
At a Glance
Housing types Assorted styles from the early to mid-20th century
Claim to fame Red Canoe, a bookstore with coffee and lunch options, is a favorite hangout, while Main Street (Harford Road) is fast becoming Baltimore's latest restaurant row
Character Leafy, walkable, diverse, and friendly, with lots of young families
POPULATION 6,124
Median home price $119,900
DISTANCE TO DOWNTOWN 5.6 miles
Cori Duggins has gotten used to the puzzled looks she gets when she tells people she lives in Waltherson. But the quiet Northeast Baltimore neighborhood turned out to be a perfect fit for the new mother and her partner, Graham Young, 28, who is deputy chief of traffic for Baltimore.
"When we were renting in Medfield, near Hampden, we had a pretty good idea what we were looking for," says Duggins, 35, who works for Congressman Dutch Ruppersberger. "We knew we wanted a single-family home, but we weren't ready to leave the city. We wanted a good-sized backyard, because we were planning a family, and also wanted a large vegetable garden—we have two dogs, too—so we also looked in places like Northwood, Lake Evesham, and Homeland." Either price or backyard space ruled out the homes there, but the couple got everything they wanted, and within their budget, when they found a three-bedroom, two-bath 1920s-era home on a quiet, leafy street in Waltherson, one of several lesser-known communities in greater Lauraville, which is in the Harford Road corridor. The timing couldn't have been better: The couple had their first child, a daughter, in June of last year.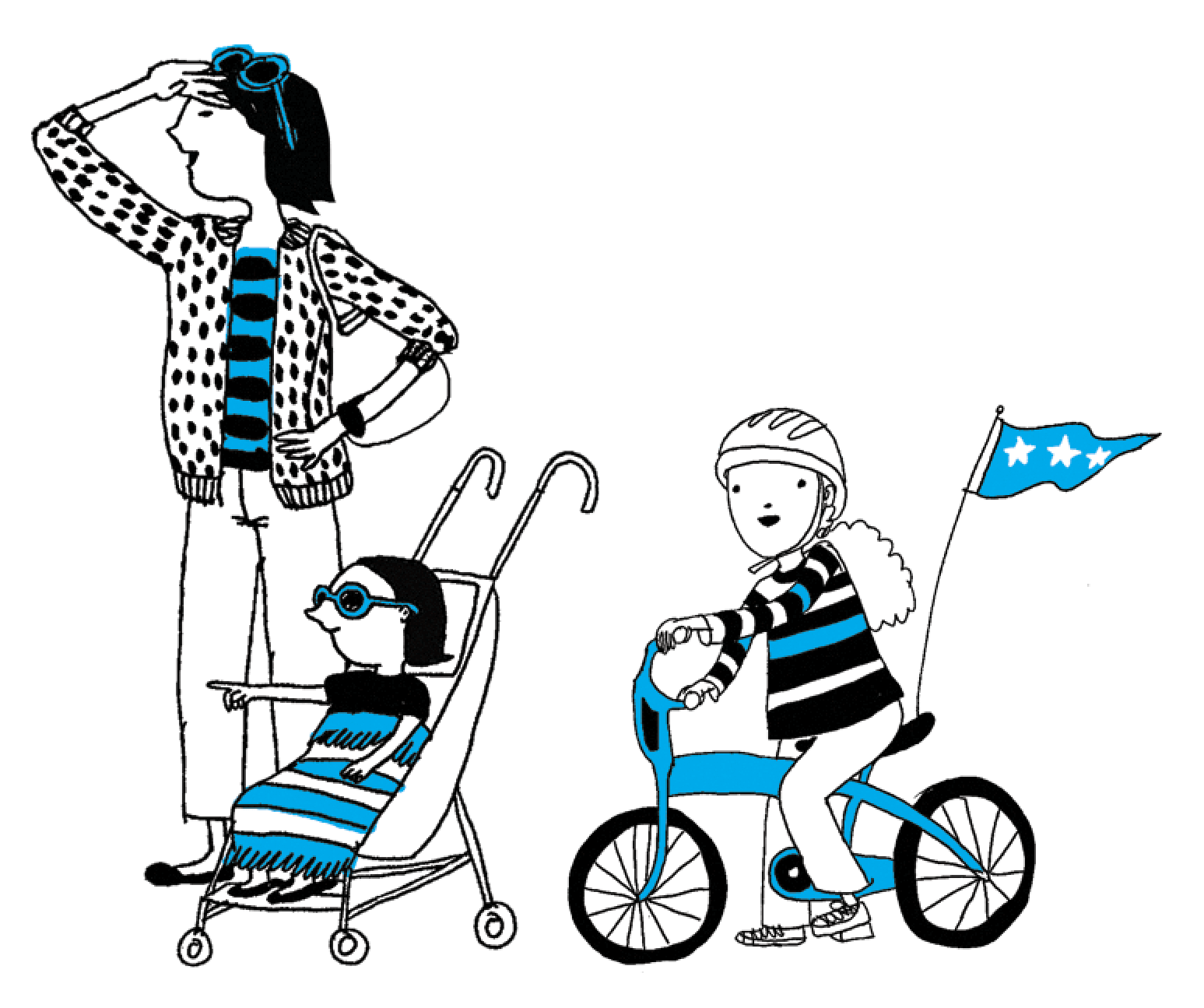 "It's a very family-friendly neighborhood," says Duggins, pictured with her family. "There are lots of progressive-minded people living here—some of them keep chickens—as well as people who home-school their kids." And they all keep connected with a neighbors-only Facebook group they use to watch out for each other, promote the 'hood, and organize events. "There are also great restaurants, nearby shopping, a sweet little bookstore, and a yoga group that operates in a church," adds Duggins.
"We're in the city still, but the difference is it's without the rowhouse, and there's lots of parking. I love it. I can't say enough good things about it."
Strange But True
As any veteran Realtor can testify, people can be really weird. With some help from the friendly folks at multiple-listing service MRIS, we spread the word that we wanted the funniest or most bizarre tales that local brokers have to tell about buyers and sellers over the years:

Listing Love
About a year ago, Realtor Effy Lamp was handling a listing with two homes on the property, so she asked the homeowner to be present during the open house to help keep an eye on things.
"After the open house was over," Lamp recalls, "we met up and shared notes about the buyers who visited." But it wasn't until a few weeks later that her client remembered to mention the "peculiar" couple who were there that day.
"What do you mean by peculiar?" Lamp asked. "She then told me that they did the normal preview of the home but, after the tour, the couple entered the bathroom together, then locked the door behind them. The homeowner said she was worried they were in there to steal meds or other things but checked after they left and didn't see anything missing. At this point, I already knew the answer to my next question, which was, 'How long were they in there?'
"She said, 'Oh, for a while, at least 15 or 20 minutes.' Then her face got a look of horror and disgust. Her next comment to me was, 'Oh, no. Well, I guess I'm bleaching that bathroom immediately.'"
Scene of the Crime
Female Realtors, particularly, have to be safety-minded when showing an empty home to a male stranger, but Realtor Lynn Lombardi remembers having no qualms about working with a client for months—a butcher by trade—to help him find an investment property in the city. "This client was a large man who was always soft-spoken and kind," she recalls. "Most of the properties we visited, usually in the evening, were vacant and without utilities, in addition to not being in the safest neighborhoods. Together, we eventually found a multi-unit property that fit his criteria." But about one month after settlement, he called Lombardi to share some unsettling news. "He informed me that his 'story' was going to be featured on the TV news show Dateline the following Friday. Turns out, he had been under investigation for 12 years for a murder in the area, in which the killer was referred to as the 'butcher of Baltimore.' Luckily, as the episode went on to explain, he was cleared of any wrongdoing by DNA evidence."
Grave Concerns
"Most basements in Baltimore creep me out," admits Realtor Joan Goldman. "Especially the dark ones with dirt floors, where you can't stand up straight. I remember in one city home on Tyson Street, my buyers and I went downstairs and found a headstone of a child in the basement. I'm not sure if someone was buried there, or the headstone was stolen, or what, but it just added to the creepiness." The buyers were creeped out, too. They passed on the house.
Thank You, God
"Years ago, I was working with my very first client, a homebuyer, who was looking for a home in a very specific area so that his daughter wouldn't have to change her elementary school," recalls Realtor Tom Carbo. "We were having a very difficult time finding a home in that small a radius, so we stood together in their dining room one evening, about 7 p.m., and prayed. The very next day, I checked out another home that had just come on the market. When I went to see the new listing, the owner told me I was the first to see the home and that he had prayed last night that he would get someone good to buy it. I asked him what time he was praying and he told me, 'about 7 o'clock.' My client bought that home and still lives there to this day."
Lose the Shrine
"I once showed a townhouse that was completely full of religious artifacts," recalls Realtor Joan Goldman. "There was a gory Jesus hanging from the cross, and every room was full of paintings, sculptures, and other religious trinkets to the point where my buyers—who confessed they were atheists—were completely uncomfortable. They couldn't remember anything about the place once we left except all the graphic religious items. I gave my feedback to the listing agent, but she and her client were insulted when I suggested they might want to remove most of the religious items."
BORING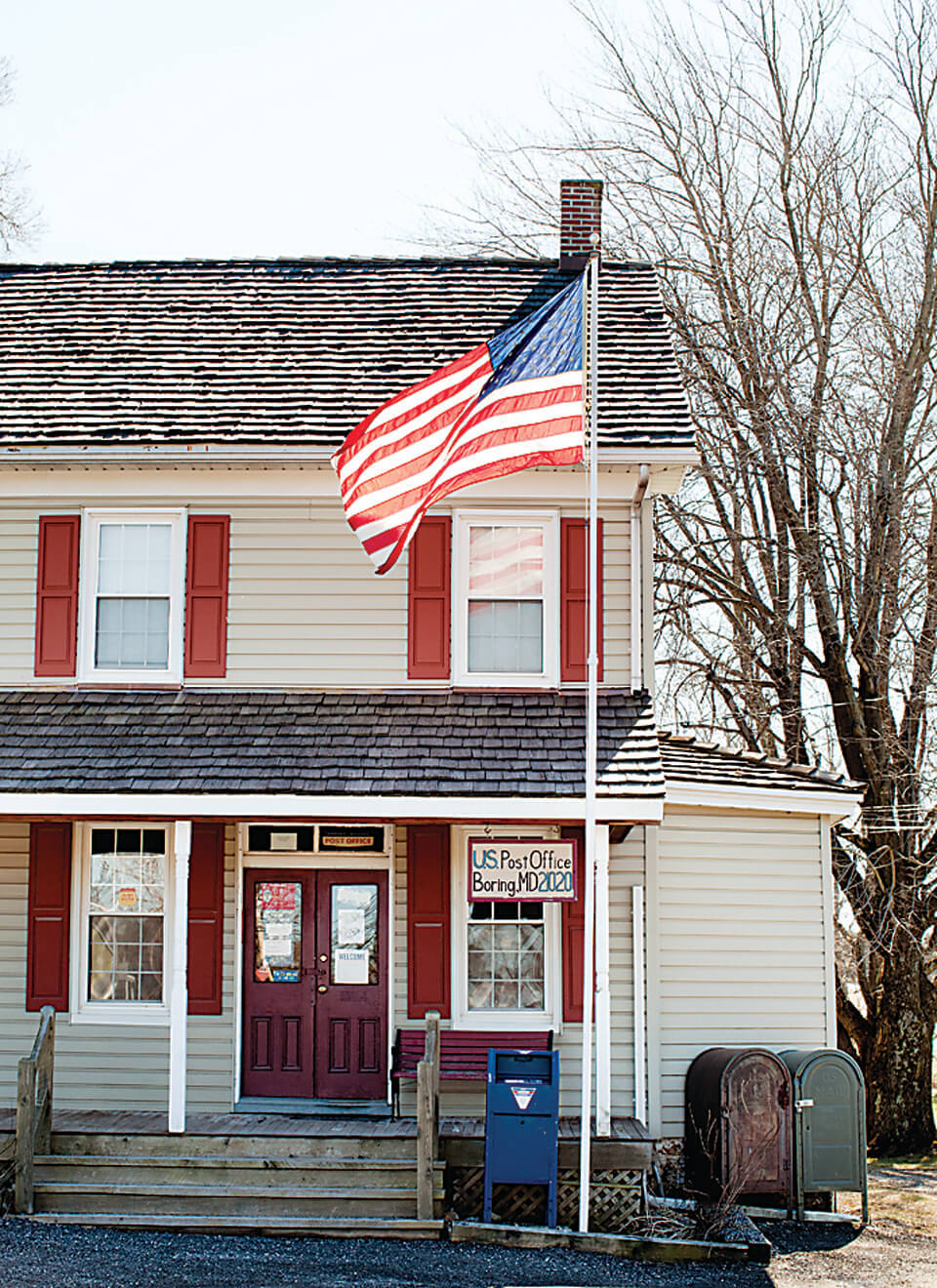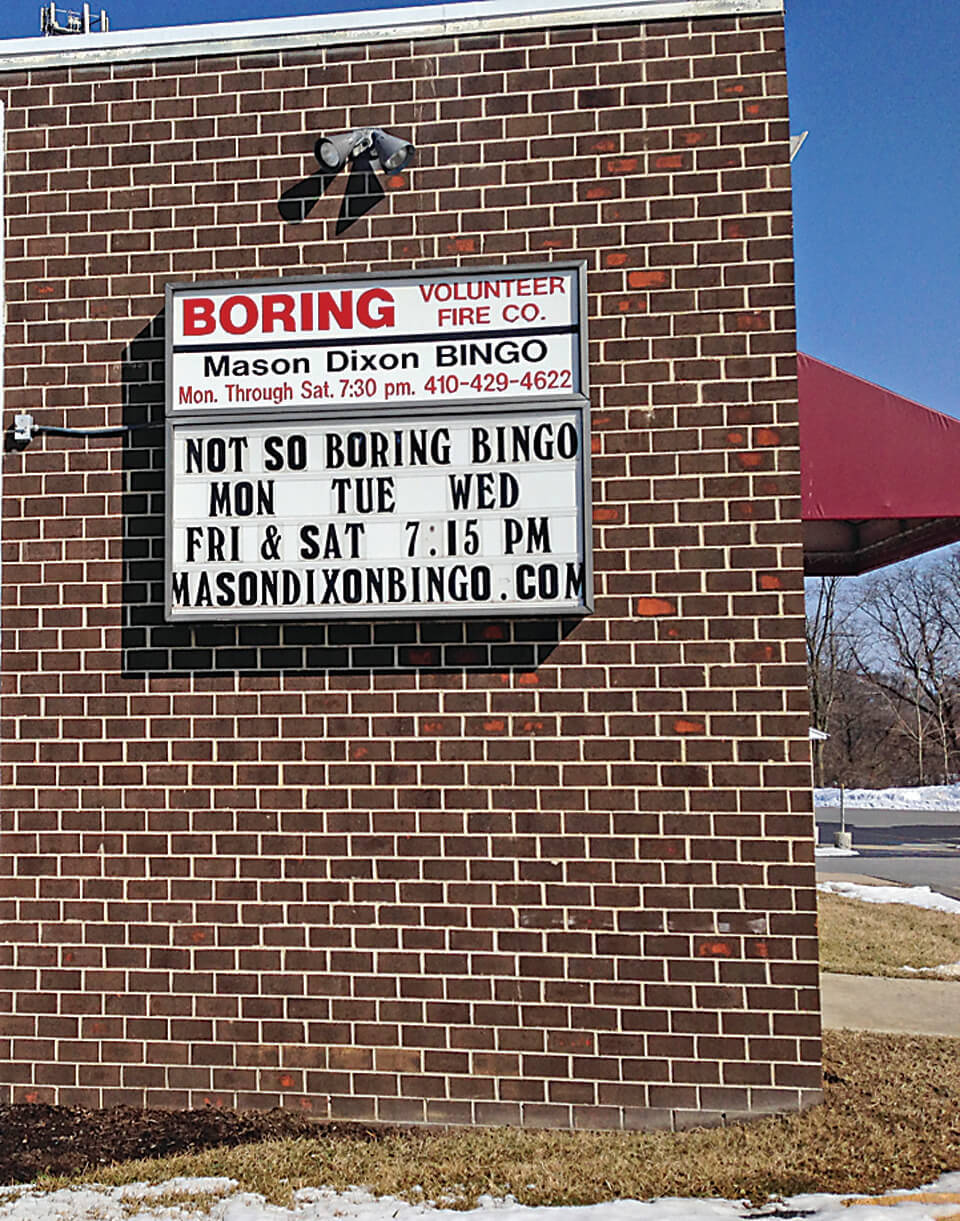 ---
At a Glance
Housing types Mostly Colonials and farmhouses
Claim to fame Only 5 miles from Reisterstown shopping and near I-795; named after late-1800s postmaster David Boring; The Peppered Pig, a cozy cafe in nearby Butler
Character You can actually hear the crickets here
POPULATION 100(approx.)
Median home price $245,000
DISTANCE TO DOWNTOWN 28.9 miles
If you were looking to buy in an exciting neighborhood, you might forgo Boring—that is, if you'd ever heard of it. But Nikki Diamantopoulos, pictured left, knew better.
"I lived in Boring like 20 years ago, and thought if I was ever going to buy somewhere, it'd be there," she says. So when she and her spouse, Eleni, decided it was time to become land barons, Boring is where they started looking.
"We knew we wanted some land, but also knew we wanted just what felt right," says Nikki, 41, a scenic painter who met graphic designer Eleni, 49, pictured right, when they worked together on the set of Netflix's House of Cards. And what felt right last summer in her old stomping grounds was a foursquare Colonial farmhouse, built in 1910, that was once a Methodist church rectory.
"The minute we walked in, we said, 'This is it,'" she recalls. "And ironically, one of my longtime friends grew up in the house next door, and her grandmother had planted all the forsythia between the properties."
So what does the 'hood have going for it? For one, it's only about 10 minutes to I-795—and about 35 minutes to the city. "And, of course, it has a great name," jokes Nikki. But the warm greeting they've received from fellow Boringites was an added bonus. "You might think that if a gay, atheist couple moves into what historically has been a conservative farming community, there would be resistance, but everyone has been so friendly and accepting," she says. "Everybody's very laid-back and even invites us to their churches."
Now, of course, it's time for the two artists to strut their stuff: "We really love the house, and what the previous owners did. But," she quips, "we're looking forward to making it weird in our own way."
Havre de Grace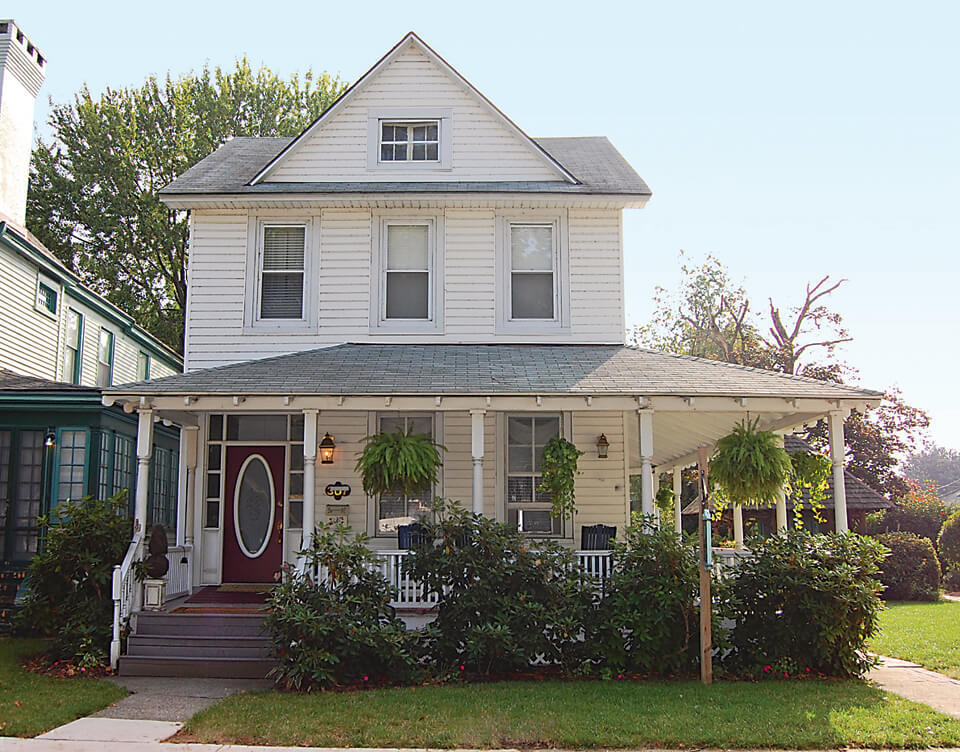 ---
At a Glance
Housing types Mostly 19th- and 20th-century Colonials, Victorians, and farmhouses/p>
Claim to fame The Marquis de Lafayette slept here/p>
Character A close-knit waterfront town with lots of early American history
POPULATION 113,500
Median home price $257,000
DISTANCE TO DOWNTOWN 25 miles
This historic bayfront town might seem farther out than some might want, but it's also right on I-95 and has some unique selling points. "The attractions include Victorian homes and romantic bed and breakfasts, easy access to the Chesapeake Bay, and a 'Main Street' that's full of restaurants, shops, and two museums," says Realtor Kimberly Bogris of Coldwell Banker. The museums include the Havre de Grace Decoy Museum (think duck replicas), offering a mother lode of working and decorative Chesapeake Bay decoys.
Many of Bogris's clients are relocating military families moving out of New Jersey after the closure of Fort Monmouth and looking for a similar atmosphere near the Army's sprawling Aberdeen Proving Grounds, which is the town's neighbor to the south.
"It's one of the most up-and-coming towns in Harford County, with low average home costs of about $257,000," says Bogris.
Havre de Grace boasts an impressive pedigree, having served as a strategic port town during both the American Revolution and the War of 1812. And the name? The story goes that when the Marquis de Lafayette visited the seaport several times in the 1700s, he remarked at how the town reminded him of the French town of Le Havre on the English Channel. In 1785, inspired by these comments, the place was incorporated as Havre de Grace.
Much of its charm comes from its location at the top of the bay and the mouth of the Susquehanna River. (Cecil County is on the opposing shore.) That makes the town a prime spot for boaters and fishing—and don't worry about getting lost in the fog, thanks to the Concord Point Lighthouse, the oldest continuously operating lighthouse in the state. There are also lots of attractions for nature lovers, bird watchers, and outdoorsy types: The city maintains half a dozen parks and riverside walking trails, several of them connected by the town's boardwalk.
Maple Lawn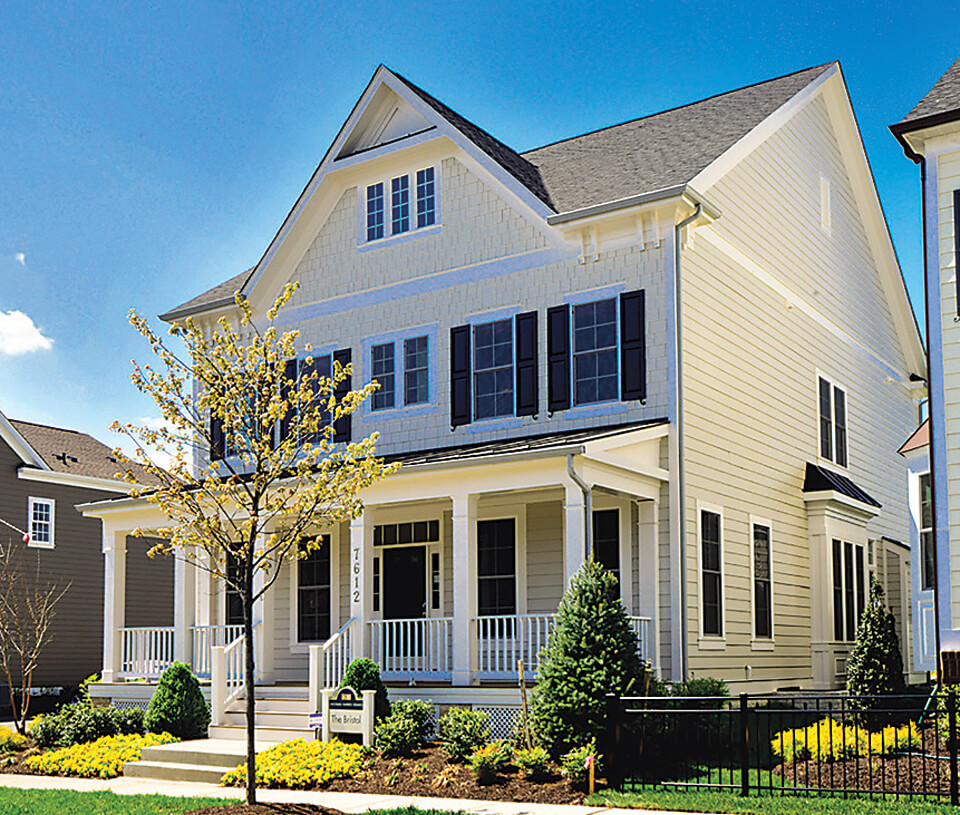 ---
At a Glance
Housing types An eclectic mix of newly constructed traditional and Victorian styles
Claim to fame Close to both Baltimore and D.C., and boasting some of the best public schools in the state
Character Upscale and walkable planned community with a town center with shops and services
POPULATION 3,000
Median home price $618,000
DISTANCE TO DOWNTOWN 22 miles
Located in the southern end of Howard County , this fairly new community has seen steady growth in the past two to three years, says Realtor Barbara Seely of Long and Foster. "It's walkable, everything's close by, and there's lots of diversity in housing styles," she says.
With a median home price of $618,000, it's a bit more expensive than some of the older communities in the county, but comparable to similar neighborhoods around Baltimore, says Seely, who has handled a number of resales there in the past year.
The area got its name in 1839 when Heinrich Iager purchased 108 acres of land to form Maple Lawn farms. The agricultural community reached its peak in 1970, when the farm owned by C. Ellsworth Iager won the Progressive Breeders Dairy Award. Then, 20 years ago, a developer in partnership with the Iager family had another vision for the sprawling tract: a planned community of homes built around a village of office and retail spaces. But Maple Lawn isn't plagued by the colorless architecture that afflicts so many new developments. Claiming inspiration from American small towns of the late 19th and early 20th centuries, the developer created streetscapes that mix both modern and faux historic architecture, giving the instant town a warmer architectural feel.
You also can leave your car in the driveway for many errands: The nearby town center has most anything your heart desires, from restaurants (including Ananda, named one of the region's 50 best restaurants this year by Baltimore) and shopping to medical services, salons, fitness centers, and banking. Think you'll be bored? There also are lots of events, including the Maple Lawn Street Festival and Fireworks, a weekly Saturday farmers' market (May through November), and Pink Night, hosted by retailer Bra-La-La.
And few can argue the high quality of public schools in the county—Howard County boasts some of the highest test scores in the nation.
House Hunting?
There's an App for That
There's a gaggle of new real-estate technology out there. We picked the brain of an expert on the subject, David Charron, president and chief executive of Rockville-based multiple-listing service MRIS, to find out the best apps for renters, buyers, and sellers.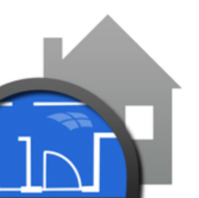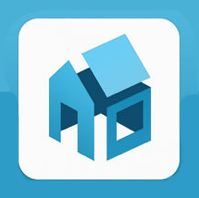 Click or tap on the apps above for more information.
Finksburg
---
At a Glance
Housing types Mostly 19th- and 20th-century homes, from cottages and Colonials to farmhouses
Claim to fame Home to its very own Taj Mahal, the architecturally inspiring Greater Baltimore Hindu-Jain Temple
Character Reeks of small-town Americana but close to the big city
POPULATION 11,000
Median home price $300,000
DISTANCE TO DOWNTOWN 20 miles
Its location on the Baltimore County line just northwest of Reisterstown puts it very near I-795 leading to Baltimore, but it feels a lot farther from the bright lights of the big city: It's quiet, rural, and affordable, and it's only six miles from bustling downtown Westminster.
Located at the intersection of Maryland Route 91 and Maryland Route 140 on the border of Carroll and Baltimore counties, Finksburg is named after Adam Fink, who owned a local tavern in the area in the early 19th century. There are plenty of shops of various kinds in the center of town to meet most needs without driving to a bigger shopping destination, like Westminster or Owings Mills, which are about equidistant (though the locals admit you do have to drive a bit to find a Best Buy or Apple store).
So why do they come and why do they stay? Sure, there are the good public schools, low taxes, and low crime.
But Heather Owings, branch manager of the county's relatively new Finksburg library branch, sees a special quality to life in Finksburg.
"What makes Finksburg unique and welcoming is the sense of community," she says. "I can't remember working anywhere where I could greet so many people by name when they come in," says Owings, who believes the sense of community was only made stronger by the opening of the library, which was high on the town's wish list for years. "The branch has only been here seven years, but we've had tremendous support from local community groups, such as the Finksburg Planning and Citizens' Council, the Roaring Run Lions Club, the Reese Volunteer Fire Company, and our local schools."
And then there's that price thing: The median home price for Finksburg is around $300,000, putting it high on the region's affordability list.
Lender Lessons
You've spotted the perfect house and are ready to put in a bid. But will a bank give you the mortgage you need? We talked to Dale Horn, Baltimore-based senior vice president of wealth management for global investment firm UBS, about what kind of reception you can expect from banks, and how things have changed since the last recession—which was caused by banks lending money to too many people who shouldn't have qualified.
How much tougher is it to get the mortgage you need?
Due to regulatory changes since the housing crisis, it's harder than ever to qualify for a residential home loan. Of course, those tougher regulations are there to prevent people from overstating their earning capacity. In essence, the regulations were increased to create a healthier financial transaction.
What are some common red flags for banks?
If you have little or no earned income, or are between jobs, or an entrepreneur with hard-to-document income, it can be a very arduous process to qualify today.
What sort of discretionary income are lenders looking for in an application?
Most banks have a ballpark where they'd like to see 35-40 percent of gross income available to service all debts: Mortgage debt, credit cards, auto loans, and student debt are the most common examples. So, from my standpoint, as a financial planner, the first hurdle would be to see if my client can afford to purchase a house. In any case, it's always recommended to get pre-qualified.
What part do credit scores play?
Credit cores are always taken into consideration and those of 720 or above are typically accepted.
What if your income comes from self-employment?
Even if the income is there and can be documented, it's a more difficult process, all due to increased regulations, because there were so many non-documented loans before the housing crisis.
Are some banks more lenient than others?
All banks are different, but certainly some will push the boundaries.
A lot of Americans came out of the last recession with ruined or damaged credit. Even though some of those bad marks can be removed on request in writing to the credit bureaus after seven years, can that still affect a loan application?
The seven years helps, but any events of default are incredibly damaging and make it very difficult to achieve a home loan.
Westowne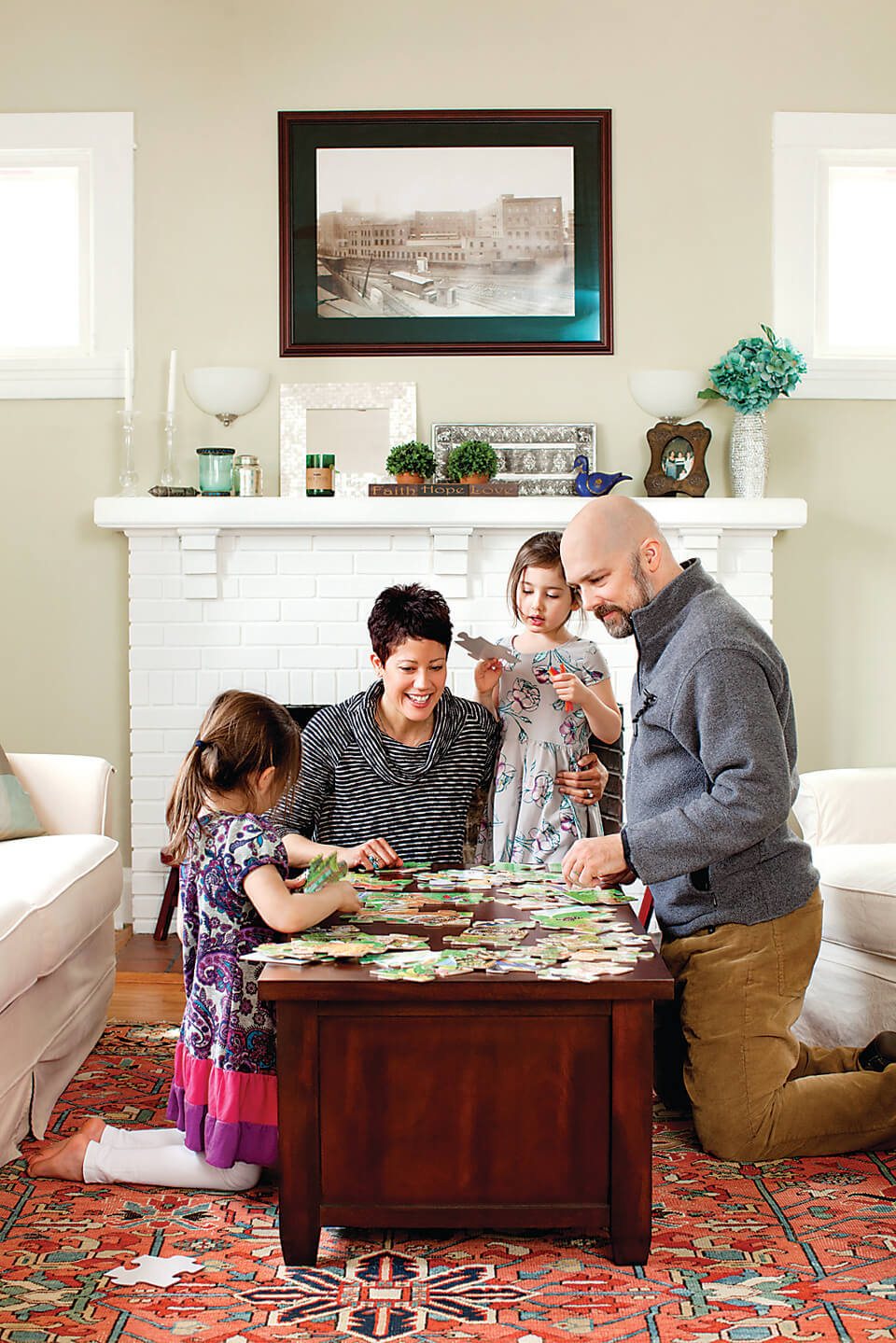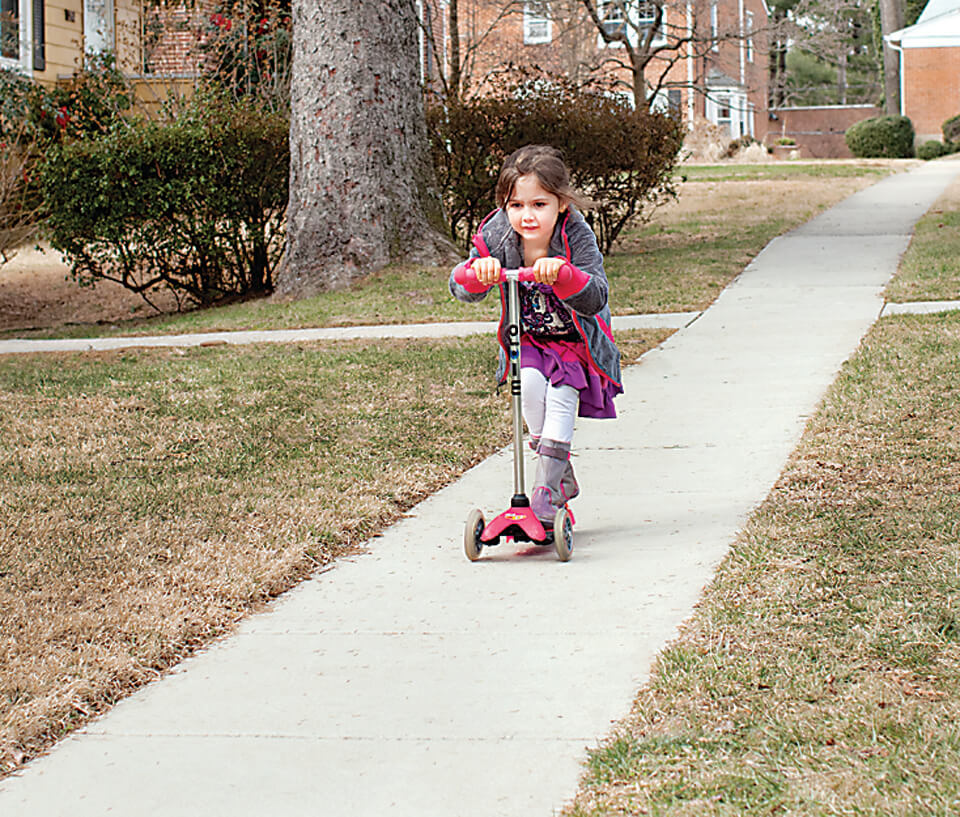 ---
At a Glance
Housing types Arts and Crafts designs and other types from the mid-20th century
Claim to fame Westowne Elementary School boasts higher test scores than the county or state average
Character Quiet streets and friendly neighbors but close to urban conveniences.
POPULATION 600
Median home price $175,000
DISTANCE TO DOWNTOWN 6.3 miles
When Robin and Alec Decker, Pictured, moved to Baltimore from Savannah, GA, 18 months ago to be closer to family, they knew they wanted to buy a home. Robin, 46, a former chiropractic assistant who's now a full-time mom, and Alec, 44, who had been stationed in the Army in Savannah but who is now a consultant for financial services giant Deloitte Touche, wanted elbow room for themselves and their twin daughters, now 5. They started looking in the popular neighborhoods—from Roland Park and Mt. Washington to Ellicott City—but quickly realized that the homes there were out of their price range, and that they needed a plan B.
"Because of the kids, we wanted a nice yard, and we also prefer older homes architecturally, because they have more character," Robin says. "We were shown some new homes, but I really didn't like them. I was planning to attend the University of Maryland downtown, so we also needed to be close to the city. But one of the most important things was school—we looked really hard at the different public school systems."
They looked at a lot of homes. "Our Realtor, Frank Locke of Chase Fitzgerald, was fantastic—he took us everywhere," she recalls. But where they finally bought is not exactly a household word in the local real-estate world: They ended up in the Westowne neighborhood, where the homes are a little more affordable than in adjacent Catonsville proper. Built in the 1930s, their three-bedroom, three-bath, Arts and Crafts-style home sits on a double lot and reminds them of the century-old design aesthetic they loved in Savannah.
Of course, Robin already had done a lot of research online, but before sealing the deal, she undertook a little bit of extra detective work. "I wanted to know exactly who the people were living in the neighborhood and how they felt about it, so I would drive around Westowne at different times of day, like 20 times, just to accost people on the street. Everyone said Westowne was great, the schools were great, that there were lots of young families like ours, and that they loved it," says Robin. "That's what solidified it for us."