Home & Living
A Gallery of Inspiration
In her rowhome and studio, artist Espi Frazier surrounds herself with objects that stir her.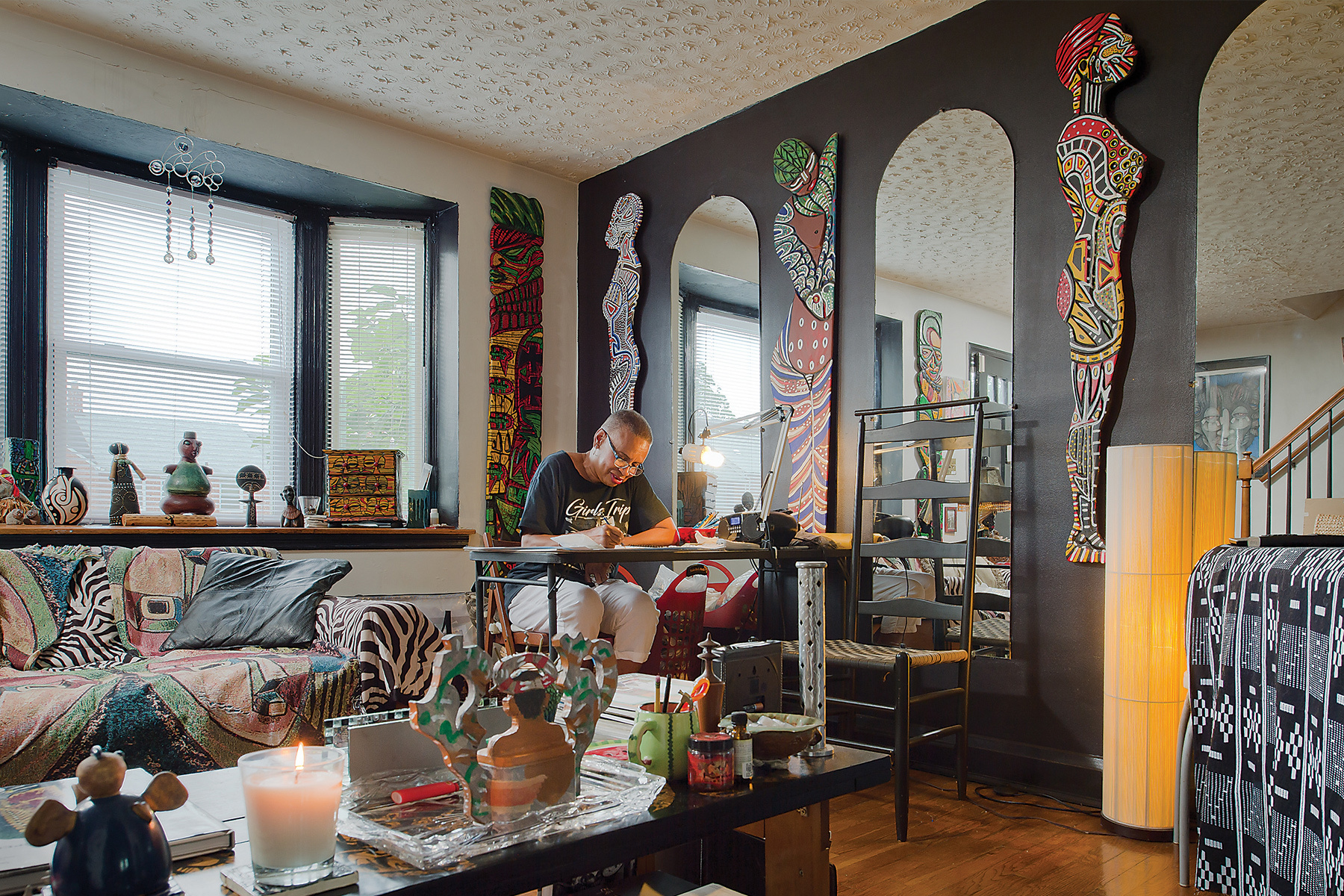 Espi Frazier exudes energy and warmth—you see it when she flashes her easy smile, or when she runs her fingertips lightly across the intricate crevices in one of her own wood artworks, which are uniquely stained and engraved. A career artist, Maryland Institute College of Art (MICA) alum, and 24-year instructor at Friends School of Baltimore, Frazier's work centers around the female form, celebrating it as goddess and life-giver.
By surrounding herself with sources of inspiration—whether it's a detailed beaded flag made in Haiti depicting La Sirene, a mermaid Voodoo god, or a children's book like The Wonderful Wizard of Oz by pop-up artist Robert Sabuda ("Just look at that detail, it's amazing," she says with the turn of each page)—the artist has turned her home into a constant muse.
A three-bedroom brick rowhouse with a bucolic backyard on a tree-lined street in Loch Raven, Frazier's home also functions as a studio and gallery. The walls are hung with artwork from floor to ceiling—both her own pieces and those she has collected since earning her master's of fine arts from MICA's LeRoy E. Hoffberger School of Painting in 1995 under then-director and late legendary painter Grace Hartigan.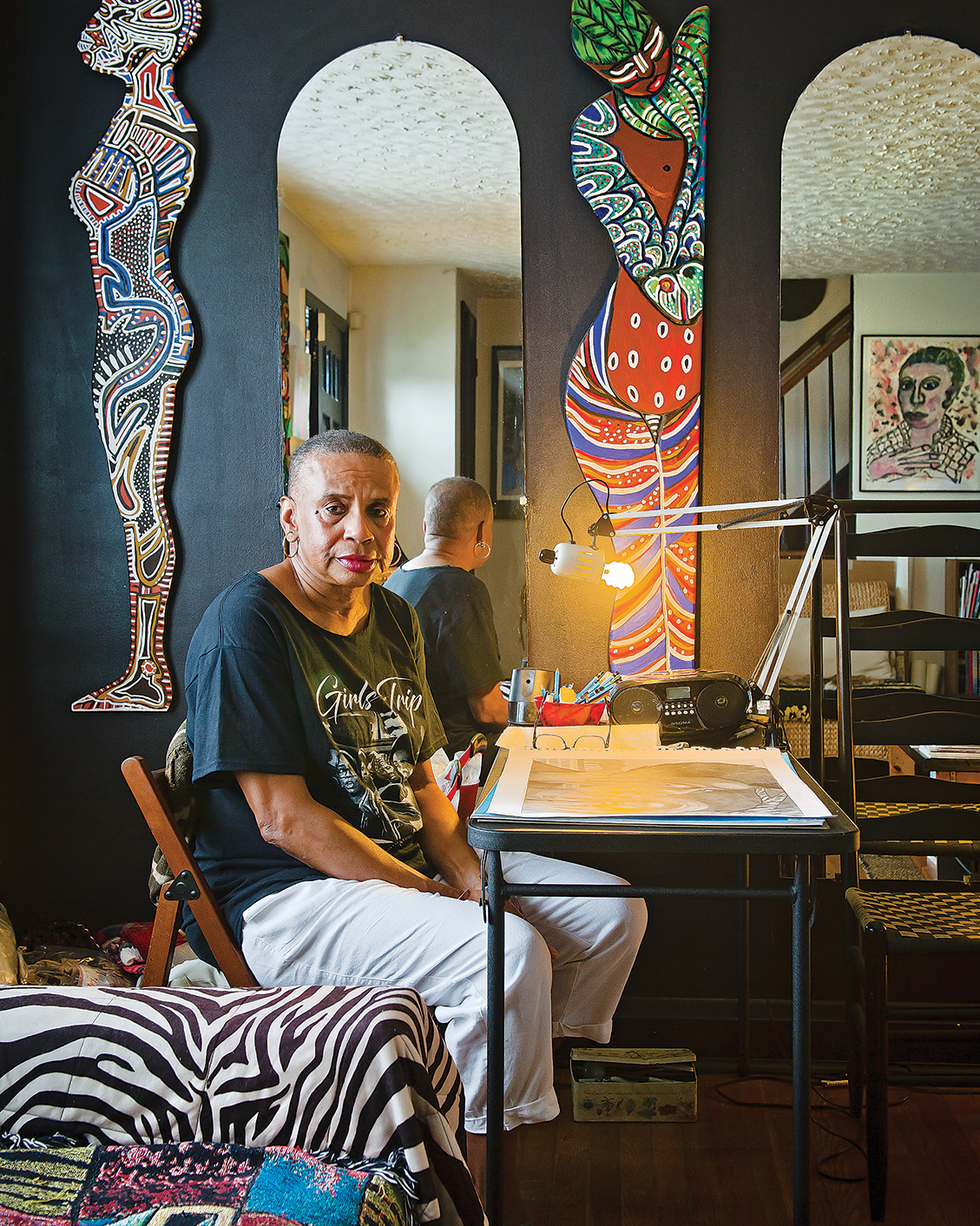 Espi Frazier in her home, which also serves as a studio and a gallery for her own and others' art, such as a prized painting by Grace Hartigan, visible in the mirror's reflection.
Espi Frazier in 30 Seconds
Grew Up: South Side, Chicago, Illinois
You Might Not Know: Originally, Frazier wanted to design clothes. "I thought I was going to be a fashion designer when I first went to the School of the Art Institute of Chicago. I took a fashion class and learned how to sew and all that," she recalls. "I thought, 'I don't like this, I just want to draw the stuff.'" She did, however, go on to instruct a course in fashion illustration for high school students at School of the Art Institute of Chicago (SAIC).
Breakthrough Method: Frazier patented a technique of carving, staining, and drawing on wood, which she describes as "wood graphics." It was spawned by a simple undergrad assignment at SAIC. "The teacher gave an assignment to draw on something other than paper," she recalls. "So I found a piece of wood under my mom's house." On it, Frazier drew a woman's figure surrounded by a woodgrain-like pattern. The original work remains on display in her home.
A Community of Artists: When Frazier moved to Baltimore in 1993, she attended social gatherings hosted by Dr. Leslie King Hammond, then MICA's dean of graduate studies. There she was introduced to prominent Baltimore artists including mixed-media sculptor Joyce Scott, the late Tom Miller, known for his "Afro-Deco" painted furniture, mixed-media artist Oletha Devane, and public artist Linda DePalma.
Large-scale works include "The Mother of Us All," from Frazier's thesis show at MICA.
"I can't stand naked walls," says Frazier, 66, with a chuckle. "They love me at Friends because I cover the walls with the kids' work. It's their place, and I want to make it feel inviting."
It's a philosophy she has continued in her own home, where a visual cacophony of colors, prints, and textures infuses the space with a vibrant energy. In her living room-cum-art studio, Frazier's "Painted Bodies" series hangs in between tall mirrors. Nearly life-sized, the pine-wood silhouettes of women's bodies are painted with bright red, yellow, and blue acrylic. A lamp with a beaded fringe shade and painted ceramic base in the shape of a woman's head, which Frazier thinks dates to the 1940s, was a flea-market find. Arranged neatly on her coffee table is the August 2017 issue of Vanity Fair, featuring Serena Williams, nude, pregnant, and powerful, on the cover. ("What would it be like to grow up with Serena as a mother?" Frazier ponders.) Alongside it is a ceramic mug painted like a watermelon, a symbol Frazier has reclaimed in her own work since joining the Black Arts Guild while she was earning her bachelor's of fine arts at the School of the Art Institute of Chicago.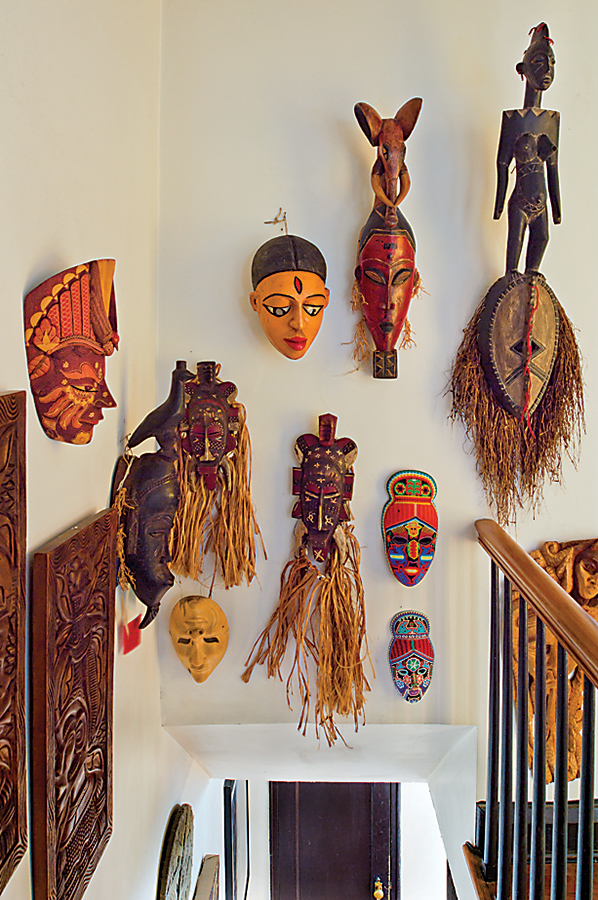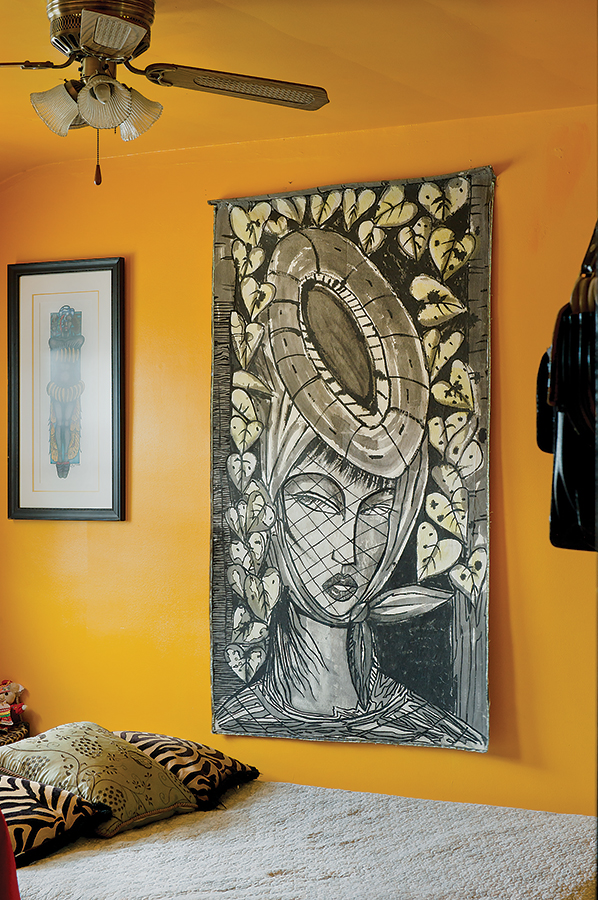 A central theme in Frazier's work is the woman as goddess. Several pieces were inspired by Jazz-Age performer Josephine Baker.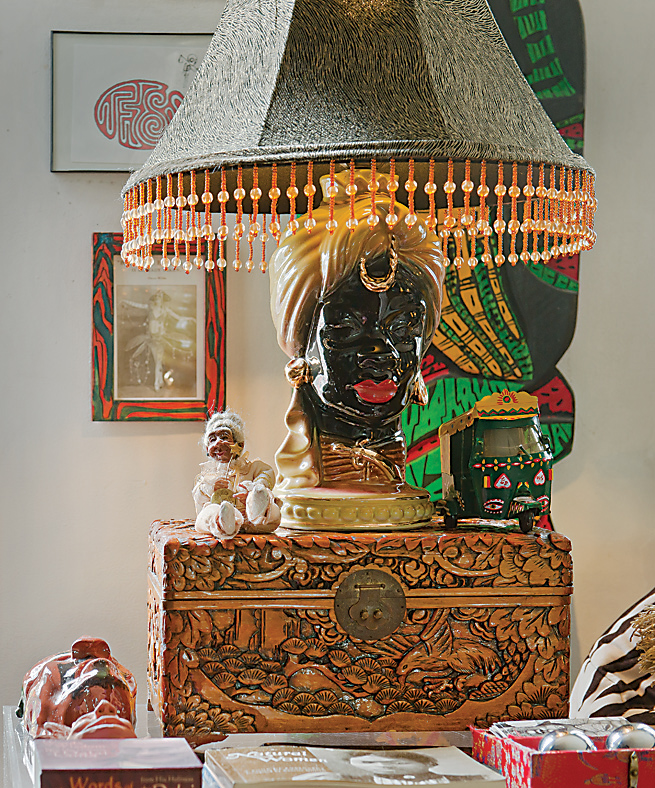 "Our logo was the watermelon, and we decided to take a negative stereotype and redefine what that meant," she explains. "In my work, when I use the watermelon and watermelon seeds, it is a life-giving symbol." The motif appears in several of Frazier's works on display in her home, including as a 3-D element on a Josephine Baker-inspired stained and carved wooden folding screen of a woman in a banana skirt that sits in her upstairs hallway. The screen, like much of her work, incorporates "wood graphics," a patented technique of her own design that involves carving, staining, and drawing on wood to create an engraved effect.
The largest and most intricate such piece is "The Mother of Us All," part of Frazier's thesis show at MICA. She braced four planks of wood together to create the roughly 4 feet by 6 feet wood relief carving of a mother and child surrounded by angels. Exhibited in many galleries, it now leans against the wall across from her dining table. "That was brought to you by Grace Hartigan," says Frazier, gesturing to the piece. The late Hoffberger School dean bought Frazier a dremel tool and 100-foot extension cord when she saw her laboring with hand chisels. "She said, 'You need power, Espi.' She was awesome. She got me tools, and that's how all of this started."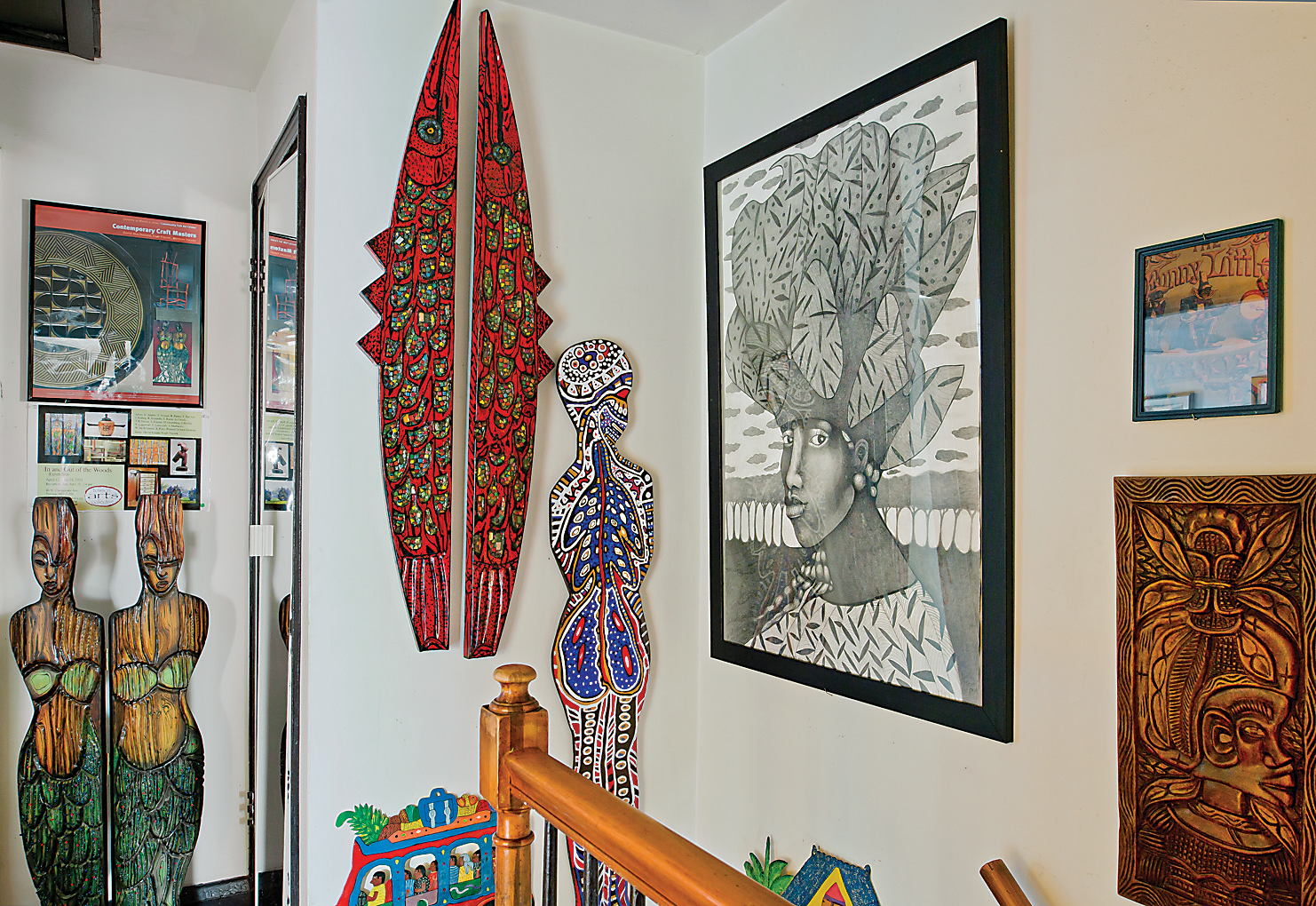 Frazier decorates with an eclectic mix of objects collected from friends and other artists.
It's not the only way Hartigan encouraged Frazier. "She had great energy, she inspired everybody to be who they wanted to be, not what she thought they should be. I think that's why people loved her. She inspired you to be you."
Lately, Frazier has returned to her original love—drawing. "I love pencil, I love the feel of graphite on paper, there's something special about that." When she works, Frazier transforms her living space into a studio by rearranging the furniture and working directly on the living room floor. "I lay my big drawings out on the floor, work on it for a while, then tack it on the wall and see what it looks like," she says. "I like being able to get on top of it, and just get involved."
Four years ago, Frazier started her "Church Lady Hats" series of graphite drawings, which pay homage to her mother, a milliner who made and sold elaborate hats. "She was an original church lady," says Frazier, who recalls joining her mother on trips to buy trimmings like ribbons, straw, and "Carmen Miranda-style" plastic fruit. Although she didn't like wearing the hats as a child, she has grown to appreciate their significance in African-American history. "It started in slavery—it was a way for women to identify themselves outside of what they did. On Sunday, they dressed up the way they chose to be, they made their own attire, and it just changed everything."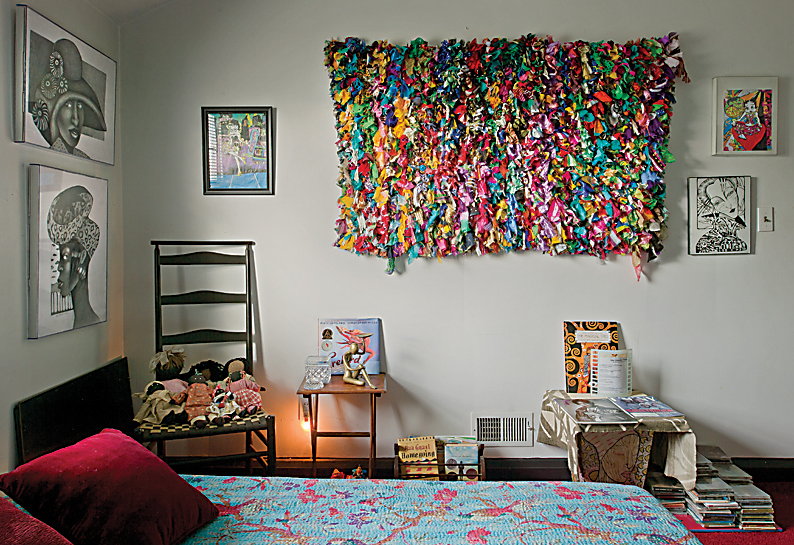 A bedroom filled with her own creations, like a work from her "Church Lady Hats" series in graphite.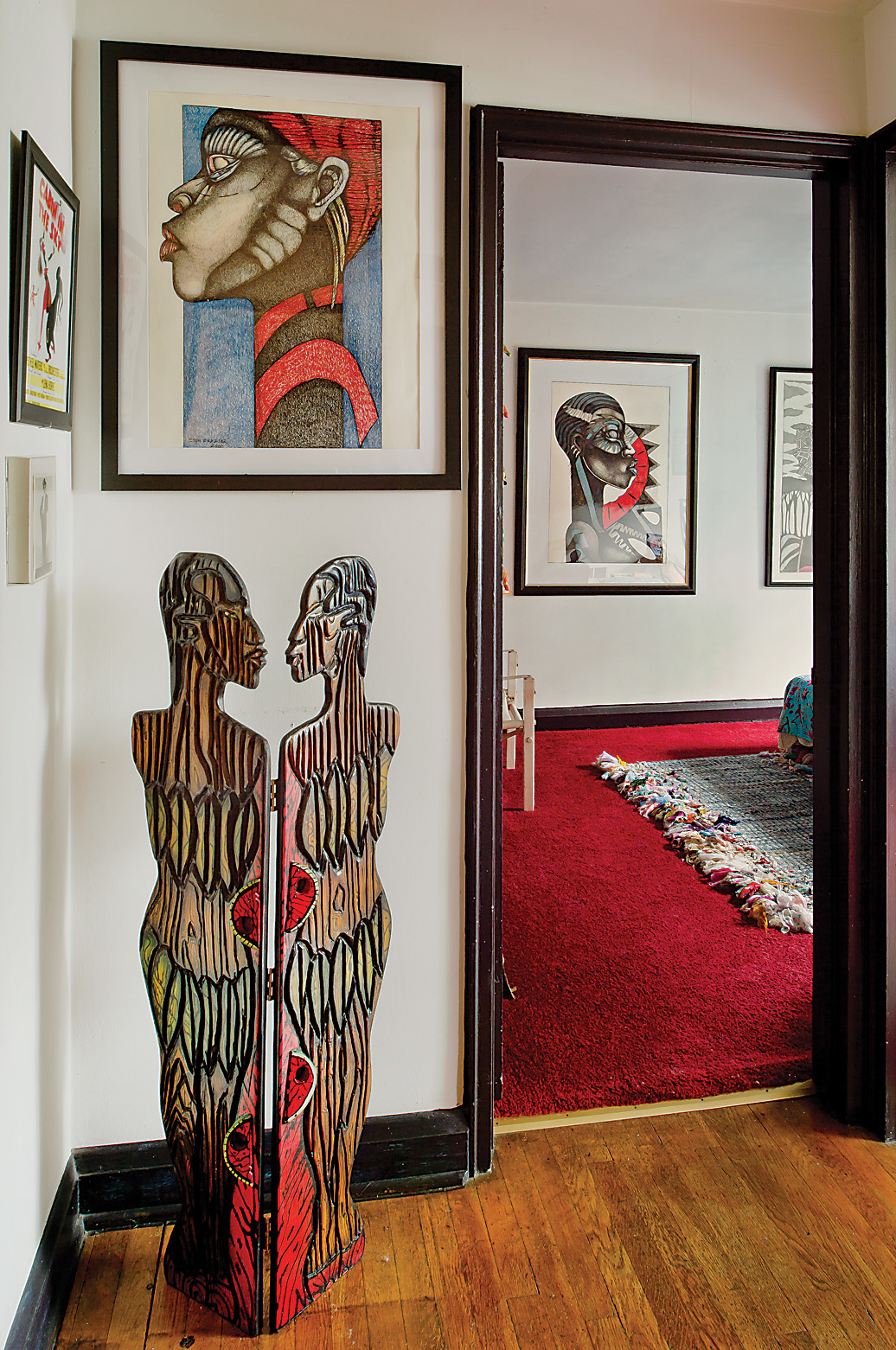 Another, more recent influence on her work was the 2015 Baltimore unrest, which changed the way Frazier sees the world, and inspired her to start a new series depicting young African-Americans with the letters B-L-M, for Black Lives Matter, incorporated into each piece. A graphite drawing hanging in her living room depicts a young man with the letters emblazoned across his forehead, while a work in progress on a table portrays a mother holding a young child in her arms. "What happened in Baltimore, and what's happening—I don't even know how to talk about it," says Frazier. "I think the best way for me to channel how I feel is to draw."
A self-portrait in graphite that Frazier made for "Married to Art," her first solo show in Baltimore held last March and April at Gallery CA, hangs on the wall opposite the couch. On the adjacent wall is a piece by Hartigan, signed and inscribed "To Espi, from Grace." It could pass as a portrait of Frazier herself. Receiving the gift was a total surprise. "I get a call from her and she says, 'Espi, I was thinking about you and I did this piece. It's a monoprint and it looks like you. Would you like to have it?'"
Like the unexpected gift of the signed Hartigan painting, her ability to buy her own home six years ago wasn't something Frazier anticipated in life. "I was a foster child, and I never thought I was ever going to have anything like I have now," she says. "I'm also fortunate that I've had the opportunity to present what I do, and also to teach other people to make art. Not necessarily to train them to be an artist, but to have an appreciation for what creativity can bring to your life, and what creativity brings to the world."