For the Birds
Avian activists try to curtail bird fatalities from collisions with city buildings.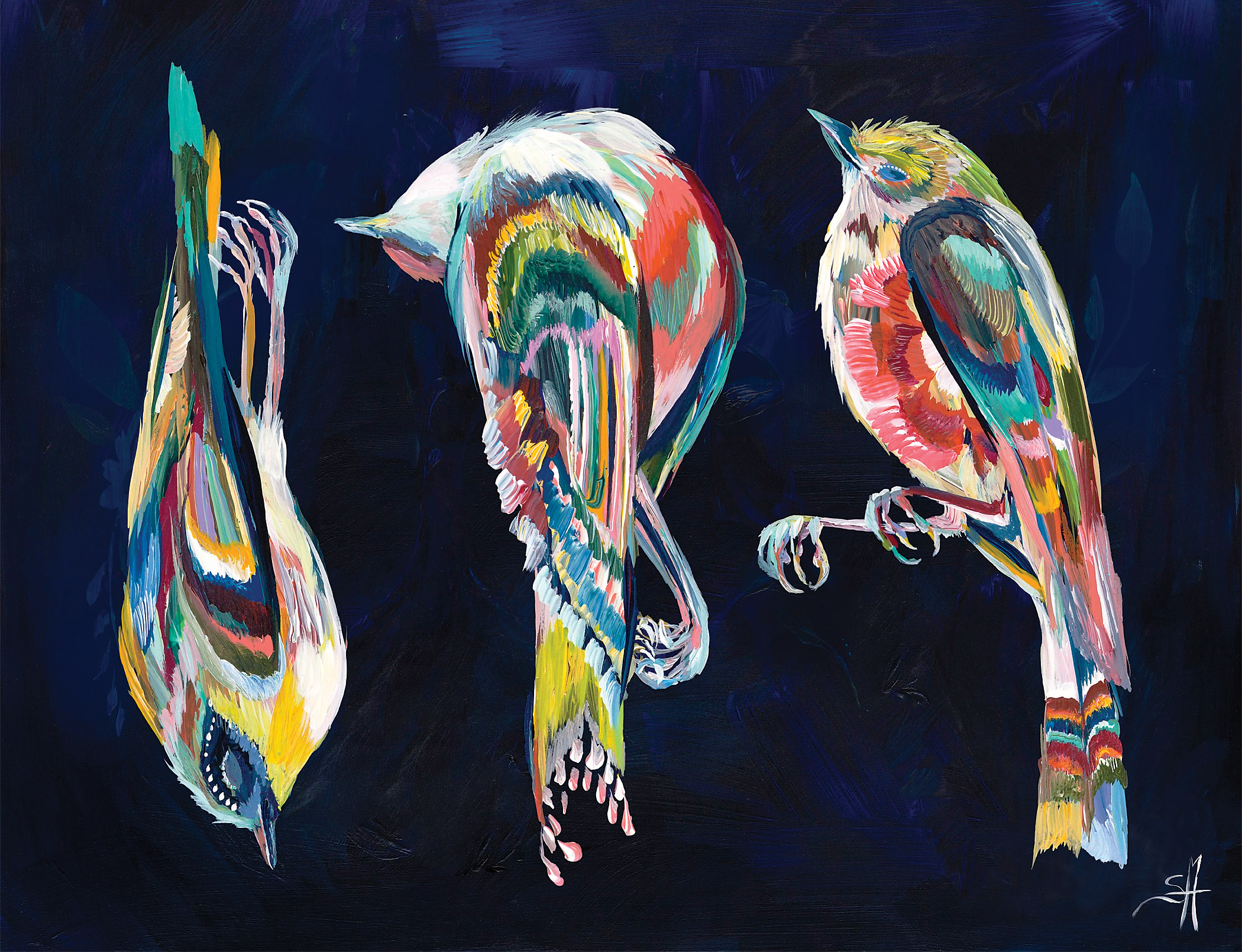 Even if you don't know a goldfinch from a golden eagle, you can probably guess that bird watching is best done in the morning. The winged creatures are usually more active—think of all that dawn chirping—and visible in the a.m. So, it seems a bit crazy when a trio of birders (as enthusiasts prefer to be called) gather before 5 a.m. one recent May morning while it's still quite dark. And there's something else odd about this outing: It's not happening at a leafy park or some beyond-the-Beltway wooded foothill. Rather, the birders are gathering at the corner of Charles and Redwood streets, the very heart of downtown.
A final clue that this is not your usual, binoculars-and-field-guide bird walk comes when they set off along the shadowy streets. Rather than looking upward for warblers and wrens, they cast their eyes downward to the pavement. As members of Lights Out Baltimore, a band of volunteers associated with the Baltimore Bird Club, they're concerned with the plight of thousands of migrating birds that become disoriented by city light pollution, often resulting in fatal collisions with city windows.
"We look particularly around large glass windows and this is our first stop," says Lights Out Baltimore coordinator Lindsay Jacks, approaching the glass-lined lobby at 20 S. Charles Street, the 14-story modernist office tower known as the Sun Life Building. "It's a bad omen if you find four or five birds here because it means we will be busy for the rest of the walk."
Quite literally, glass is the invisible killer of birds. The American Bird Conservatory estimates that as many as a billion birds die each year in the U.S. after flying into glass, and Baltimore claims its share of the carnage. Lights Out volunteers make four or five early morning walks a week during the spring and fall migrations, meandering along a nearly five-mile path downtown. They have found over 2,000 dead birds and rescued more than a hundred stunned or wounded ones by taking them to the Phoenix Wildlife Center for rehabilitation.
Birds get confused during night migration because they use the moon and stars to navigate.
Meanwhile, scientists are still trying to unravel the mechanics of bird migration and what role light plays in it, says Christine Sheppard, manager of the American Bird Conservatory's bird collision program. "Birds have two magnetic senses and one of them is in the retina of the eye, and it actually depends on having dim blue light," she says, adding that city lights attract birds into the built environment where the trouble soon begins.
"Birds take the world literally," Sheppard says. "A glassed space that appears to be open, or if there's a reflection that looks like a tree or a shrub, they will just try to fly right into it."
An animal keeper at The Maryland Zoo in Baltimore in Druid Hill Park, Jacks knows a thing or two about feathered creatures, caring for African penguins, Abyssinian hornbills, and other exotics. Also along for this trek are librarian and artist Lynne Parks and Aaron Heinsman, a fundraiser by day who's drawn to these wee-hour walks both as an animal lover and as someone seeking exercise. These two peel off to scan the perimeter of the building while Jacks explains why the Sun Life Building's glass-walled lobby—reflecting trees on the far side of the building—is so dangerous to birds. They simply try to flap over to the inviting branches, she says, "and then . . . BAM!" Most window strikes happen in this way, within 30-feet of the ground and not at the tops of tall buildings, as some might suspect. To mitigate against this, she notes, a film can be applied to the glass allowing birds to see it better, patterns can be put on the glass, plantings can be moved farther from windows, or simple window shades can be installed. But the real problem is the excess urban light.
"Birds get confused during the nighttime migration because they use the moon and the constellations to navigate," Jacks explains. "They see bright white light on their path and they come into this environment, and they can't get out." As the name suggests, the group's main goal is to have the city dim all unnecessary lights during the migratory months of April, May, September, and October. Lights pointing upwards are particularly problematic and decorative and street lighting should all be shielded to shine downward.
The omen is good this particular early morning, as the sidewalk around the Sun Life Building is clean. The crew moves on, weaving along desolate sidewalks amid a still slumbering city. Only the occasional groan of a city bus breaks the pre-dawn stillness. The trip's first victim is found on the east side of 100 Light Street, the Transamerica Tower, or the former USF&G building—Baltimore's tallest skyscraper. A medium-sized, gray bird with lighter gray markings on its longish tail lies legs-up on the cement.
"She's totally dead," Parks says mournfully, cradling the bird in her hands. "It's not a mockingbird," she adds, gingerly turning the animal over in search of additional markings and species clues. "I can't see its head."
Eventually it becomes clear that you can't see the head because it no longer has one. It has probably been eaten.
"Thanks, peregrine falcon," Jacks says, referencing the birds of prey that nest on the building's 33rd floor. Falcons, rats, or even seagulls often finish off migratory birds not killed by window strikes. The group carries nets with them in order to catch those stunned and wounded birds first.
The dismembered bird is probably a yellow-billed cuckoo. These handsome birds are usually identified by the color and downward curve of the beak and a distinct call—none of which is helpful here. A camera-phone photo of the bird is taken, which, together with other data about this victim, is uploaded to iNaturalist, a website providing a nationwide database of bird strikes helping scientists better understand the phenomena. The bird itself is stashed into a Ziploc bag en route to Jacks's freezer. Indeed, all collision victims wind up in volunteers' freezers until a season ending bird inventory is performed at the Cylburn Arboretum, when the bodies are then donated to the Smithsonian for further study. (Yes, this means if you go for ice in Jacks's refrigerator you could be in for a surprise: dozens of dead songbirds and perhaps even the odd hawk or two alongside the ice cream and frozen peas.)
Our beloved black-and-orange mascot lying dead on the streets could serve as a powerful motivator.

Catbirds, ovenbirds, and white-throated sparrows are among the most common window-battered birds they find. Curiously, common hardscrabble birds—house sparrows, pigeons, and starlings—rarely strike glass, having grown up amongst it as city slickers. Earlier this year, the Lights Out folks also found a mourning warbler, a stunningly beautiful blue and yellow bird, and a scarlet tanager, a vibrant tree-top dweller that's even redder than a cardinal. Few have seen either bird alive, so a belly-up encounter on a Baltimore sidewalk was particularly sad.
Leaving the canyons of the business district, they soon come to the Baltimore Convention Center—far and away the biggest bird killer in town. Some 700 window-strike victims have been found along its seemingly endless glass frontage in the past half-dozen years. One nook is dubbed the Alcove of Death as it presents multiple glass facades and birds rarely make it out alive. This morning, a dead white-throated sparrow is found on the east side of the building. Unlike other migrant birds that spend the winter in Mexico and points south, these sparrows spend the cold months in the continental U.S. and summer in the far reaches of Canada. He, too, is photographed and bagged for science.
By the time they reach Hooters at the south end of the Harborplace pavilion—where the ironic, wink-wink signage reads, "Watch the birds of Baltimore"—the sun has cracked the horizon. The city is waking up. Two birds total is a quiet morning, but then the migration is winding down. Just a week earlier, following that massive rain which collapsed the Charles Village railroad retaining wall—weather patterns have a big impact on migrations—they collected 34 birds.
Parks does spy a migrant bird near The Cheesecake Factory—a common yellow-throat, a cute little warbler whose coloring makes them look like they are wearing black masks over their eyes. He's alive and well, hopping amongst the scrubby shrubbery looking for an insect breakfast. But then this is a lousy place for a migratory layover.
"I wish I could just scoop him up and take him north of the city," Parks says.
All told, Lights Out Baltimore collected some 65 dead birds this spring and rescued six wounded ones, all of which, remarkably, were successfully rehabilitated and released by Phoenix Wildlife. The fall migration usually results in more window strikes, Jacks says, because the flocks are larger—swelled by juvenile birds hatched over the summer and making their debut trek southward.
Nationally, Baltimore's Lights Out effort is but one of more than a dozen such efforts to save migratory birds, many of which are more established. For nearly 20 years now, Chicago's Audubon Society has worked with the mayor's office and building owners to keep high-rises darkened while the birds are passing through the Windy City. An estimated 10,000 birds are saved there a year. New York has a busy program, too, and even the iconic Chrysler Building spire dims during migration. Other locales, such as San Francisco, Minneapolis, and Toronto have passed legislation requiring light reduction, or mandating bird-safe design practices.
A bill calling for federal buildings to become more bird friendly was introduced in Congress last year, but has yet to move forward. However, bird-safe architectural design concepts are now recognized by the U.S. Green Building Council, and incorporating these provisions, such as patterned glass windows, count toward green building certification through the Leadership in Energy & Environmental Design (LEED) program.
Locally, Lights Out Baltimore has been successful working with the National Aquarium, which used to have white lights and now utilizes green, blue, and purple lights. (Cooler spectrum colors are believed to be safer for birds.) Jacks admits her band of volunteers, already dealing with day jobs and getting up before dawn four months out of the year, hasn't been as proactive as they'd like on behalf of the birds. After each migration, they do send the owners/managers of downtown's most problematic buildings a letter listing all the birds found around their addresses and outlining changes that could lessen the number. They've tried unsuccessfully to schedule a meeting with convention center people.
"Basically, you are probably not going to get the convention center and other buildings to structurally change their buildings, such as move vegetation from near the windows," Jacks says. "Honestly, the best way to save birds is to have a lights out program turning off decorative lighting, as other cites have."
Lights Out Baltimore has generated some publicity, including a
Washington Post magazine story earlier this year. And the art world has even taken notice. Last year, Parks didn't just get saddened or angered by all the largely preventable bird deaths she encountered, she got artistically inspired and won a $25,000 Baker Artist Award, an annual Baltimore juried art contest. Her submission included large photo portraits of glass-killed birds from her Lights Out work, together with images of dangerous windows. She even had a show at The Baltimore Museum of Art.
For Parks, the hundreds of millions of birds that die hitting glass each year is a troubling statistic. "But it's an abstract number," she says. "When I was holding these individual birds in my hand that are just so beautiful, I realized I wanted to honor them individually."
One image not included in her portfolio, and so far pretty elusive, is that of a Baltimore oriole. Lights Out hasn't found a dead or wounded oriole in a couple of years, but they have plans should one turn up. The image of our beloved black-and-orange baseball mascot lying dead on the streets could serve as a powerful motivator to darken the skyline. (Finding a window-killed raven is unlikely.)
"We've been waiting to get a Baltimore oriole because Lynne is going to photograph it in places around Camden Yards," Jacks says.
"Well, it's not like we
want to find one," she adds after a pause. "It's just, if we do, we can photograph it so its death won't be in vain."
---
Brennen Jensen is a contributing writer for Baltimore.