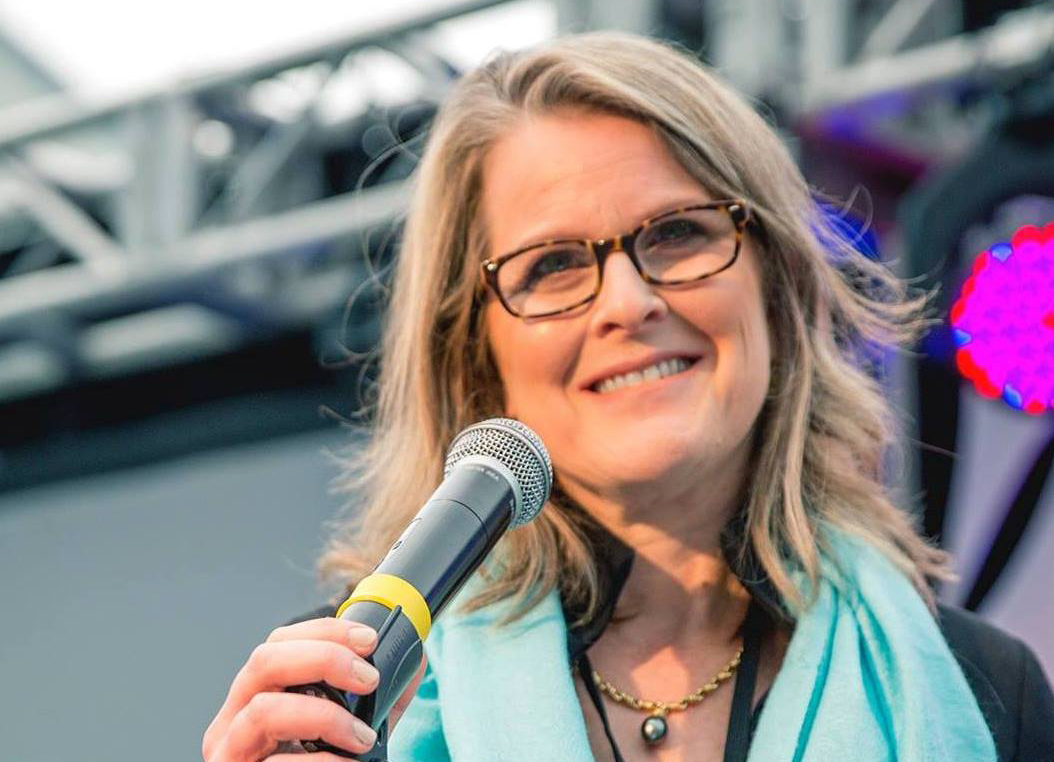 UpSurge CEO Jamie McDonald. —Courtesy of UpSurge Baltimore
The team behind UpSurge Baltimore wants to turn Charm City into the nation's first equitech hub. To achieve its big-picture goal of creating a more inclusive innovation community, the company, which launched last month, plans to serve as an "engine" that creates and supports local startups, while also attracting new entrepreneurs from other parts of the country—and the globe—to Baltimore.
But the mission isn't to simply replicate the success of tech hubs like Silicon Valley, Seattle, and Austin, Texas. UpSurge specifically wants to nurture the growth of companies started by women, people of color, and those in the LGBTQ community. 
"It's [those] founders who often receive less attention, less funding, less mentoring, and less nurturing than founders with very traditional male, white-led backgrounds," says UpSurge CEO Jamie McDonald, a seasoned entrepreneur and longtime champion for Baltimore's tech scene. She will be leading a team that includes tech sales specialist Kory Bailey, social entrepreneur Anand Macherla, and Jason Bass of The Night Brunch and Kiss Tomorrow Hello.       
We recently caught up with McDonald to learn more about the goals behind UpSurge and why its mission makes sense for Charm City.
Can you explain what the term "equitech" means?
Equitech is a cultural framework that is defining what we hope will be Baltimore's unique place in the national innovation conversation—a city that is building the first-ever inclusive tech economy. From a company perspective, what that means is that we're really supporting, nurturing, celebrating, and welcoming companies that are led by "underestimated founders." It's an intentionally broad term that encompasses Black and brown founders, women founders, LGBTQ founders, and founders who are differently abled. It's [these] founders who often receive less attention, less funding, less mentoring, and less nurturing than founders with very traditional male, white-led backgrounds. We can prove empirically, study after study, that companies that have diverse teams, leadership, and boards perform better than companies that don't.
What role will UpSurge Baltimore play in creating an equitech community?
We are so fortunate in Baltimore because we have a broad base of entrepreneur support organizations. The opportunity we saw with UpSurge was in how an organization could create a defining vision for all of Baltimore's tech scene that each of those can plug into—and really look at how we tell that story to ourselves first and foremost. Because we need to have a defining vision that all of Baltimore can embrace. Then we can also turn that story outward to the country, and really think about how Baltimore has a unique place in the landscape of innovation cities.
How, exactly, does Upsurge plan to support these companies?
Supporting founders is our North Star. In essence, all startups need three things, right? They need capital, talent, and customers. So, wherever an entrepreneur is in their journey, we look at what they need. But we're not trying to build it all ourselves. This is exactly how we think we can leverage the existing strong ecosystem that we have. If what they need is a certain kind of mentorship—let's say it's around accounting, or human resources, or finance—we are building partnerships with many of the big companies in town to say, "Give us time with HR leaders, with your finance leaders, with your accounting folks." So that way when one of our entrepreneurs needs some expert help, but they're not at the stage yet where they want to bring on a full-time human resources director, we give them experts to tap so that they can continually keep moving forward.
We're connecting those kinds of dots, because, as a former entrepreneur myself, it's a very lonely place. You think nobody else understands what you're going through or has been through exactly what you've been through. But the truth is, if you start talking with other entrepreneurs, you realize that, yes, you've got some nuances of your situation that are unique, but the bigger picture is that most entrepreneurs face a lot of really parallel challenges and opportunities.
How does the organization sustain itself?
We are a public benefit corporation. We're a company. So we are a startup ourselves, living the entrepreneurial journey the folks we're working to support are also going through. We are supported initially through a group of partners in Baltimore, led by Steve Bisciotti's team at Point Field Partners. It's his family office, and they're our most significant investor. But we're fortunate that we also have supporters Brown Advisory, T. Rowe Price, Continental Realty Corporation, Greenspring Associates, Whiting-Turner, the Abell Foundation, Towson University, Johns Hopkins University, and University of Maryland, Baltimore.
We are also an investment vehicle. So the first component of what we're doing from an investment perspective is bringing Techstars, a national accelerator, to Baltimore. A team of us looked at a bunch of national accelerators, and decided that Techstars was the best fit for Baltimore because they're incredibly well regarded, and have a stature that is a real seal of approval for companies that get selected. What that gives us, from an investment perspective, is the ability to invest in 30 companies over the next three years. Some will certainly be Baltimore companies, and some will be from other places.
Is there a goal in terms of the amount you'd like to see invested in these startup firms?
No. That's not how we're structuring things. We're being more opportunistic. What we like about Techstars is that it's a partner with a proven track record of investment, and a way to attract companies that doesn't depend on us becoming a big bureaucracy, building all kinds of funds, and hiring investment professionals. We're trying to think about the best-of-breed partners from across the country. It's very similar to how we're thinking about the way we want to partner within Baltimore. We don't want to replicate something that somebody else can do better. So we think there will be other opportunities, like Techstars, that will be future investment pools and add to our investment mix.