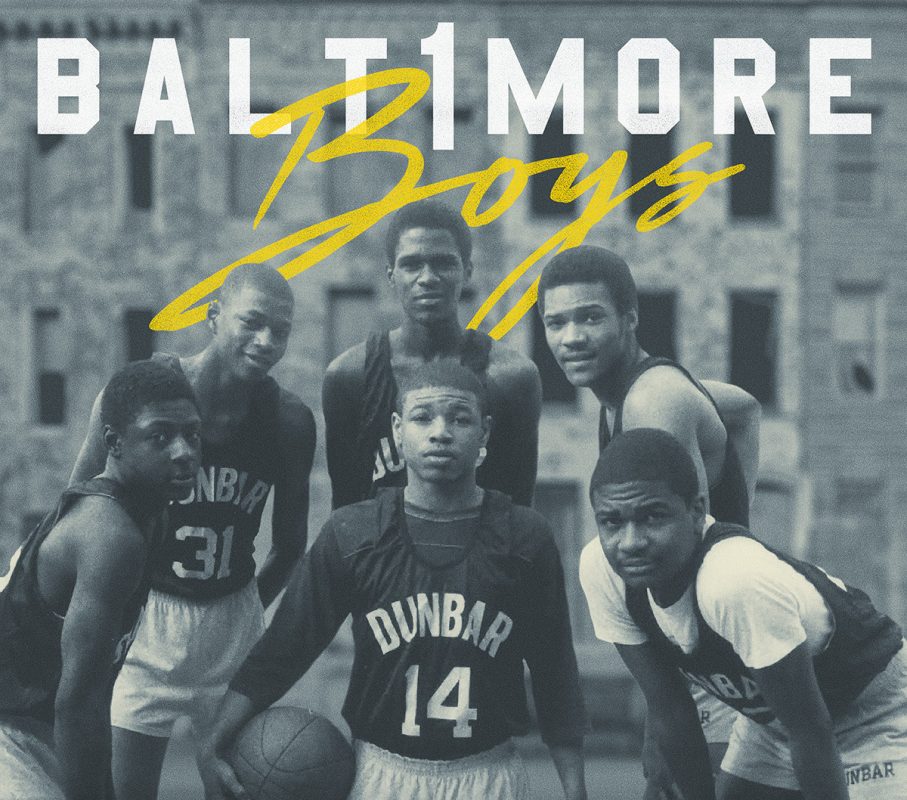 ESPN
The early 1980s was a tumultuous time in Baltimore—and paralleled what was happening in a lot of other American cities. Drugs were running rampant, the public health and school systems were failing, and Bethlehem Steel closed down, causing thousands of people to lose their jobs.
But there was a group of young men that found success on the hardwood court of Dunbar High School, and it wasn't thanks to a big budget or even a proper training center. Despite all odds, they became the greatest high school basketball team of all time. On Tuesday night at 8 p.m., ESPN will air Baltimore Boys as part of its popular "30 for 30" series and chronicle the tale of the Dunbar Poets both on and off the court.
"The best documentaries lead you to an unexpected place," says co-director and Park Heights native Sheldon Candis. "You think it's about this great basketball story, which it is, but it also holds a mirror up to American society in the 1980s."
Candis, 38, said that he's been waiting a long time to tell this story. The film opens up showing the 1968 riots in Baltimore following the assassination of Dr. Martin Luther King Jr. and chronicles the triumphant journey of the Dunbar High School boys basketball team, who went undefeated for 59 straight games between 1981 and 1983. Even more impressive, 11 of the players joined a Division I program and four of those—David Wingate, Reggie Williams, Tyrone "Muggsy" Bogues, and Reggie Lewis—were drafted into the NBA.
"This is really my love letter to the city," Candis said. "Growing up, we didn't have to look to Michael Jordan. We had the Poets right in our own backyard."
Wrangling up former players, family, and supporters of the team presented quite a few challenges, as did finding quality archive footage since the early '80s was right on the cusp of the handheld video camera. Luckily, two other local filmmakers, Tommy Polley and David Manigault, made a Poets documentary a few years back and had already scoured East Coast news stations to find footage.
"There would be so many moments that people would describe to me or remember in their heads," Candis said. "But trying to match up and find that footage was a challenging scavenger hunt."
Shot over a five-month period last year, Baltimore Boys provides some behind the scenes moments from players like Bogues ("he reached genius on the hardwood," Candis said) to Dunbar coach Bob Wade, who was instrumental in not only coaching, but nurturing his team. At one point, Wade reveals in the documentary that, because his team didn't have a proper facility or weights, he drove around Baltimore City collecting bricks and had his team practice running with them.
"You better believe that's why they were the most well-conditioned team in the fourth quarter," Candis said. "One man's junk became another man's treasure."
As a filmmaker, Candis admits that seeing Coach Wade get emotional during an interview was a highlight for him. The moment comes when he's talking about having the Dunbar court dedicated to him and he started thinking about every player he coached, fathered, and protected during those years.
"It's Bob Wade who is the unsung hero that everyone should really rally behind," Candis said. "I am just some kid from Park Heights that has been lucky enough to share this story with a wider national audience. It's about time."