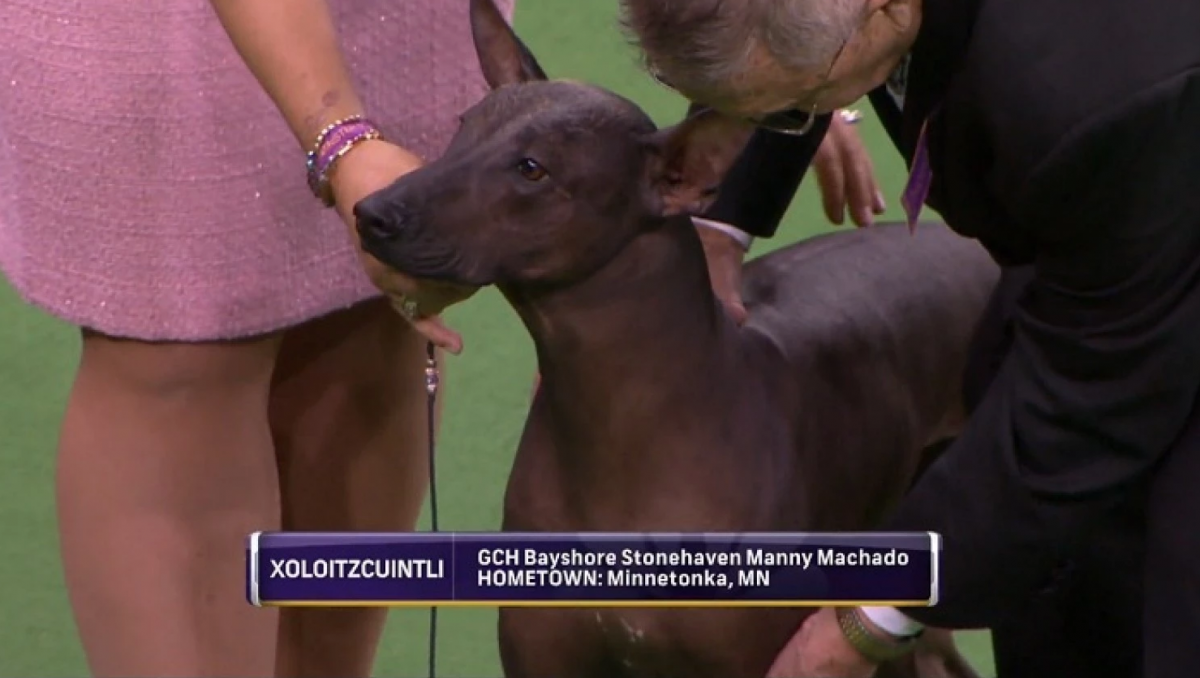 Courtesy of the Westminster Kennel Club
1. Manny Machado won Best of Breed at the Westminster Kennel Club Dog Show.
Technically, this is true. A two-year-old Xoloitzcuintli (the national dog of Mexico) took Best of Breed on Monday in the Westminster Kennel Club Dog Show. He also happens to be named after the young Orioles third baseman. Trainer Lynda Hilton, who has been working with the dog since he was four months old, lives in Salisbury, home of the Delmarva Shorebirds, where the human Machado played 38 games. "The name is just one of those that flows so easily," Hylton told The Washington Post. "And Manny Machado, he's such a great guy. Without asking Mr. Machado if it would bother him if he would mind having a dog named after him, we just did it." Championships run in the young Xolo's family, since he's the son of a three-time Best of Breed winner at Westminster. Perhaps, this could be a sign that our Machado might garner a championship in the near future. "If we get a chance to meet him, I'm going to give him a great big hug and say he has been an inspiration," Hylton said. "I think he would be impressed that there's actually no hair on [the dog] and he shows every bit of muscle."
So someone at the #WKCDogShow had a dog named Manny Machado? Impressive.
— 10 (@SimplyAJ10) February 16, 2016
2. Social media in a tizzy with the idea of no Natty Boh cans at Camden Yards.
Nothing like the mention of spring baseball and cold beers to get people riled up in the middle of February. On Thursday, local blogger Beer in Baltimore reported that National Bohemian cans will not be available at Camden Yards next season. But Edward Encina at The Sun reported, according to an Orioles club official, Natty Boh will be sold at the ballpark, but only at one location—the first-base lower concourse bar. We just got off the phone with the stadium's concession company Delaware North, where an official said that no food and beverage contracts have been finalized at this time.
So we really don't know what to think at this point, but we're shocked that people are so upset about Natty Boh at all. The fact is, the iconic "Baltimore" beer has been brewed in North Carolina for nearly 20 years. Plus, Delaware North has been very open to supporting local craft beer in recent years, making Maryland-based Flying Dog, Union, and Heavy Seas available in the park. (For what it's worth, Flying Dog is maintaining its "Firkin Fridays" at the ballpark in 2016.) My personal opinion: If I'm going to pay stadium prices for a can of beer, I'd rather get more ABV for my buck. Bring on the Snake Dog and Loose Cannon IPAs.
3. Terps, Melo Trimble struggle this week.
This hasn't been a fun week to be a Terps fan. After a 70-57 home loss to Wisconsin on Saturday, the No. 6 men's basketball team really needed to pull it out last night against Minnesota. But the team struggled and ended up losing 68-63 to the Golden Gophers, who hadn't yet won in Big Ten conference play. As the Terps try to remain in contention for a national title this year, the performance of its star point guard Melo Trimble is crucial. He came into last night's match-up shooting just 5-for-27 over the past three games and missed five consecutive shots in the first half, ending with an airball and two turnovers late in the game. Hopefully Trimble and the Terps can shake off this bad juju, as March Madness looms ever closer.
4. Justin Forsett + Steph Curry = BFFs.
Ravens running back Justin Forsett is always up to something: whether it's traveling to Flint, MI, to give out donations; meeting President Obama; or even riding horses. And his latest friendship is no different. On Sunday, Forsett posted a photo with NBA superstar Steph Curry after a Golden Warriors game. Turns out, according to the Ravens, the two have been friends for a few years, first meeting when Forsett was with the Texans. They also bonded last season in Oakland, CA, at one of Curry's Under Armour Select basketball camps and again, a couple of weeks ago, at Super Bowl 50. "He's just an all-around good dude," Forsett said. "He's definitely my favorite player in the NBA with the way he carries himself and his faith background." We see an epic Under Armour billboard in their future.
S/O to my bros @StephenCurry30 & Bryant for the tix tonight! We had fun #SlyceFamily pic.twitter.com/koTo7eXikT
— Justin Forsett (@JForsett) February 7, 2016
5. Sports stars (and Babs!) honored by Cal Ripken Sr. Foundation.
Joe Torre, Ed Reed, and Sen. Barbara Mikulski walk into a bar. Instead of a punchline, there was an awards ceremony. This past weekend, the Cal Ripken Sr. Foundation awarded the three honorees at the foundation's Aspire Gala. The event raised $2 million for its mission of using sports-themed programs to teach life skills to at-risk youth. The three were honored for their longevity in their respective fields, as well as the work they've done with kids. "Young people desire to have things fast, and that means that sometimes they'll look for the shortcut," Cal Ripken Jr. said at the event. "We try to show them that they have the power within themselves to learn things, and that if they have the long-term view, they can have long-term success."