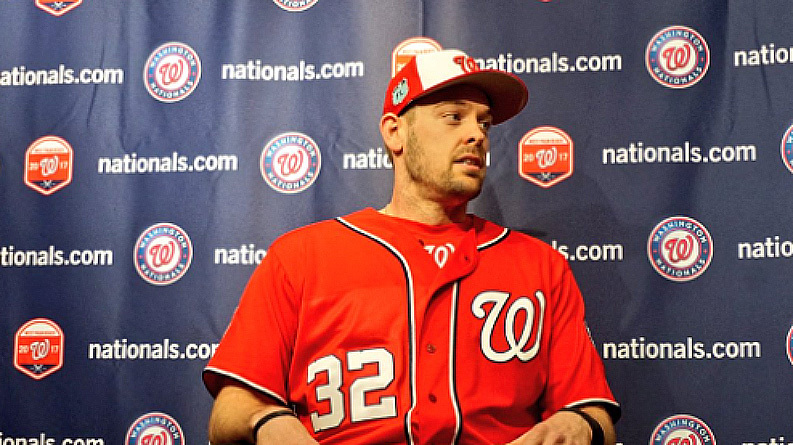 Matt Wieters Nats
Matt Wieters expected to sign With Nationals.
After being in free agent limbo for an uncomfortably long time, former Orioles catcher Matt Wieters is expected to officially sign with the Nationals today. This is obviously bittersweet for O's fans for numerous reasons. One, who doesn't like Matt Wieters? Two, he was never quite the Johnny Bench-esque superstar we all dreamed he would be. (Who can forget the near pandemonium in Camden Yards when he made his major league debut?)
But can his tenure with the Orioles officially be called a bust? Not quite. The switch-hitter was a solid catcher, who made some stellar on field plays (cutting down 35% of all base stealers last year) and even had a few highlight reel moments at the plate. But his tenure was marred by injuries, including Tommy John surgery, leaving us to all wonder what could've been. Still, it's nearly surreal to see him in Nationals uniform, huh?
Ronnie Stanley and Lola to be featured on Animal Planet.

Feeling blue about Matt Wieters? Here's a story that will cheer you right up. On Saturday night, Ravens tackle Ronnie Stanley will be featured on Animal Planet's new series, Stars to the Rescue. The segment, filled with inevitable football puns—"Ronnie was looking for a playmate that went undrafted"—tells the heartwarming story of how Stanley chose a dog from BARCS that nobody else wanted and brought her into his forever home. The best part of this segment is not just that Lola is so cute and literally licks Stanley's face the minute she meets him, but that Stanley specifically picked a dog in need. That's a winning play in our book. (Sorry.)
Michael Phelps to testify at congressional anti-doping committee.
Michael Phelps, the most highly decorated Olympiad of all time, is expected to testify before a Congressional subcommittee on how to improve the anti-doping system. We suspect his testimony will go something like this: "Just be born with a very particular musculature that makes you glide through the water like a marlin. Then drugs won't be necessary." But probably he'll say other stuff, too.
Adam Jones and WJZ's Mark Viviano let us eavesdrop on an interesting Twitter conversation.
Here's the short version: In a tweet, Viviano quoted Jones giving that favorite reality TV competition one-liner: "I'm not here to be friends w anybody, I'm here to win." Jones responded with a tweet saying, "what else did I say though?" followed by hand-on-chin emoji (basically, emoji for "Hmmm.") What followed was a discussion of the dangers of journalists quoting people out of context. (Viv explained the quote was a tease for a larger segment on that night's news.) It was all pretty fascinating and inside baseball, so to speak. And worry not, they ultimately did the Twitter version of hugging it out. Check the convo out here.
Team leader Adam Jones begins 10th yr w @Orioles & says "I'm not here to be friends w anybody, I'm here to win." #WJZ 5,6pm @SimplyAJ10
— Mark Viviano (@MarkWJZ) February 23, 2017
Trump not welcome to throw first pitch at Camden Yards, according to John Angelos.
On the B-More Opinionated podcast, John Angelos, who is the Orioles executive VP, said that if he had his druthers, he'd rather not have the new president throw out the first pitch at any O's game. The outspoken John, who we awarded "Best Heartfelt Twitter Rant" after his compassionate and thoughtful remarks in the wake of the Freddie Gray unrest, sited Trump's intolerance in the matters of race, religion, gender, and disability as the reason. But he noted that he wasn't the final decision maker on the team, merely one of many. "Ultimately, the decision is with the ownership group," John said.