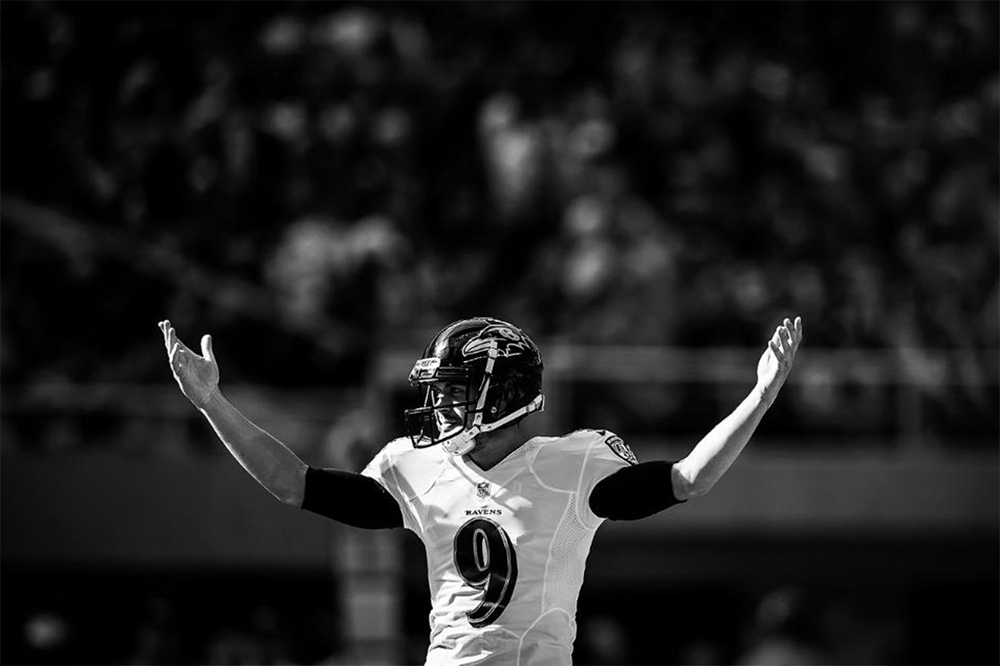 Baltimore Ravens / Shawn Hubbard
Justin Tucker is typically trotting on to the field and preparing to kick the extra point when his teammates celebrate a touchdown, but last Sunday even he felt compelled to sneak a peek, on replay, of one end-zone party in particular. 
That's the tug-of-war between running back Alex Collins and the Ravens' offensive line. It's got be in the running for best touchdown celebration in the NFL this season. (And aren't we happy NFL commissioner Roger Goodell finally gave players the leeway to do these sorts of skits, after years of penalizing them for it.) 
"I did like the tug-of-war," Tucker told Baltimore after the Ravens' 44-20 win over Detroit that boosted their postseason hopes ahead of Sunday night's rivalry game at Pittsburgh. "This is coming from a guy who loves and appreciates a good celebration, but I usually have no idea what happens between the time a touchdown is scored and the time we kick. It's tough to even take notice. But I did see that one played back on the Jumbotron."
If you want to know more about how it came to be, BaltimoreRavens.com has the details, but just know it was decided upon a few minutes earlier and the celebration even made an NFL official smile. And the Ravens, too. Collins tacked on an Irish step dance for good measure (he's into that) in the end zone after another touchdown late in the fourth quarter. 
The win improved the Ravens' record to 7-5 and, with four regular season games left, they have an 83-percent chance of making the playoffs, according to at least one website that tracks the probabilities. The defense, though it lost cornerback Jimmy Smith to a ruptured left Achilles' tendon on Sunday, has played great all year, with three shutouts and an NFL-leading 18 interceptions and 26 forced turnovers. The offense, which hasn't been great, came alive Sunday with its best performance of the season and Joe Flacco's back is as healthy as it's been all year.
"This team can be really, really special," Tucker said. "We're peaking at the right time. It's exciting. The attitude around here has been the same. Whether we're talking about week one, two, or three or 11, 12, and 13, this is a team that's had confidence and knows we have good players. We can do some great things."
For his part, Tucker has his own pre- and post-kick rituals. Watch closely, or even from afar, on game day and you'll see him handshaking a seemingly endless line of teammates before kickoffs and after field goals, like a (Tucker routine) 51-yarder he made Sunday. He capped that off with hand-slapping with defensive back Anthony Levine and a gentlemanly formal handshake with backup quarterback Ryan Mallett. 
"I have a variety of handshakes with different guys on the team," said the All-Pro kicker, who has converted 26 field goals this year, tied for fourth-most in the league and is the second-most accurate kicker in NFL history. "I went through the handshake gauntlet before the kickoff. It's great that we have opportunities to celebrate like we did today. Everybody is playing well." 
Said linebacker Terrell Suggs: "We have four more [games] left." And hopefully at least one more—with some additional creative celebrations—after that.