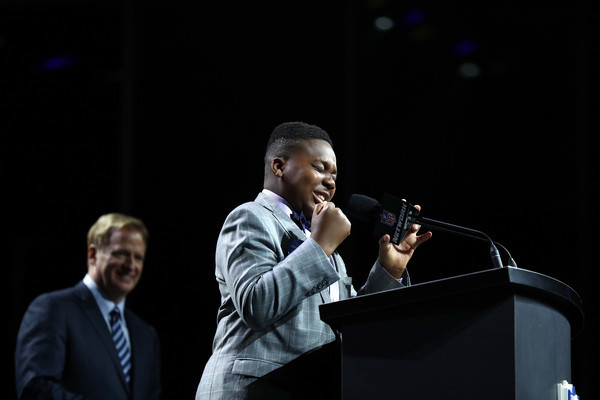 Ravens make a wish come true.
The best moment of the draft, bar none? Nope, it wasn't when San Francisco tricked Chicago into swapping picks (and getting a third and fourth round pick in the bargain). It was when McDonogh 8th grader T. J. Onwuanibe stepped up to the podium to announce the Ravens pick, punctuating his excitement with a fist pump. Onwuanibe was diagnosed with a rare form of brain cancer two years ago and this once-in-a-lifetime opportunity was provided by the Ravens and the NFL in conjunction with the Make-a-Wish Foundation. At the podium, T.J. was poised and adorable. (He also did the nearly impossible, getting the Philly crowd to stop booing NFL commissioner Roger Goodell.) Better still? T.J.'s cancer is officially in remission! Kudos to all involved. We've never been prouder to be part of the Ravens Flock.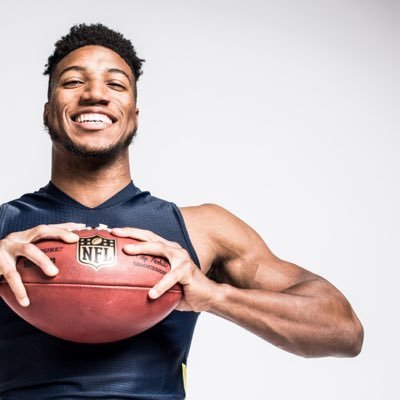 Ozzie gets his man.
In something of a surprise, Ravens used their 16th pick in the draft to take Alabama cornerback Marlon Humphrey. This move is particularly unexpected, since the Ravens signed free agent corner Brandon Carr in the off season. But considering the fact that the Ravens' secondary has been a major concern since Ed Reed left the team, we have no objections. Also, Humphrey is stupid fast (he's a former track star), has a great family lineage (his dad was Alabama All-American Bobby Humphrey), and he sports a fun, if mysterious Twitter handle, "Fruit PUNCH." We can smell the sugary fan giveaways already.
ESPN lays off a bunch of employees.
Proof that even the World Wide Leader in Sports is not immune to the new ways people consume sports entertainment and news, ESPN laid off 100 staffers on Wednesday, including many popular on-air talents. Among them was QB Trent Dilfer, who parlayed his solid, if modest game-management skills into a Super Bowl victory for the Ravens in 2001. As an ESPN analyst, he was fiery and opinionated but might sadly be best remembered for the classic: "You cannot lose games in the NFL and still win." Yes, he really said that.
"Laid off by ESPN today," Dilfer tweeted, echoing the sentiments of many who were let go. "Although sad cause I loved my job, mostly filed w/ gratitude and appreciation for the 9 years."
Also let go was college basketball analyst Len Elmore, a Maryland great.
Juan Dixon in as new Coppin Coach
Juan Dixon, beloved Terps star and nephew of former Mayor Sheila Dixon, has just landed the head coaching position at Coppin State. Dixon's career has had some ups and downs since he led the Terps to their only NCAA Championship in 2002—including a brief stint in the NBA and an embarrassing suspension for steroid use from the International Basketball League in 2010. But this hiring manages to be a great opportunity for both Coppin and Dixon, who is still a huge, high profile draw in Baltimore and will surely help with recruiting. Dixon's ex-wife, Real Housewives of Potomac star Robyn Dixon, with whom he is still very close, expressed her support for Juan on social media. "I really can't express how proud I am of Juan for believing in himself and staying confident and faithful that one day his dream of leading a Division one men's basketball team would come true," she wrote. No word on whether or not Coppin State players will be making a Real Housewive's cameo. 
Orioles on a roll.
At 14-6, the Orioles are on top of the AL East and one of the most exciting teams in all of the majors, with a penchant for come from behind wins. (Like this. And this. And this.) Like all good teams, they take advantage of other teams' mistakes, like this doozy from Wednesday's game against the Rays.