By Mike Unger. Photography by Mike Morgan. Video by Travis Marshall.
True Bromance
Orioles stars Manny Machado and Jonathan Schoop share a bond beyond the infield.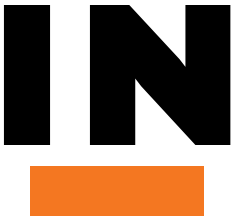 the euphoria of the moment, Manny Machado forgot protocol. His best buddy in baseball, Jonathan Schoop, had just crushed a three-run homer (on Earl Weaver's birthday, no less) with two outs in the ninth to give the Orioles the lead over San Francisco in a pivotal game last August. Three batters earlier, Machado had singled, and after he crossed the plate and waited for Schoopy, as he calls him, he could no longer contain himself.
Near the on-deck circle, the pair broke into their signature ritual of shakes, slaps, and shimmies that's an outgrowth of their close friendship. When it was over—or at least when Schoop thought it was over—Machado lowered his shoulder and, with the verve (and admirable form) of Ed Reed, drilled his infield mate to the ground with such force that both of their batting helmets flew off.
"He was pumped up, I was pumped up," Schoop says.
"We did the handshake and he forgot we don't do the [chest] bump anymore. He was so emotional that I jumped in the air to hit his hand, and he knocked me down. He felt proud about it."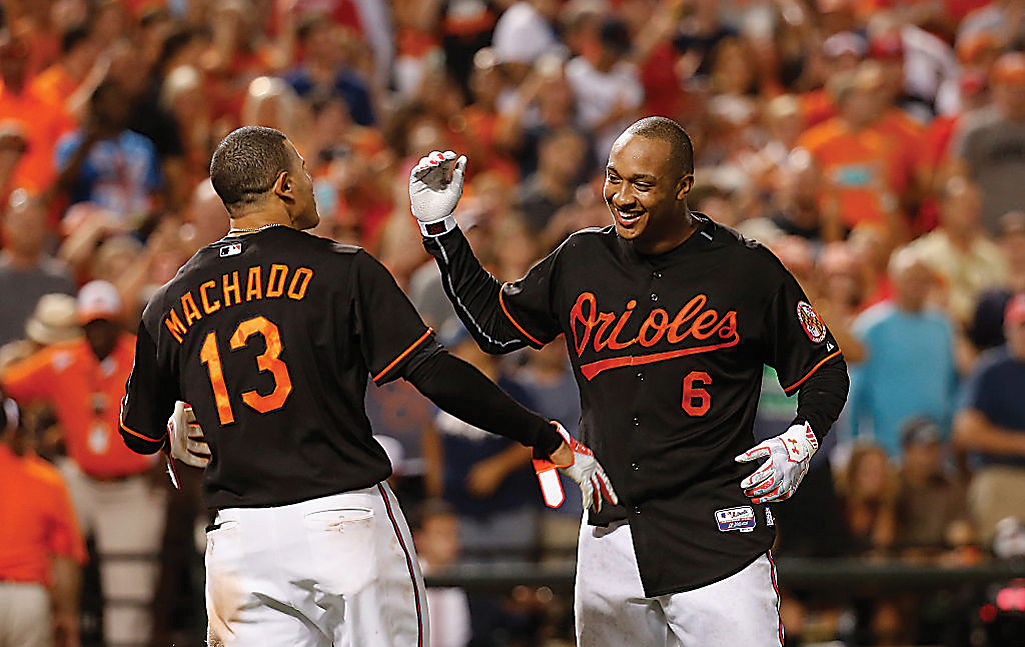 As if on cue, Machado adds, "I'm a beast."
They're recalling the highlights and journey that brought them together as teammates, friends, and Major League stars, on a patio outside of the clubhouse at the Orioles' spring training facility in Sarasota, Florida. The exchange is typical. Like an old married couple, neither is hesitant to interrupt—or contradict—a story the other is telling.
Their ease and comfort with each other is obvious. Granted, it's late February, so the pressure of the regular season seems as far off as the cold weather in Baltimore, but talk to anyone around the franchise and you'll hear the same analogy used over and over.
"They really are like brothers," says first baseman Chris Davis. "We talk about how close we are as a team and how good of a group of guys we have, but those two are peas in a pod, that's for sure."
A few weeks after the miracle comeback win against the Giants, the Orioles played another high-stakes game, this time in New York. In the eighth inning, Schoop ranged deep from his second base position into the outfield grass, dove, rolled over, and fired to first to retire the Yankee hitter. Immediately he glanced toward third, where he exchanged a wry smile with Machado, who an inning earlier had turned in his own defensive gem, throwing out a runner from his knees.
In the same ballpark a month later, Schoop blasted another three-run home run in an O's win over the Bronx Bombers. After he made his way through the dugout, dishing out the standard fist bumps and high-fives and exulting in the requisite sunflower seed shower, he was on the receiving end of a full-on bro hug from Machado.
"When Jonathan does something amazing, it gets Manny hyped," says Machado's wife, Yainee. "They both motivate each other constantly. They're just best friends."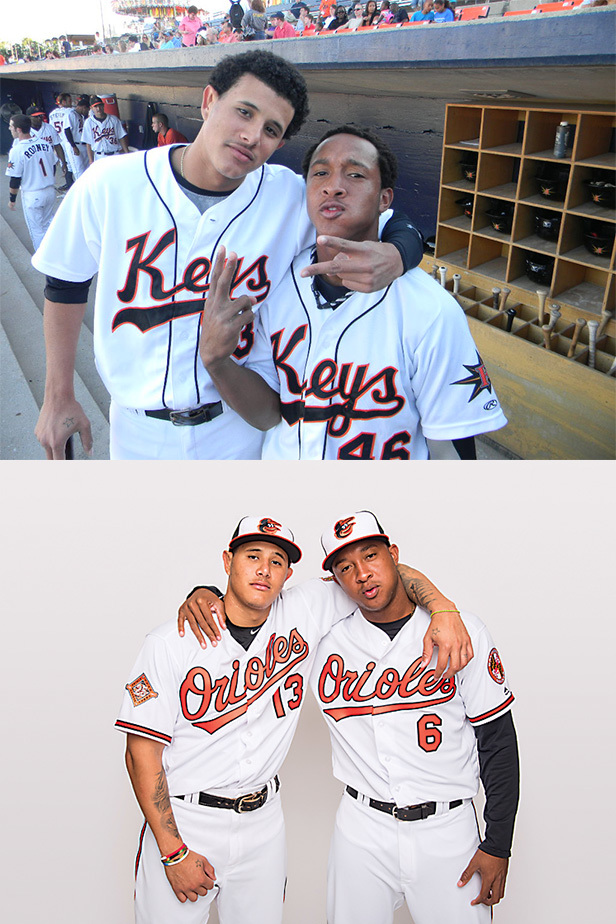 Schoop, his fiancée, Iimayri, and their 2-year-old daughter, Jae'Lyane Isabelle, visited the Machados in December at their new home in Miami. The importance each man places on family is one of their deeper bonds.
"His little baby girl is beautiful—thank God she doesn't look like him," Machado cracks. "I see him FaceTime with her all the time. I see how he treats his daughter, how he gives her everything. He treats her like a little princess. No matter if he went 0-for-whatever that day, he pops a smile every time he sees her when she comes running to him."
After dinner one night, the two men descended to the man cave at Machado's home, where they embarked on a sort of leisure-game Olympics. Video games (FIFA soccer is a favorite), billiards, and chess (there's a bit of a dispute as to who's the better tactician) were among the events.
File the fact that two world-class athletes—even ones as close as Machado and Schoop—are hypercompetitive in all their endeavors under "unsurprising."
"He always teases me that he's better in FIFA, which he is—sometimes," Machado admits.
"I can get in his head easily," Schoop says.
At first, it seemed more likely that they would be rivals instead of friends. When they met in the Gulf Coast League in 2010, both were shortstops. One of them, logic dictated, probably wouldn't make it to Camden Yards playing the position. What's more, they had arrived in the organization from very different places.
Schoop, born 264 days before Machado, signed with the club as an international free agent. He is from Curaçao, a small, baseball-crazy island off the northern coast of South America that is a Dutch constituent country. While he was an intriguing prospect with high upside, he was nothing like the "can't-miss" Machado, a South Florida-raised phenom whom the O's made the third overall pick in the 2010 draft.
With both expected to be assigned to Single-A Delmarva in 2011, it appeared that the Shorebirds had one shortstop too many. Yet, what could have been an uncomfortable or even volatile situation didn't materialize.
"There was never any animosity," says Ryan Minor, Delmarva's manager. "Both of them wanted to be the best player on the field, but they were always kidding around with each other. They pushed each other to get better every day."
They had gotten to know each other well during spring training that year, taking grounders at the same position, and often conversing in Spanish. (At that time, Schoop, who also speaks Dutch and Papiamentu, Curaçao's most common language, wasn't entirely comfortable with his English.)
"We were competing with each other, talking smack back and forth to each other, but it wasn't ever negative," Machado says. "I think that's why we bonded so well."
Schoop understood that, in order for him to progress through the Orioles' system, he would most likely have to step aside. Bonus babies (Machado's first contract paid him more than $5 million) with rocket arms don't generally switch positions. But Schoop, a naturally upbeat and positive person, accepted a move to third base.
"It was competing, but we cheer for each other, too," Schoop says. "I wanted him to do good, and I think he wanted me to do good, too."
Though each eventually got their wish, there were hiccups along the way. Machado suffered a knee injury while at Delmarva and missed a month. When he was rehabbing in Florida, Schoop sent him motivational texts. Later that season, each earned a promotion to Frederick, where they helped lead the Keys to the Carolina League title. Machado made his Major League debut the next year, and in 2013, Schoop joined him in Baltimore.
"Our job in player development is to get guys ready for the big leagues, but those were two of the easiest guys that I've ever had to deal with," Minor says. "They knew what they had to do, they were professional, and they went out and did their thing. They were so much alike."
In the big leagues, the friendship continued to blossom. They became frequent dinner companions, often eating at Ruth's Chris and Fleming's in Baltimore. On the road, they'll dine at the best steakhouses a city has to offer. Last year they tried Jacobs and Co. in Toronto.
"I finally taught him how to eat [a steak cooked] medium," says Machado, a medium rare man himself. "He used to eat medium well or well done. We went to a steakhouse one time and he ordered it well done. It was crispy. I was like, 'How do you eat that, man?'"
"On my island, everything is well done," Schoop says. "He told me, 'You gotta go medium.' I said it's too rare, but I'm coming down a little bit."
Machado likes to grill, and has cooked up steaks, hot dogs, and sausages at home for Jonathan and Iimayri. But his guest of honor isn't convinced the chef is doing all the work.
"I still think his wife seasoned it for him," Schoop says. "I don't like to give him much credit, but it was really good."

At FanFest in January, Orioles manager Buck Showalter started a talk with reporters by noting how close his players are. True, the everyday nature of the sport in some ways forces friendships, but Baltimore's tight clubhouse chemistry deserves at least some credit for the team's resurgence over the past five seasons. Schoop and Machado are the perfect embodiment of that closeness.
"They've been through the bus rides, they've been through the expectations," says Showalter. "They were able to bounce things off each other and both of them felt comfortable in being real blunt with each other. To this day, that continues because they're very honest with each other. In fact, Jonathan is really good for Manny and Manny is really good for Jonathan. I hope it's a combo that's together for us for a long, long time."
day before the Orioles' Grapefruit League opener, Machado and Schoop don their perfectly pressed home white uniforms for a photo shoot on the concourse of Ed Smith Stadium. Normally this sort of activity is about as much fun for pro athletes as going into the office on a Saturday is for the rest of us. But these two, who trade playful insults from start to finish, are having a blast.
When the photographer asks Schoop to blow a bubble with his gum, Machado bursts out laughing when it pops. They pose standing back-to-back, glaring menacingly into the camera, until Machado says he needs to switch to his "good side," and giggles ensue.
"You probably broke the camera, bro," Machado tells Schoop while he's checking out the digital images. "Don't worry, there's Photoshop nowadays."
Who is faster? Who's better looking? ("Come on, you can look and see," Schoop says.) Who has better hair? Better hands? Better . . . anything? The back-and-forth never ceases.
"I think it's cute, but sometimes I'm like, 'Okay guys, grow up a little bit,'" Yainee Machado says.

Occasionally their barbs—about strikeouts, errors, potential home runs that turned into harmless fly balls, whatever—can strike a nerve, and days go by without any more words exchanged.
"Me and him can go after each other," Schoop says. "We can fight today, and tomorrow we wake up like nothing happened. No hard feelings. He knows when I do not agree with him I will fight him back. Some people you can't say certain things because they will get mad or they will treat you different. I can talk with him, tell him the truth, even if he don't like it, we stay the same."
Motivational words line the top of the walls in the clubhouse in Sarasota. The one above Machado's locker—"confidence"—and the one above Schoop's—"heart"—are particularly apropos, but the core of their relationship is based on another: respect.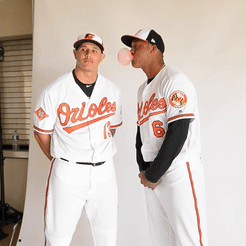 For a joint television interview they did on MASN in 2015, they were asked who had the superior baseball skills, in six categories. (They had to hold up cards reading "me" or "him.") Remarkably, the pair agreed on five of them. Machado has the quicker bat, Schoop the quicker hands. Schoop has more power, but Machado is the better overall hitter. Schoop, they both believed, is the better teammate to the other 23 O's. Their only disagreement? Each thought he has the stronger throwing arm.
"He ain't got no weak part of his game," Schoop says. "He's a superstar."
Fans constantly hear about the importance of chemistry both on and off the field between a quarterback and his receivers, or a point guard and his or her teammates. But does the same principle ring true in baseball, a far more individualized sport?
"There are a lot of things I don't have to say because they say it to each other," Showalter says. "Manny knows where Jon's gonna be on a five-four feed, Jonathan knows where Manny's gonna be on a relay where he might redirect it to third base. They kind of read each other's minds. There's a little nod here or there, there might be a pickoff play, tag plays. They don't want to let each other down."
Professional sports, of course, is a business, so there's no guarantee that Machado and Schoop will be patrolling the Orioles' barrio (Spanish for neighborhood), as Machado likes to call the infield, for much longer. Machado is eligible to become a free agent after the 2018 season, Schoop after 2019. Prior to this year's World Baseball Classic (WBC), in which Machado will suit up for the Dominican Republic and Schoop for host country the Netherlands, they joke about playing against each another.
"I'm gonna go hard into second base and show him who's boss," Machado says.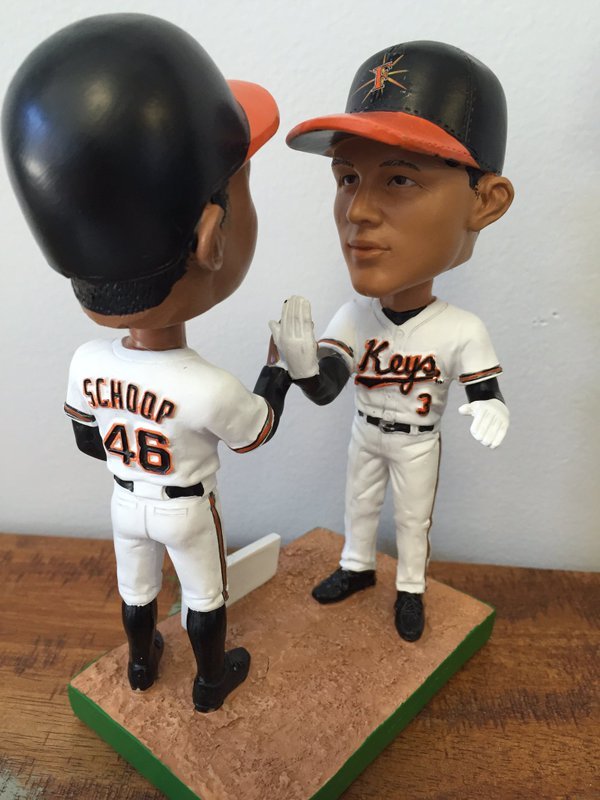 "I'm gonna show him why the league is scared to come here," Schoop replies.
When they return from the WBC, one important preparation will remain before the season starts: the handshake.
What began in the minor leagues as a fun little celebration (the Keys even dedicated a bobblehead to it) has developed into an intricate dance that delights fans, TV cameras, teammates, and even opposing players. Each year they choreograph a new ritual that's a bit more complex and a bit more flamboyant than the last.
"I keep it old-fashioned, simple, and he's always on YouTube checking up on the new trends," Machado says. "He brings the flavor to the handshake."
"I tell him all the time, 'If you want to update, you better come with something good,'" Schoop says.
With both playing in the WBC, they will have only about a week to create the new one.
"We're kind of pushing it tight, but I think we'll be all right," Machado says.
As long as they have each other, that's a given.