Arts & Culture
A Rose That Grew From Concrete
From Greenmount to Bravo, Bishme Cromartie is taking over the fashion industry.
Shot on location at Baltimore Design School. Styling assistance by Khameron Gross. Grooming for Cromartie by T'Shyma Corsey. Model: Emily Askin. For model, makeup by Ashley Briscoe, hair by Shy Waters hair studio. Photo assistance by Alex J. Wright.
On a chilly March evening in Baltimore, friends, family, and local creatives filed into the auditorium of The Walters Art Museum in Mt. Vernon. No, it wasn't the opening of world-renowned exhibit or a fundraising gala for the art institution. In fact, people came in droves to watch the season premiere of fashion reality competition Project Runway. The electric energy in the museum was focused on Baltimore fashion designer Bishme Cromartie, who was making his big television debut. "It was such a surreal experience," Cromartie says later. "All I could do is keep thanking everyone. They could have easily stayed home and sat on their couches to watch the show, but they got dressed, found parking, and waited in line. Just seeing how much Baltimore supports and loves me was so special. You can't buy that kind of love, and I love it back so much."
"Just seeing how much Baltimore supports and loves me was so special. You can't buy that kind of love, and I love it back so much."
His unique name may sound familiar—even before Project Runway, he had shown his collections at both New York and L.A. fashion weeks, dressed celebrity clients such as Andra Day and Fantasia Barrino, and had his creations grace the pages of Vogue Italia and ELLE Vietnam. His bold and structured gowns look like the work of a designer who attended the most prestigious schools or landed a sought-after internship with a top design house. But the real brilliance of Cromartie is that he built a business, selling custom garments out of his Saratoga Street studio, all using self-taught skills. For many, to know Cromartie is to love him. His humble and positive outlook, contagious smile, and ability to spread joy to those around him make his newfound success feel all the more like kismet. "Bishme deserves to reach the top," says celebrity stylist Wouri Vice. "He is definitely one of the greats to come and someone to watch for sure."
"Did you hear about the rose that grew from a crack in the concrete? Proving nature's laws wrong, it learned to walk without having feet. Funny it seems but, by keeping its dreams; it learned to breathe fresh air."
– Tupac Shakur
Growing up on Greenmount Avenue in Waverly with his mother and older sister, Cromartie credits his East Baltimore upbringing with strengthening his creativity at a very early age. "It wasn't the best neighborhood, but I think being in a rough environment forces you to develop a great imagination that allows you to escape the world that you're in," he says. "I always saw my mom working really hard and was surrounded with friends who also had great imaginations. It really allowed me to focus, develop my work ethic, and create some type of imaginary world."
While still in second grade, Cromartie started designing his first garments, made from various fabrics around the house, including his own socks and shorts, to dress his G.I. Joe action figures, a creative choice that wasn't exactly popular around the house. "We'd have to watch the sheets and things of that nature because he would cut them all up," says his older sister, Chimere Didley. "Next thing I knew, his figurines would have little jackets, and I thought, 'What's going on here?' I guess in his mind, everyone should have a change of clothes."
Cromartie spent the following summer with his great aunt in upstate New York, where she taught him the basics of sewing. By age 11, he made his first real design, a T-shirt he wore proudly to the Clifton branch of Enoch Pratt for an afterschool program. His peers soon took notice, and Cromartie remembers that as the first time he saw people happy about something that he had created. "It was hand-sewn and not very well made," he laughs. "It wasn't awesome, but it was really awesome at the time."
And it would not end there. While attending Reginald F. Lewis High School in Hamilton, he sketched in his notebooks throughout the day. He designed a prom dress in the tenth grade and continued until he graduated in 2011—even missing his own senior prom because he was spending all of his time creating other people's dresses. "There would always be kids over at the house, and it wasn't surprising because he always had a lot of friends," says Didley. "But then I realized they were there because they were having clothes made. It dawned on me that day how big of an impression he had made on his peers."
Didley also recalls a high school talent show where her brother performed a song—singing is another one of Cromartie's many talents—and, as she looked at the audience, she saw lots of the kids in the audience wearing her brother's designs. "That's when I realized this is what he is meant to do," she says. "I think his peers gave him validation, and that's why it gives him a great love for the city. Baltimore didn't shut him down, his peers gave him his start, and I think that really sits with him."
"Bishme deserves to reach the top. He is definitely one of the greats to come and someone to watch for sure."
After high school, Cromartie took the next step in his career and applied to the famed Fashion Institute of Technology in New York City, but was rejected. While the news wasn't easy to hear, he took the opportunity to fuel his passion and created a series of designs that would go on to be featured on the pages of major fashion magazines. During that time, he also maintained a steady flow of custom clients, who would flock to Cromartie for anything from a basic cocktail dress to an extravagant evening gown. He even made his sister's wedding dress, something the two of them will never forget. "I was so honored and so happy I get to say this for the rest of my life," says Didley. "Some brides can say, 'I had a Vera Wang,' but I can say I had a Bishme Cromartie."
His garments eventually caught the attention of celebrity clientele and stylists like Vice, who has worked with the likes of Alicia Keys, Kerry Washington, and Viola Davis. "I met Bishme through another stylist on a cover shoot for Jill Scott," says Vice. "He had been commissioned to make a purple top, and I'll never forget it. I told him, 'That's really dope,' and asked when he made it, and he replied, 'I started last night.' And I just remember thinking, 'That is kind of crazy!'" From that point on, Vice and Cromartie collaborated on many projects together, including various tour looks for powerhouse vocalist Andra Day. "He really hustles and always puts his best foot forwards," says Vice. "He is always getting on the bus and coming to New York to get his fabrics and staying true to himself and where he comes from."
Cromartie lovingly refers to Vice as his fashion godfather and credits his guidance for a lot of the opportunities that have come his way. "As black men, I try to keep that door open," Vice says. "This industry can be crazy sometimes, and you need that voice of reason or just somebody to shut up and listen."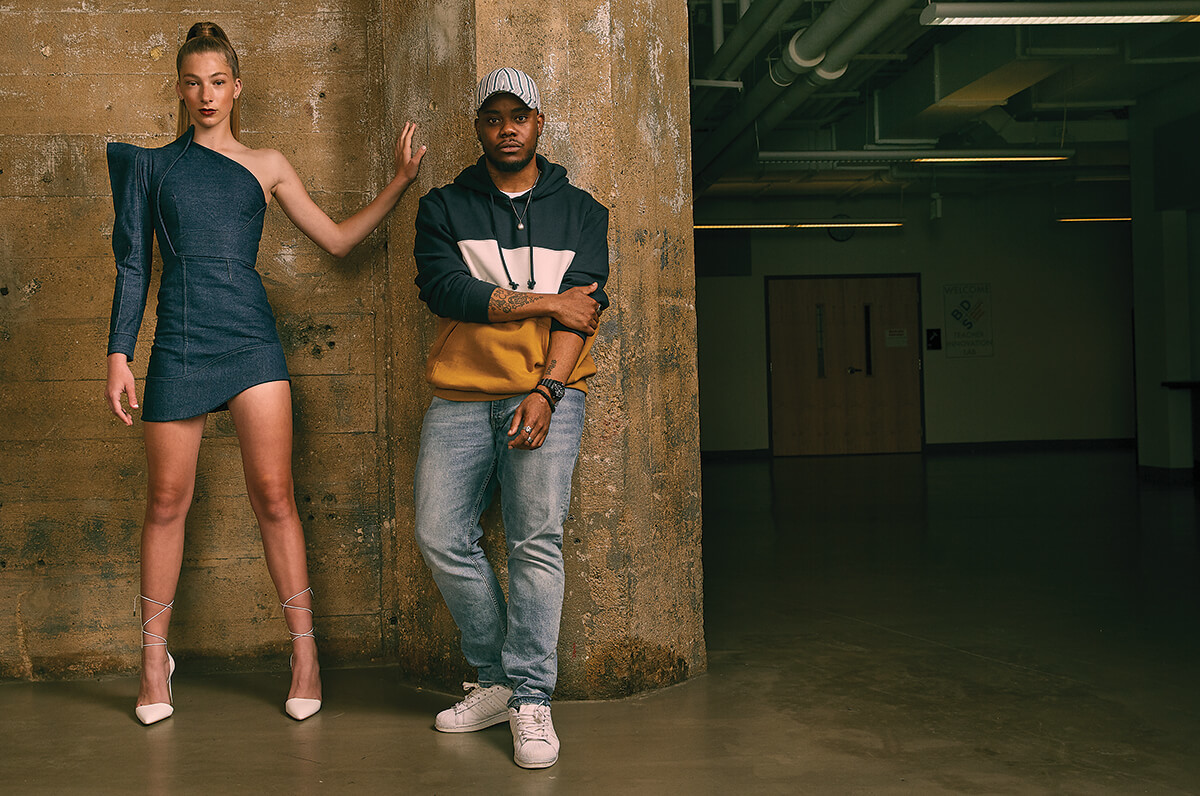 Cromartie certainly needed his mentor and sounding board when the Project Runway opportunity came his way. "I'm glad they recognized his talent," says Vice. "I think everything happens in due time, and for him to have gotten on the show served as a catalyst of motivation for him. I think that he has become a lot smarter, wiser, and more focused as a designer now, and the show is the perfect vehicle for people to see who he is as a person, as well as what he creates through his clothes and how they are intertwined."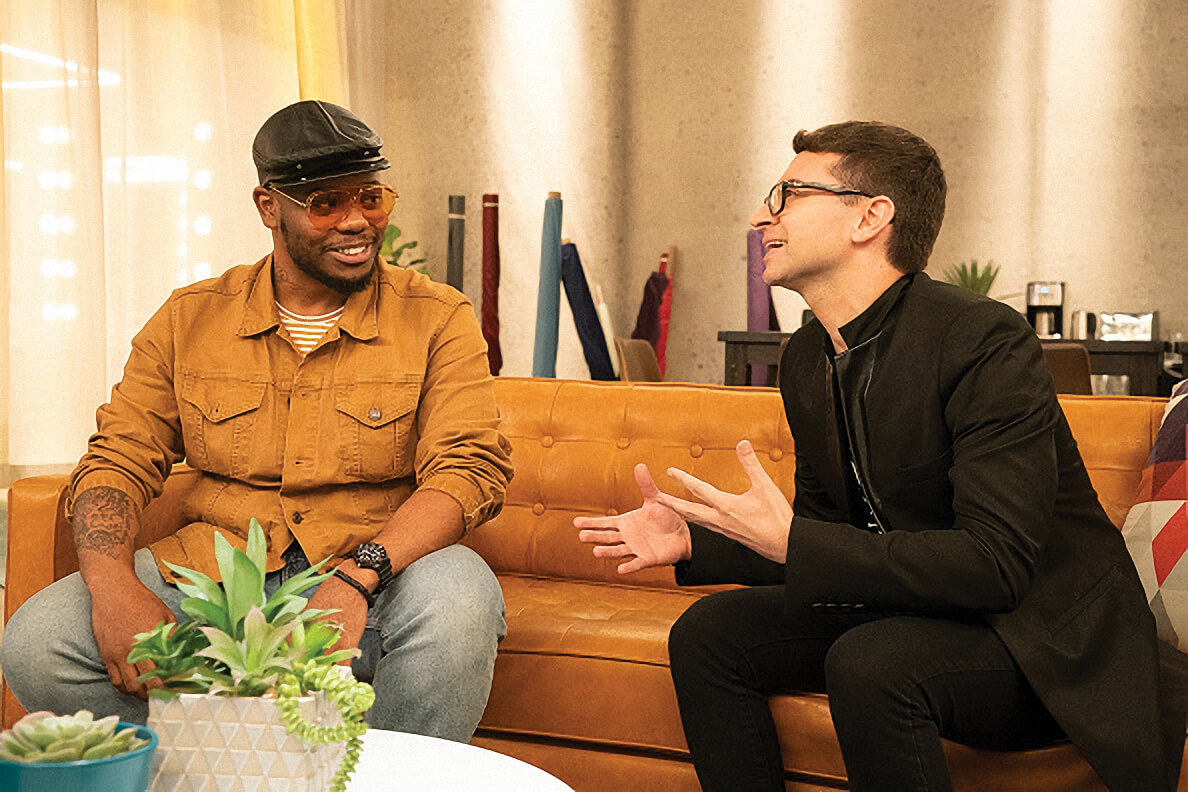 For Cromartie, the chance to appear on a show that he religiously watched with his sister growing up was a full-circle moment. "He was the reason I watched Project Runway, and I remember him saying, 'I'm going to be on that show one day,'" says Didley. "You hear kids say things like that and, not to say you ignore it, but you don't know if it will actually come true. To see someone say they are going to do something and then to actually do it is amazing. I'm already proud to be his sister, but that made me so proud."
Both siblings claim they "ugly cried" when he received the news that he would be on season 17 of Project Runway. It was an especially exciting season, with new judges, a new mentor and host, and a wider size range of models, including the show's first-ever transgender model.
One of the most exciting new additions for Cromartie was another Maryland native, Christian Siriano, who joined the cast as the designers' mentor—aka the new Tim Gunn. "I've been stalking Christian's life for forever," Cromartie says. "I remember seeing him on the show and just seeing someone who was from the same area really inspired me. It made me feel like I was meant to be a part of this season."
Besides the clear connection of hailing from the same state, Cromartie and Siriano also have striking similarities when it comes to designing for all different types of women, empowering clients to feel like their most confident and beautiful selves. "My mom and my sister are both beautiful, plus-sized women who are the epitome of strength and, through that, I've been able to understand all different types of bodies and what looks good on people," Cromartie says. "I would never want anyone to feel like they can't be included in anything that I make. It doesn't matter what size you are. My goal is to make everyone feel as beautiful as they are."
"I would never want anyone to feel like they can't be included in anything that I make. It doesn't matter what size you are. My goal is to make everyone feel as beautiful as they are."
Throughout the show, he was able to do just that, ascending to the final four by creating powerful, masterful designs that were bold and innovative, all while celebrating the female form. Of course, he experienced highs and lows—highest when his creations served as love letters to Baltimore, like the structured bomber jacket emblazoned with "Greenmount" on the back that won him the street style challenge on episode five. Or the "Baltimore Blossom" dress and T-shirt designed to inspire youth in the city. Or, finally, his work during an experiential challenge where designers had to create a room and matching garment. Cromartie stuck to his roots with a blossoming, rose-colored dress inspired by fellow Greenmount native Tupac Shakur's poem The Rose That Grew from Concrete and a room designed to replicate a Baltimore City street.
But the lows came to him later, when he was voted off in the season's penultimate episode, after a disappointing presentation and emotional struggles after finding out that his sister had been diagnosed with colon cancer. "[It was the] first time I ever felt stuck," he wrote on Instagram. "It made me annoyed with myself and extremely embarrassed to get this far and choke. . . . Sometimes, we have to fall down hard just to see how bad we are willing to get back up. It took me being on Project Runway to realize that . . . I am actually stronger than I thought I was."
Though Cromartie didn't take home the crown, it's clear that he gained a whole new legion of fans, who fell in love with his empowering designs and vibrant personality. "Not only is he extremely talented, but he brought such fun, silliness, and friendship," says season 17 winner Sebastian Grey. "One day, he was teaching me how to twerk in the workroom and, minutes later, almost all of the girls were on the floor following his lessons."
This jovial spirit and infectious energy will continue to define Cromartie as he climbs his way to the top, blossoming regardless of restraints. "Being on the show not only taught me that anything is possible, but also showcased to me that, if you are really passionate about something, it doesn't matter what you are going through or what gets thrown your way," he says. "As long as you're living, you are developing into the person you are meant to be."
During his final moment on the Bravo competition show, Cromartie walked off the runway one last time. Host Karlie Kloss called after him, "This is just the beginning!" Cromartie shot a piece sign up in the air and simply responded, "I know it is."