Hair Apparent
Our picks for Baltimore's top 25 salons.
Style & Shopping
Hair Apparent
Our picks for Baltimore's top 25 salons.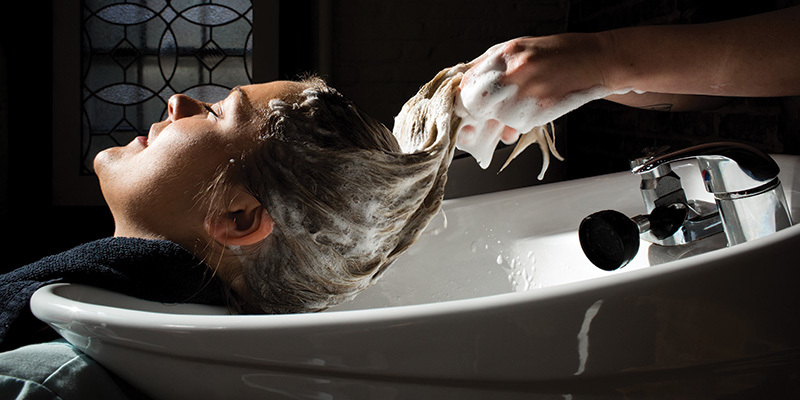 In 2001, Hillary Rodham Clinton shared a bit of wisdom with Yale University grads: "Pay attention to your hair," she told the crowd of coeds, "because everyone else will." While hairstyling is a nonpartisan issue, clearly the Democratic presidential candidate was onto something. Whether worn loose and long (you're likely a romantic), pixie or punk (you exude self-confidence), or braided or in a bun (you prefer control over chaos), how we mind our mane says a lot about us. To guide you in caring for your hair, the salons on these pages are a cut above the rest–from boutique shops to full-service salons and spas, plus places to pluck your brows and balance your chakras. Transformation isn't as hard as it may seem (just take a look at our Fabulous Four models made over by Studio 921 Salon & Day Spa). So sit back, relax (perhaps with a deep-tissue massage!), brush up with our tips and trends, and get ready to be the center of attention.
Hair Today:
Gone Tomorrow
Secrets to achieving that perfect blowout.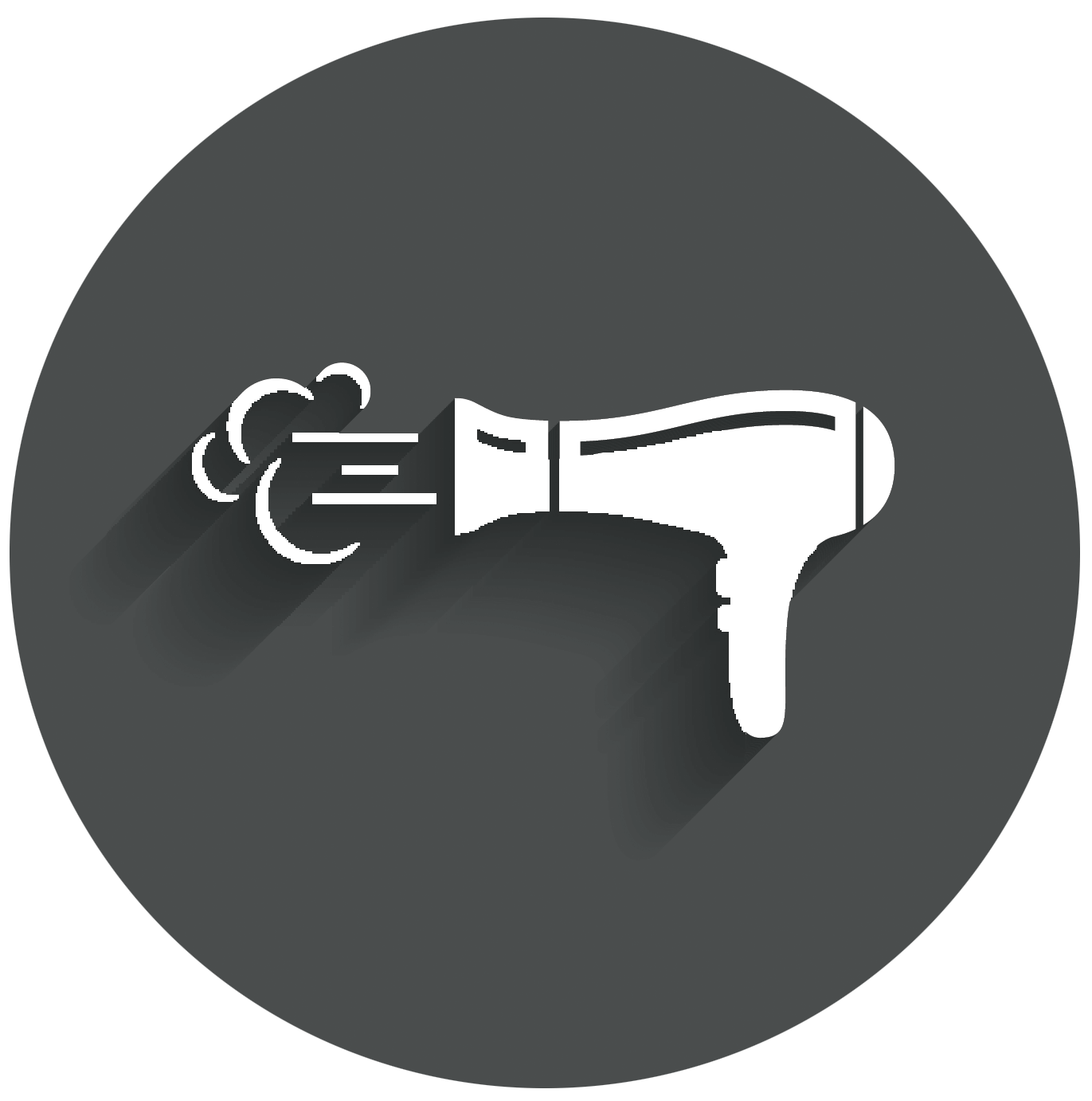 Cecelia Davis, salon manager 
of Haute Blow Dry Bar in 
Harbor East, has all the tips and tricks you need to tame your hair into a smooth and voluminous look.
THE PROCESS Thoroughly dry your hair 
to remove 50 to 75 percent of the water before touching any tools. Then, "work in small sections that you can control so that you don't get overwhelmed," says Davis. Armed with your round brush, take your time and work your way around your entire head, taking a good 20 to 30 minutes. For salon quality, you must 
be patient. "You can't expect to get it in just two to three minutes," says Davis.
PRODUCT PLACEMENT Heat protectant sprays are a must. As for other products, be choosy about what you put in your hair. "Do your research 
on what's going to work best for your hair type," Davis says.
ROLL WITH IT To get the most wear out of your blowout, acquaint yourself with Velcro rollers. "If you did a blowout and you want to get it into the second day, it's a great way to boost the volume and refresh your style," Davis says. Rollers bring back the bounce with a fraction of the effort. 
The best part? No one will be the wiser that you're rocking day-old hair. —SA
ABOUT FACES DAY SPA AND SALON
Color Commentary: It's been a busy week at work and by Sunday morning, you're finally able to take a cold, hard look in the mirror. Your skin is sloughing, your roots are showing, and that peeling gel polish on your index finger is nothing next to the fact that Frida Kahlo is calling and wants her unibrow back. Whether on a Sunday, or any day of the week, this mega-beauty business, with a string of successful salons in three counties (including the gorgeous, recently reno-ed Pikesville outpost), is your 911 beauty cure-all. You don't stay in the beauty business for 45 years if you're not doing something—make that everything—right. Vibe: Zen modern. Highlight: Through the years, we've had it all, from cuts to hot stone massages, but as we mature , our hearts grow fonder for anti-aging services such as the all-natural Caudalie facial, with grapes as its primary ingredient. (We swear it works wonders!) Tip: Don't worry about zeroing in on any single salon staffer. About Faces puts all employees through a rigorous beauty boot camp, which ensures consistency every time. Several locations, including 1809 Reisterstown Rd., 410-602-0888
ALPHA STUDIO
Color Commentary: At Alpha, it's all about the details—from the welcoming cup of herbal tea when you walk through the door to the oh-so-divine head, neck, and shoulder massage with every shampoo. (Ask for Heather.) This Aveda concept salon shares the company's commitment to the environment, and founder Reuben Kroiz, whose work has appeared on the runway at New York Fashion Week, keeps up with what's current. Vibe: Tucked away in a Fells Point rowhouse, the space is modern and bright. Highlight: With stylists who are as skilled with a makeup brush as they are with scissors, this salon offers makeup lessons and special-occasion styling, and will even touch up your makeup after a cut or color. Tip: Alpha is open seven days a week, so even guests with tricky schedules can get glam. 817 S. Bond St., 410-327-1300
CHOP SHOP
Color Commentary: Don't let the cutesy name fool you. This hip Lauraville salon is definitely for adults. But that's the charm of Chop Shop—it's down to earth and unpretentious without slacking when it comes to style. You'll get an awesome cut or color, plus you can skip your morning coffee, since the salon is stocked with plenty of caffeine, not to mention beer and wine for you non-coffee drinkers. Vibe: Chop Shop feels like the funky spot your artsy friend might run if she had a salon of her own. Highlight: If you're thinking of making the leap from long hair to short, Chop Shop, as the name implies, is definitely the place. Owner Lisa Hawks and stylist Laney Turner-Miller are old pros and absolute masters of the pixie and bob cuts. Tip: Play up your new haircut with one of the eclectic jewelry pieces and accessories for sale at the front of the store. 4321 Harford Rd., 410-426-2300
CORBIN SALON
Color Commentary: So you're new in town and you want to get your tresses tamed at the pate palace where all the in-the-knows go. We can save you the burden of trial by error. (Who among us hasn't had a serious mane malfunction?) Set your GPS to Corbin Salon, where the eponymous one-name wonder—with major coif cred from the famed Vidal Sassoon Academy in London—supervises the strands of those who would otherwise commute to sister cities for services. Yes, this place trends toward pretentious, but who can argue with a 'do that's never a don't. Vibe: Beverly Hills meets Bare Hills. Highlight: Michelle Sartori is one of the top color artists in town. She's especially great with blondes. Tip: Corbin tends to run late as the day wears on. If you go, take the earliest possible slot on his schedule. If not, settle in and read a magazine. We'll gladly suffer for beauty. 1422 Clarkview Rd., 410-494-8888
---
CRAFTED HAIR STUDIO
Color Commentary: Opened in October by Rachael Epstein (previously of Sprout), Crafted is an excellent addition to Hampden's rapidly growing Chestnut Avenue scene. Like Sprout, the salon is devoted to all things green (i.e., zero paper trail, wind-power) and furnished with entirely upcycled and refurbished furniture, including an antique cash register. Offering haircuts and color for men, women, and children, Crafted also highlights waxing and manicures with all-natural products. Also consider treating your tresses to a Keratin blowout or deep-conditioning treatment to bring your strands back to life. Vibe: Clean but edgy. Highlight: Crafted specializes in avant-garde styles, so if you want something a little more inventive and creative, head here. Tip: The salon features custom henna tattoos on Mondays. Call to schedule an appointment with Dawn. 3526 Chestnut Ave., 443-885-9073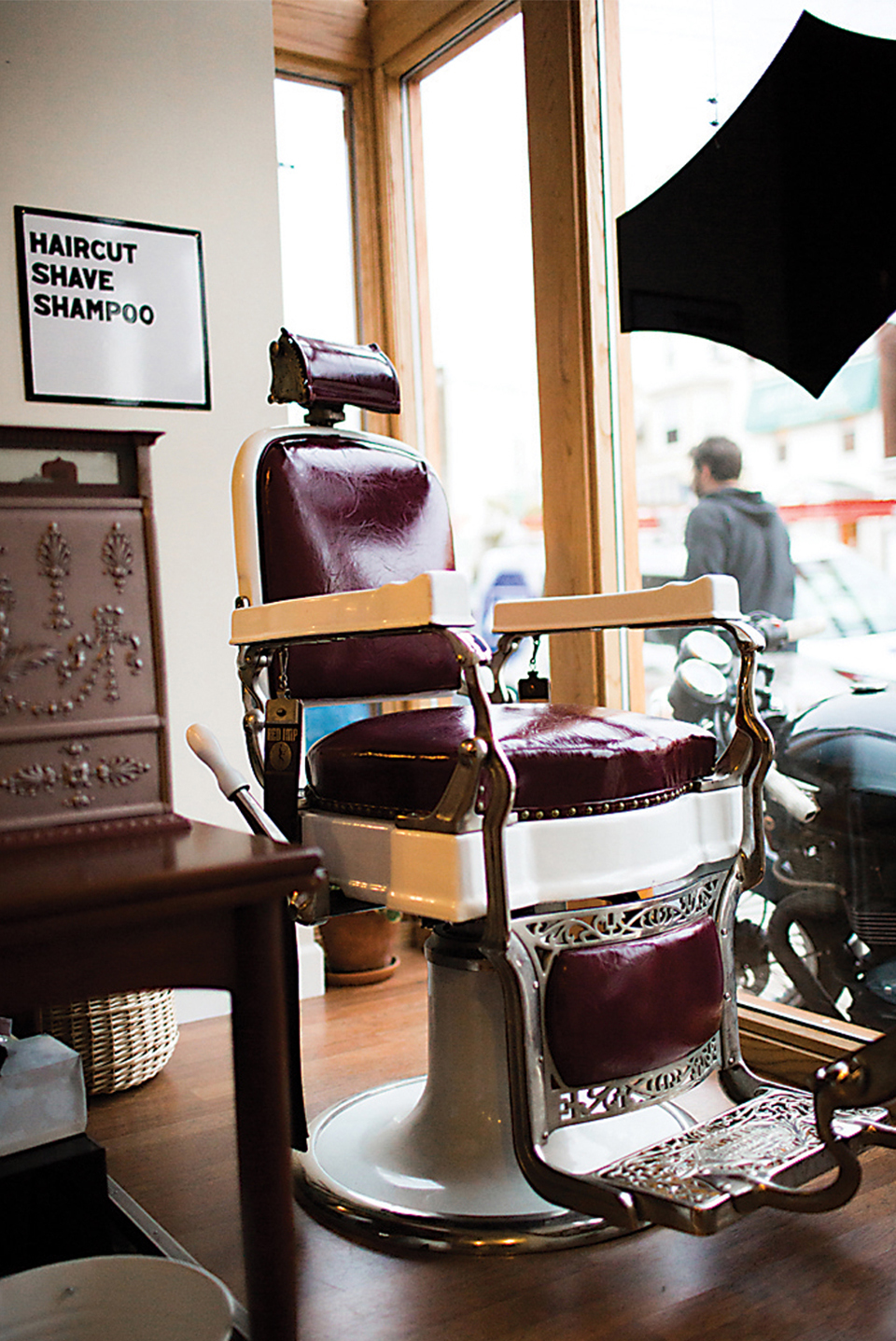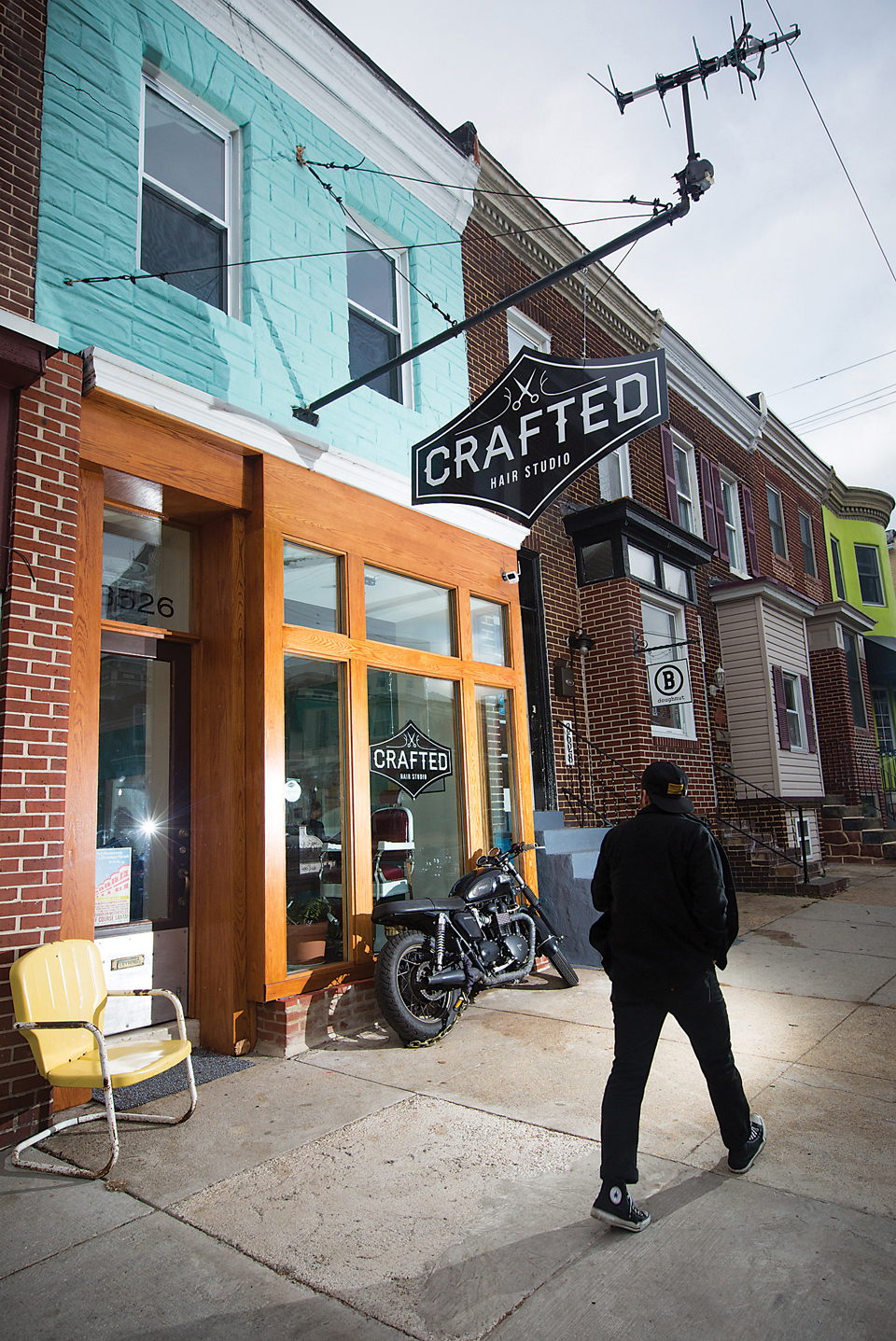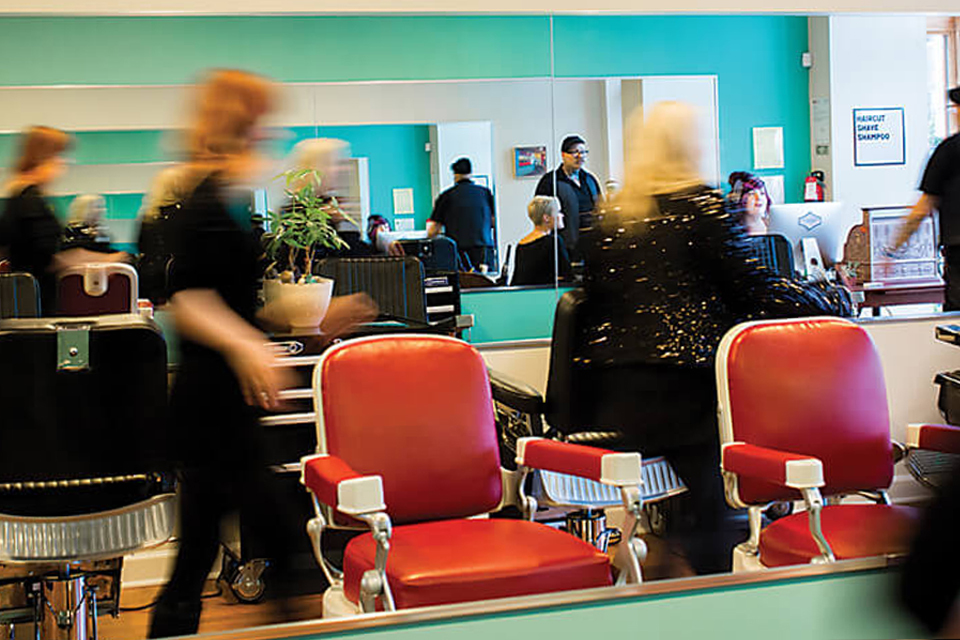 DARRELL BARRETT AND RENAISSANCE SALON AND SPA
Color Commentary: Mergers are notoriously messy. Luckily, that was not the case when Darrell Barrett Salon and Renaissance Salon and Spa came together last fall. Together, they're nothing if not big on exclusives. Not only is the new partnership an Arrojo flagship salon, but it's also the only salon in the state to carry luxe Vincent Longo makeup. Vibe: Old-world oasis. Highlight: Nick Arrojo of TLC's What Not to Wear drops into the salon four times a year for clients who want a celebrity touch. Tip: The saunas and tranquil rooms are complimentary for spa guests, so feel free to lounge for an hour (or five) after your services end. 11121 York Rd., Cockeysville, 410-527-1175
DK SALON
Color Commentary : For one-stop salon shopping, go to DK, a bright space offering cuts and colors, manis and pedis, waxings and facials, and massages. The highly qualified staff boasts stylists like Marie-Paule, who has trained with Redken and Yonka Paris, and Tomm, a L'Oreal Coloring Academy alum. The salon's extensive services menu promises something for everyone and will save you a trip across town for that cheapie weekly manicure. Vibe: Sleek and modern. Highlight: Intimidated by trends like "balayage," "bronde," and "ombre" because they sound like something made up by a tween on Instagram? Have no fear: DK has these hip coloring styles—and plenty of others—down pat. If you're looking to switch it up and get your coloring in line with the latest runway looks, DK is the place to do it. Tip: Don't leave without saying hello to Luchia, the adorable little fluffball who is everyone's emotional support dog. 5701 Newbury St. 410-377-4300
ENVY SALON
Color Commentary: Ellicott City is full of hidden treasures, and among them is Envy Salon, built on the land once belonging to the original Ellicott Brothers. Open for 16 years, Envy is the spot to treat yourself to the perfect cut and color. Specializing in multi-dimensional highlights and gray coverage, Envy offers eyebrow, lip, and chin waxing, too. It also has a wide array of Pureology, Moroccan Oil, and Bumble and Bumble products lining its historic walls. Don't miss out on the shampoo room, which features large vertical windows with a view of the peaceful woods and stone patio nearby. Vibe: Quirky and charming, this 174-year-old building is on the National Register of Historic Places and is full of whimsy and winding staircases. Highlight: At Envy, all of the stylists believe in the integrity of hair, meaning they aren't afraid to tell you how they really feel. If they strongly disagree with your ideas for a drastic 'do-over, they will save you from yourself. Tip: Arrive early for time to sip some tea or coffee and warm up in front of the cozy fireplace in the lobby. We're relaxed just thinking about it. 3723 Old Columbia Pike, Ellicott City, 410-480-1770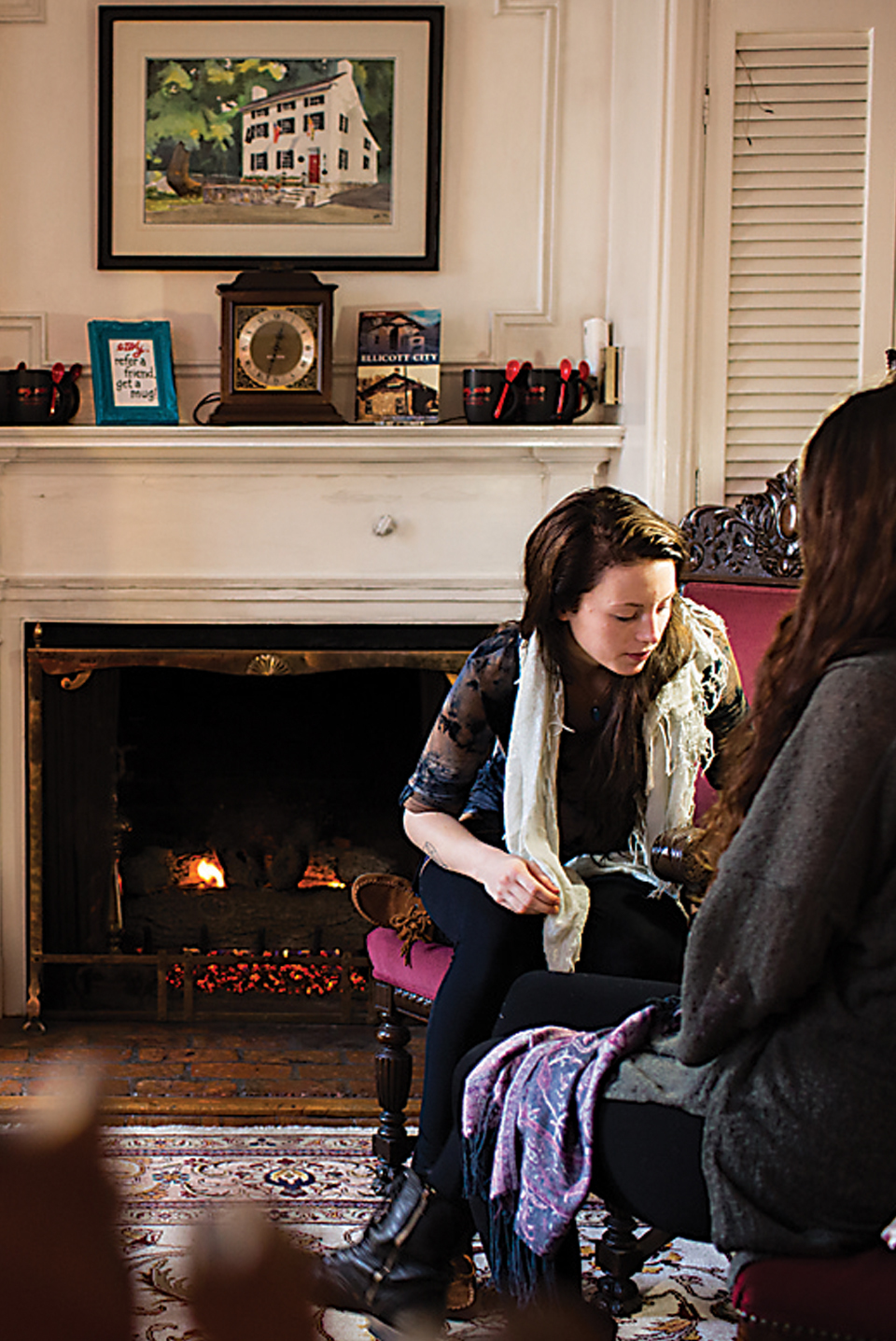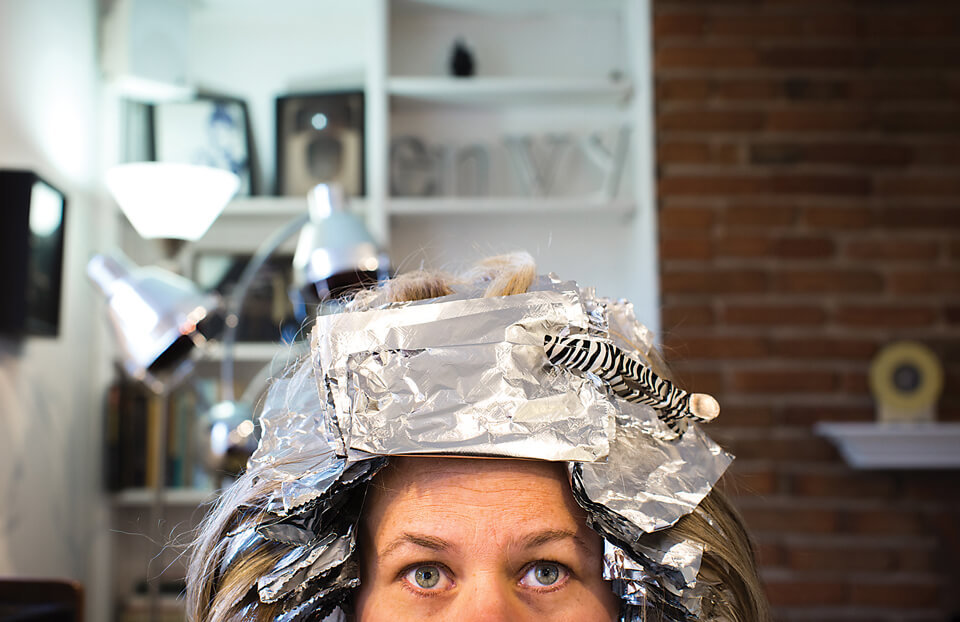 FORM SALON
Color Commentary: When seven stylists from the former Studio 1612 came together to open Form in fall 2014, they brought with them a cheering group of loyal customers, including local icon Mink Stole (!), who has been a longtime client of co-owner Monica Autenzio. A veteran of the Baltimore salon scene, former 1612 co-owner Judy Weidel tackles even the most challenging transformations with grace thanks to decades of experience, an unerring eye for trends, and a vast repertoire of new techniques. Vibe: Trendy yet traditional, with a boutique feel. Highlight: For dimensional, fantasy-inspired color, book with Erika, one of Form's newest stylists. Tip: Not a hair pro? The gals at Form make sure you leave with the knowledge you need to re-create your new 'do at home, whether you're a perfectionist or a shower-and-go type. 742 Dulaney Valley Rd., Towson, 410-825-3676
The QG
Color Commentary: Launched a decade ago by owner Craig Martin, The QG has blossomed from a four-chair grooming station to a full-blown barbershop and spa catering to both men and women. By merging old techniques with the latest equipment and technology, the barbers and spa technicians are able to create an entirely new take on grooming and beauty. The barbershop, located on the first floor of the six-story (yes, six) department store, specializes in precision cuts, straight-razor shaves, and men's styling. Head to the second-floor spa for targeted facial treatments, HydraFacials, mani/pedis, and a plethora of massages. Vibe: Upscale SoHo chic. Highlight: This summer, The QG welcomed a new member to its beauty family when The White Room Salon, owned and operated by Salvatore Di Francesca, opened offering women's salon services. Tip: Make a day of it. Not only can you treat yourself to a salon experience, but The QG has a comfy lounge and waiting area (with a pool table), stocked fridge, cigar lounge, and retail floors to complete your new look. And with The QG's many high-profile members, we hear some pro athletes hang here, you never know who you'll run into. 31 S. Calvert St., 410-685-7428
K CO DESIGN SALON & DAY SPA
Color Commentary: Although a relative newbie on the scene, after eight years K Co has established itself as a salon stalwart, which explains why local luminaries such as Mayor Stephanie Rawlings-Blake, CNN's Carol Costello, former WBAL anchor Marianne Banister, and Hall of Famer Jim Palmer flock here for grooming and spa services. Vibe: While K Co keeps it all in the family with co-owning sisters-in-law Katie and Melissa Russell at the helm; Melissa's daughter, Courtney, at the makeup counter; and Katie's sister-in-law, Theresa, running reception; non-relatives—from patrons to those on the payroll—are coddled like kin. Highlight: Don't miss the newly expanded spa services with a wide array of enticing peels, polishes, massages, and masks. Tip: Stock up on Oribe, Davines, and Dermalogica on Tuesdays, when all products are discounted. 6080 Falls Rd., 410-377-7727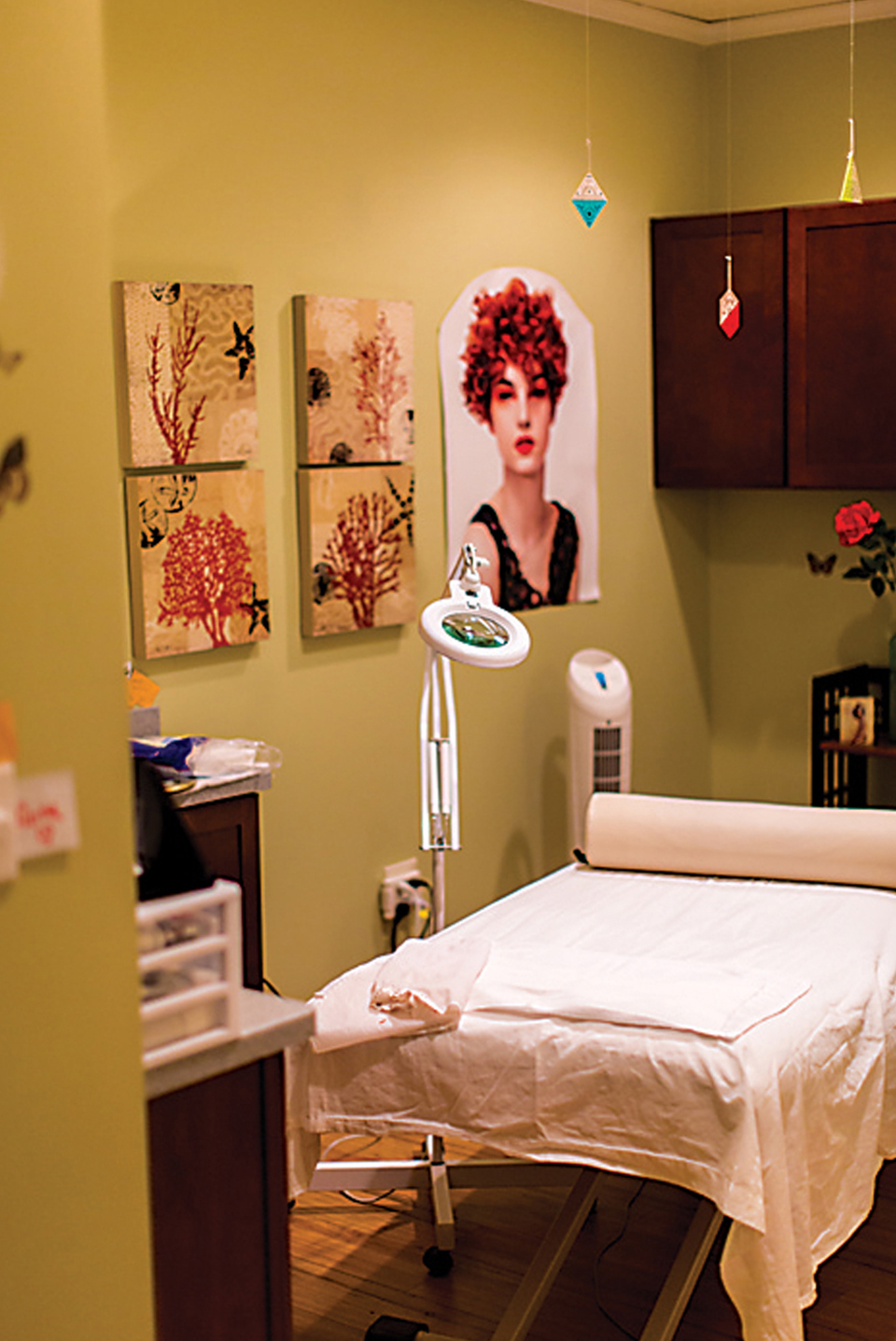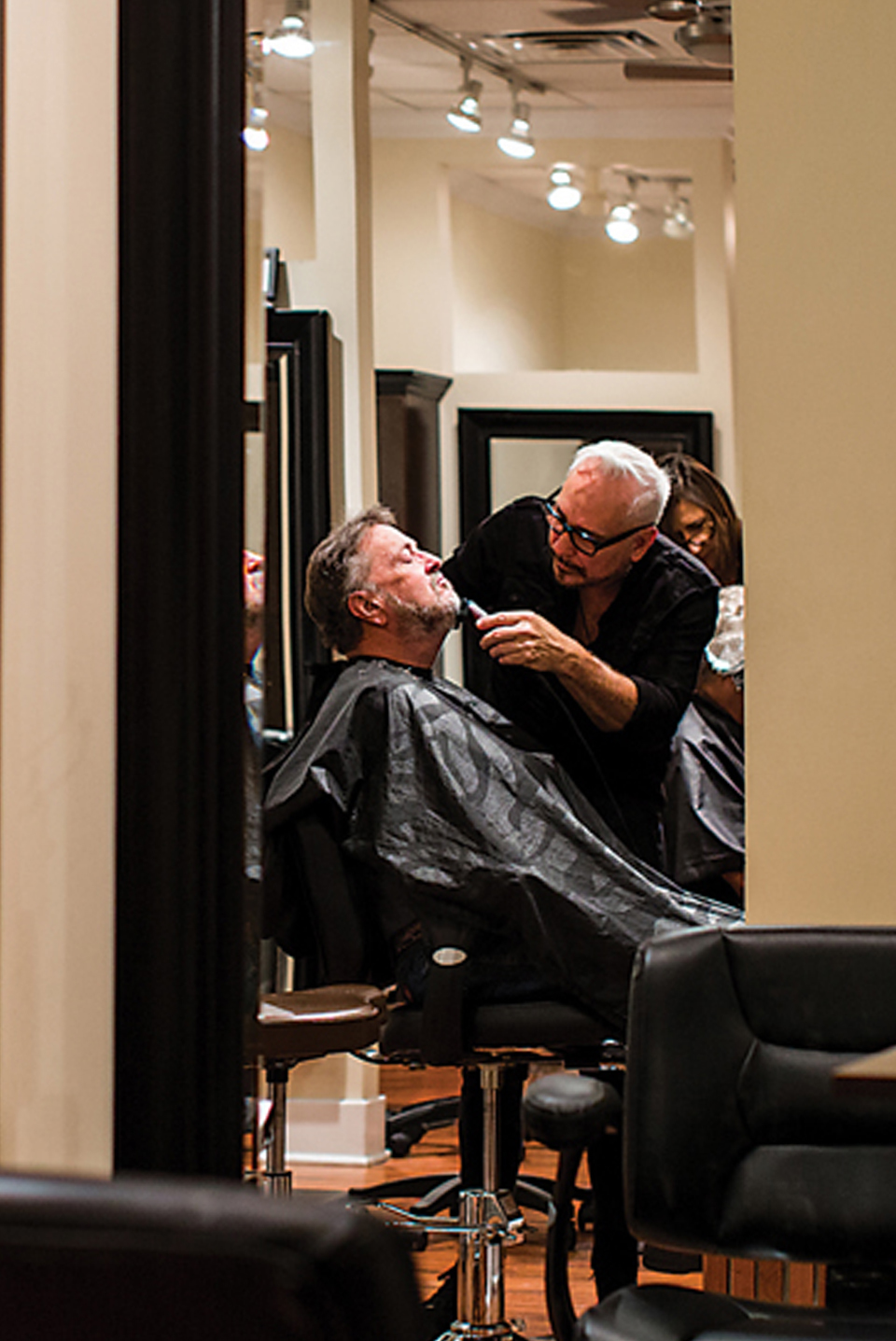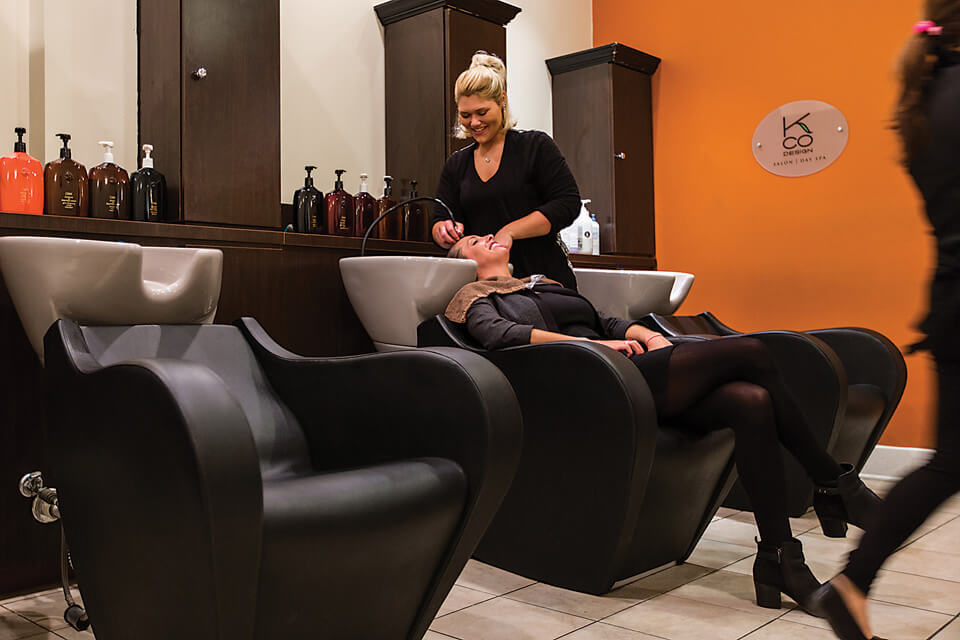 LABORATORIE
Color Commentary: Owner Bethany Magliacane and her stylists bring an experimental spirit and creative expression to cuts and color at "The Lab." Here, stylists craft looks unique to each client's needs and personal style, rather than applying cookie-cutter trends across the board. Customers rave about the eco-friendly salon's Italian-made, organic hair-care products and attention to sustainability in every practice. But Laboratorie has a commitment to more than the Earth—stylists use the newest technology and tricks to keep your look current. Vibe: Bright and clean, with an organic edge. Highlight: If you have extra curly or coarse hair, entrust it to Natalie; Kristyn will come to your event for polished special-occasion hair and makeup. Tip: The busy appointment book is a sign of how popular this place has become—but it also means you'll need to plan ahead, especially if you want to visit with master stylists Bethany or Rebecca. 735 Deepdene Rd., 410-435-0805
LLUMINAIRE SALON
Color Commentary: Cutting hair seems like an easy enough affair: shampoo, snip, style. But at Lluminaire, watch hair deities Mario Rentuma and Dean Krapf at work and you'll never invest in another drugstore color kit or trim your own tips again. In business for 11 years now, and with an outsized reputation, these 'do dudes never rest on their laurels, which include working with Anna Chlumsky, Julia Louis-Dreyfus, Daniel Craig and other glitterati. And get this , despite their success, they're two of the nicest guys in the beauty biz. Vibe: Old Hollywood glam. Highlight: If your hair is thinning, you're undergoing chemo, or just want longer hair, Lluminaire does top-of-the-line work in enhancements with Sherri Renee human-hair wigs. Tip: Get in good with receptionist Wanda Butta—she might just ask a stylist to squeeze you into a slot. And when you go, don't mind that expired meter or the fact that you forgot to eat lunch. Wanda will feed the meter—and you, too—if need be. (There are always vegan snacks on hand!) This is truly a full-service salon. 15 W. Allegheny Ave., Towson, 410-583-1500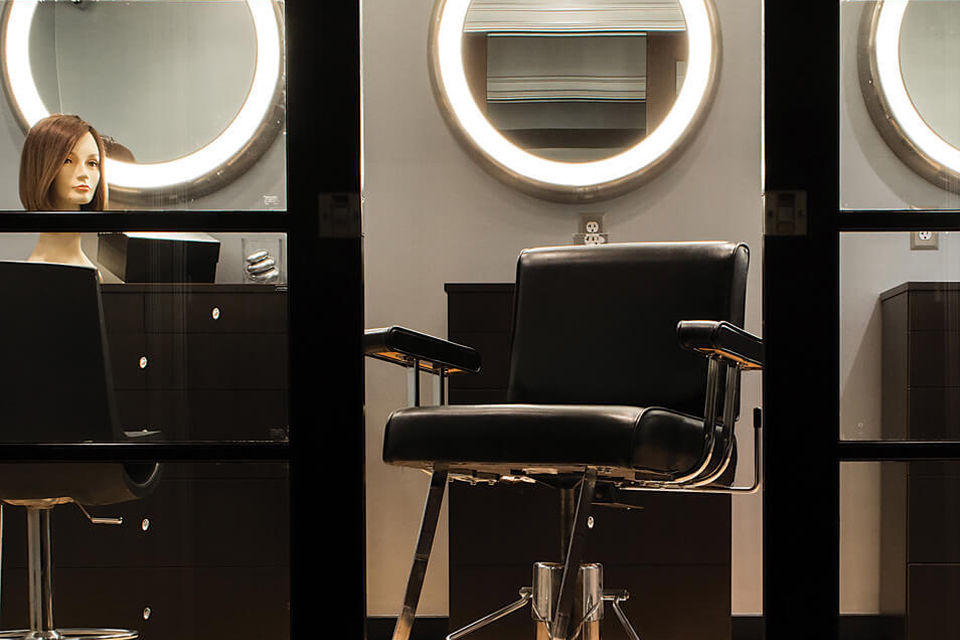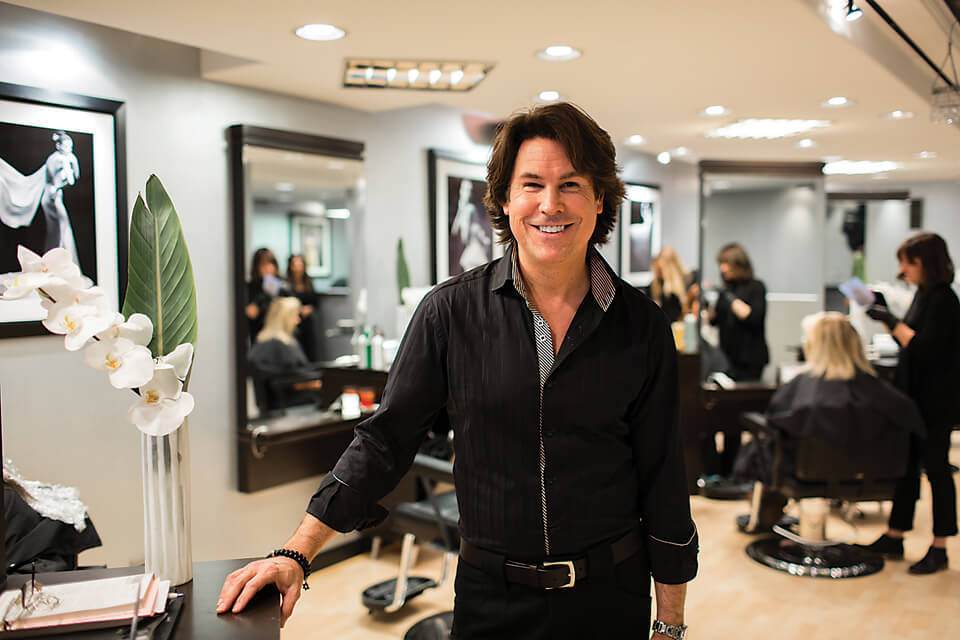 LUSH 35 SALON & GROOMING LOUNGE
Color Commentary: Lush 35 owner and master barber Micah Stanovich and his talented staff have years of experience in the hair-care business. Their expertise? Barbering, Keratin blowouts, and the ability to tackle any texture they touch. But it's this Paul Mitchell salon's airy, open concept that really makes the space special. Snipping and styling are done around the perimeter of the room, while color treatments happen at a center community table called the color bar, giving clients the chance to chat as their color sets. Vibe: 'Lax city loft. Highlight: To further the community feel, Lush hosts Upaint hair-coloring events complete with in-house DJ and complimentary wine. Tip: For a sleek and unique style in a hurry, ask your stylist for the Awapuhi Wild Ginger treatment. Exclusive to Paul Mitchell (though not featured at every salon), the conditioning treatment takes you from dry and damaged to healthy and healed in a mere 20 minutes. 35 Mellor Ave., Catonsville, 443-251-2982
OLD BANK BARBERS
Color Commentary: Daniel Wells opened Old Bank Barbers in June of 2013 with the idea of bringing new-school flair to an authentic barbershop experience. Specializing in clipper cuts for men and women, he's done just that. The former bank building, which dates to 1915—hence the name—has tile floors, leather chairs, and barber memorabilia. The fridge is stocked with beer from Union Brewery and Natty Boh for clients. Old Bank also offers shaves, as well as beard maintenance for those with a bit of scruff. Vibe: New, yet nostalgic. Highlight: Barbers at Old Bank have tons of experience and are serious about their craft. Instead of the typical 10-minute barbershop cut, they take the time to perfect your pate before sending you out the door. Tip: Old Bank does not take appointments; so plan accordingly in case the shop is busy. For shaves, however, call ahead at least one hour before you come in so they can prep. 1100 W. 36th St., 443-682-9969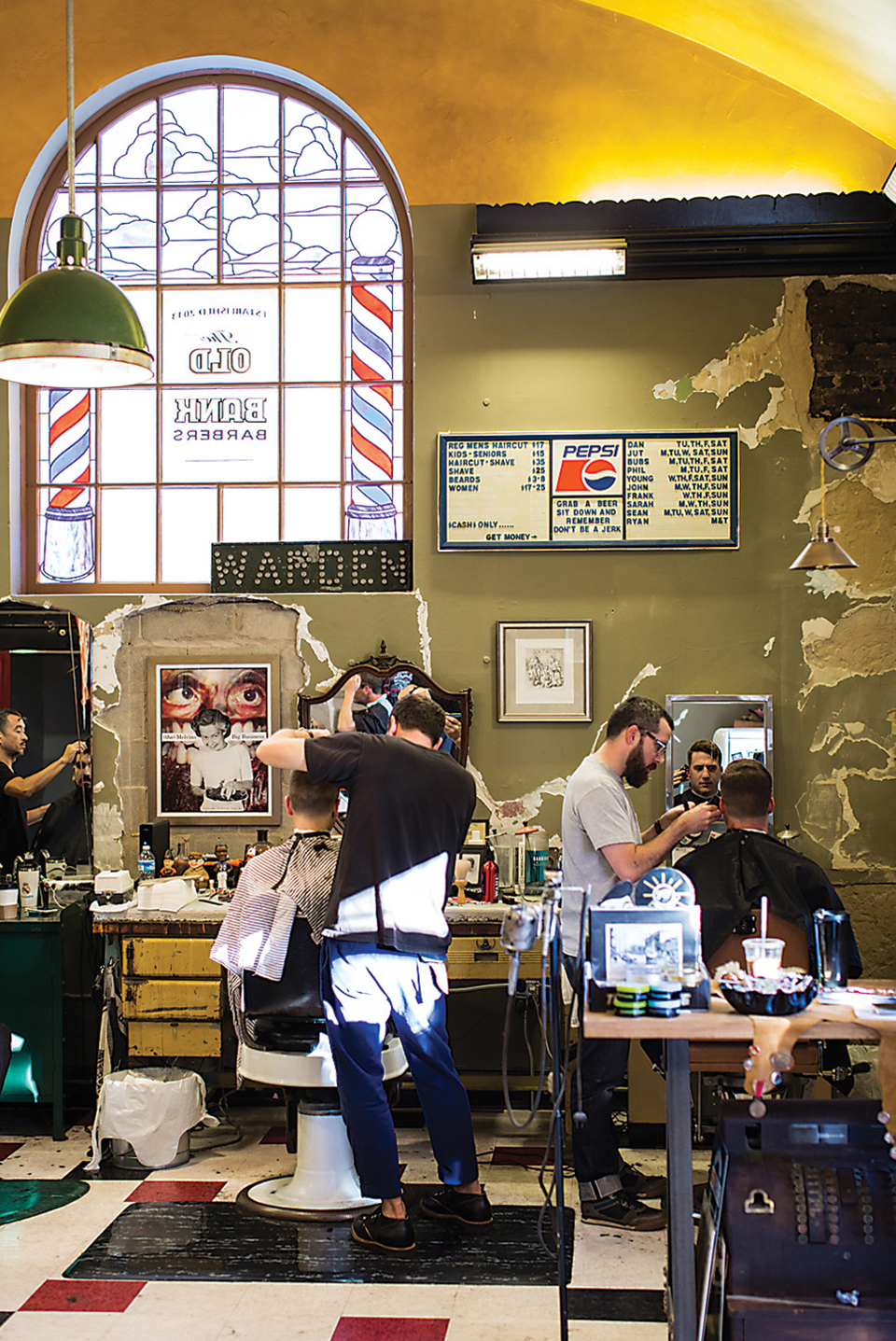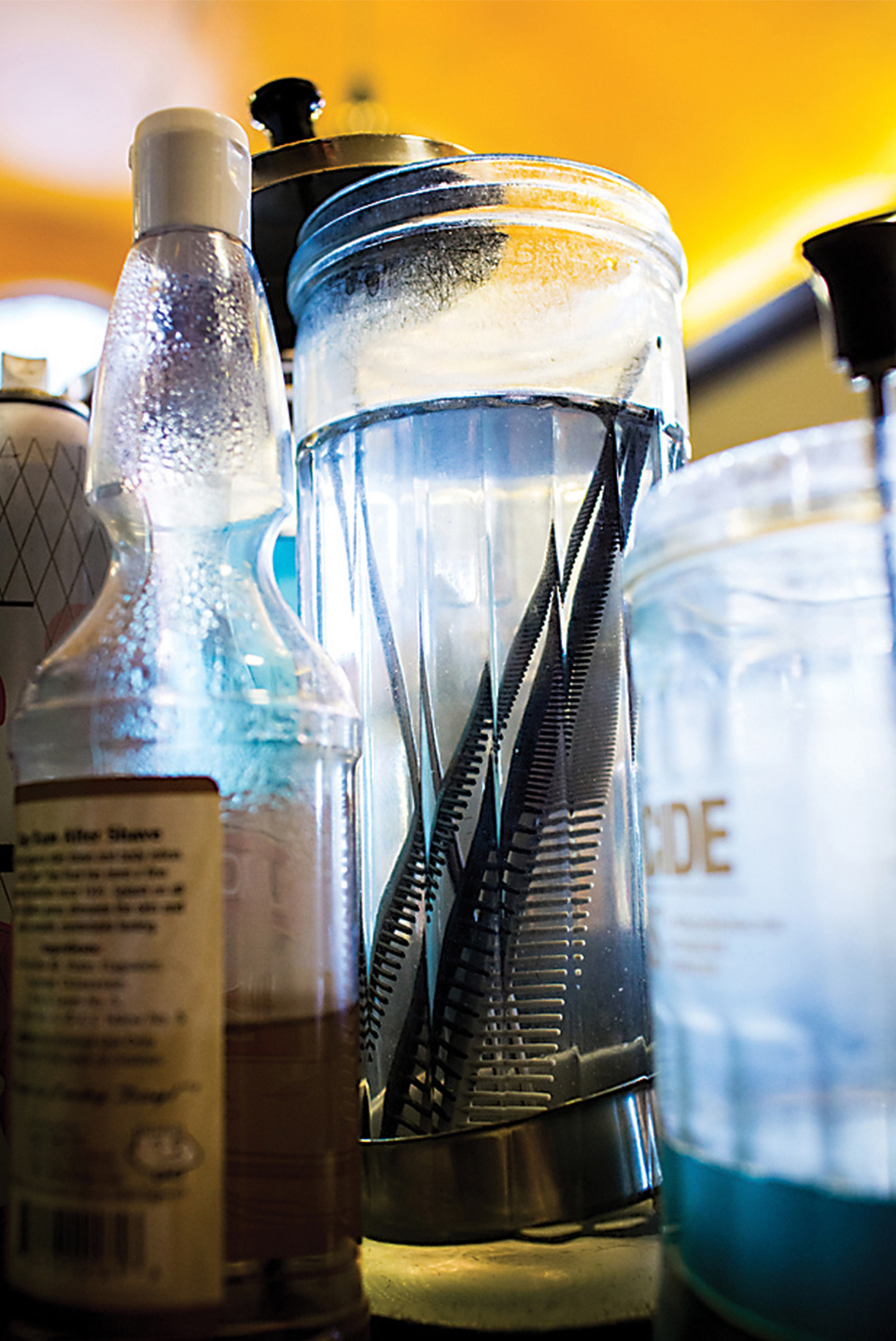 OOH LA LAL HAIR SALON
Color Commentary: Tucked away along the curving roads of Old Ellicott City, you'll find Ooh la Lal Hair Salon, where owner Sheela Lal is committed to offering the latest and greatest in styling. With a wide array of services ranging from cut and color to waxing and massage, this full-service salon is the perfect place to treat yourself to a full-body tuneup. (It even offers eyelash extensions and tinting to really rev up the glam.) The space is open and spacious with floor-to-ceiling windows offering lovely views of the outdoors. Early for your appointment? Browse the Pureology products stocked in the lobby while grabbing a snack and a complimentary glass of wine. Vibe: Secluded beauty sanctuary. Highlight: If the latest trend (hello, mermaid hair) is what you desire, be sure to see Kelly or Brittany for a more fashion-forward look. Tip: Take advantage of a free consultation with a stylist prior to booking your appointment. Ooh la Lal encourages clients to email head shots of themselves before your appointment to help you meet your beauty goals. 3711 Old Columbia Pike, Ellicott City, 410-465-7700
PADMA SALON
Color Commentary: An eco-friendly salon in Hampden, Padma feels like a neighborhood hangout but offers highly skilled stylists and up-to-the-minute color without the sterile feeling of other ultra-modern spots. The congenial atmosphere, created by owners Jennifer Warner and Kimberly Cincotta, makes guys and gals feel equally at home. Whether you're long overdue for a trim or simply a green groupie, the stylists at Padma will send you home with a great cut and tips suited to your hair's unique texture and your personal style. Vibe: Warm and inviting, a wait on Padma's couch feels like relaxing in a friend's living room. Highlight: Colorist Julia Edwards can transform deep black to buoyant blond. Tip: Note to moms and dads: There are toys on hand to keep the kiddos busy while you get done up; and first-time guests get 20 percent off all services. 3401 Keswick Rd., 410-243-1717
Trendy Tresses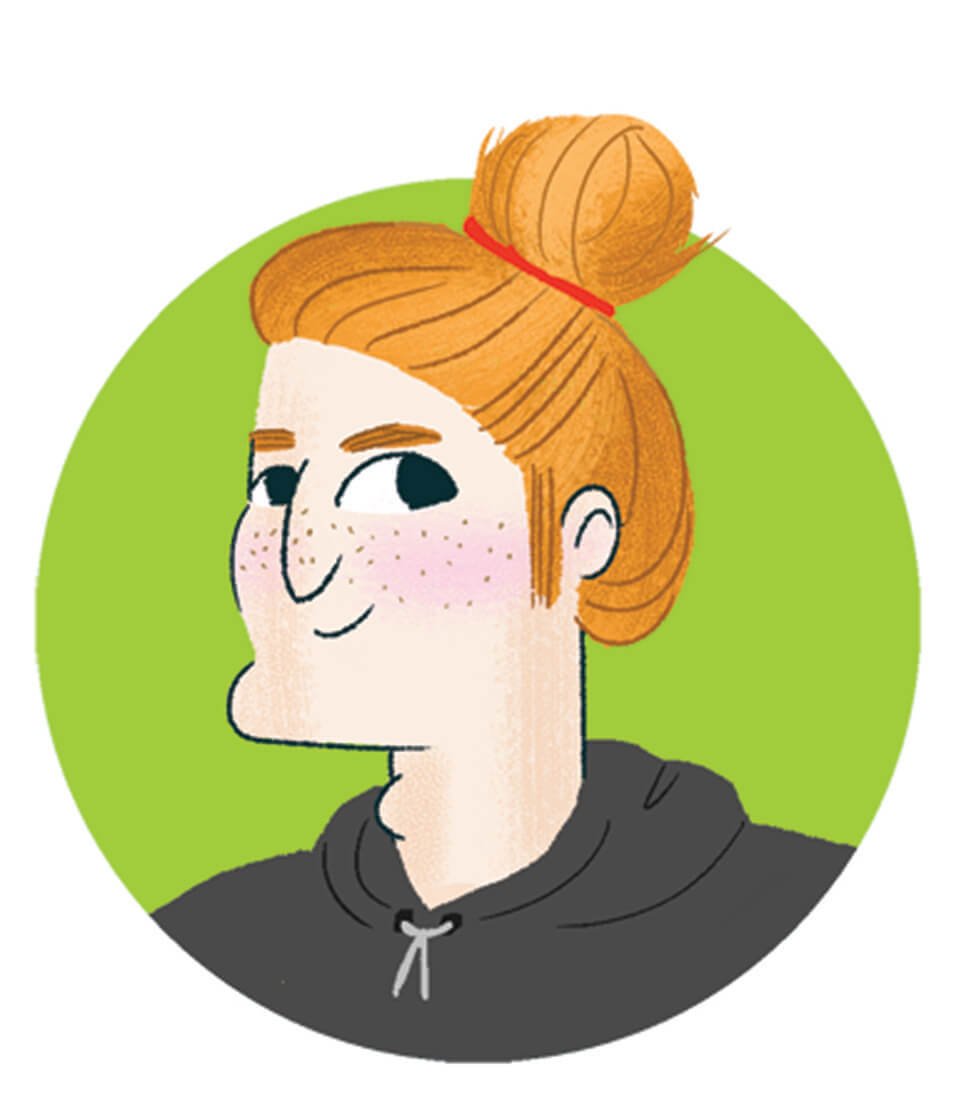 The Man Bun The man bun renaissance truly cemented itself with the good (à la Jared Leto), the bad (braided man buns), and the ugly (clip-on man buns).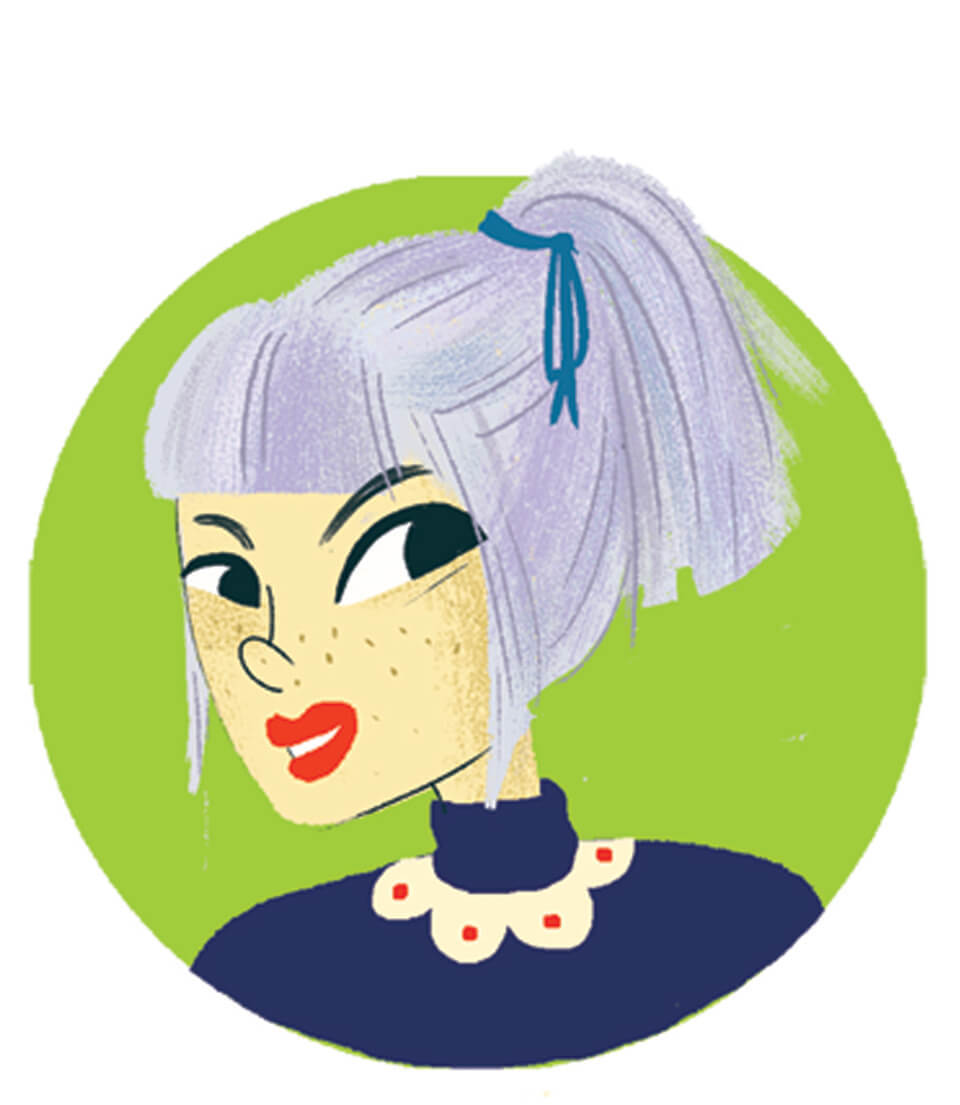 Opal Hair While turning half-woman, half-fish is physically impossible, you can now have mermaid-esque hair with this pastel hair-color trend.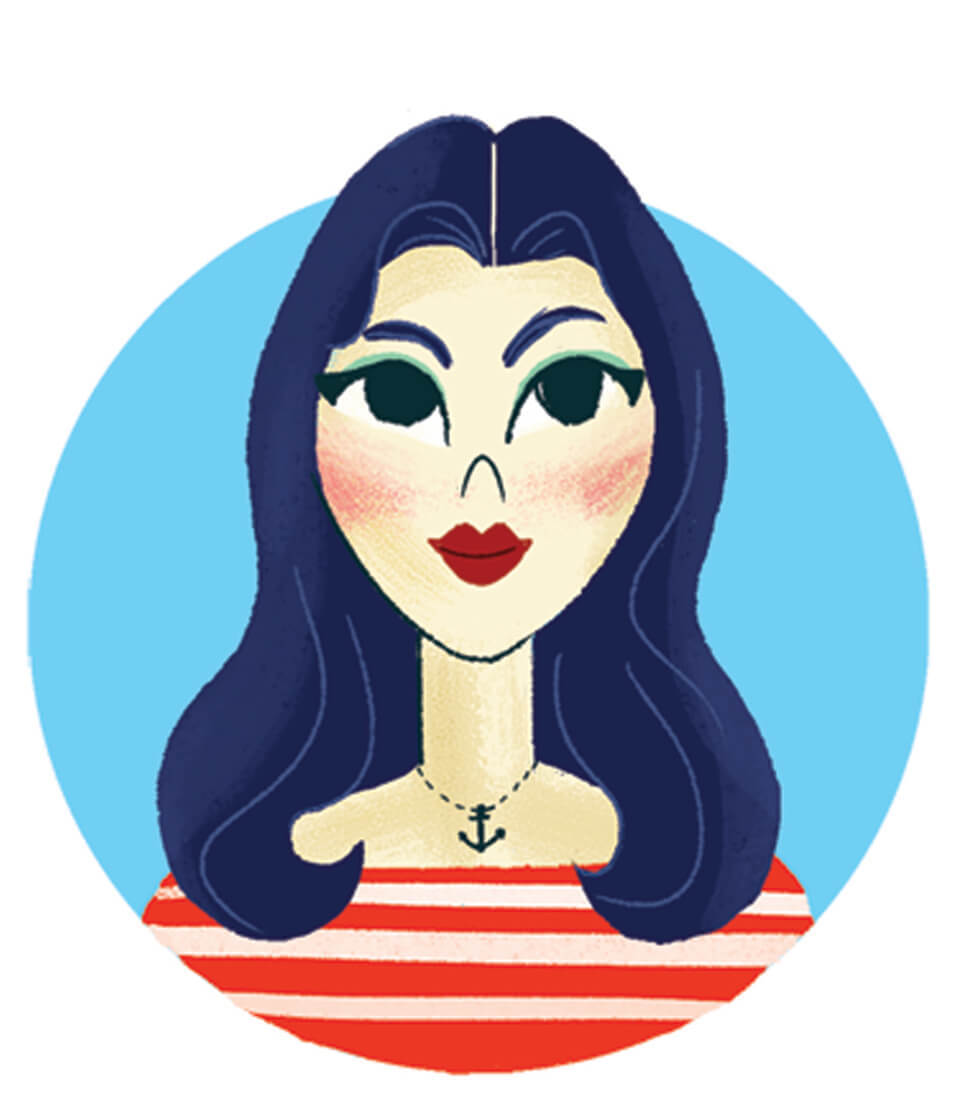 Center Part For years, the soft side part has reigned supreme, but with the resurgence of '70s style trends, lots of ladies have pulled out their rat-tail combs and split it down the middle.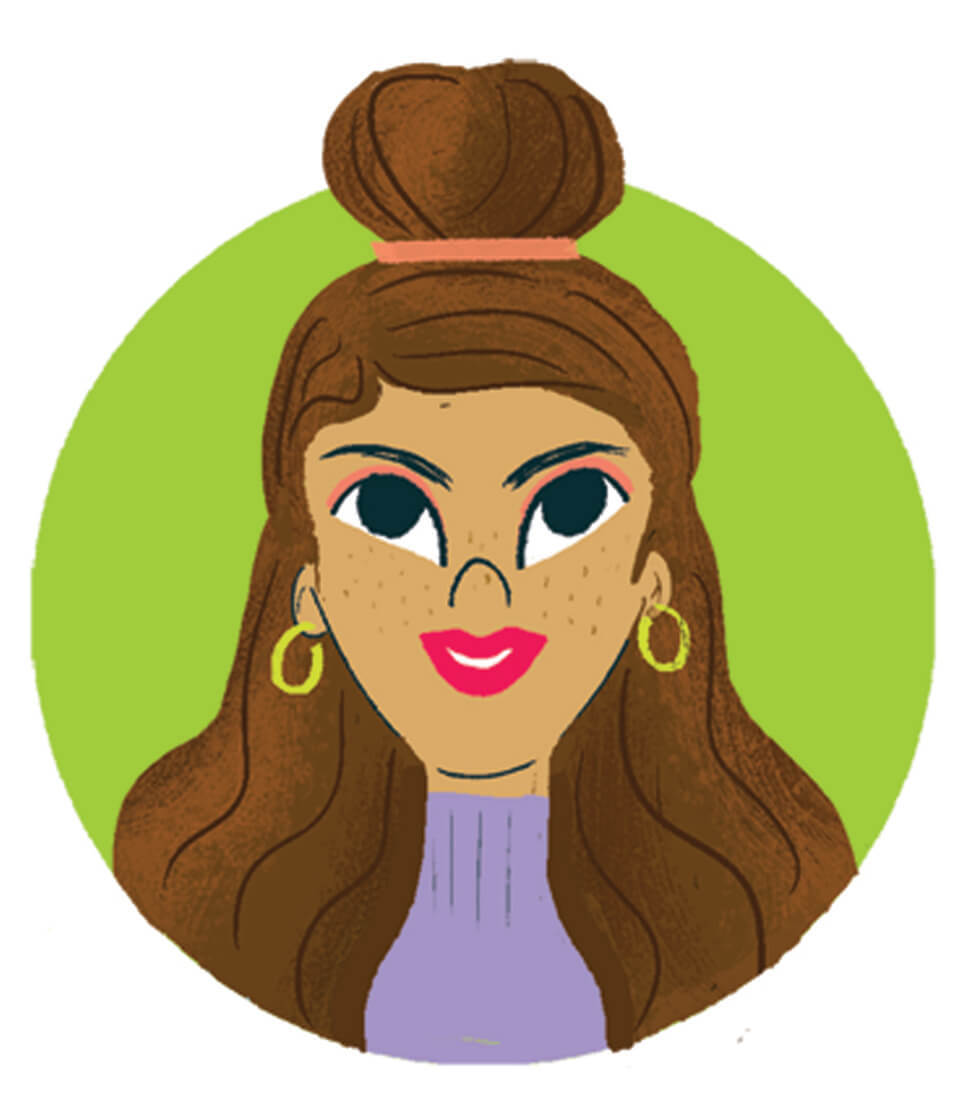 Half-Up TopKnot Last summer's most popular style is easy to re-create. Whether you are dealing with long tresses or a lob, this slightly undone look adds a modern edge to a classic bun.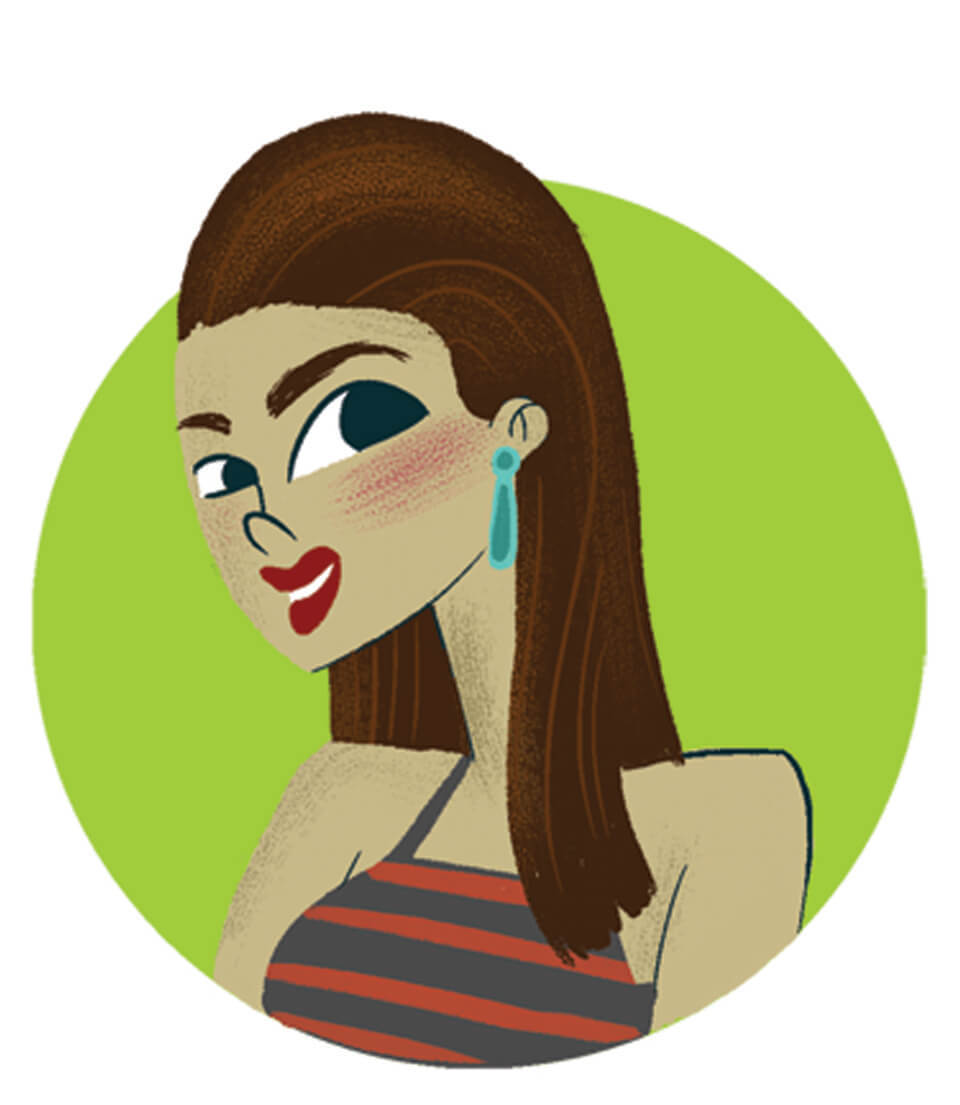 Oil Slick Hair This trend was all over the runways and varies from slightly gelled to straight-out-of-the-water. Brush it back for a sophisticated evening look or gather it into a low bun.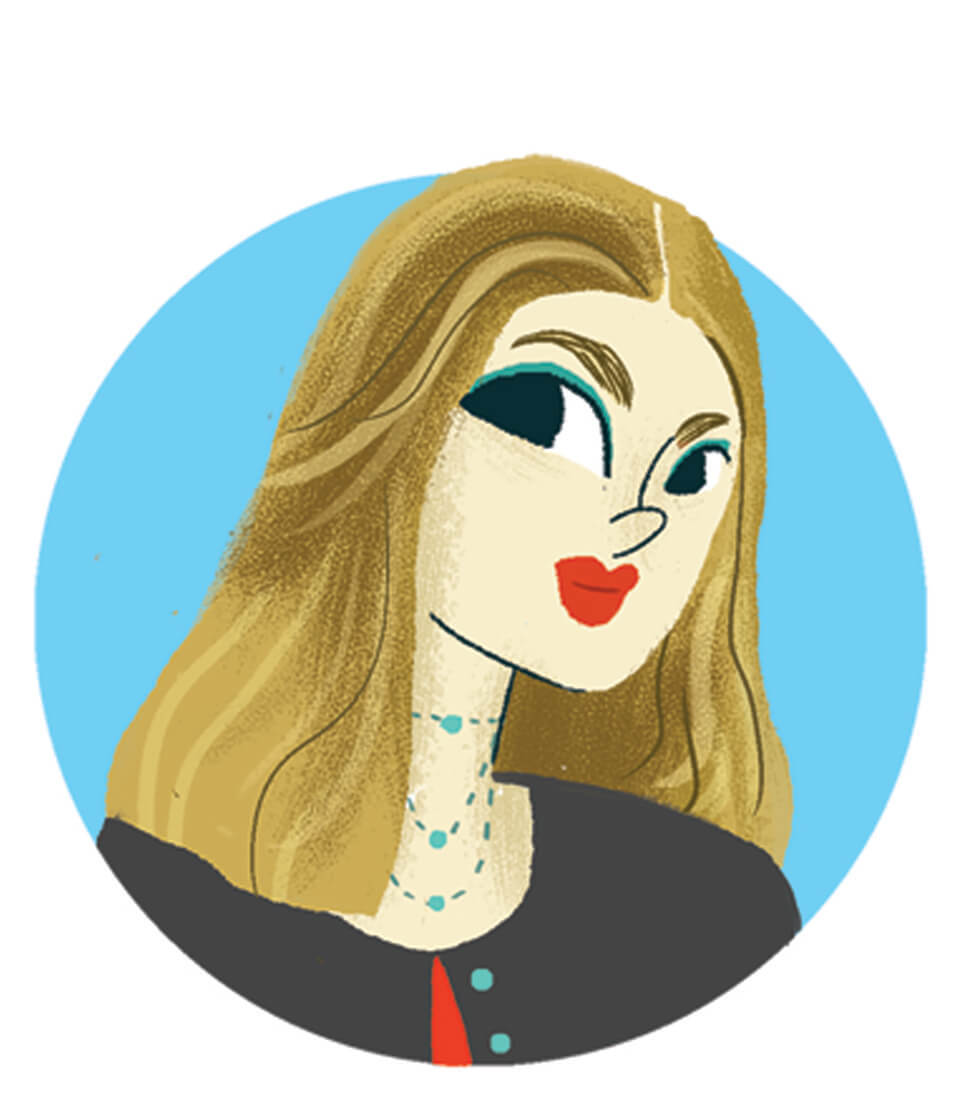 Lived In Color This subtle way of highlighting is perfect for those of us who want low maintenance and to visit our salon only every six months.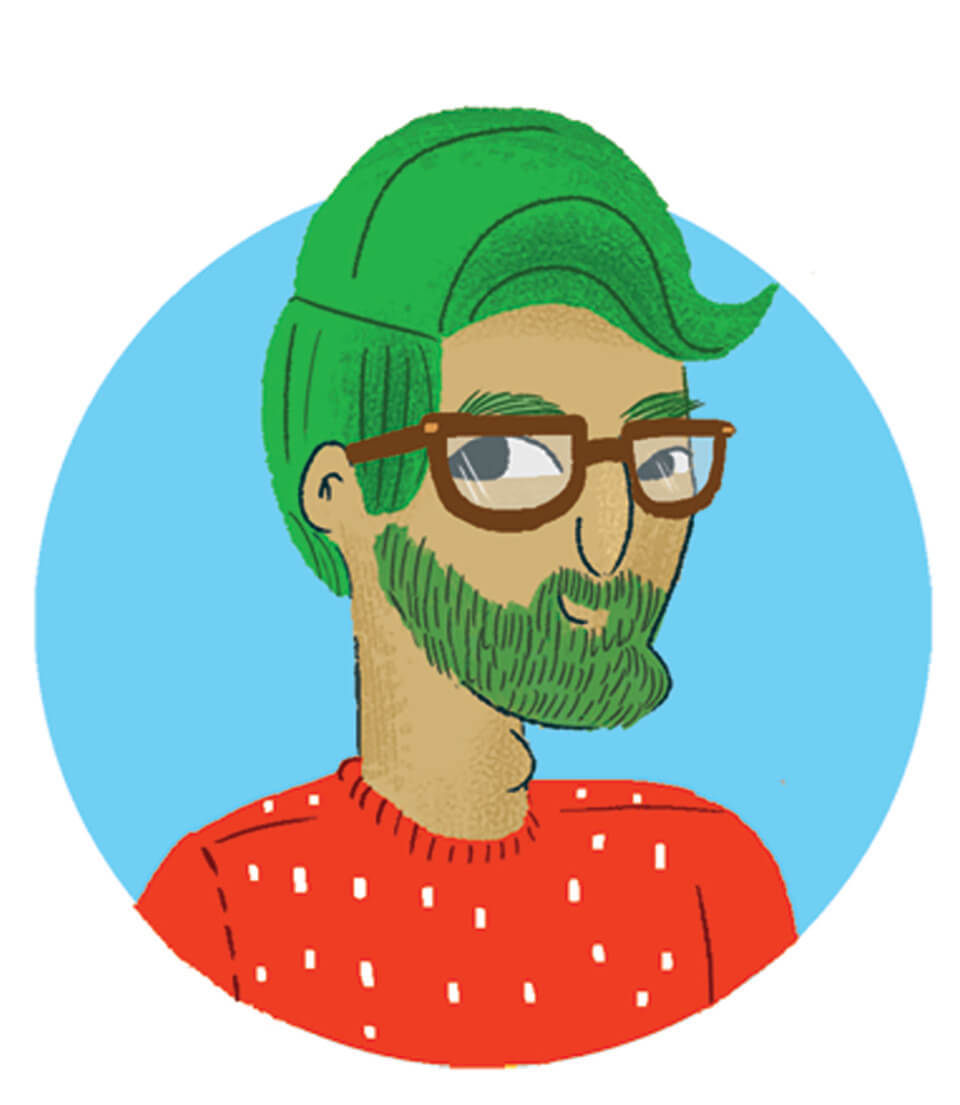 Guy Dye Who said hair dye is just for the ladies? Men have been dyeing their hair (and even their beards) in a wide array of colors ranging from more neutral shades to midnight blue.
SALON LAURIE
Color Commentary: If you're looking for tried-and-true, look no further than this Mt. Washington staple. Its styling team is broken up into tiers, with pricing dependent on level of experience. So whether you're looking for that perfect updo for your wedding day, or you're embracing the pumpkin spice trend and need to try a pumpkin-peel facial, Salon Laurie has got you (and your budget) covered. Vibe: Old-fashioned elegance with purple accents and wood paneling. Highlight: Don't leave the guys at home! Laurie has plenty of options for men, too, from covering grays to Swedish massages. Tip: Bring some extra cash—the salon doubles as a boutique, and you'll hardly be able to resist the ever-growing display of handbags, jewelry, and hats. 5910 Falls Rd., 410-464-1500
SCENE 217
Color Commentary: Much as it might seem like a contradiction, Scene 217 owner Debbie Ingrao discovered the key to keeping business consistent: change. The salon's interior got a face-lift recently, as did its website. But the biggest difference is in the stylists' creative process. The ladies of Scene 217 have always taken every measure to ensure that clients walk away happy, but now they're using Pinterest to track your tresses. They create custom boards on the social site to cultivate the right cut, color, and style just for you. Vibe: Boutique-chic. Highlight: Crazy color lovers should head straight to stylist Katie Yurow. From Ravens purple to rose gold, her dye jobs come in all shades of daring. Tip: Just as serious about saving as you are about your style? Leave Scene 217 a review on Yelp and, should they see it, you'll receive $10 off your next visit. 217 Albemarle St., 410-244-0647
SPA IN THE VALLEY
Color Commentary: For an epic salon and spa menu (from chocolate and cherries body treatments to chakra balancing), girls'-day-out pampering parties (spa lunch included), and a great selection of often-discounted retail products, Spa in the Valley is a triple threat: salon-spa-shop. Owned by Debbie Nazelrod and her daughter Amanda Jeffries, this flagship salon with two other locations offers endless services. (If it exists, you can get it done here.) But it is run like a small family business with staffers who know your name when you come through the doors. Vibe: Homey with Tuscan touches. Highlight: When it comes to spa services, who doesn't want them to last forever? Unless, of course, the service is a Brazilian. Clocking in at exactly 10 minutes, Spa in the Valley has some of the fastest waxers in North America. Tip: Go online and look for always-available discounts and coupons. Several locations, including 118 Shawan Rd., Cockeysville, 410-771-0200
SPROUT
Color Commentary: After 10 years in the business, Sprout knows organic hair care. From using toxin-free products to recycling hair trimmings (which are sent to Butterbee Farm, where they repel deer and condition the soil), this salon considers the environment in every action, i.e., no fumes found here. Sprout caters to a diverse crowd, from the eco-minded in search of vegan, not-tested-on-animals products to those who are sensitive to harsh chemicals found in traditional dyes. Vibe: Mid-century modern meets organic and rustic, with a gallery showcasing local artists. Highlight: From the most avant-garde cuts and color to gluten- and chemical-free extensions, guests love the edgy creations of stylists Cliff Butler and Naomi Greene. Tip: Bring home Sprout's organic mindset with Organic Chemistry, the salon's in-house line of small-batch products, including balms, pomades, shampoos, and conditioners. 925 W. 36th St., 410-235-2269
STUDIO 360
Color Commentary: This chic spot may be the new kid on the block (it opened this past September), but you'd never know it, thanks to the enthusiastic clientele and bubbly, talented staff made up of seasoned salon vets. Come in for a good old-fashioned cut and color, or try a deluxe manicure or pedicure. Bring the guys, too—360 is also a men's barbershop. Vibe: Low-key and welcoming. Highlight: When your bad hair day seems to be haunting you and a trim won't suffice, treat yourself to one of 360's conditioning treatments. The cellophane treatment is a clear glossing dye that adds substance and shine, and if that doesn't do the trick, the pros will work with you to develop a customized treatment.Tip: The salon is closed on Sundays and Mondays, so try to squeeze in your get-glam session during the week. 10 Fila Way, Stes. D & E, Sparks, 443-338-4106
STUDIO 921 SALON & DAY SPA
Color Commentary: This 11-year-old spot has such a loyal fan base it's easy to find clients who have sworn by their cuts and colors for years. 921 is the ultimate in full-service salons: hair, nails, skin care, waxing—you name it, they've got it. Not to mention it gets the Magic Mike seal of approval—actor Channing Tatum and his wife popped in for haircuts and massages. Vibe: The exposed brick Greenwich Village loft of your dreams. Highlight: Got knots in your back that just won't quit? Head straight for Caitlin—she works wonders. Tip: This place is super popular, so make sure you make an appointment in advance—walk-ins are allowed but not recommended. 921 E. Fort Ave., Ste. 108. 410-783-7727
UNO THE SALON
Color Commentary: Most one-name wonders overshadow the other employees. Not so at Uno's, where owner Uno Tuluoglu works alongside an equally talented staff of stylists who've been with him for years. (Eunhee, Katya, Eileen, Abigail, are your ears ringing?) And unlike most upscale spots, the staff is always willing to squeeze you in, even when you don't have an appointment. Vibe: South Beach meets Istanbul. Highlight: If you're in need of an updo for prom, a romantic pullback, or you're just seeking someone with a flair for hair, Uno's wife, Cheta, is a hair whisperer, taming every tendril into proper place. Tip: Bring a little extra spending money when you go. The retail space, rife with brushes and barrettes, tempts us every time. 10751 Falls Rd., Lutherville-Timonium, 410-821-9080
YOU SALON
Color Commentary: At You, dome designers spend the time it takes to understand your hair type and discuss your vision before they pull out the scissors. You Salon is the type of place where you can walk in with a crude sketch and walk out with a finished cut that's even better than you imagined, thanks to the extra care given by owner Christa Kummerlowe, who was groomed by founder Robin Gribbin to take over the business. Vibe: More spa than salon, with strawberry- or cucumber-infused water and a fully stocked coffee and snack bar. Highlight: While all You stylists undergo the same training, each is a rock star in her own right—try Jayme for color correction, Christa for sassy and short cuts, and Ashley for an amazing blowout. Tip: There's no client-stylist drama to be found—with a true team mindset, you'll be directed to the stylist whose skills best fit your look, without any "you stole my client" awkwardness. 4785 Dorsey Hall Dr., Ste. 118, Ellicott City, 443-367-0200