 Travel & Outdoors
Head for the Hills
Ten nearby mountain getaways where you can unload, unplug, and unwind.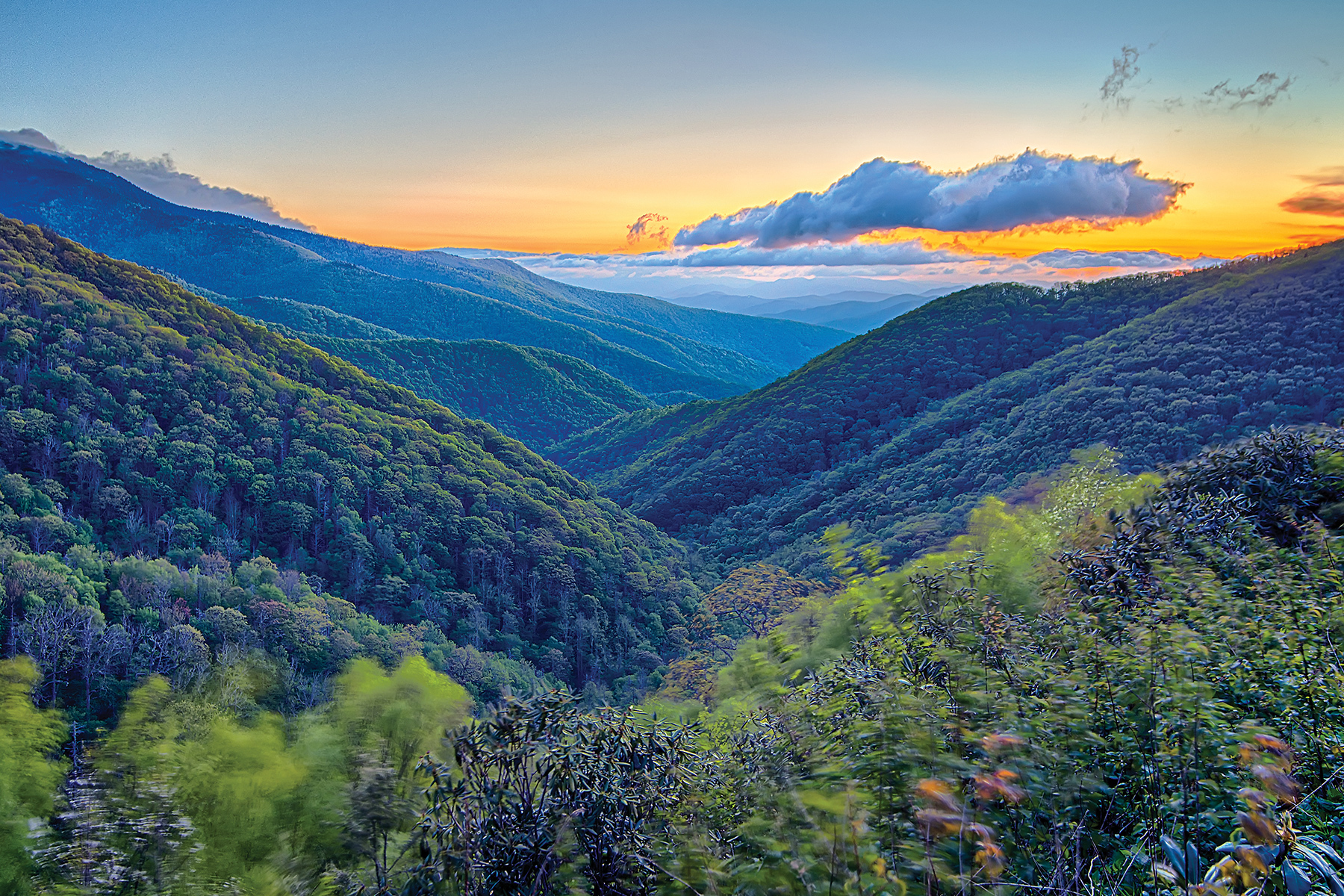 John Muir might have been speaking to generations of serenity-seeking vacationers when, in 1901, the naturalist advised, "Climb the mountains and get their good tidings. Nature's peace will flow into you as sunshine flows into trees. The winds will blow their own freshness into you . . . while cares will drop off like autumn leaves."
Turns out, he was onto something. Modern medical research has linked spending time in the mountains with lower obesity rates, improved cardiovascular and respiratory health, and decreased stress levels. (No lie, sniffing pine trees can help ease tension.) And who couldn't use a dose of alpine Xanax in these tense and uncertain times?
Here in the Mid-Atlantic, it's the Appalachians that provide refuge, especially during this season, when hillsides take on the hues of a tequila sunrise, and small towns celebrate their plentiful harvests and rich local culture.
We've picked 10 mountain destinations for your consideration, from a posh West Virginia spa that has hosted more than two dozen presidents, to a rugged Pennsylvania gorge beloved by cyclists and hikers, to the pastoral foodie capital of Virginia. With each, we offer tips on what to do and see, as well as where to stay and eat.
As for intangible benefits, we'll leave the last word to American writer and painter Annie Dillard, who attended college in the Virginia Piedmont city of Roanoke: "Mountains are giant, restful, absorbent. You can heave your spirit into a mountain and the mountain will keep it, folded, and not throw it back."
Mountains, horses in the Potomac Highlands; rural road in the Potomac Highlands.
Potomac Highlands
West Virginia
If silence is golden, visitors will strike it rich in the Highlands, which feature forests vast and deep, peat bogs that cushion every footfall, ancient rock formations that inspire meditation, and tiny towns that reflect the heart of Appalachia.
Eat: Monterey's historic Highland Inn (68 W. Main St., Monterey, 540-468-2143) uses locally sourced ingredients in its fine-dining restaurant and casual Black Sheep Tavern. Try seared Highland trout with grilled corn relish and a glass of local Big Fish Cider. The Pub at Locust Hill (1525 Locust Hill, Marlinton, 304-799-5471) serves dinner Fridays and Saturdays and a pub menu Thursdays and Sundays. Order a stone oven-baked pizza and Mountain State microbrew.
Stay: Mountain vistas, a farm setting, 12 themed rooms (from 1800s opera house to African safari), and a two-story library attract repeat guests to The Inn at Mountain Quest B&B (303 Mountain Quest Lane, Marlinton, 304-799-7267). Just over the border into Virginia, Laurel Point Retreat (414 Sounding Knob Rd., Monterey, 540-468-3470) offers cozy rooms in a restored log house and Bird House, a charming single-room cabin.
Do: At Beartown State Park (683 Droop Park Rd., Hillsboro, 304-653-4254), nature molded Droop Mountain into a mystical mound of mossy caves and steep-sided "streets" (intersecting crevices). Look for wild orchids, carnivorous plants, and other unusual flora at Cranberry Glades Botanical Area (Rtes. 39/150, Hillsboro, 304-653-4826)—and don't miss the popular Cranberry Shindig (Sept. 24), which celebrates Appalachian culture. Also worth a gander is Highland Scenic Highway, a sublime ridge-top drive through Monongahela National Forest.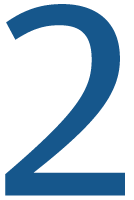 Garrett County
Maryland
Tiny Oakland has Maryland's sweetest backyard playgrounds: 3,900-acre Deep Creek Lake and the state's lone ski resort, Wisp. This fall you can enjoy both destinations, plus some famously fiery-hued foliage.
Eat: After a day in the woods, a 26-inch Abbondanza pie at Brenda's Pizzeria (21311 Garrett Hwy., Oakland, 301-387-1007) easily feeds a family of six. Or savor a chef-prepared, locally sourced dinner at historic Deer Park Inn (65 Hotel Rd., Deer Park, 301-334-2308), a Victorian mansion designed by a Baltimore architect.
Stay: Book a fireplace suite at the chalet-esque Inn at Deep Creek (19638 Garrett Hwy., Oakland, 877-853-6932). Its three-year renovation nearly complete, The Lodge at Wisp (296 Marsh Hill Rd., McHenry, 301-859-3159) offers 169 updated rooms and a new waterfall-enhanced entrance.
Do: Named a premier fall destination by Travel + Leisure, Oakland earns kudos for the Autumn Glory Festival, which marks its 50th anniversary Oct. 11-15. Tackle the Cove Run Farms Corn Maze, a themed labyrinth on a 160-acre dairy farm in nearby Accident (596 Griffith Rd., Accident, 301-746-6111). At Wisp Mountain Park (296 Marsh Hill Rd., McHenry, 301-859-3159), test your rope-walking prowess on the "Bridge to Nowhere" and a 40-foot "Spider's Web" before zip-lining to complete the Spider Monkey Adventure, one of three heart-pounding canopy tours at the resort's adventure center. For some more low-key recreation, go bowling at The Alley (499 Oakland Dr., Oakland, 301-334-3040), a former mom-and-pop enterprise gone 21st century with Technicolor bowling balls, automatic bumpers, music, and videos.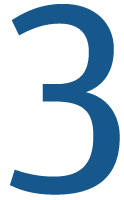 Pine Creek Gorge
Pennsylvania
It lacks the depth and length of Arizona's Grand Canyon, but Pine Creek Gorge—sometimes called The Grand Canyon of Pennsylvania—is nonetheless drop-dead gorgeous and much more accessible than its namesake. Stretching 45 miles through northern Pennsylvania forest, it boasts stunning views from the valley and both rims.
Eat: At The Steak House (29 Main St., Wellsboro, 570-724-9092), order your New York strip or porterhouse topped with a yummy dollop of blue cheese horseradish butter, then finish with a slice of homemade pie. Try the triple-decker Grand Canyon sandwich at The Native Bagel (1 Central Ave., Wellsboro, 570-724-0900). Wellsboro House Tavern's (34 Charleston St., Wellsboro, 570-723-4687) Wynken, Blynken and Nod Out IPA microbrew honors the town square's historic fountain.
Stay: Penn Wells Hotel & Lodge (hotel: 62 Main St., Wellsboro, 570-724-2111; lodge: 4 Main St., 570-724-3463) caters to canyon explorers with rooms, kitchenette suites, complimentary breakfasts, and special packages for cyclists. La Belle Auberge (129 Main St., Wellsboro, 570-439-7845) accommodates guests with four chic, French-themed rooms and full breakfasts prepared with a Gallic touch.
Do: Bring or rent bikes and ogle 1,500-foot-tall cliffs—some streaked with waterfalls—from the blessedly flat Pine Creek Rail Trail. Or take a guided covered wagon ride through the canyon (Ole Covered Wagon Tours, 1538 Marsh Creek Rd., Wellsboro, 570-724-7443). Hikers recommend the Overlook and Turkey Path trails at Leonard Harrison State Park (4797 Rte. 660, Wellsboro, 570-724-3061) for east rim scenery. Downtown Wellsboro offers an Art Deco-era movie theater (Arcadia Theatre, 50 Main St., 570-724-4957) and an old-fashioned department store (Dunham's, 45 Main St., 570-724-1905), plus lodging and dining.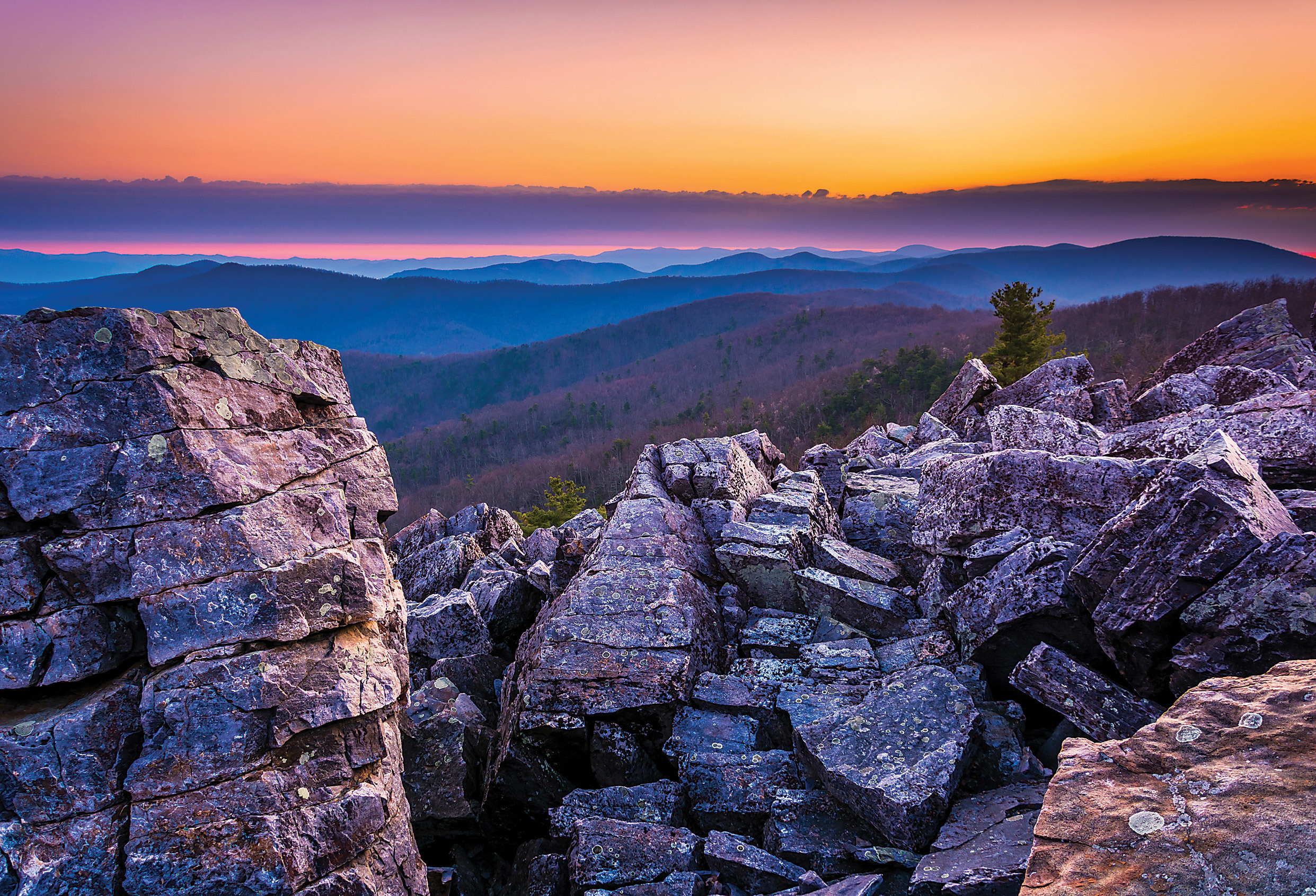 Cliffs in Shenandoah National Park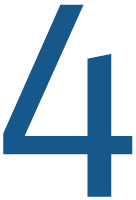 Shenandoah National Park
Virginia
One of the East's great treasures, the park extends 100-plus miles down the backbone of Virginia's magnificent Blue Ridge Mountains. View the foliage at 35 mph (max) from Skyline Drive, pause at one of 75 overlooks, or set off on foot along 500 miles of trails.
Eat: Wine and Duck (117 E. Main St., Front Royal, 540-636-1000), an intimate restaurant/wine bar, has earned a following for its duck dishes, shrimp tempura, and delicious tomato bisque. Alternately, make reservations for a Friday or Saturday four-course, Virginia wine-pairing dinner at Circa '31 (401 W. Main St., Luray, 540-743-5105), the historic Mimsyln Inn's fine-dining restaurant.
Stay: In Front Royal, the park's northern gateway, Lackawanna B&B (236 Riverside Dr., Front Royal, 540-636-7945) offers three elegant rooms and gourmet breakfasts in an Italianate mansion facing the South Fork of the Shenandoah River. In Luray, near the park's Thornton Gap entrance, choose from five charmingly decorated bungalows comprising the Mimslyn Inn's new Cottage Collection (401 West Main St., Luray, 540-743-5105).
Do: You could drive the park's entire length in three hours, but don't. Slow down. Check out the northern portion's eye-popping vistas. Best overlooks: Range View (milepost 17.1) and Hogback Overlook (milepost 20.8). Best scenic hikes: Little Devils Stairs waterfall trail (milepost 19.4) and the park's top peak, Hawksbill Mountain (milepost 45.6). Or bypass Skyline Drive's crowds and cruise Route 678 through gorgeous Fort Valley, a favorite of motorcyclists for its curvy trajectory and beautiful views of the mountains' western flank. The peaks are impressive, but don't forget about the stunning subterranean scenery: Head down (literally) to Luray Caverns (101 Cave Hill Rd., Luray, 540-743-6551) for stalagmites and stalactites galore.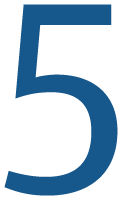 The Greenbrier
West Virginia 300 W. Main St., White Sulphur Springs, 844-837-2466
Since 1778, presidents and royalty have "taken the waters" at this West Virginia resort known for its therapeutic sulphur springs, delectable cuisine, and 11,000 acres of pastoral beauty.
Eat: With six year-round restaurants, three seasonal eateries, five bars/lounges, plus 24/7 room service, choices abound. Choose a prix-fixe option in the formal Main Dining Room for a four-course, wine-paired sampling of classic cuisine (reservations, 855-729-3778). The dressy-cazh, no-reservations Draper's exudes hospitality and Dorothy's singular style. Try the chicken and waffles and other Southern fare.
Stay: The resort boasts 710 guestrooms and 10 lobbies, all lavishly decorated in pioneering designer Dorothy Draper's bold colors and patterns. Feeling flush? Reserve a Baltimore Row Cottage, one of Greenbrier's 19th-century "legacy cottages" modernized with 21st-century comforts.
Do: Try the signature spa treatment, a soothing mineral soak, followed by the Swiss shower/Scotch spray (a skin-stimulating pressurized wash), and a relaxing Swedish massage (reservations, 888-598-8412). Play baccarat at The Casino Club or 18 holes at The Old White TPC, the resort's historic first links, fully restored after a 2016 flood (tee times, 877-599-9153). Tour The Bunker, the Eisenhower-era underground shelter, to learn about this formerly top-secret congressional escape pad (reservations, 844-223-3173).
Savage River Lodge and yurts.
Savage River Lodge
Maryland 1600 Mt. Aetna Rd., Frostburg, 301-689-3200
The dog-adoring owners of this gloriously off-the-grid Frostburg retreat believe humans aren't the only vacation-needy species. In addition to timber-luxe lodging and dining for you, they offer pet-friendly cabins and treats for your quadruped companions.
Eat: Make coffee—your only cooking "chore"—and enjoy the oversized muffins and fresh juice delivered daily to your door. For lunch, dinner, and weekend brunch, meander to the restaurant, specializing in game dishes and comfort cuisine (try the maple bacon-wrapped meatloaf). Whenever possible, dine on the lodge's fab porch. Four-leggeds can consult the Bone Appétit menu.
Stay: Log cabins in the woods offer loft bedrooms, full baths, living rooms, and rocker-equipped porches. Or try glamping in a yurt, a canvas-sided platform abode with heated floors, plush beds and baths, and skylights for stargazing. Yurts and the lodge are no-pet zones, but select cabins welcome Fido, Fluffy, and Flighty (cats and birds are occasional guests) for a fee.
Do: Chill. Built of spruce and fir logs, the soaring-ceilinged, porch-wrapped lodge features an upscale restaurant/bar, double-sided stone fireplace, loft library, and field sports décor. Hike and leaf-peep 14 miles of forest trails. Named for the original lodge pooch, Bodhi's Trail is a moderate doggie walk with lots to sniff. The lodge shuttles fly-fishers to local trout streams and cyclists to the Great Allegheny Passage.
Skytop Lodge
Pennsylvania 1 Skytop Lodge Rd., Skytop, 855-345-7759
This Poconos resort has preserved its reputation for Old World elegance and manners since Pierce-Arrows first delivered urbanites and celebs to its flagstone portico in the 1920s. Guests enjoy Skytop's mix of amenities (spa treatments, an outdoor adventure center) and nostalgia (formal dining, a house orchestra).
Eat: The immense, plushly carpeted Windsor Dining Room serves three meals daily. Dinner entrees range from classics (steak Diane) to vegan (cauliflower stew) to seasonal (wild boar). Also, try a short-rib burger in the wood-paneled Tap Room, milkshakes at the retro Tea Room, and seared scallops at golfers' hangout the Lakeview Dining Room.
Stay: Choose from more than 120 refurbished guestrooms. The Main Lodge's classically furnished rooms are convenient to dining, the spa, swimming pools, and a game room. Suites honor historical figures like Frederick Law Olmsted—who designed Skytop's gardens with his brother—and first golf pro Harold Callaway. Overlooking the links, the Inn at Skytop offers scenic, secluded lodgings. Families enjoy the multi-room Storybook and Streamside cottages.
Do: The 5,500-acre property features two lakes, a golf course, 30 miles of hiking trails, and dozens of diversions, from archery to zip-lining. Let the activities desk arrange an estate hayride, naturalist-led hike, or horseback ride. Book a massage or facial at Skyview Spa. Don't miss lodge traditions like campfire s'mores and Saturday night's dance contest and mixer.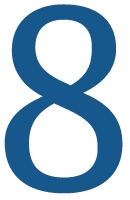 Frederick County
Maryland
You can't swing a shopping bag here without hitting an antiques store, country auction, or artisans' emporium. So channel your inner shopaholic and poke around for decorative treasures before roaming the nearby hills.
Eat: Foodies flock to Bryan Voltaggio's acclaimed Volt (228 N. Market St., Frederick, 301-696-8658), but if you can't snag a reservation, you have options, from upscale dining at The Tasting Room (101 N. Market St., Frederick, 240-379-7772) to hip Café Nola (4 E. Patrick St., Frederick, 301-694-6652) for lattes and light bites.
Stay: The Frederick Inn (3521 Buckeystown Pike, Buckeystown, 240-341-2902), a refurbished Colonial Revival B&B, offers five guest suites and four shared-bath guestrooms for larger parties. Springfield Manor (11836 Auburn Rd., Thurmont, 301-271-0099), a Thurmont winery/distillery and wedding venue, also features B&B lodging with a pedigree: One suite is named for Edgar Allan Poe, who reputedly honeymooned there.
Do: Frederick city is chock-a-block with shops. Two malls alone, Emporium Antiques (112 E. Patrick St., Frederick, 301-662-7099) and Old Glory Antique Marketplace (5862 Urbana Pike, Frederick, 301-662-9173), represent 110 dealers selling everything from folk art to fine china. Or browse collectible LPs at Vinyl Acres (25 E. Patrick St., Frederick, 301-606-8953) and Chic to Chic's vintage clothing (30 E. Patrick St., Frederick, 301-926-7700). Decorators' paradise Chartreuse & Co. (4007 Buckeystown Pike, Frederick, 301-874-1882) holds a mega-tag sale the third weekend of every month at its picturesque farm complex. Numerous hiking trails traverse Catoctin Mountain, but locals know Sugarloaf Mountain is tops for a scenic selfie (7901 Comus Rd., Dickerson, 301-874-2024).
Street in Jim Thorpe
Train passing over the Rappahannock River.