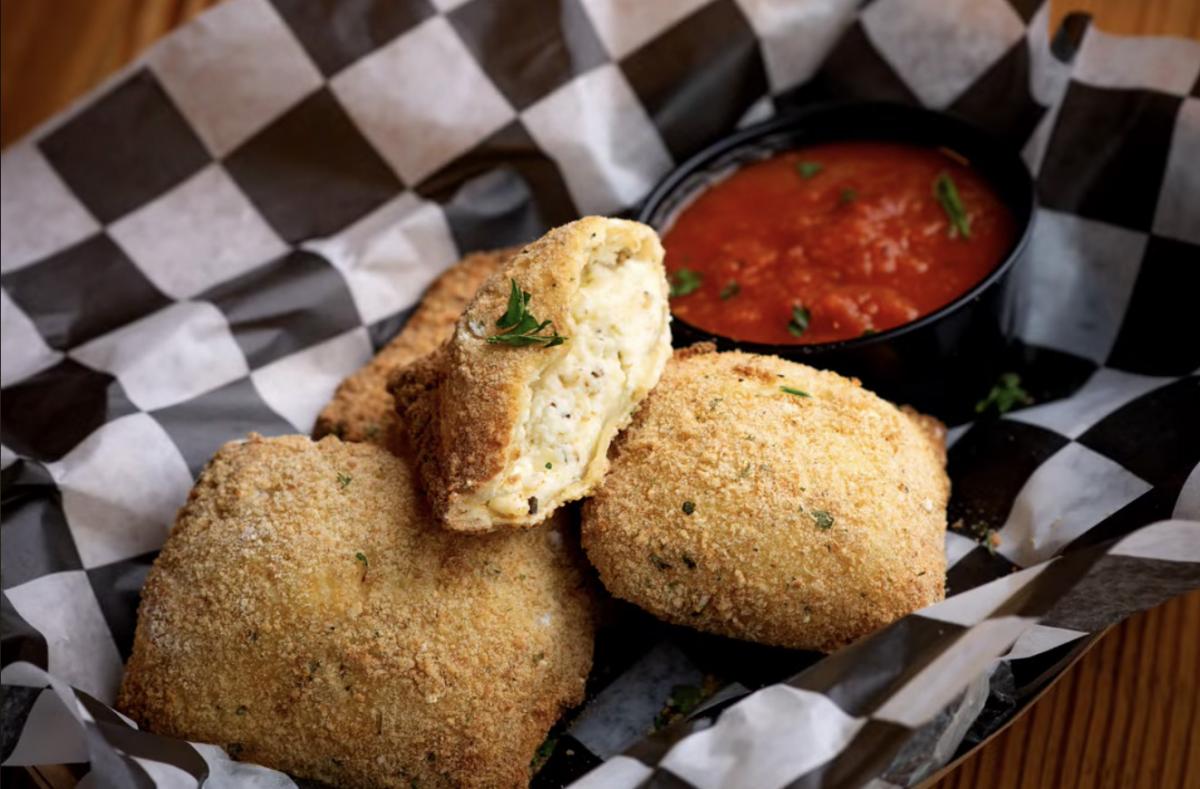 The toasted ravioli at Cheezy Mike's. —Cheezy Mike's
OPEN 
Cheezy Mike's: Local DJ Mike Jointz is creating remixes of classic carryout favorites with this new venture at Mount Vernon Marketplace. The so-called "food emporium" celebrated its grand opening earlier this week, offering filling snacks, vegan options, and melty grilled cheese sandwiches. Swing by the new stall to sample dishes that highlight the namesake ingredient, including cheesesteak egg rolls, Bavarian pretzel dog bites with beer cheese dipping sauce, a garlic French dip sandwich, and a pomegranate molasses grilled cheese with melted gruyere. 
COMING SOON
Toki Tako: The Local Fry owners Kevin and Elizabeth Irish are preparing to debut a new Korean barbecue concept just three doors down from their beloved French fry-and-wing spot at the Rotunda in Hampden. Toki Taco will put a unique spin on authentic Korean barbecue meats by stuffing them inside handheld tacos and lettuce wraps. Designed by Pavlina Ilieva and Kuo Pao Lian of local PI.KL Studio, the eatery will evoke the spirit of Seoul with light wooden furniture, subway tiles, and interior greenery. Be on the lookout for the grand opening in the coming weeks. 
NEWS 
Cosima Welcomes Chef Anthony Franklin: There's new blood in the kitchen at Cosima in Hampden. Executive chef Anthony Franklin—formerly of Penny Black in Fells Point—has hit the ground running in his new post at the Sicilian spot in Mill No. 1, whipping up seasonal dishes such as an almond-crusted sea bass and grilled lamb chops served with a warm kale salad. Since starting at Cosima, Franklin was also voted a finalist in the virtual Farm to Chef competition benefiting TasteWise Kids. "I am constantly pushing myself to step out of my comfort zone and bring something new to the table that guests have not yet experienced," Franklin, a native of Queens, New York, said in a statement "Cooking is so personal, and I'm looking forward to putting my own spin on some of the traditional menu items as well as introducing our guests to some new offerings." 
EPICUREAN EVENTS
10/11: Big Softy at Don't Know Tavern
Federal Hill favorite Don't Know Tavern continues its series of community pop-ups with a visit from chef Craig Falk this weekend. The brains behind Big Softy will be stopping by to serve game-day eats such as crab quiche, a McSofty Rib Sandwich on brioche with house sauce and apple slaw, and Falk's famous shrimp salad. If you're planning a watch party at home, the menu also features pre-packaged crab cakes that you can pick up and broil before kickoff. Pre-orders are now live, here.
To 10/31: Lake Trout at Fishnet
Last month, Fishnet owner Keyia Yalcin wrote a beautiful op-ed for The Afro that details how her experience visiting The Roost (aka Lake Trout)—a Baltimore staple on Reisterstown Road for more than 25 years—inspired her to grow her own business. As a tribute to the restaurant, Yelcin will be serving its namesake Maryland delicacy (fried in a zesty cornmeal batter on top of white bread with hot sauce) at her stall inside Mount Vernon Marketplace throughout the entire month. And to further pay homage to The Roost owner Doris Williams, $2 from every Lake Trout platter sold will be donated to Just Call Me Chef—chef Catina Smith's advocacy organization that supports local Black female chefs and restaurateurs. 
SHUT
CJ's Crab House and Grill: Owings Mills locals were saddened to hear that this decades-old crab house was the latest community establishment to shutter in the wake of COVID-19. The owners took to Facebook to confirm the closure last week, thanking their team and longtime customers for their support. "We are especially grateful to the community that has made CJ's steamed crabs and strawberry pie a part of their summer for the past 43 years," the post reads. CJ's was a go-to for classic crab feasts, grilled sandwiches and burgers, and the famous lump crab pizza. 
Peko Peko Ramen: Ramen regulars in Charles Village are going to be searching for a new eatery to help them warm up this season. After taking some time to reflect, the owners of Peko Peko closed their Tokyo-style shop last week in an effort to pursue other projects. "We're incredibly proud of what we've been able to accomplish," reads a post to Facebook. "We're proud to have served bowls of ramen made from scratch. We're proud to have worked with a diverse staff, comprised of local Baltimoreans and students from all over the country. We're proud to have been a part of Charles Village's budding food scene, and Baltimore's as well. But we've had some time to think, and it's time for something new." There's no word yet on what will become of the East 33rd Street storefront near the Johns Hopkins Homewood campus—which was well known for its DIY ramen, rice bowls, and matcha milk teas.