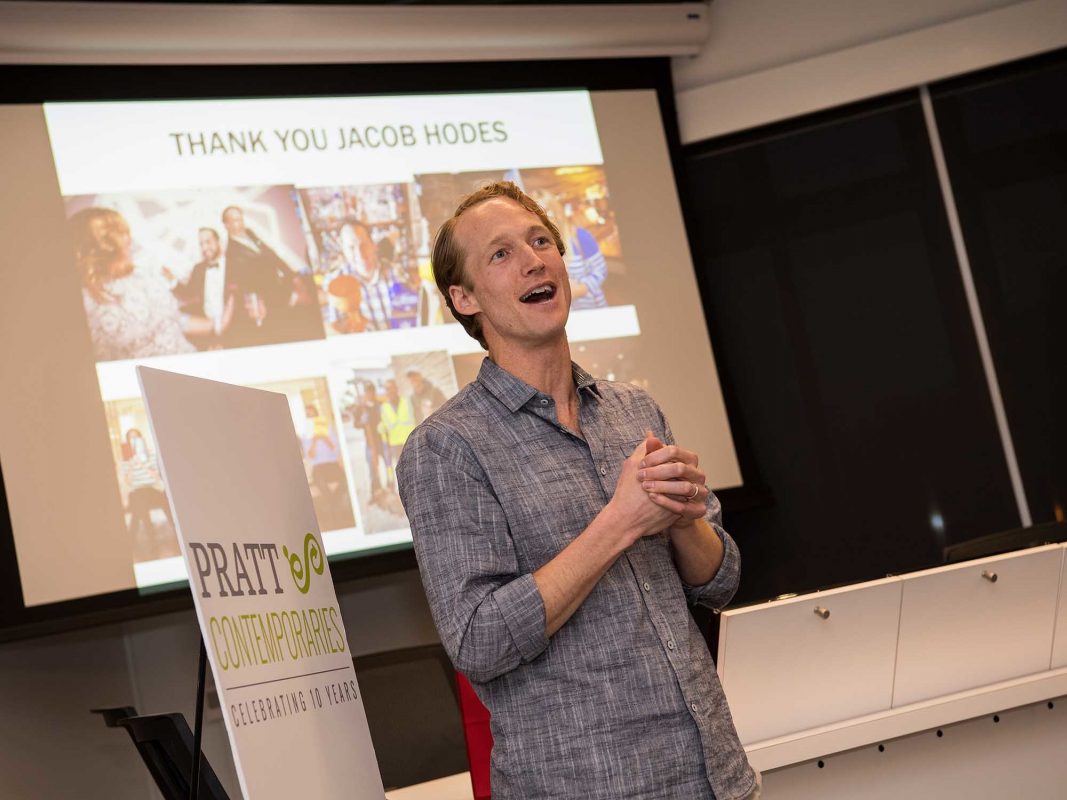 Howard Korn
Known for its annual, sold-out Black & White party, the Pratt Contemporaries is more than just an organization that throws a great shindig. The nonprofit, now in its 10th year, has raised more than  $1 million for child and teen literacy programs at the Enoch Pratt Free Library since its inception.
Over a decade ago, library members under the direction of Carla Hayden approached two volunteers, Kate Powell and Chris Espenshade, to create an organization that would bring young donors into the library.
"At the time, I really didn't know what that was going to look like," said Powell, who is now the co-founder of Pratt Contemporaries. "We didn't know each other. We've become best friends since, which has been such a perk of this whole thing."
The two women began the process by forming a committee of 12, including former director of communications Roswell Encina, who was also instrumental in getting the group started. At that first meeting—held at the former Red Maple space in Mt. Vernon—the committee decided that individuals could purchase a membership for just $40, and have access to the library's events throughout the year.
"The idea behind it was to engage younger people to have them learn about the library," Powell said. "There's this huge gap in time when people use the library. So part of the mission was to get people in their 20s, 30s, and 40s to just use the library."
At this year's annual meeting, held on June 1, Pratt Contemporaries unveiled its new logo and awarded $180,000 to 12 different literacy and improvement initiatives for the Enoch Pratt Free Library.
But deciding which specific programs to fund is never an easy task, according to board chair Jacob Hodes. The board tasks the librarians at each branch to come up with a list of programs that would be beneficial to the patrons and then Pratt Contemporaries members vote town-hall style.
"It's like choosing your favorite child—they are all great programs," Hodes said. "You can't fund everything, there are a limited amount of dollars in every budget."
Ned Courtemanche, board vice chair of Pratt Contemporaries, said that no matter what programs are chosen, they are making a tangible impact for the community.
"Personally, I always love STEM program funding," Courtemanche said. "The second one always surprises me, because it's so important but you don't think about, is money for transportation. It's something that is surprisingly expensive."
One of the greatest obstacles for the library is actually getting students to the locations. For the 2018 year, $27,500 will be allocated to provide free buses to solve that problem. The STEM program—focusing on science, technology, engineering, and math education—will receive $20,000 for year-round programming, another $25,000 will go towards branch improvements, and a whopping $50,000 is reserved to go towards the renovation campaign of the central branch on Cathedral Street.
"The Pratt Contemporaries mission is to bring people into the library that wouldn't otherwise come," Hodes explained. "We want people to really see the benefits, learn about the programs, and really become ambassadors of all the great things that Pratt is doing."
Over the years, that initial committee of 12 became a board of 18, and the Pratt Contemporaries now has more than 300 members. Members pay dues depending on their level and also get special perks, like first dibs on tickets to the famed Black & White Party every January.
"The party has really been the leader on the membership side. Becoming a member is really the only way to guarantee a ticket," Hodes said. "We're lucky that it's a nimble way that we can raise funds and capital for the library."
When Powell and Espenshade began this endeavor, they never imagined it would blossom into what it is now. Powell said that she is pleased with the direction the organization has taken and is excited to see what the future holds.
"Chris and I have really stepped back from being a part of the leadership. We are just members now," Powell said. "The coolest thing about starting something is when you can leave it in really good hands and watch it continue to grow. It's incredible."
On July 1, Hodes will pass the baton over to Courtemanche and he will begin his leadership role as board chair. His goal for the group hasn't wavered from a decade ago—to empower young professionals to get involved with the progression of the city.
"We can always remind people that the library is not just the responsibility of the city," Courtemanche said. "The people of Baltimore really have to step up and make sure we take care of something that is essential to the growth of Baltimore."