Few states have been hit harder than Maryland by America's addiction crisis: Deaths and overdoses have reached epic proportions, families are being torn apart, and employers are feeling the workforce effects. Which begs the question, what can be done to turn the tide of addiction in Maryland and nationwide?

Sam Bierman and Zach Snitzer had an answer.
Having met in early recovery in Florida in 2007, the two friends, along with Snitzer's spouse, Aura Arslanian, had worked in treatment facilities, saw what was effective and what wasn't, and identified a need in Maryland for comprehensive services. Their answer was to found the Towson-based Maryland Addiction Recovery Center, or MARC, in 2013.
"Addiction is a chronic, progressive disease," says Snitzer, "so to set someone suffering from substance use disorder on the road to recovery requires long-term, comprehensive, community-based care." Additionally, he explained "We know that recovery doesn't come from treating the substance misuse, but rather by treating the underlying issues, such as mental health conditions, trauma, family systems and generational issues and the way the individuals view themselves and their place in the world. They also need help building life skills, academic support, and support with workforce training and reentry—and they need purpose and direction."
Snitzer, born and raised in Baltimore County, had gone through his own revolving door of addiction and treatment, but ultimately had struggled to recover. "Much of it was my fault, because I was resistant and didn't follow aftercare recommendations," he says. But he was also underwhelmed with his local treatment experiences in the state.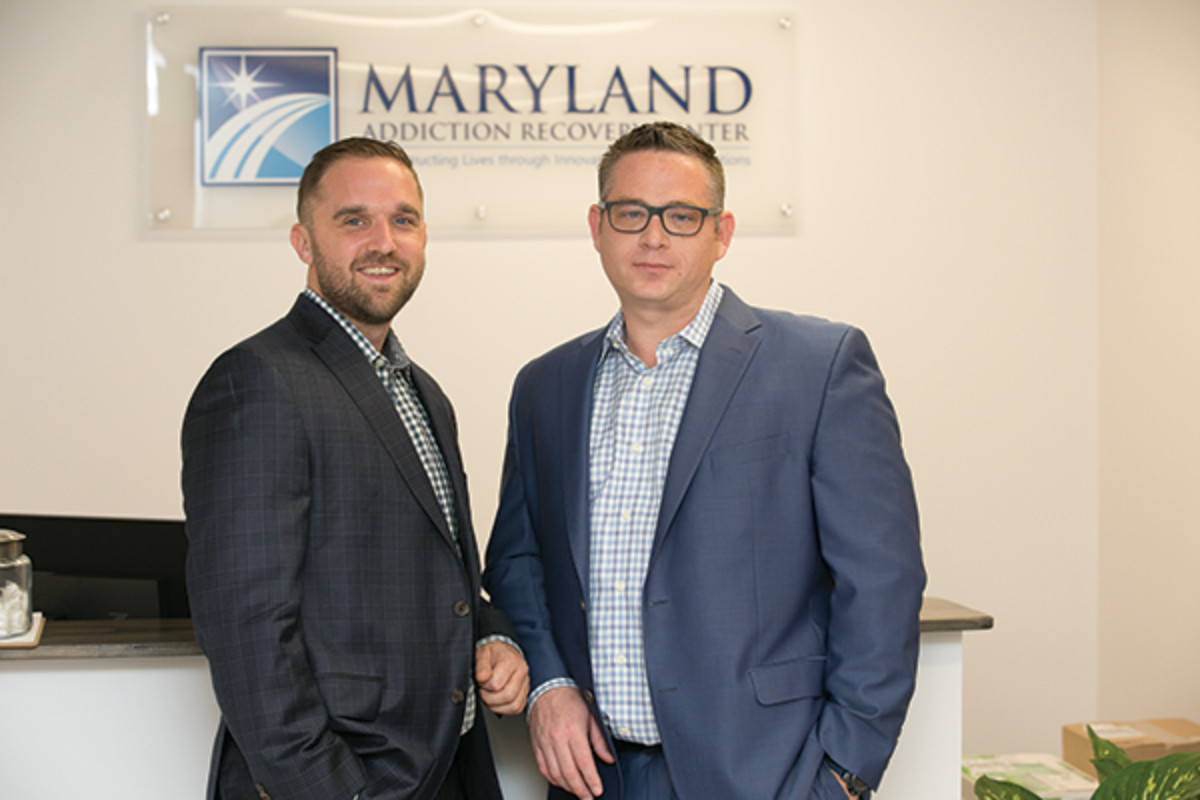 Sam Bierman and Zach Snitzer.
"None of the places I went to as a patient did anything more than explain to me about the negative impact of drugs," Snitzer recalls. "We sat in educational groups that were repetitive. Lecture after lecture. They also never involved my family. My parents had no idea what was going on at those rehabs or how I was doing."
Family involvement is a key piece of addiction treatment, according to Bierman, who before cofounding MARC had previously worked at the nonprofit Caron Treatment Centers in Boca Raton, Florida at their Caron Renaissance site.
"It is absolutely vital that a patient's family is engaged throughout the treatment experience," Bierman says. "Addiction is a disease that impacts the entire family and therefore the treatment needs to address not just the individual's issues, but how they have impacted the family system as a whole. Recovery outcomes improve exponentially when the family is engaged in treatment."
In Florida, both Snitzer and Bierman acquired the additional skills and experience that, a few years later, would lead to their MARC vision.
"We know recovery doesn't come from treating the substance misuse, but rather by treating the underlying issues."
Snitzer worked for a short time in the treatment industry before joining a national media company focused on client engagement, creative production, marketing, and public relations. Bierman began working in direct patient care at an addiction-treatment facility, then was hired by Caron Treatment Centers as a counselor assistant. He worked his way up to become the company's medical coordinator, then director of operations for Caron's Ocean Drive, a program for affluent and executive patients.
At Maryland Addiction Recovery Center, the first of its kind in the Mid-Atlantic area, the two have created a healthcare facility that treats patients dealing with addiction and co-occurring disorders through a long-term continuum of care. MARC's several different programs offer patients multiple access points to treatment and are designed to meet each patient's clinical, social, and scheduling needs.
MARC's two specific programs, a long-term extended-care community-living treatment program and intensive outpatient day and evening programs, address not only substance misuse, but also addiction, mental health, medical, family, social issues, and life skills. And, ultimately, they support the patient and family in a lifelong recovery process.
"The idea that addiction treatment is either a 28-day inpatient stay or a standalone intensive outpatient program has to change," Bierman says. "A 28-day inpatient program is vital in the continuum of care, but it can't be the beginning and the end of treatment. It's the first step; the acute level of care, and must be followed up with comprehensive services lasting a minimum of three months—and studies have shown ideally 12 to 18 months."