When it comes to choosing a college, one size does not fit all. Luckily, if you're looking for a college nearby, the Baltimore area offers a broad spectrum of schools, from their focuses of study to their campus cultures.
When hunting for your perfect college, first you have to ask yourself some basic questions. How are my grades and test scores? What do I want to study? How far from home do I want to be? Do I want to enroll in a big or small school? Two-year, four-year, or trade school? City or rural?
Then, once you narrow down your focus a bit, the fun part comes in: browsing potential schools online to determine your next home and where you feel like you'll thrive and become a greater version of yourself.
"Even if they're just looking in the Baltimore area, all the schools are very, very different," says Rodney Joyner, director of college advising at Baltimore City College, which has been named one of the nation's best public high schools by Newsweek, U.S. News and World Report, and The Washington Post. "You just want to find the right fit, and it's easy because Baltimore has such great options."
The College Advising department at Baltimore City College prepares its juniors and seniors for their college journeys with three-day intensive bootcamps each summer, federal student aid workshops, visits from college representatives, SAT prep, and invaluable one-on-one mentoring.
Joyner says that one of the biggest pluses for students is actually visiting the schools that they're interested in attending. "They get to look around, sit in the cafeteria—it's a totally different experience than doing a virtual tour or going online to the school's website."
To get you started, we've compiled a collection of some of the colleges and universities across the Baltimore area and what they offer.
COLLEGE-BOUND?
HERE ARE SOME TIPS
→ Schools are adding new programs all the time, and in some cases, programs are being replaced or dropped altogether. Figure out your area or areas of study first (what are you passionate about?), then look for schools that can best support the vision of your future life and career.
→ If at all possible, visit your school in person before making a final decision. It's difficult to get a good feel for a school size and its community atmosphere without ever stepping foot on its campus.
→ The early bird gets the worm: The earlier you start considering your options, the more likely it is that you will find a school that's right for you.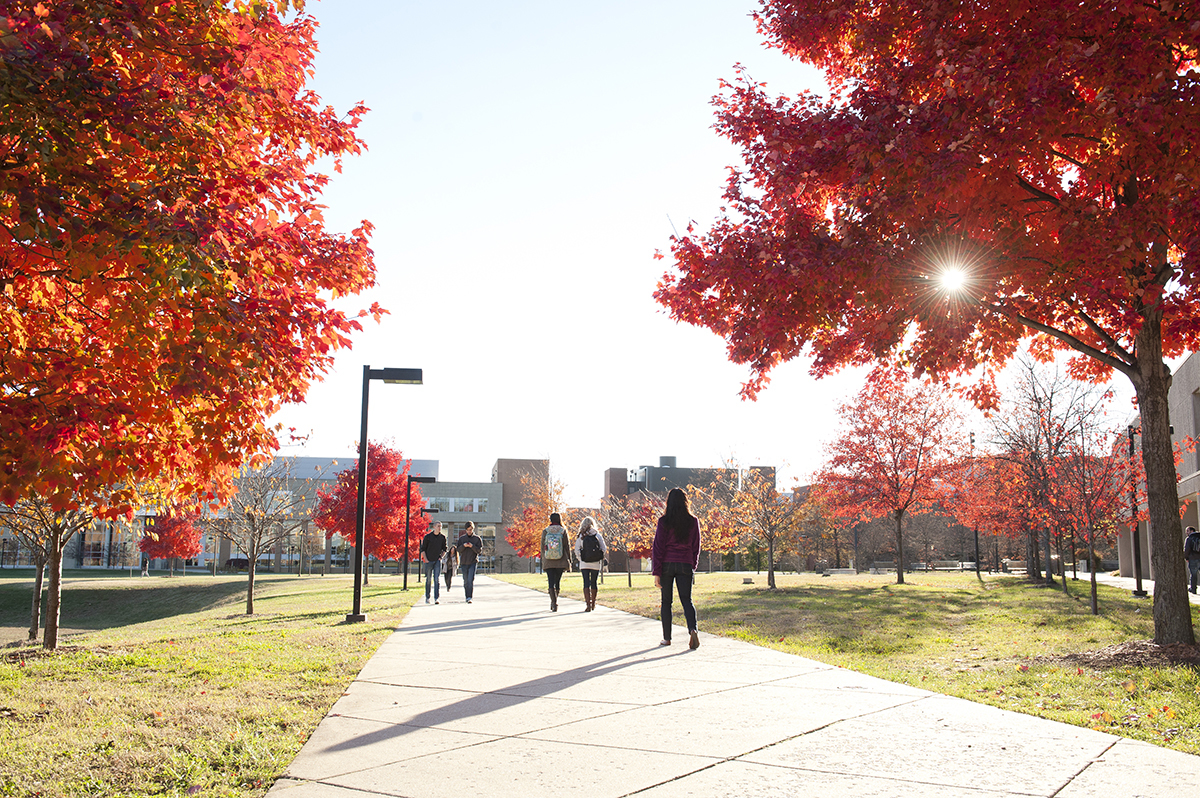 With a little homework, you'll find the best fit for you. -Marlayna Demond for UMBC
The Colleges
Goucher College
This private liberal arts college is known for being committed to sustainability and innovation. It's no wonder, then, that it's nestled in a cozy wooded setting in Towson. Forest hiking trails are just a short distance from the classrooms and residence halls on its 287-acre campus. The Maryland Horse Breeders Association is located on Goucher's campus, as well (Goucher also has its own equestrian team). The school also composts food scraps in the cafeteria and has its leftover cooking oil turned into biodiesel.
With a relatively small student body, students are more likely to get to know one another while studying there—and the school's design and classroom size encourages that. Two new residence halls that opened in the fall of 2018 are part of what's called the First-Year Village, and they expand on that idea. Fireside Hall and Trustees Hall were designed specifically to increase student engagement.
Mary Fisher Hall was recently renovated to bring new life and student interaction there, as well, along with new food options (such as kosher meals and an allergen-free station).
The school strives for diversity and inclusion across the board, and, as a testament to that, the freshman class that started this past fall is not only the largest but also the most diverse in the school's history.
Also of note, in 2018, Money magazine named Goucher one of the "Best Colleges for your Money."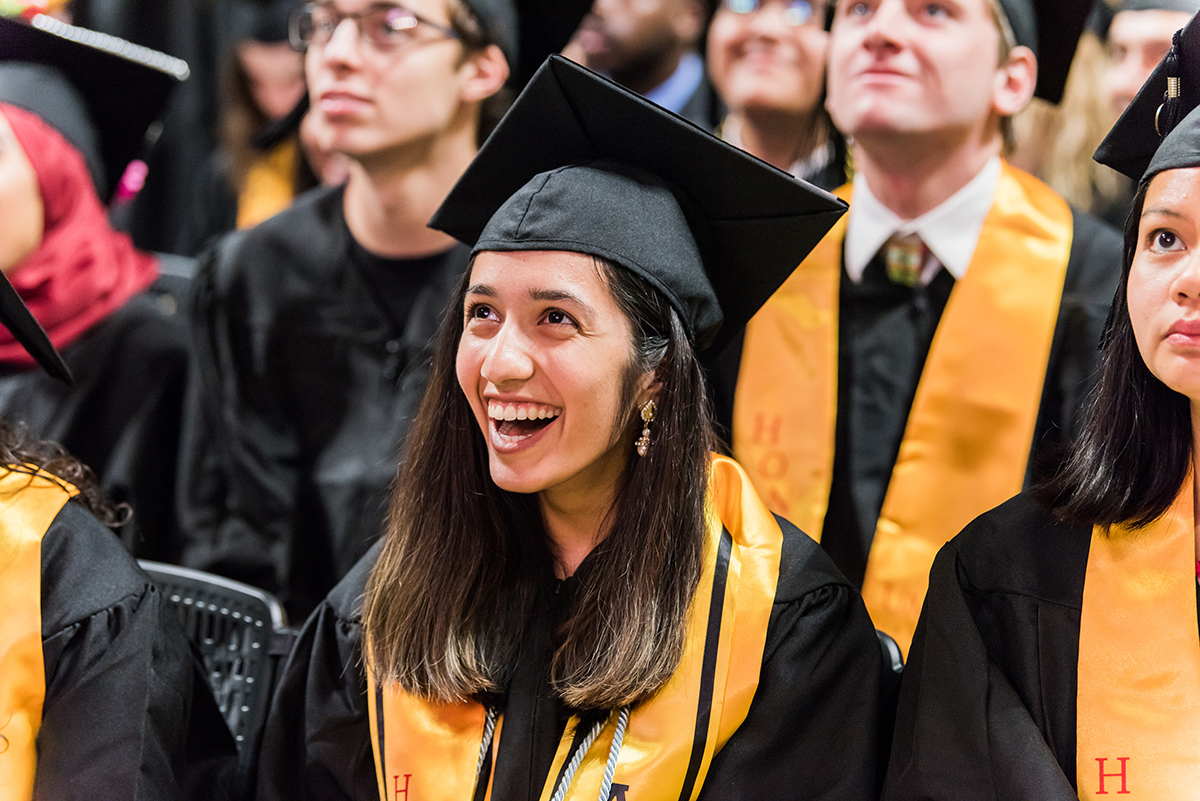 When National College Decision Day comes around on May 1, you can celebrate your choice. -Marlayna Demond for UMBC
→ Size: 2,153 students. Tuition: $43,440. Acceptance rate: 79 percent. Popular areas of study: Psychology, business management, economics, English, communication, biological sciences, sociology and anthropology, environmental studies, political science, and dance. Fun fact: Goucher has a level 4 pilates instructor, a Goucher graduate, at its Pilates Center at Goucher, which is also open to the public in addition to offering classes to Goucher students, faculty, and staff.
The Johns Hopkins University
The Johns Hopkins University is one of Baltimore's heavyweights. In fact, it's one of the nation's. The world-renowned university has nine academic divisions and boasts more than 260 courses of study.
Its outposts are located throughout Baltimore—including the Peabody Institute in Mount Vernon and a sprawling main undergraduate campus in Charles Village near The Baltimore Museum of Art. Additional campuses are in Laurel and Washington, D.C., as well as overseas.
JHU prides itself on being the first research university in the United States (we have this university to thank for potable water), and 27 Nobel laureates have studied or taught there.
But despite its overwhelming size, students can find their niche with more than 400 clubs and organizations to choose from, including a cappella groups, dance groups (from street dance to ballroom dance), cooking clubs, an animation club, J.Magazine, and even a natural hair club, as well as religious groups, cultural clubs, and sports.
→ Size: 26,438 students. Tuition rate: $46,328-$52,170 undergraduate. Acceptance rate: 10.6 percent. Popular areas of study: Public health studies, international studies, neuroscience, biomedical engineering, and economics. Fun fact: Notable JHU graduates include John Astin, Rachel Carson, Michael Bloomberg, Kweisi Mfume, and Wolf Blitzer.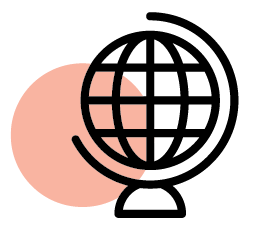 WANT TO BE FAR FROM HOME … BUT NOT?
At these schools, you can feel a world away from Baltimore but still a short drive to visit friends and family on school breaks and holidays.
→ university of maryland, college park
A relatively short drive or train ride into Washington, D.C., yet set in the suburbs, this school is attractive to those wanting flexible options for recreation and culture while studying at a large, renowned institution.
→ st. john's college
Located in Annapolis, with another campus in New Mexico, St. John's takes a different approach to higher ed, creating true renaissance men and women with a curriculum that relies on the classics, ranging from philosophy, literature, history, theology, and politics, to economics, psychology, music, mathematics, and the laboratory sciences.
→ west virginia university
Located in Morgantown (there are two satellite campuses, as well), WVU has an almost endless list of majors, from accounting to aerospace engineering, agriculture, acting, science, humanities, education, and everything in between.
→ washington college
Founded in 1782, Washington College was the first college chartered in the sovereign United States of America, with a little help from George himself, who donated 50 guineas to the cause. Located in historic Chestertown on the Chester River, it's known for its writing programs, but offers a wide range of majors.
Loyola University
A Catholic Jesuit liberal arts school, Loyola sits along North Charles Street and immediately draws attention with its Gothic-style architecture.
In 2018, U.S. News and World Report ranked Loyola as the No. 4 best university in the North.
The school offers small class sizes and more than 30 majors within three areas of focus—the College of Arts and Sciences, School of Education, and Sellinger School of Business and Management—with the intent to provide a well-rounded liberal arts education.
The student body is relatively small, and the majority of students choose to live on campus throughout their four years there—probably because Loyola has a reputation for swank dormitories, ranked 19th in the nation by The Princeton Review.
→ Size: 3,900 undergraduate students, 1,900 graduate. Tuition: $49,085. Acceptance rate: 75 percent. Popular areas of study: Business, communication, social sciences, and psychology. Fun fact: Each spring, just before final exams, students, faculty, staff, family, and friends gather with the community for the on-campus Loyolapalooza, featuring live music, carnival rides, and food.
Maryland Institute College of Art
Simply put, Maryland Institute College of Art is one of the leading art schools in the nation, and its students have gone on to become nationally and internationlly known artists. Many alumni choose to stay in Baltimore after earning a BFA or MFA and work as artists here, often starting their own art and design businesses.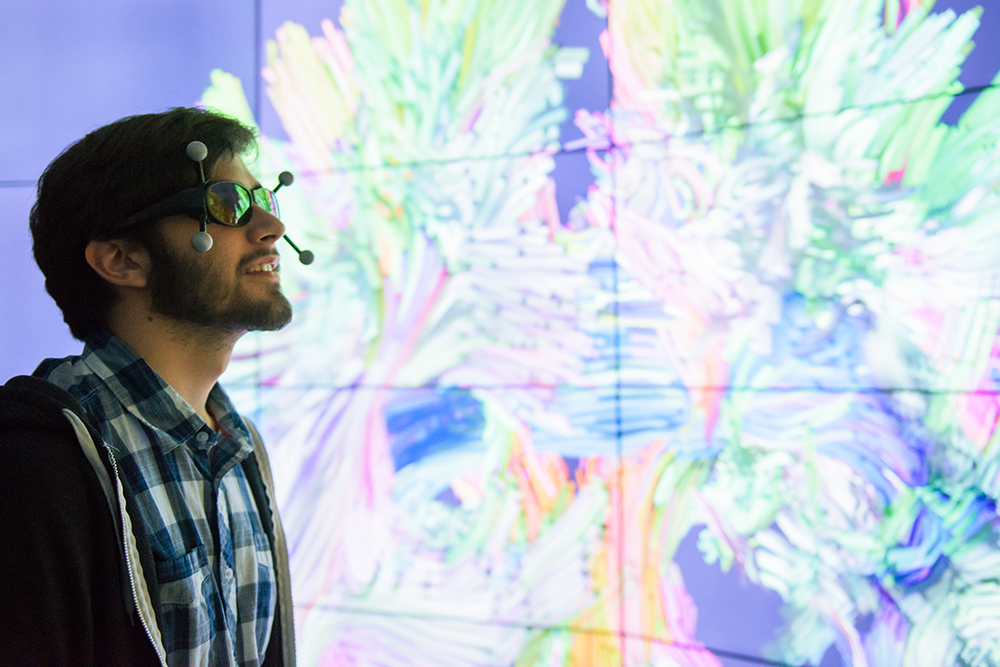 -Marlayna Demond for UMBC
The campus spreads across parts of Bolton Hill and the Station North Arts and Entertainment District, which has spawned lots of theaters, coffee shops, and music venues, adding to the culture students receive inside the classroom.
While it may have the reputation of being a fine arts school with a focus on painting—the school boasts nearly 100 exhibits each year, with more than a dozen gallery spaces—in more recent years especially, it has begun to include many more artistic disciplines, including digital work, filmmaking, fashion and fiber art, animation, design (2D and 3D), and game design, to name just a few. And students get plenty of attention, with an 8:1 student-faculty ratio, plus space to work and all the tools needed to create.
→ Size: 2,090 students. Tuition: $48,630.Acceptance rate: 62 percent. Popular areas of study: Graphic design, illustration, painting, multimedia, and fiber arts. Fun fact: MICA was originally called the Maryland Institute for the Promotion of the Mechanic Arts, and it's the oldest independent, continuously degree-granting college of art and design in the U.S.
McDaniel College
Among the expanses of meadows, farms, and open sky is McDaniel College (formerly Western Maryland College), which sits near the town of Westminster and is the only four-year institution in Carroll County. The bucolic campus has a quaint, storybook quality, owing somewhat to its big, old trees and its historic buildings—six of which are on the National Register of Historic Places, including Baker Chapel.
But along with its down-home, small-town feel, McDaniel keeps up with the times and, in many ways, has been forward-thinking in its vision. It was, in fact, one of the first schools in the country to be co-ed. Today, the private four-year liberal arts college offers more than 70 undergraduate programs of study and 20-plus graduate programs. It also operates a campus in Budapest, Hungary, which attracts students from all over the world and allows McDaniel students to study in Europe.
A little-known fact about McDaniel is its kinesiology program, one of its most popular majors and the only independent college in Maryland to offer it. The course load prepares students for careers that center on the science of physical activity and movement, such as health professionals, athletic trainers, and physical education teachers. The program is so popular, in fact, that the school just completed a $6.6-million renovation of Gill Center to expand and modernize classrooms and research spaces. The project includes updated laboratories for human performance, neuromuscular performance, and human anatomy and physiology, as well as multipurpose classrooms as enclosures above the main seating area within the mezzanine level of Gill Gymnasium.
Also new is the school's Military Legacy Scholarship, valued at up to $100,000 over four years, for all military veterans, active-duty military service personnel, and their children. McDaniel has been recognized as a Military Friendly School and its Green Terror Army ROTC Battalion is one of the oldest in the nation, celebrating its 100th anniversary this year.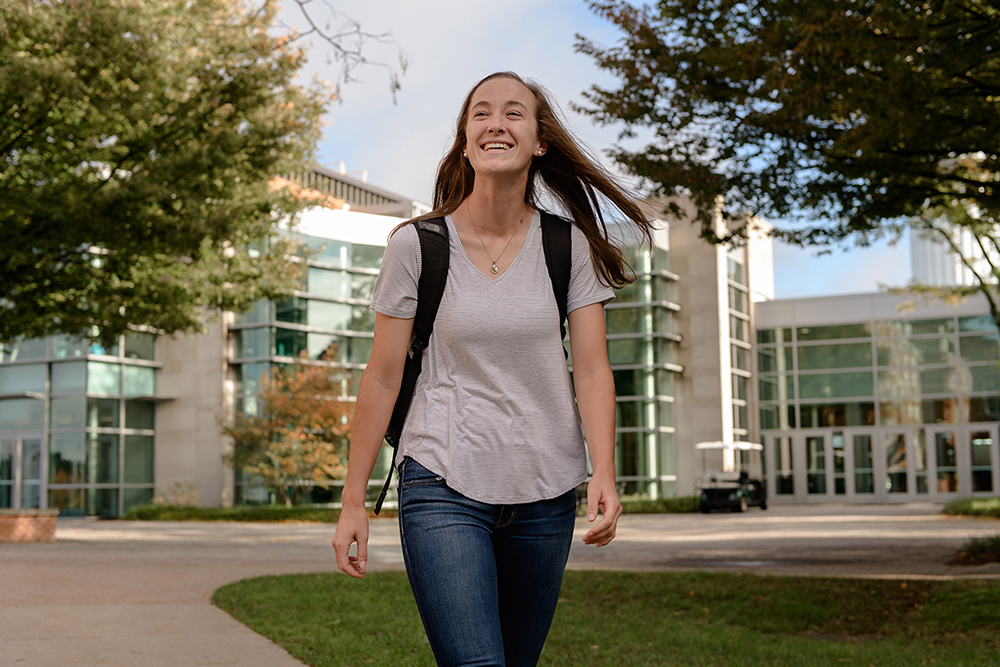 -Courtesy of McDaniel College
→ Size: 1,600 undergraduate students, 1,400 graduate students. Tuition: $43,260 undergraduate; graduate varies based on program. Popular areas of study: Undergraduate includes kinesiology, business administration, and biology; Graduate includes Administrator Certification, M.S. in Curriculum and Instruction, and M.S. in Counseling. Acceptance rate: 85 percent. Fun fact: McDaniel has become nationally recognized as a top tailgating school because of its longtime tradition of people driving vehicles into the park around the stadium bowl during football games—a tradition that's as old as cars themselves. "It's really a unique experience," says Cheryl Knauer, director of media relations at McDaniel.
A Primer on Community Colleges
Community colleges, which offer two-year associate's degrees, as well as vocational certificates in technical fields, are an economical way to pursue higher education. Because they are inexpensive, community colleges are also an option for those who might want to take a refresher course in preparation for an advanced degree or pick up a technical skill. Following is a sampling of community-college options in the region and some of their program offerings.
→ baltimore city community college
Allied health, law enforcement, business. bccc.edu
→ carroll community college
Nursing and allied health, business, I.T., hospitality. carrollcc.edu
→ the community college of baltimore county
STEM, science and health, business. ccbcmd.edu
→ howard community college
Business, I.T., hospitality and culinary, health care, teacher education. howardcc.edu
Morgan State University
Morgan State University in Northeast Baltimore is the largest of the historically black colleges and universities (HCBU) in the state and prides itself on its multiethnic, multiracial, and multinational student body. Its diversity goes further to include students who come from a wide range of socioeconomic backgrounds and demographics. U.S. News & World Report ranked it as the No. 14 HBCU in the nation.
The public urban research university was founded in 1867 and has been growing ever since—physically and through its academic offerings. It now offers more than 100 bachelor's, master's, doctorate, and online programs spanning the arts, business, science, engineering, and social work, including specialized degrees, such as their M.A. in African-American Studies and an Ed.D. in Urban Educational Leadership. Its coursework and mission stress an engagement with the issues and opportunities of urban life.
In December, it launched its Food Resource Center, which allows students to receive food resources at a centralized location inside of the Morgan Business Center on campus.
Another point of pride: Students in the nursing program's Bachelor of Science degree achieved a 100 percent first-time pass rate on their national license exam in fiscal year 2018, topping all other schools in the state that offer a four-year nursing degree.
→ Size: 7,700 students. Tuition: $7,900 in-state, $18,167 out-of-state. Acceptance rate: 64 percent. Popular areas of study: Business, engineering, communication, education, and social sciences. Fun fact: In 2016, the National Trust for Historic Preservation named Morgan State University a National Treasure.
Notre Dame of Maryland University
Notre Dame of Maryland University in northern Baltimore has an intimate feel with its wooded campus punctuated by the historic and stately Gibbons Hall. The cross on top of Merrick Tower is touted as one of the highest points in the city.
The private, Catholic liberal arts university offers programs from bachelor's through Ph.D.—27 majors, a five-year program, numerous master's degrees, and three doctoral degree programs, plus nine online programs. It also offers Maryland's only women's college.
Last year, it launched its Master of Art in art therapy—the first such program in the state. Part of what makes the program special is its instructors: Each one is also a practicing art therapist.
→ Size: 2,375 students. Tuition: $35,600 for undergraduate. Acceptance rate: 71 percent. Popular areas of study: Nursing, biology, education, business, chemistry, and art therapy. Fun fact: Notre Dame of Maryland University was the first Catholic college for women in the country to ever award a four-year baccalaureate degree to women.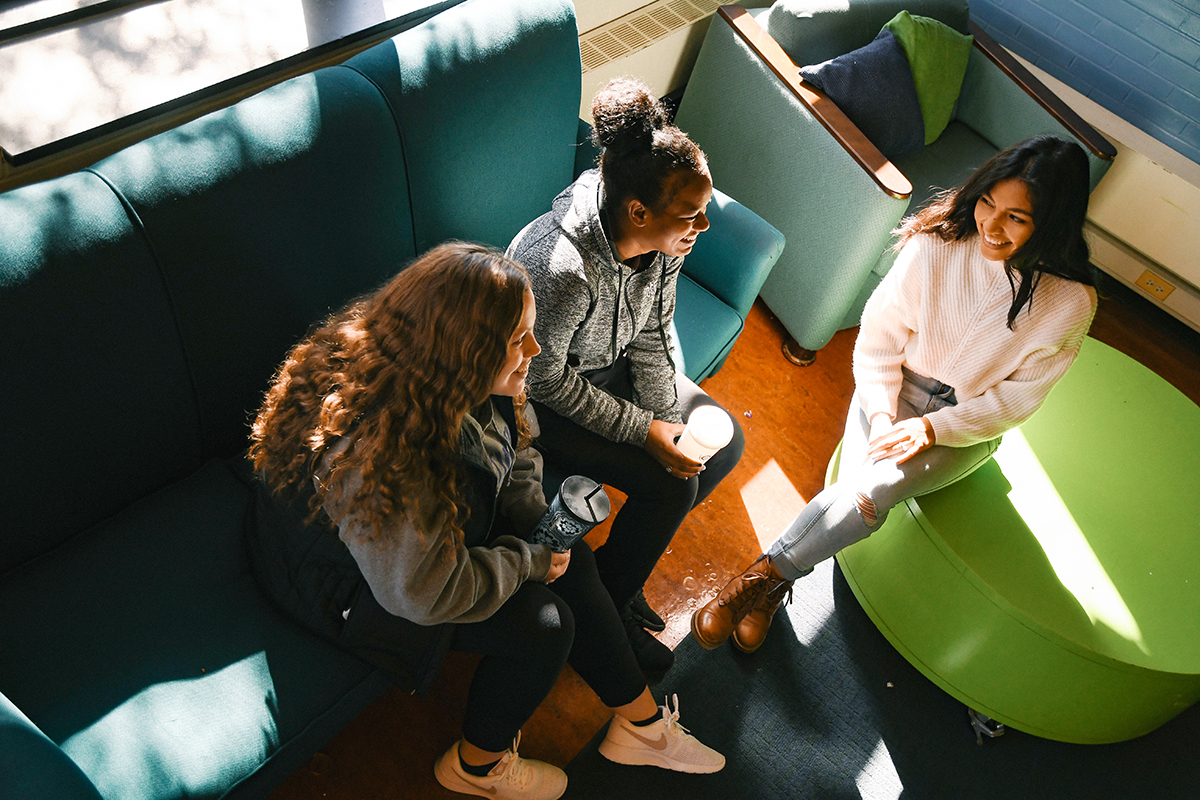 In additions to dozens of programs and degrees, Notre Dame of Maryland University in northern Baltimore offers Maryland's only women's college. -Courtesy of Notre Dame of Maryland University
Towson University
Towson's got a shiny new brand: The school updated its logo for the first time in more than 20 years and rolled it out this winter. The simple design uses only the letters TU in an effort to evolve the school's identity as a destination university, rather than a state university, as it used to be seen (it was formerly called Towson State University). Although it remains a part of the University System of Maryland, its offerings have grown year after year.
Towson began as the state's first training school for teachers but has since expanded to become one of the largest public universities in the state, and it has become more diverse (the incoming freshman class this year was the most diverse in the school's history). It now offers more than 60 undergraduate majors, and it's the largest supplier of medical professionals and educators in the state.
In 2018 alone, Burdick Hall, which used to be a basic gymnasium, reopened after a massive renovation of its fitness and gym areas, complete with a new rock-climbing wall. A 1970s residence tower also reopened after a complete renovation that took two years, revealing a bright and shiny new dormitory for students. And a former Marriott Hotel near the campus that closed during the summer was quickly renovated and opened in the fall as a home for students transferring in, significantly increasing housing options.
Next in line is the new science building, which will be the largest building on campus when it's completed and will house science and mathematics classrooms, a testament to the growth of those areas of study.
The campus has grown physically over the years, but the school has also expanded its reach into the surrounding community. Students volunteer each spring for The Big Event and volunteer to clean up yards, trim bushes, and clean stream beds, for instance. "We use our size, in terms of the people we have here, as an asset to be a good neighbor to the other people in our community," says Sean Welsh, acting senior director of communications and media relations at Towson—and also a 2005 Towson grad. "This is more than a place to just come and get a degree. It's a place that gives back to its community and where all students can find opportunities for themselves."
→ Size: 19,600 undergraduate students, 3,150 graduate. Tuition: $9,940 in-state, $23,200 out-of-state. Areas of study: Business administration, psychology, biology, nursing, and computer science. Acceptance rate: 79 percent. Fun fact: Towson is one of four institutions in the world to receive ABET accreditation for its cybersecurity programs.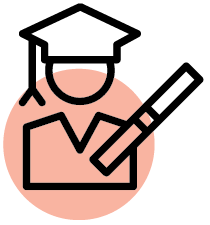 Taking It One Step Further
Don't think a bachelor's degree is enough to get you where you want to go? Here are a few of the region's mostly highly regarded post-graduate programs:
→ the johns hopkins university and hospital programs
U.S. News & World Report ranked Johns Hopkins' graduate programs in its School of Nursing, its Bloomberg School of Public Health, and its biomedical engineering post-graduate programs all No. 1 nationally.
According to the ranking, other Hopkins graduate programs also among the tops in the nation include its School of Education, School of Medicine, School of Nursing, School of Advanced International Studies, and the well-regarded Peabody Institute.
One of the best-known is the Johns Hopkins Carey Business School. Accredited by the Association to Advance Collegiate Schools of Business (AACSB), the Carey Business School offers degrees ranging from Master of Business Administration and Master of Science to dual-degree programs, executive education, and certificate programs.
→ loyola university maryland
Top master's and Ph.D. programs include business administration, school counseling, speech-language pathology, clinical psychology, pastoral counseling, and spiritual care.
→ stevenson university
At Stevenson University, many of the graduate degrees can be completed in as few as 18 to 24 months.
Get a master's in business and technology management, communication studies, cyber forensics, forensic science, health care management, nursing, and teaching.
→ maryland institute college of art (mica)
MICA's graduate studies are for artists, designers, writers, and educators. They include a Master of Arts degree, Master of Fine Arts degree programs, Master of Business Administration/Master of Art program, Master of Professional Studies degree programs, and post-baccalaureate certificate programs in fine arts.
→ university of baltimore (ub)
At the University of Baltimore, professors understand the job market. Known best for its law programs, they'll tell you they turn out legal eagles who can hit the ground running. Besides law, the university offers a variety of dual-degree MBA programs.
University of Baltimore
With its main campus located in the vibrant and artsy Mount Vernon neighborhood, the University of Baltimore allows students to take in the rich culture that the city has to offer while providing a quiet refuge on campus for studying and interacting with classmates.
The school provides more than 40 undergraduate, graduate, and doctoral programs. Known primarily for its law and business programs, it nonetheless caters to creatives, as well. One of its unique programs, for instance, is the Master of Fine Arts in Creative Writing & Publishing Arts, which allows students to write, design, and publish their own books from scratch. Extraordinary writers, including Marion Winik and Jane Delury, teach in the MFA program.
→ Size: 5,041 students. Tuition: $4,479 in-state, $10,538 out-of-state. Acceptance rate: 81 percent. Popular areas of study: MBA, accounting, the J.D., government and public policy, and the MFA. Fun fact: Notable graduates include William Donald Schaefer and Spiro Agnew.
University of Maryland, Baltimore County
University of Maryland, Baltimore County offers the best of suburban and urban living, as it sits in suburban Baltimore County (with the great Patapsco Park nearby) while remaining a short drive or bus ride into the heart of Baltimore City for culture.
Part of the University System of Maryland, the school offers 48 majors, 38 minors, and 25 certificate programs spanning the arts, engineering, information technology, humanities, sciences, pre-professional studies, and social sciences.
Meanwhile, the school continues to expand international partnerships across Asia, Europe, Africa, and South America, most recently with the University of Limpopo (South Africa), Keio Research Institute (Japan), and Royal Holloway University of London (UK).
And we would be remiss if we didn't mention UMBC making history last year: Sports fans across the world watched in awe in March 2018 when UMBC became the first-ever No. 16 seed to defeat a No. 1 seed in an NCAA men's basketball championship tournament.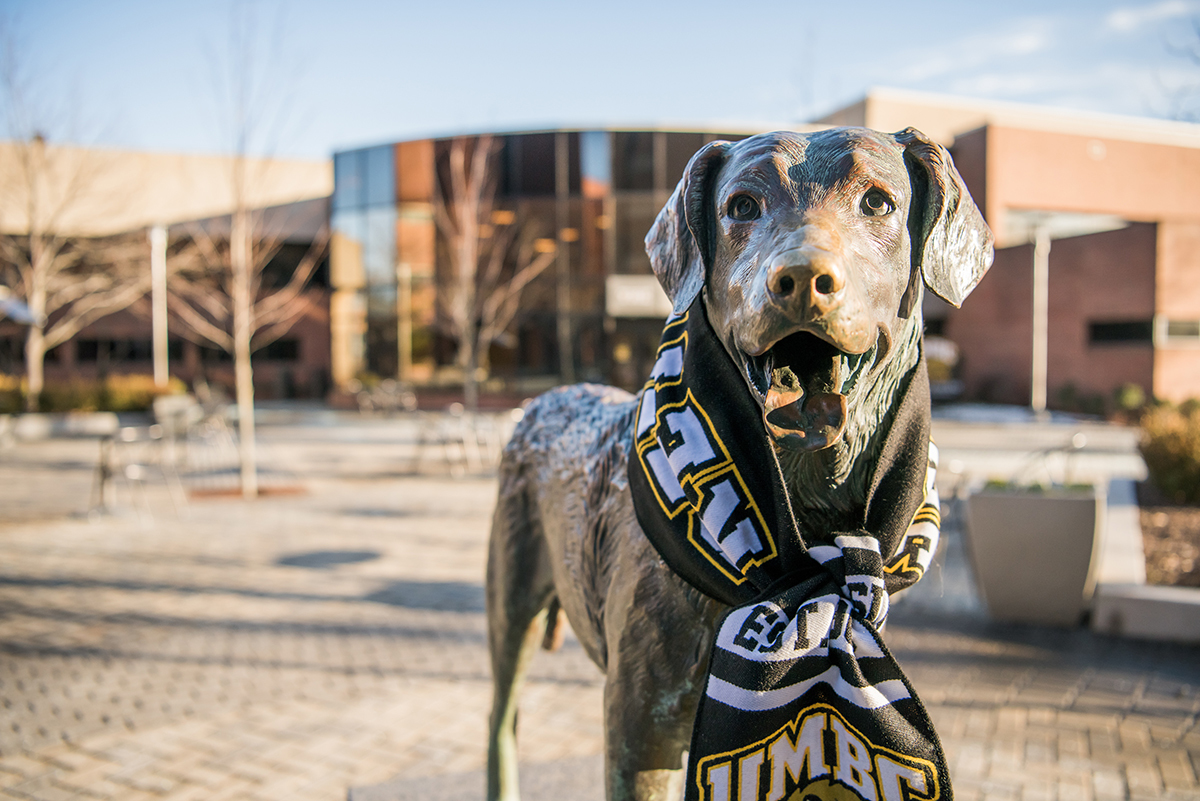 At University of Maryland, Baltimore County, True Grit sports the college colors. -Marlayna Demond for UMBC
→ Size: 11,260 undergraduate students, 2,507 graduate. Tuition: Undergraduate is $11,778 in-state, $26,872 out-of-state. Popular areas of study: Natural sciences and engineering. Acceptance rate: 60 percent. Fun fact: In late 2017, UMBC dedicated the Earth and Space Institute, building on decades of collaboration with NASA, including more than $100 million in active multi-year research programs.
University of Maryland, Baltimore
Seated in Baltimore City, the University of Maryland, Baltimore's urban campus spans 71 acres. The school is more than 200 years old and a pillar of Baltimore's academic community, specifically for graduate-level studies. Its School of Medicine began during its founding year, 1807, and continues to grow, while its most recent addition, the School of Social Work, began in 1961.
UMB offers more than 60 doctoral, master's, baccalaureate, and certificate programs and is Maryland's only public health, law, and human services university. In fiscal year 2016, its dentistry program was ranked eleventh in the country by NIH Funding.
The university also strives to give back to its community, giving more than two million hours of service annually to Maryland. Its Community Engagement Center provides health, employment, legal, and social services to West Baltimore residents, for instance, and CURE Scholars is a program dedicated to mentoring West Baltimore middle schoolers and high schoolers.
→ Size: 6,700 students, about 930 of which are undergraduates. Tuition: Varies based on program of study. For example, a part-time undergraduate nursing degree is $378.50 in-state, $1,273.50 out-of-state ($4,540 full-time in-state, $18,657 out-of-state). Acceptance rate: N/A. Popular areas of study: Public health, law, and human services. Fun fact: The University of Maryland BioPark is Baltimore's biggest biotechnology cluster.