Chances are, when you think of Maryland's Eastern Shore, it conjures up images of crabs and sailing, and, well, The Wedding Crashers. But there's much more to see and do than most people realize. Here's our list of best bets:

Endurance Events: No matter how you rate yourself athletically, the Shore offers plenty of opportunities to go to the next level: The Ironman 70.3 Eagleman takes place annually in June, and the Ironman Maryland is held in September. Also check out the Heart of Chesapeake Bike Tour, St. Michaels Running Festival, or the not-so-secret Chesapeake Bay Bridge Run.
Foodie Tours: Immerse yourself in one of the Eating Easton, Eating St. Michaels, or Eating Cambridge tours, and you quickly learn that Eastern Shore cuisine is about much more than crabs. Sample the top restaurants, world-class cuisine, and the local culinary scene. Want Italian? Try Scossa in Easton or Limoncello in St. Michaels. For special occasions, Bas Rouge in Easton dishes up contemporary European fine dining. Pizza anyone? Out of the Fire in Easton, Ava's in St. Michaels, or Stoked in Cambridge are known for wood-fired pizzas. Or stop by Theo's in St. Michaels for a great steak.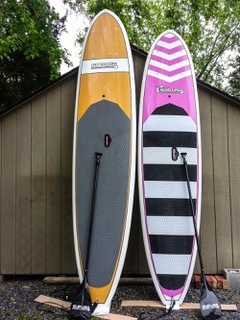 Get in the Spirit: Ghosts are not just about Halloween. Chesapeake Ghost Tours delve into the mysterious history of 11 Eastern Shore towns. And don't miss the "Spirits of Rowdy Women" tour in St. Michaels—think ladies of the evening, a fussy landlady, a vanishing hippie, and a woman who throws wine glasses.
Speaking of Spirits: The Shore has a lively wine, beer, and spirits industry and offers first-hand looks at the winemaking and distillery processes, as well as relaxing tasting events to live music. The St. Michaels Old Mill District is a great place to start, where you can visit St. Michaels Winery, Lyon Distilling, and Eastern Shore Brewing. Or head for the countryside for tours and tastings at Triple Creek or Layton's Chance, while true oenophiles will enjoy the Chesapeake Wine Trail, featuring several vineyards along the whole Eastern Shore. If a cold beer is more your style, pop into RAR Brewing in Cambridge.
Get on the Water: Turns out, the water is not just there for photo opps: Downtown St. Michaels offers several spots to rent kayaks or paddle boards, including Shore Pedal & Paddle and Tri-Cycle & Run. And if you're looking for a learning experience, try the Lighthouse Tours, Sail Selina II, or the skipjack HM Krentz.
See Something Rare: The Blackwater National Refuge in Cambridge hosts one of the nation's largest breeding areas of bald eagles and is also home to the endangered Delmarva fox squirrel and peregrine falcon, plus 250 bird species, 35 species of reptiles and amphibians, and 165 species of threatened and endangered plants.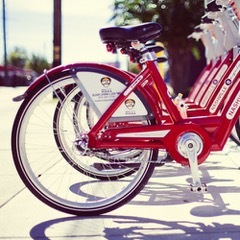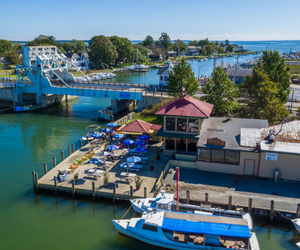 Stay in a Real Lighthouse: Saved from a 1966 demolition by the Chesapeake Bay Maritime Museum, the Hooper Straight lighthouse, which once guided boats through the strait about 40 miles south of St. Michaels, lets adults and children under 12 spend the night to learn about the fascinating job of a lighthouse keeper. Contact the Chesapeake Bay Maritime Museum for details.
Take the Ferry: A visit to historic Oxford wouldn't be complete without a ride on the Oxford Bellevue Ferry. America's oldest privately owned ferry is in its 332nd year of seasonally crossing the Tred Avon River from Oxford to Bellevue. While in Oxford, don't miss the sunsets at Doc's Sunset Grille, fine dining at Pope's Tavern or Latitude 38, and, for the grand finale, nationally recognized ice cream with unique flavors (lavender, anyone?) at the Scottish Creamery.
Island Dreams: While St. Michaels is the best known of the Talbot County towns, an 18-mile drive to Tilghman Island is a great way to unwind and see the bay's unspoiled beauty. First stop, Dogwood Harbor, to learn about the heritage of Chesapeake Bay watermen. Book a cruise aboard the Rebecca T. Ruark, a 100-plus-year-old working skipjack to discover the local history from a native, or climb aboard The Lady Patty for a taste of "the golden age of American yachting."
Take in the Foliage: Unlike other resort areas that hibernate after Labor Day, the Eastern Shore is brimming with activity year-round. Fall is one of the best times to visit with its cooler temperatures, smaller crowds, in-season produce and seafood, and the fall colors and migratory birds setting the scene for a weekend getaway. It's also festival season: Check out The Waterfowl Festival, The Chesapeake Film Festival, and OysterFest.
Eastern Shore Vacations: There's a vast choice of vacation rental properties in St. Michaels, Oxford, Easton, Tilghman, Cambridge, and Chestertown.