Sure, you could join the throngs at the beach this summer, or you could avoid Bay Bridge traffic and go for a mountain getaway in the DMV. Virginia is for lovers of mountain biking, water park rides, lavender fields, wine, and forest zip lines. Read on for 10 activities to pack into a summertime mountain getaway in Virginia's Shenandoah Valley and Blue Ridge Mountains.
Golf in the Mountains
Massanutten Resort featured two distinct golf courses, including Mountain Greens Golf Course, a challenging 18-hole PGA-rated course located inside the kettle and Woodstone Meadows Golf Course, a beginner-friendly course with an open and picturesque fairway located at the base of Massanutten Mountain. Both provide beautiful views of the Shenandoah Valley and are a true test of mountain golf. Mountain Greens Golf Course was opened in the summer of 1976, with major renovations completed in the last 10 years.

Have Some Wine Time
From the first plantings in 2002 to the opening of the state of the art facility in May of 2008, CrossKeys Vineyards welcomes guests to experience top Virginian estate grown wines. In the heart of the Shenandoah Valley, the winery provides panoramic views of vineyards and the surrounding mountains and is open daily for tasting and tours. A comprehensive program in wine education and the arts is a key component of the winery mission. Cross Keys is located in the area where the battle of Cross Keys took place on June 8, 1862.
Zip and Zoom through the Woods
Get outside and into the woods at Massanutten's Family Adventure Park, where you can climb, tube and zip through the forest. Take a 90-minute Canopy Tour across a Burma Bridge, hanging vines and four zip lines ranging from 90 to 470 feet. If that's not enough zipping, the 800-feet Mega-Zip can send you soaring up to 30 miles per hour. There's also the ridge rapelling experience, where guests get a chair lift ride up the mountain with 35-, 55-, and 60-foot rappel and climb options. The Kids' Adventure Course for ages 12 and younger offers age-appropriate challenges like a swinging vine bridge and 100-foot zip line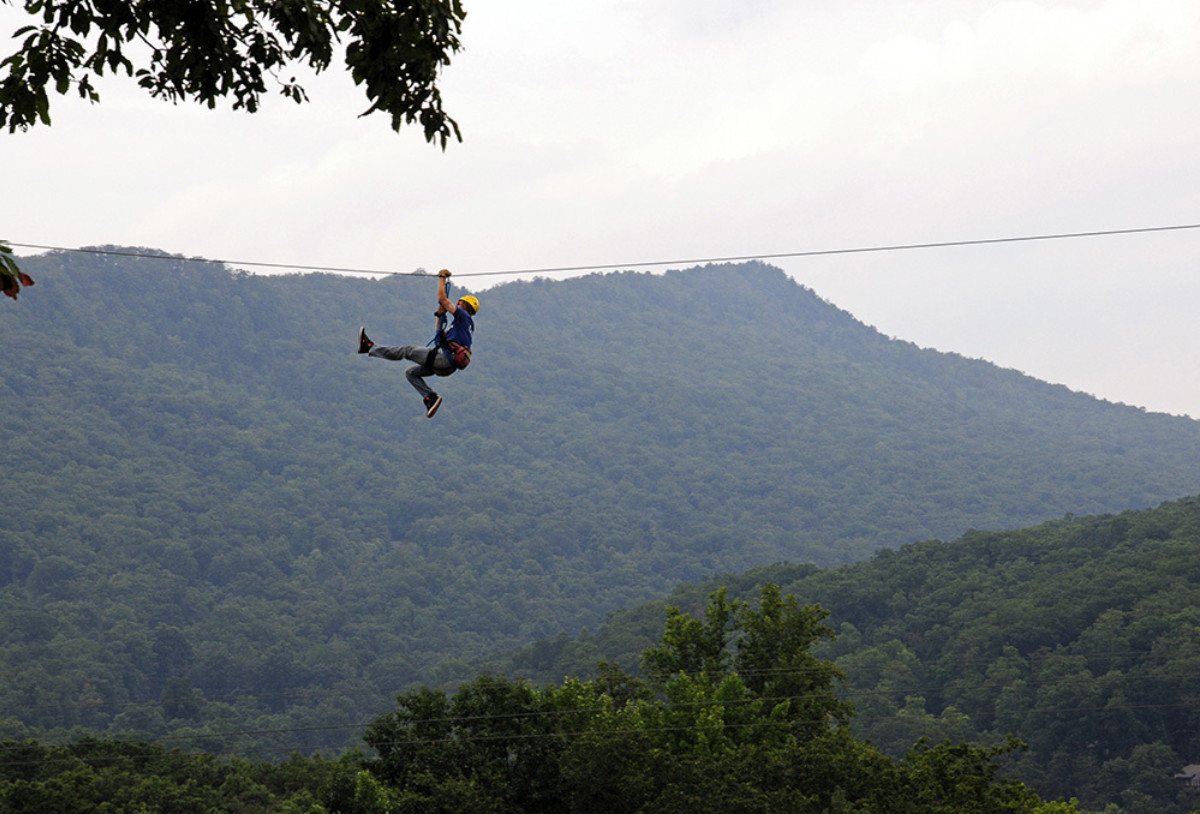 Stop and Smell the Lavender
Purple blooms blanket the terraced landscape of White Oak Lavender Farm from June through September, with peak season in June and July. The family-owned farm and vineyard has farm animals like sheep and miniature horses, as well as a shop filled with the scents of lavender-infused into soaps and lotions. Visitors can also sample lavender-infused wines and ice cream while enjoying views of the Blue Ridge.
Go on a Mountain Bike Adventure
The Shenandoah Valley and Blue Ridge Mountains have become a biking destination. Get a ride via lift to the top of the mountain at Massanutten's Mountain Bike Park and pick which trail you want to descend. The Bike Park offers challenges for veteran riders, with advanced jump and single track trails accessible from an upper lift, as well as lower lifts that are beginner-friendly.
Chairlift Us Up Where We Belong
While the lush green landscape of the Shenendoah Valley is lovely from the ground, it's even more breathtaking from a series of chairs hung from a moving cable on your way to the top of a mountain. Get a panoramic view of the Blue Ridge Mountains and its charming villages on a scenic chairlift ride to Massanutten Peak. For those who want to learn more about the views they're seeing, Massanutten's Nature Center Team offers an educational hike of the peak area.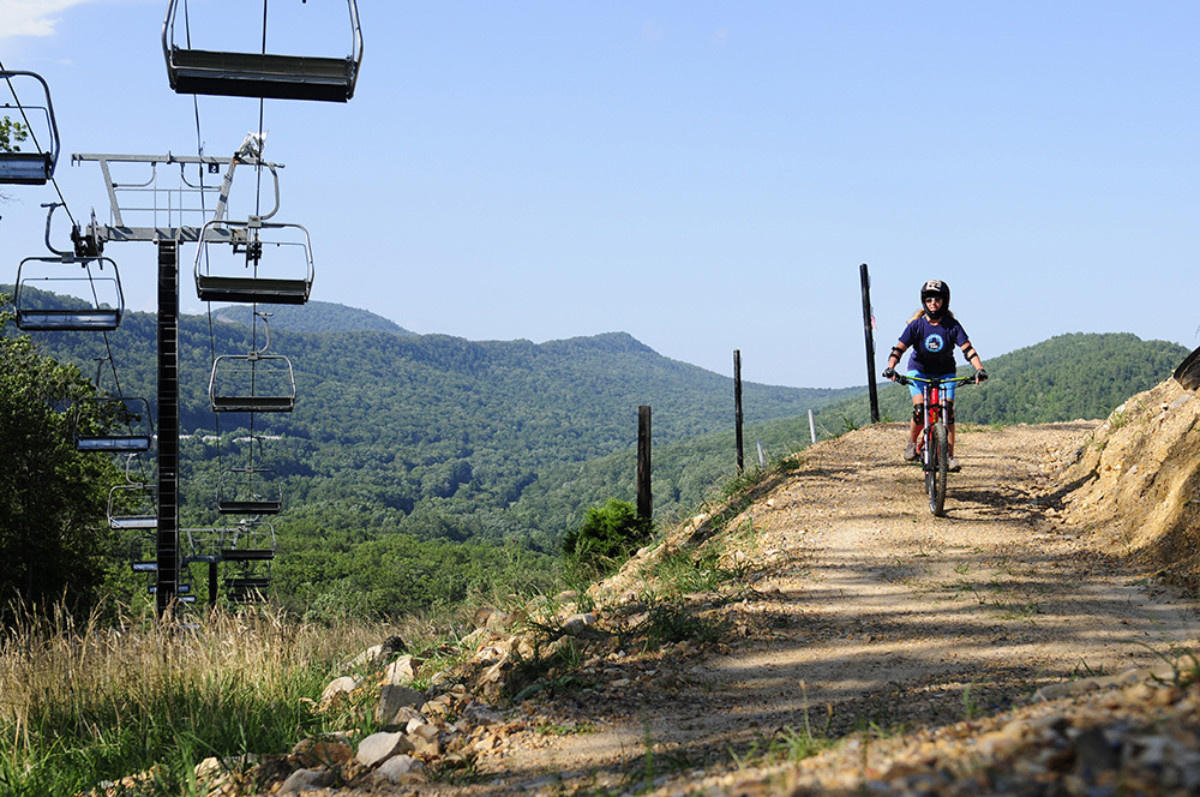 Eat Campfire Foods (Without the Camping)
For those who love the idea of campfires, but not the bugs, there's Campfire Grill. The casual camp-themed restaurant's menu is inspired by foods you'd make on a camp fire, like pan-fried trout and beer-can burgers. The restaurant is also kid-friendly, with a cartoon bear mascot and coloring sheets and crayons available. Get a true campfire experience – without the prep or cleanup – by having roasted s'mores outside on the patio.
Take a Woodland Drive
Roll down your windows, feel the breeze and experience every curve of the beautiful Skyline Drive. Nearly 70 overlooks offer top-notch views of the Shenandoah Valley to the west or the Piedmont to the east. The drive can sometimes feel like a mountain "safari," with wildlife like deer, black bear, wild turkey, and a host of other woodland animals regularly crossing Skyline Drive in their daily travels.
Cross Over to the Dark Side
The Shenandoah Valley's natural wonders include a handful of caverns, where visitors can pretend they're in Fraggle Rock. Luray Caverns is the largest caverns on the East Coast, and features more than just huge crystal formations and a Stalac"pipe" organ. Visitors can also check out its antique car and carriage museum and a garden maze. Shenandoah Caverns' formations have fun names like Rainbow Lake, Diamond Veil and Grotto of the Gods. At the northern entrance to Skyline Drive is Skyline Caverns, which is known for its Anthrodites—orchids of the world—and features like Fairyland Lake and The Shrine, which are popular with brides and grooms.
Slip, Slide, or Float Away the Day
With an inside park that's always heated to 84 degrees, you can get wet and wild all year round at the Massanutten WaterPark. Indoors there's a water fortress, inner tube slides, a lazy river and a FlowRider surfing wave. From Memorial Day Weekend through Labor Day, the summer sun shines on private cabanas, a wave pool, and more than 88,000 square-feet of outdoor water slides and play areas.