---
What do a professional organizer, a lawyer, a university VP, and a healthcare executive all have in common?
They're all among the 39 outstanding local professionals featured in the Women Who Move Maryland section that follows, an annual feature saluting the leading role women have taken in greater Baltimore.
And their participation has extra significance: Some of the section's proceeds will go to the American Heart Association's Go Red for Women campaign.
For business owners, entrepreneurs, and executives, it's a fresh venue to introduce themselves to both our readers and to one another—and it's for a great cause.
WOMEN WHO MOVE MARYLAND
Alison G. Brown, BSN, MPH
Senior Vice President & Chief Strategy Officer, University of Maryland Medical System
250 W. Pratt Street, Baltimore, MD 21201
443-997-0270
As senior vice president and chief strategy officer for the University of Maryland Medical System (UMMS), Alison Brown's focus is on improving the health of Maryland.
At UMMS, she is responsible for facilitating the design, execution and communication of system-wide strategies. She leads efforts to strengthen the UMMS brand across its 14 member hospitals, outpatient centers and health insurance plans, to build and promote specialty care provider networks among affiliated physicians and the UM School of Medicine clinical faculty, and to expand access to outpatient and telemedicine services.
Thrice named one of "Maryland's Top 100 Women" by The Daily Record, and one of The Baltimore Sun's "25 Women to Watch in 2017," Brown is recognized as a leader in her field, a mentor to future leaders and a dedicated member of the community.
She has served on the board of directors for the United Way of Central Maryland and currently serves on the board of Baltimore Community Rowing, Inc. In 2013, she was elected to membership in the Executive Alliance, a Maryland organization that accelerates the success and leadership of women by expanding their impact and influence through advocacy, education and mentorship.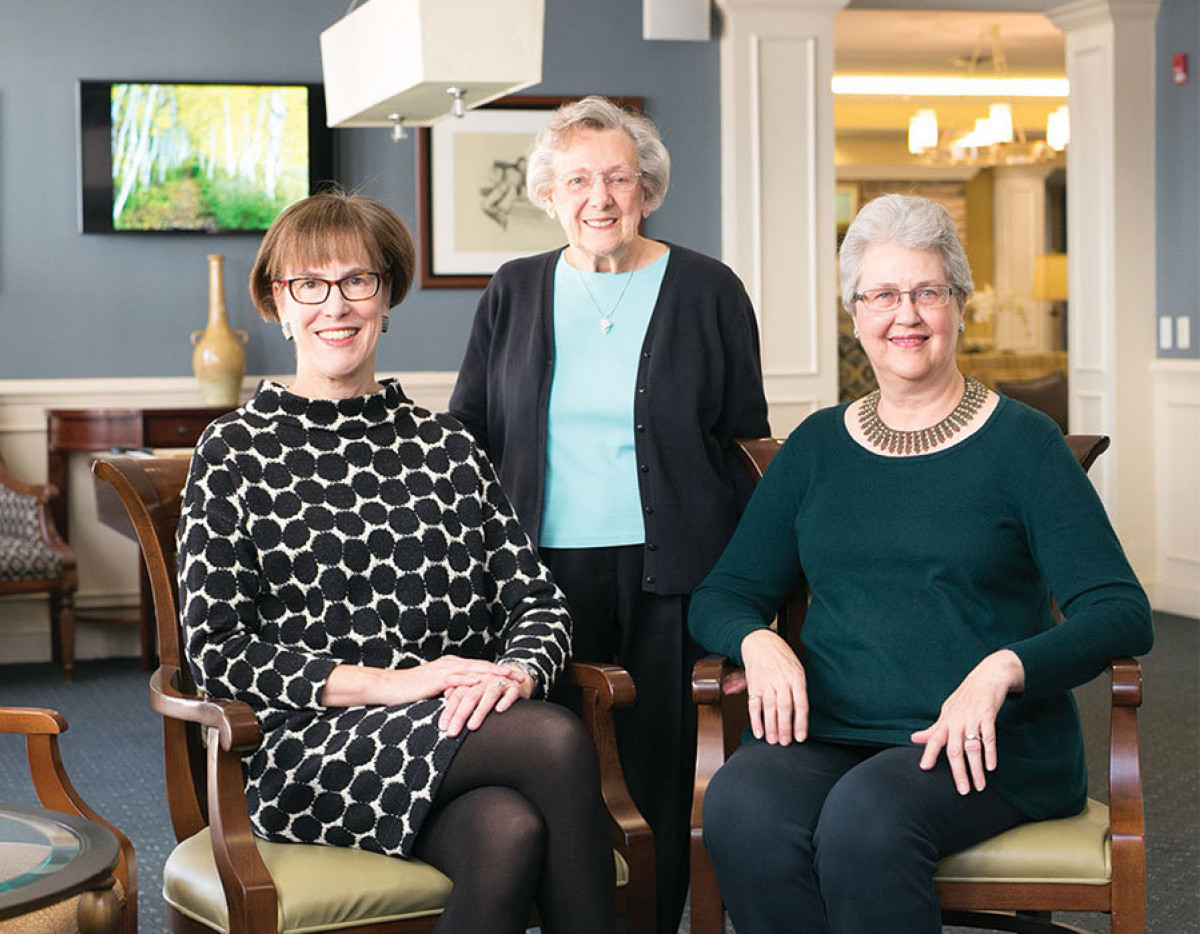 Left to Right: Marilynn Duker, Mary K. Parkinson, Sherry Moe
WOMEN WHO MOVE MARYLAND
Marilynn Duker
CEO, Brightview Senior Living
Mary K. Parkinson
Brightview Severna Park Resident
Sherry Moe
Brightview Severna Park Resident
Brightview Senior Living
218 North Charles Street, Suite 220 Baltimore, MD 21201
410.962.0595
When Brightview Senior Living built its first senior living rental community in 1999 in Bel Air, Marilynn Duker, Brightview's Chief Executive Officer, and her business partners had a clear objective: "We wanted to be a great place to work and a great place for seniors to live."
"Creating vibrant senior living communities that provide excellent service and care to residents and their families has been the mission of the organization since Brightview was founded," says Marilynn. "We haven't wavered in this commitment and have planned our growth in a thoughtful and deliberate way. As a result, we have built a great company for the long term; a company that makes our residents, families, associates, and investors proud."
Now with 35 award-winning communities, Brightview's 3,600 associates serve residents in Independent Living, Assisted Living, and Wellspring Village, a specialized neighborhood created for people living with dementia. Chef-prepared meals, a full calendar of events, and exceptional care provided in stunning, resort-style communities make Brightview nothing like the nursing homes of years past.
"We create beautiful communities, but our culture and service are lived out every day by our amazing associates," Marilynn adds. "We make a positive difference in the lives of others—residents, their families, and associates. We are tremendously fortunate to have this opportunity each day."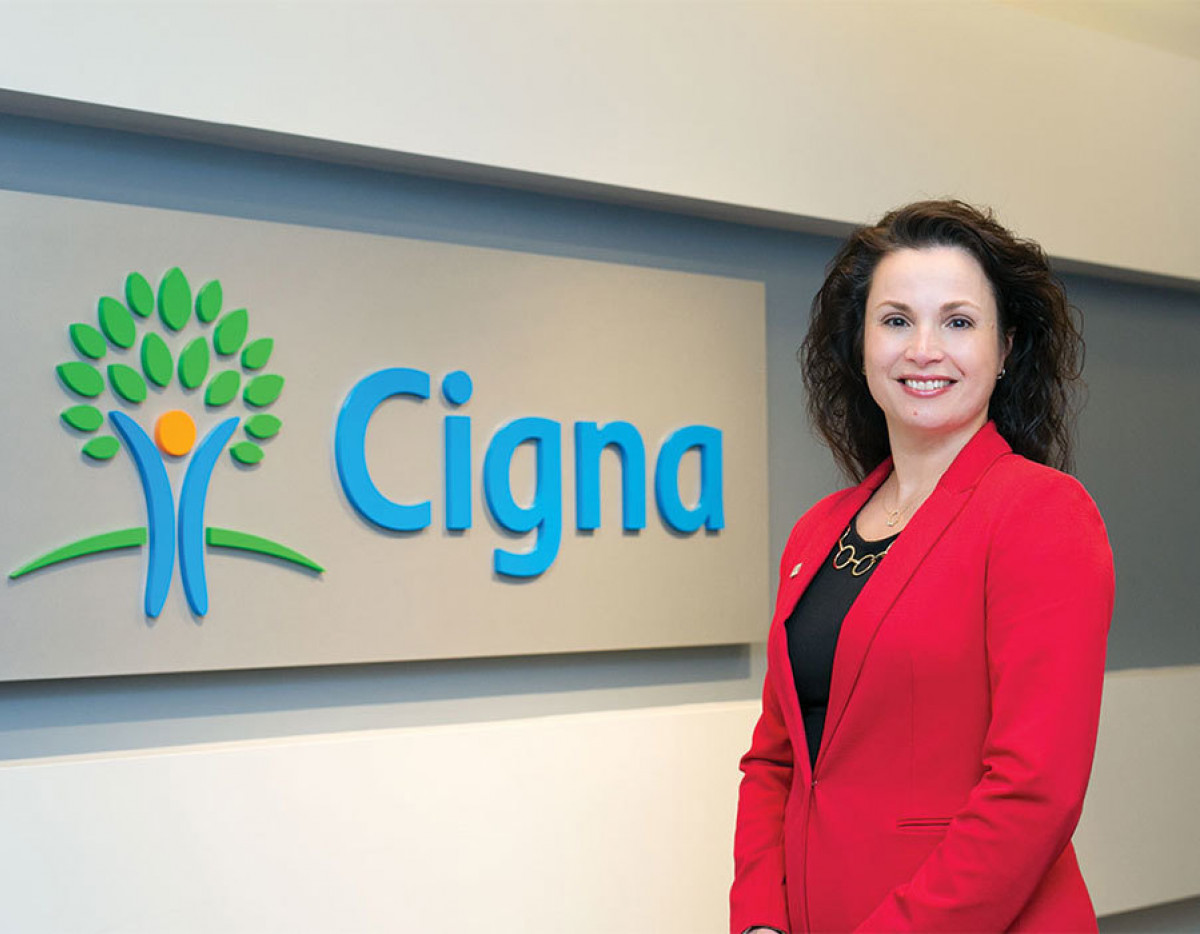 WOMEN WHO MOVE MARYLAND
Julia Huggins
President, Mid-Atlantic
Cigna
111 S. Calvert Street Suite 1600, Baltimore, MD 21202
410.864.1880
Julia Huggins is president of the Mid-Atlantic office of Cigna, a leader in the health-service industry tracing its roots back more than 200 years. In the past five years, Cigna has seen strong, double-digit growth in Maryland as it expands both its customer base and the products it offers. The company has become the preeminent health-related benefits partner for government clients and private-sector employers. At the same time, Cigna's Mid-Atlantic operations boast nearly 3,500 employees.
As regional president, Huggins focuses on skill building in both her own job and in the employees she works with and mentors. In her early career, she worked in claims processing before moving on to underwriting, project management, and financial and operational leadership. Each role helped her to broaden her skill sets and learn about every aspect of operations.
Under Huggins leadership, Cigna has been recognized by the Maryland Health Care Commission for its quality of care and service as the top-performing PPO plan in Maryland. The company also received a Million Hearts recognition from the Maryland Department of Health and Mental Hygiene.
Named one of The Baltimore Sun's "25 Women to Watch" in 2016, Huggins is also active in the community, sitting on the boards of the Maryland Business Group on Health, the American Diabetes Association's Maryland Chapter, the American Heart Association in Maryland, Penn-Mar Human Services, and the Montgomery County Business Roundtable for Education. She promotes health and well-being in the region, working with the American Diabetes Association's Greater Maryland Tour de Cure, the American Heart Association's CPR in Schools Training, the Baltimore County Department of Aging's Fun Run, and many more causes.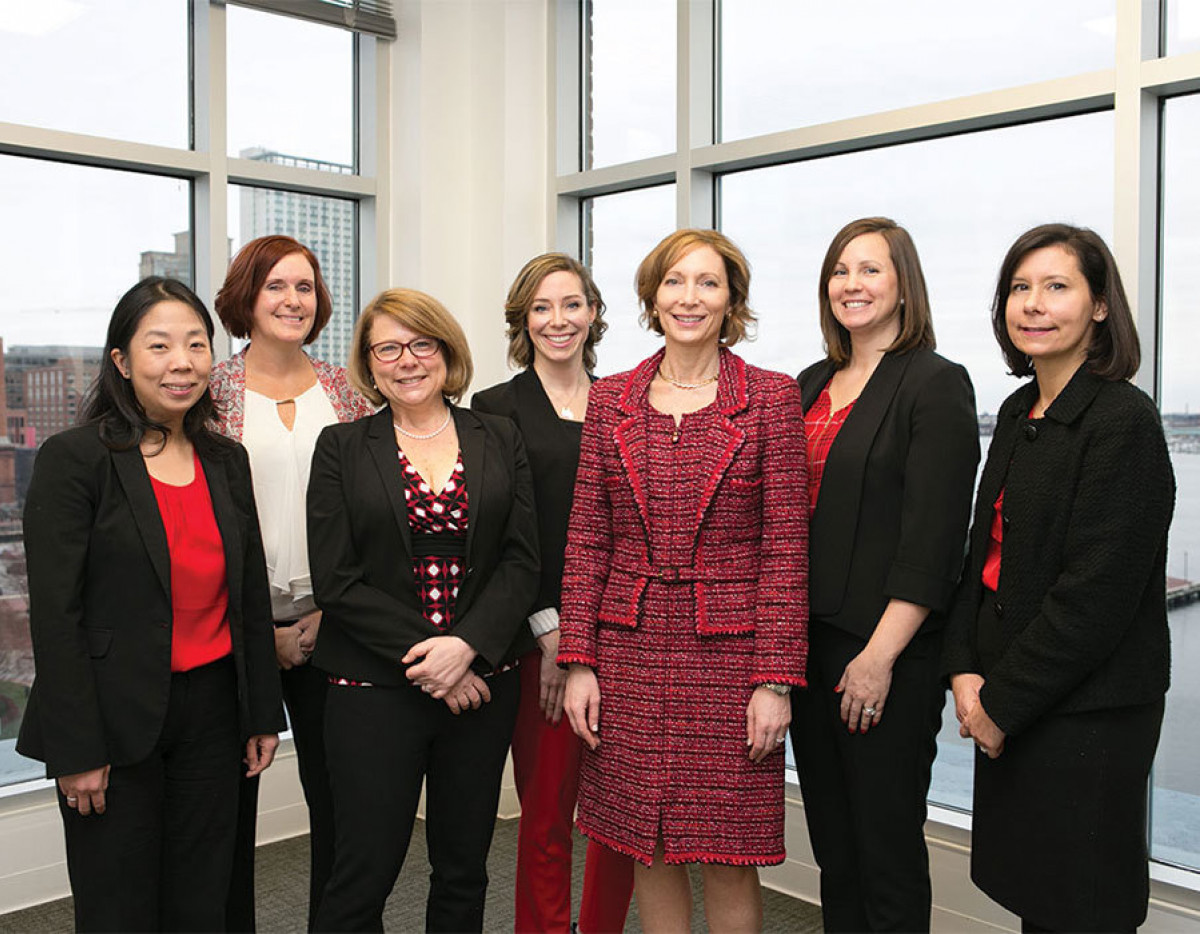 Left to right: Jennifer Lok, Beth Zentz, Denise Dodson, Christine Reed, Laura Freitag, Mary Kate Federico, Jennifer Vitelkites
WOMEN WHO MOVE MARYLAND
Jennifer Lok
Executive Director, Assurance
Beth Zentz
Executive Director, Assurance
Denise Dodson
Partner, Tax
Christine Reed
Partner, Risk Advisory
Laura Freitag
Partner, Assurance
Mary Kate Federico
Partner, Assurance
Jennifer Vitelkites
Executive Director, Assurance
Ernst & Young LLP
621 E. Pratt St., Baltimore, MD 21202
410.539.7940
Jennifer, Beth, Denise, Christine, Laura, Mary Kate, and Jennifer have one thing in common: They share a goal of helping to elevate more women into leadership positions both inside and outside of Ernst & Young (EY).
Research shows that companies with more women at the top outperform others, and EY is focused on accelerating the achievement of gender parity. By committing to diversity in all aspects of its workforce, EY is demonstrating that people are the company's top priority.
At EY's Baltimore office, we are proud of the women in leadership who are making a difference at work and in the local community each day. Their dedication to bringing forth new ideas and strengthening new and existing relationships enables us to better serve our clients in the greater Baltimore area. From their work on health care, to cybersecurity, to education, and everything in between, they are furthering our firm's commitment to "be more."
EY is a global leader in assurance, tax, transaction, and advisory services. The insights and high-quality services it delivers help build trust and confidence in the capital markets and in economies the world over. The firm develops outstanding leaders who work as a team to deliver on our promises to all of our stakeholders. In so doing, EY plays a critical role in building a better working world for our people, for our clients, and for our communities.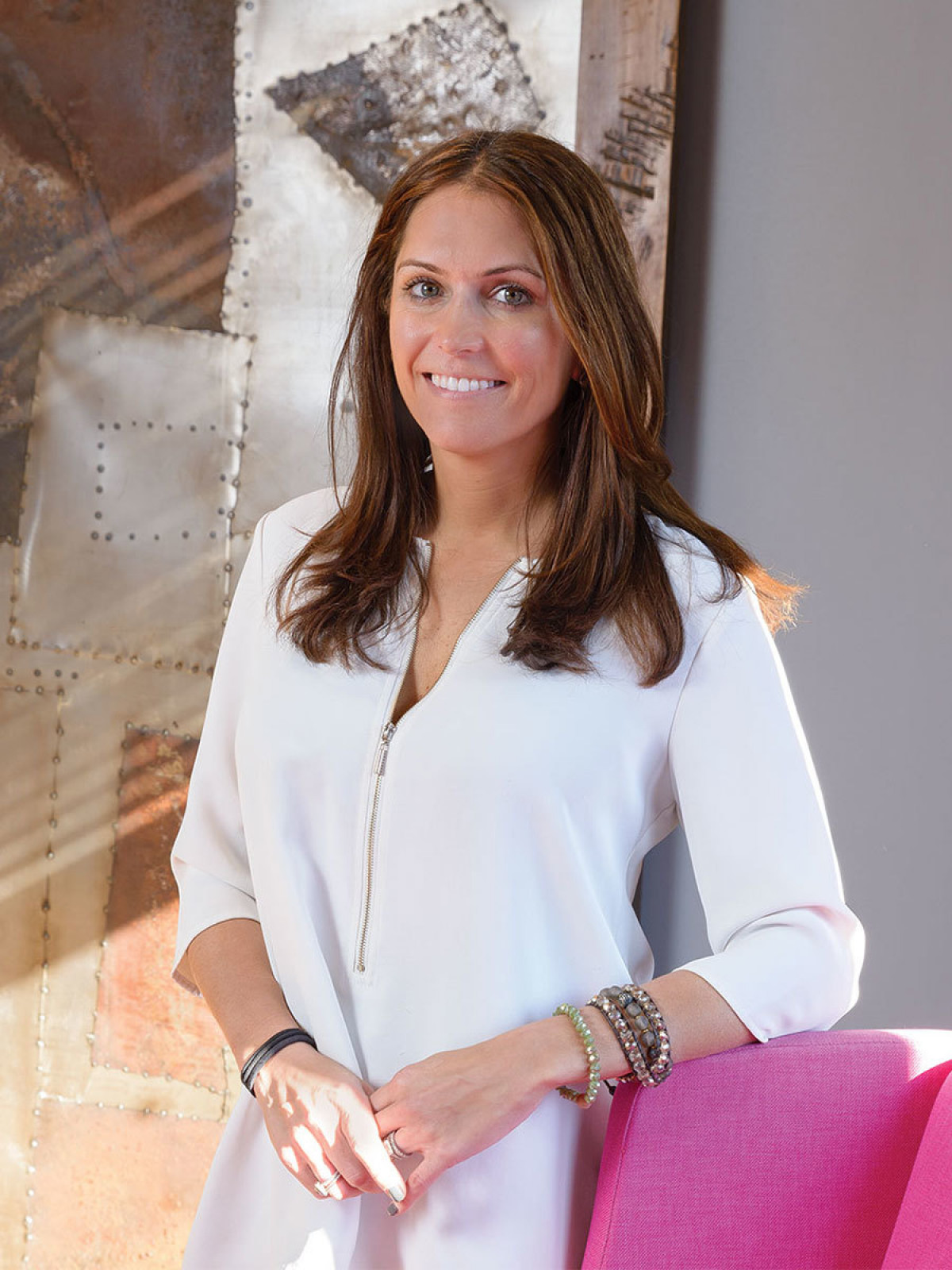 WOMEN WHO MOVE MARYLAND
Julia
 Arfaa
Attorney
Arfaa Law Group

2002 Clipper Park Road Suite 300, Baltimore, MD 21211
410.889.1850
Julia Arfaa always dreamed of being a trial lawyer—and knew she'd be good at it. After working in medical-malpractice defense, Arfaa jumped to the plaintiff side for 14 years and, in 2013, opened her own firm.
She now operates the Arfaa Law Group, competing with established Baltimore firms and securing millions in awards each year for her clients. She is particularly committed to children with brain injuries and has won the second-and third-largest jury verdicts in the state in such cases, as well as the largest verdict in Baltimore County in a malpractice case.
She's been recognized as a Top Litigator and a Top 100 Trial Lawyer by the American College of Trial Lawyers, and has been named one of the top 50 female Maryland lawyers in Baltimore's Super Lawyers.

WOMEN WHO MOVE MARYLAND
Lynn R. Chincheck, DDS
Doctor of Dental Surgery
9475 Deereco Road Suite 402, Timonium, MD 21093
410.561.8845
With a practice motto of, "The health you deserve, the beauty you crave," Lynn Chincheck believes most people appreciate a beautiful smile, and she makes sure her patients leave happy, with their expectations met or exceeded. Dr. Chincheck builds health-centered relationships, and her strong commitment to continuing education ensures her patients' health goals are realized in the optimal way.
A magna cum laude graduate of West Virginia University, Dr. Chincheck went on to receive her DDS at that institution's school of dentistry.
She established her own private practice in 1990 and employs six team members with a combined total of more than 120 years of dental experience. She has also served as co-chair of the American Heart Association's Circle of Red. "Lasting beauty," she believes, "requires care and skill—without sacrificing comfort or good health."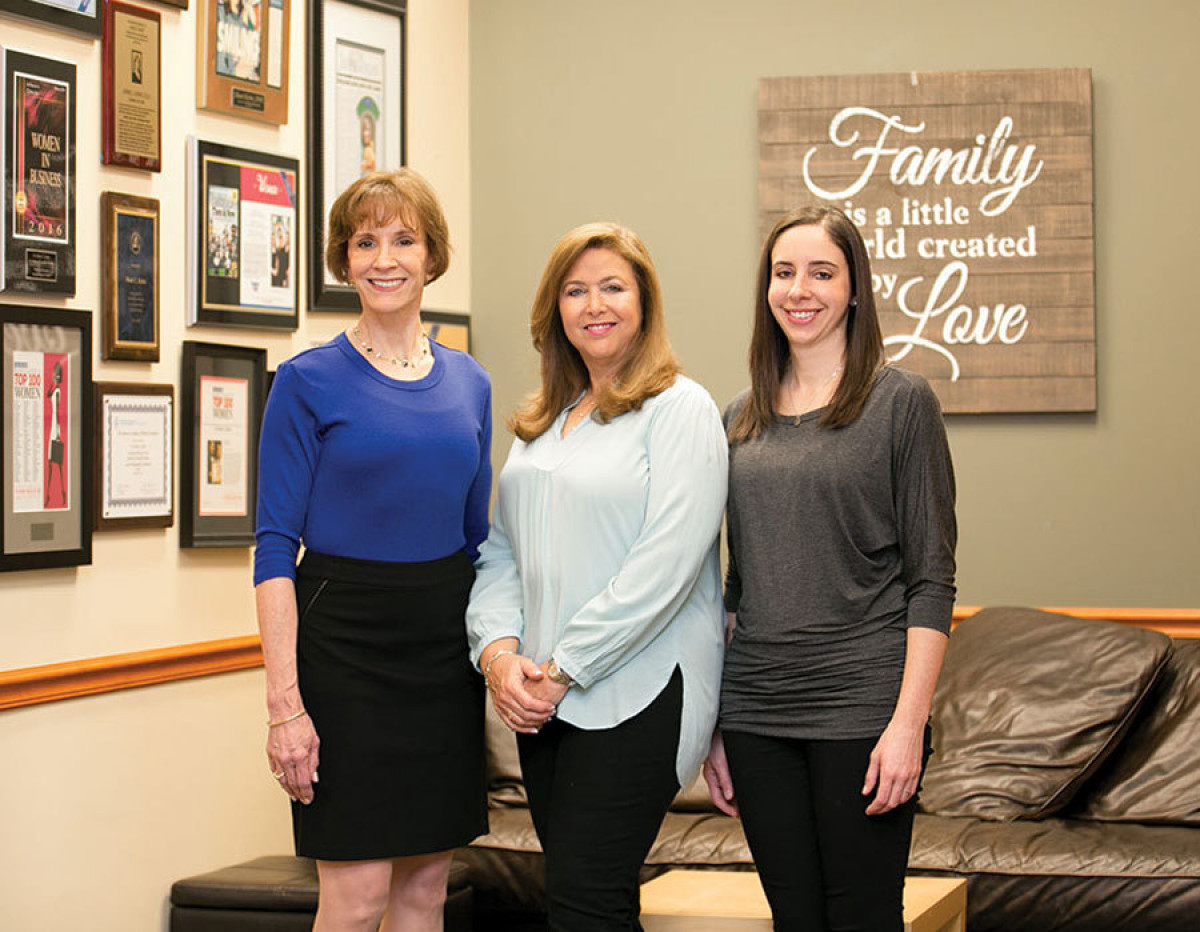 Left to right: Dr. Spannhake, Dr. Kohn, Dr. Evancho
WOMEN WHO MOVE MARYLAND
Elizabeth Spannhake, DDS, MS, MPH
Hunt Valley Orthodontics
Shari Kohn, DDS, PA
Dentistry for Kids
Melena Evancho, DDS
Dentistry for Kids
Dentistry for Kids & Hunt Valley Orthodontics
100 Sparks Valley Road Suite C, Hunt Valley, MD 21152

Sharing offices in Hunt Valley, Drs. Elizabeth Spannhake, Shari Kohn, and Melena Evancho—all named Top Dentists in Baltimore's peer survey—treat children's oral health and wellness, from the first checkup to adulthood.
A graduate of University of Maryland Dental School and its pediatric dental residency program, Dr. Kohn, who is board-certified, serves on the University of Maryland Alumni Association board of trustees and on the board of the foundation of the American Academy of Pediatric Dentistry-Healthy Smiles, Healthy Children, which provides dental care nationally for disadvantaged children. She is a clinical instructor at the University of Maryland Dental School for the department of pediatric dentistry and a consultant to the Maryland State Board of Dental Examiners, serving as an expert witness in pediatric dentistry and an evaluator in the licensing for pediatric dentists.
A Maryland Dental School magna cum laude grad, Dr. Evancho completed her residency in pediatric dentistry at the Children's National Medical Center in Washington, D.C., where she was a faculty member. Also board-certified, she is a fellow of the American Academy of Pediatric Dentistry, a member of the American Academy of Pediatric Dentistry, and of The College of Diplomats of the American Board of Pediatric Dentistry.
Dr. Spannhake received her DDS from Louisiana State University and continued her studies at the University of Maryland. Board-certified and an associate professor at Temple University School of Dentistry, her expertise brings the most up-to-date diagnostic and treatment techniques to the practice, which offers Invisalign and Invisalign Teen, as well as Contemporary Brace Systems for all ages.

WOMEN WHO MOVE MARYLAND
Beth Comeau, MD
Physician
Beth Comeau, MD
11054 Dorsch Farm Road, Ellicott City, MD 21042
410.733.1877
Aesthetic physician Dr. Beth Comeau, a graduate of and then faculty at the University of Maryland School of Medicine, combines the empathy of a pediatrician and the grace of a ballet dancer (both previous professions) to deliver personalized treatments that reveal her patients' inner beauty. Non-surgical procedures offered in her practice include Botox®, fillers, laser skin rejuvenation, laser hair removal, CoolSculpting® and more. With the rapid changes in the industry, Dr. Comeau makes continuing education a top priority. She is a member of the American Academy of Cosmetic Surgery and the American Society For Laser Medicine and Surgery.
Dr. Comeau is also committed to giving back to the community. She supports the Zaching Against Cancer Foundation, Epilepsy Foundation, and University of Maryland Children's Hospital, as well as St. Jude Children's Research Hospital.
Her pursuit of high quality care not only involves the aesthetic services she administers, but also the establishment of a doctor-patient relationship that encompasses integrity, compassion, and continuity.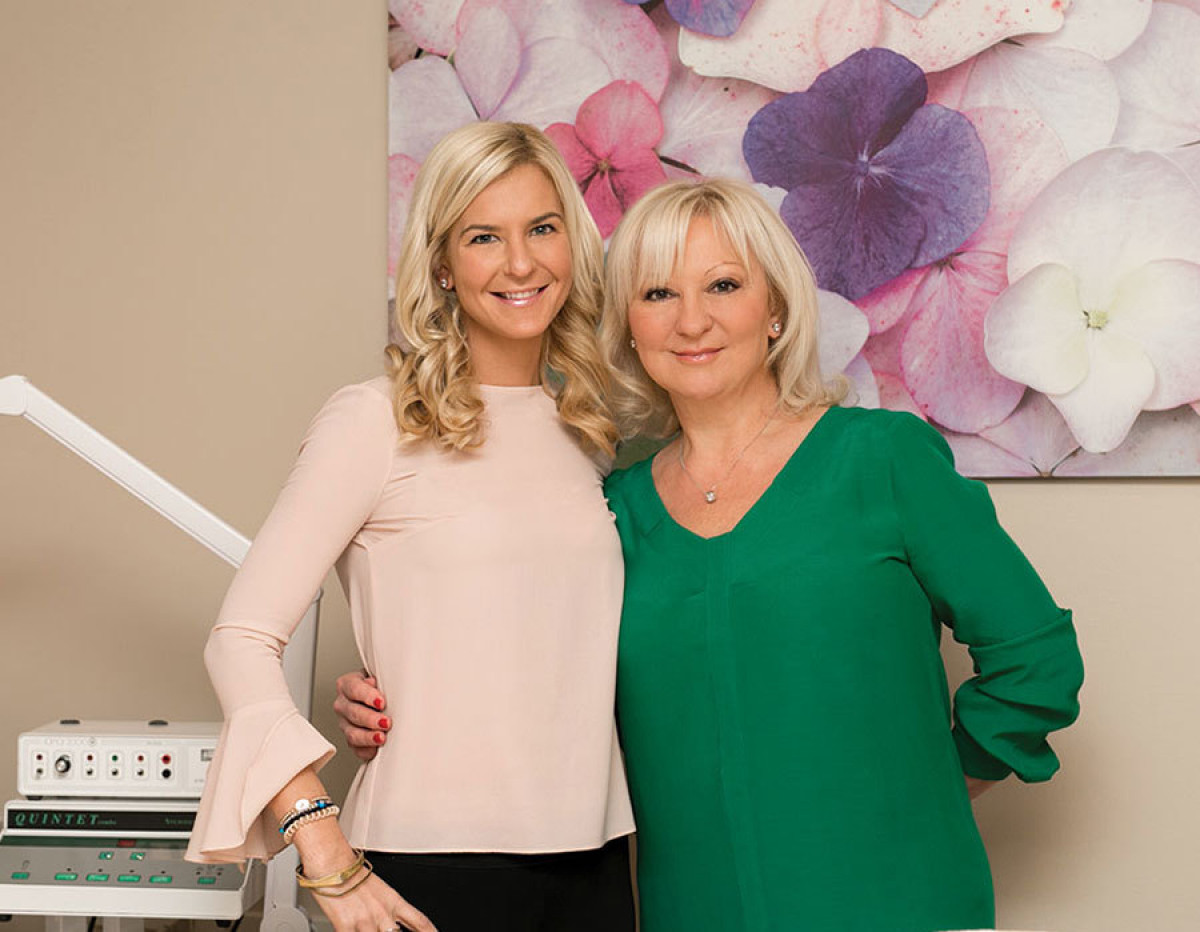 Left to right: Natalie Helms, Diana Gavrila
WOMEN WHO MOVE MARYLAND
Natalie Helms
Co-owner
Diana Gavrila
Co-owner
Diana's European Skin Care
9515 Deereco Road Suite 208, Timonium, MD, 21093
410.252.5556
Watching her mother Diana work, Natalie Helms knew she would one day join the family business. This mother-daughter duo shares a passion for helping clients to achieve the complexions they desire.
Diana Gavrila opened her salon in 1992 in Mt. Washington, relocating in 2002 to Timonium and expanding her medical-spa services. Growing through referrals, Baltimore's "hidden gem" of skin care offers the latest procedures and custom Swiss-formulated products crafted using Diana's decades of experience and Natalie's sharp eye for the latest trends.
The salon works closely with Diana's son, Dr. George Gavrila, whose ProMD Health offices are next-door, giving clients the ability to have both esthetician and physician-guided anti-aging regimens.
Diana's has served greater Baltimore for 25 years, and there is no place they'd rather be!

WOMEN WHO MOVE MARYLAND
Julie Halpin
Realtor and Interior Designer
Keller Williams Real Estate, Julie Halpin Interior Design, Baltimore, MD
410.877.4005
Julie Halpin epitomizes integrity, hard work, sophistication, and style, qualities that have led to success in her 17 years as a realtor and professional luxury-property stager.
Though raised in the middle of a cornfield in Richland, Pennsylvania, Julie always dreamed of broader horizons, and she got them after traveling the world with her husband, Matthew, now a retired 20-year U.S. Army veteran.
Besides having a keen eye for space usage and interior beauty, she's also well-versed in both sides of real estate transactions, whether commercial, investment, or residential properties. Her staging skills have been called on in over 2,000 successful transactions, enabling sellers to receive offers 50 percent sooner than if left to their own devices.
Ever busy, the mother of two travels from Florida to the Mid-Atlantic recreating homes and the lives of those within. Knock at the Door, an upcoming project, focuses on saving families impacted by the loom of foreclosure. Julie desires to add "Change Agent" to her resume by securing the funds to save the homes of these deserving families and assisting them with financial counseling services. Jules Lounge is the furniture brand Julie has created to aid in raising money for this cause.
But Julie's greatest accomplishments are her two beautiful daughters: The eldest, Gracie Ann, an 18-year-old freshman at Penn State (who hopes to become an interior designer) and 13-year-old Cara Leigh, an ambitious and outspoken brown-eyed beauty.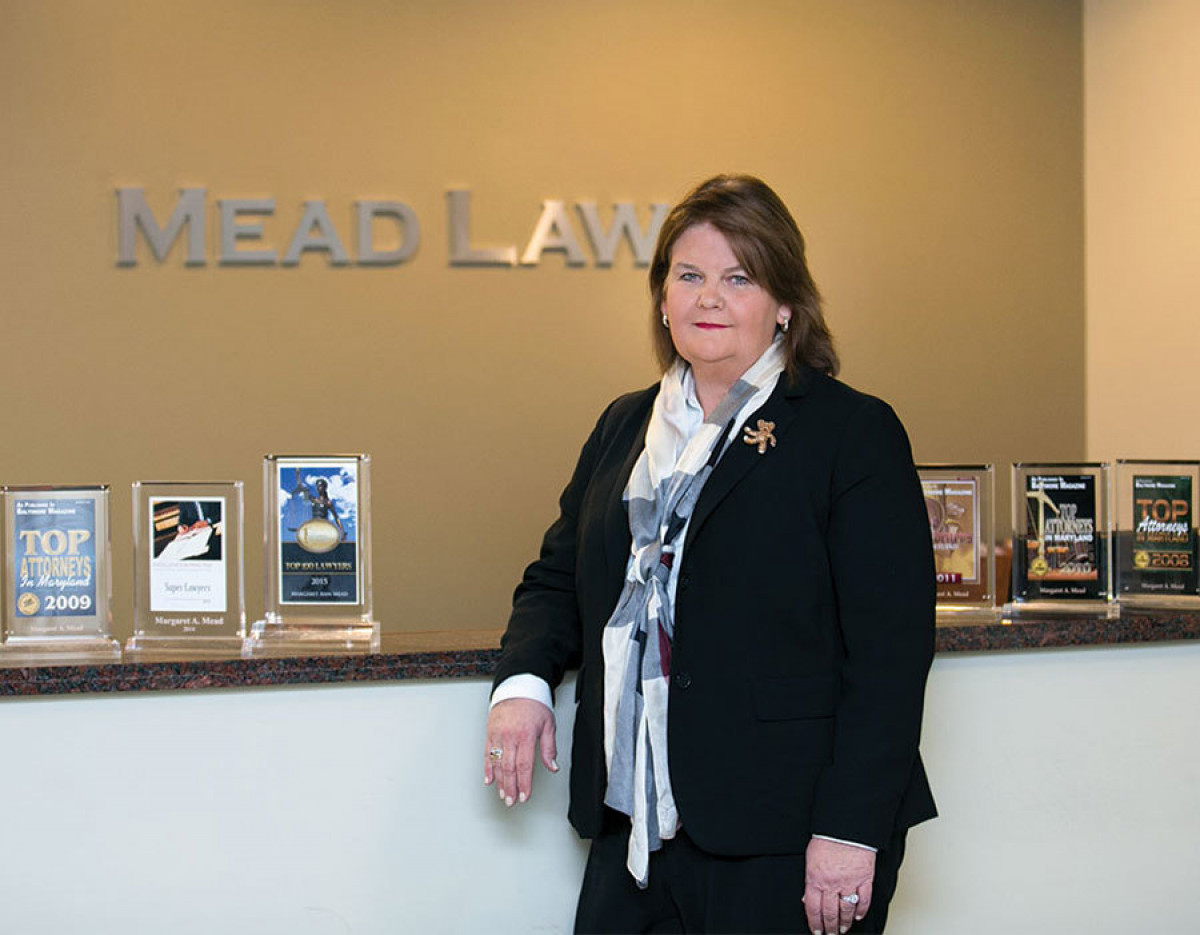 WOMEN WHO MOVE MARYLAND
Margaret Mead
Managing Partner/Litigation Attorney
Mead Law, P.A.
One N. Charles Street Suite 2470, Baltimore, MD 21202
410.727.6400
After receiving her master's degree in criminal justice in 1980, Margaret A. Mead worked in child abuse prevention. Desiring to do more, Mead graduated from the University of Baltimore School of Law in December 1989. After serving two judicial clerkships, she entered private practice in criminal defense litigation.
Mead is known for her devoted, comprehensive legal representation, and is recognized as one of America's Top 100 Attorneys. Mead is a Baltimore Super Lawyer, Trustee on the Board for the OPD, and serves on the MSBLE Character Committee. Mead received the Margaret Brent-Juanita Mitchell Award as a lawyer who has surmounted barriers to help pave the way for other women in the law. In 2016, Mead and her son, Brandon Mead forged the law firm of Mead Law, P.A.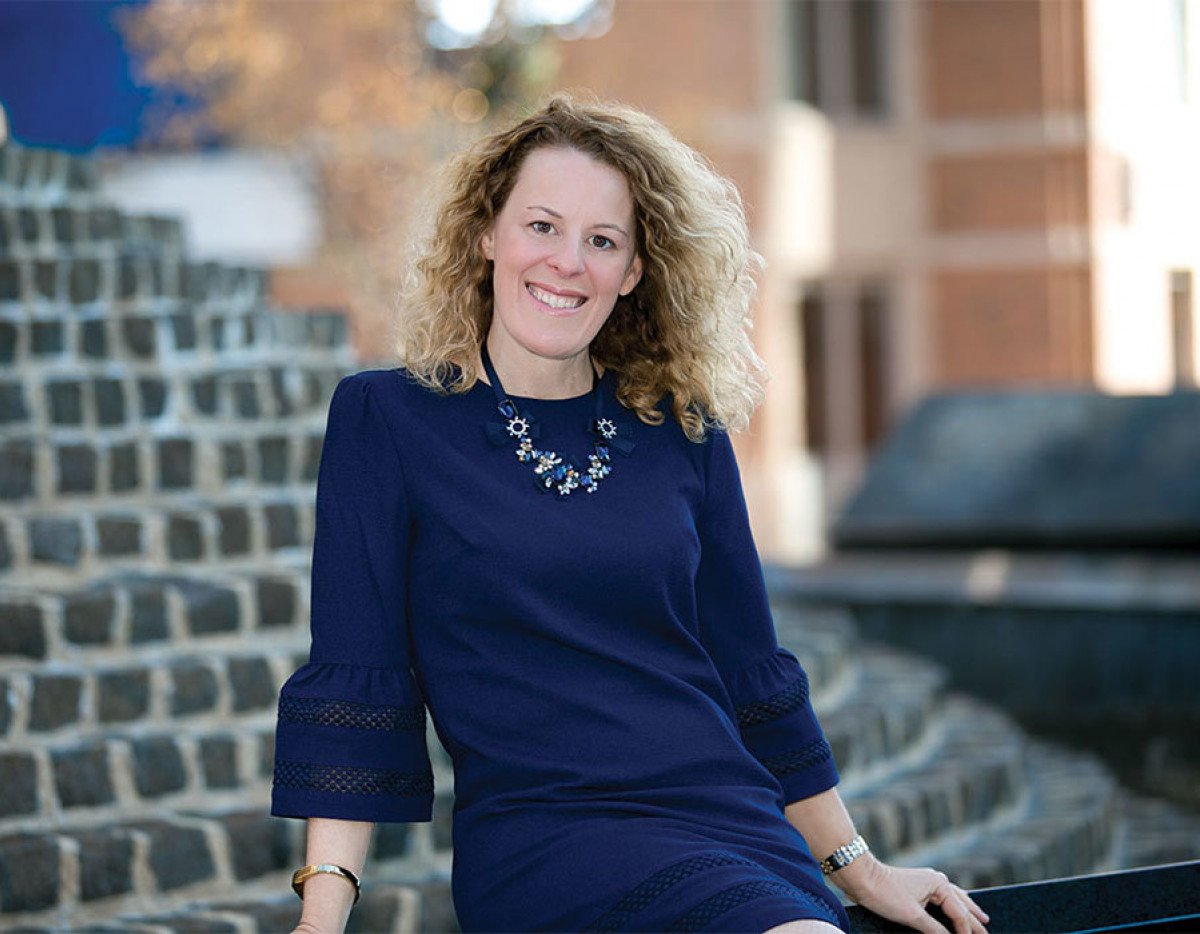 WOMEN WHO MOVE MARYLAND
Lori Villegas
Senior Vice President, Wealth Advisor
Morgan Stanley
650 S. Exeter Street Suite 1100, Baltimore, MD 21202
410.736.5570
As a Morgan Stanley Wealth Advisor, Lori Villegas designs custom strategies with her clients to manage, preserve, and transition their wealth. Villegas, with more than 20 years of experience, focuses on first-generational wealth, working with business owners and executives to help them preserve their wealth and create individual plans that address their distinct needs. "Being a woman in a male-dominated field gives me a distinct perspective," says Villegas, who is also the current Chair of Women United for United Way of Central Maryland.
Villegas gives back to the community by mentoring other businesswomen, participating in Giving Circles, and working with various charitable organizations. "I hope that my small impact will help Baltimore be a better city," she says.

WOMEN WHO MOVE MARYLAND
Jeannette Westcott
Realtor
Keller Williams Realty Centre
6250 Old Dobbin Lane #140, Columbia, MD 21045
410.336.6585
For more than 20 years, Jeannette Westcott has been helping her clients buy and sell homes throughout Maryland, ensuring that their experiences are nothing short of exceptional. As a licensed realtor and Certified luxury home specialist, Jeannette's clients range from first-time buyers of condos or townhomes to the buyers of an Annapolis waterfront home, or sellers of a 50-acre Carroll County farm. She makes it her priority to understand her clients' goals, their lifestyles, and their dreams, and is with them every step of the way.
"I understand the emotions associated with buying and selling," Jeannette says. "My father's 33-year military career had my family moving frequently and traveling the world, experiencing different cultures, until I decided to make Maryland my home. It was during those years of travel that I learned a very poignant truth: Home truly is where the heart is. That's why I am so passionate about all of my clients having the absolute best buying and selling experience."
With a belief that excellent communication, building lasting relationships, professionalism, trust, and authenticity are key in providing the personal experience her clients expect, Jeannette not only communicates passion and integrity to her clients, but goes above and beyond what is typical for each transaction. "I am blessed to love what I do, and I am excited to share that with everyone I am fortunate to work with."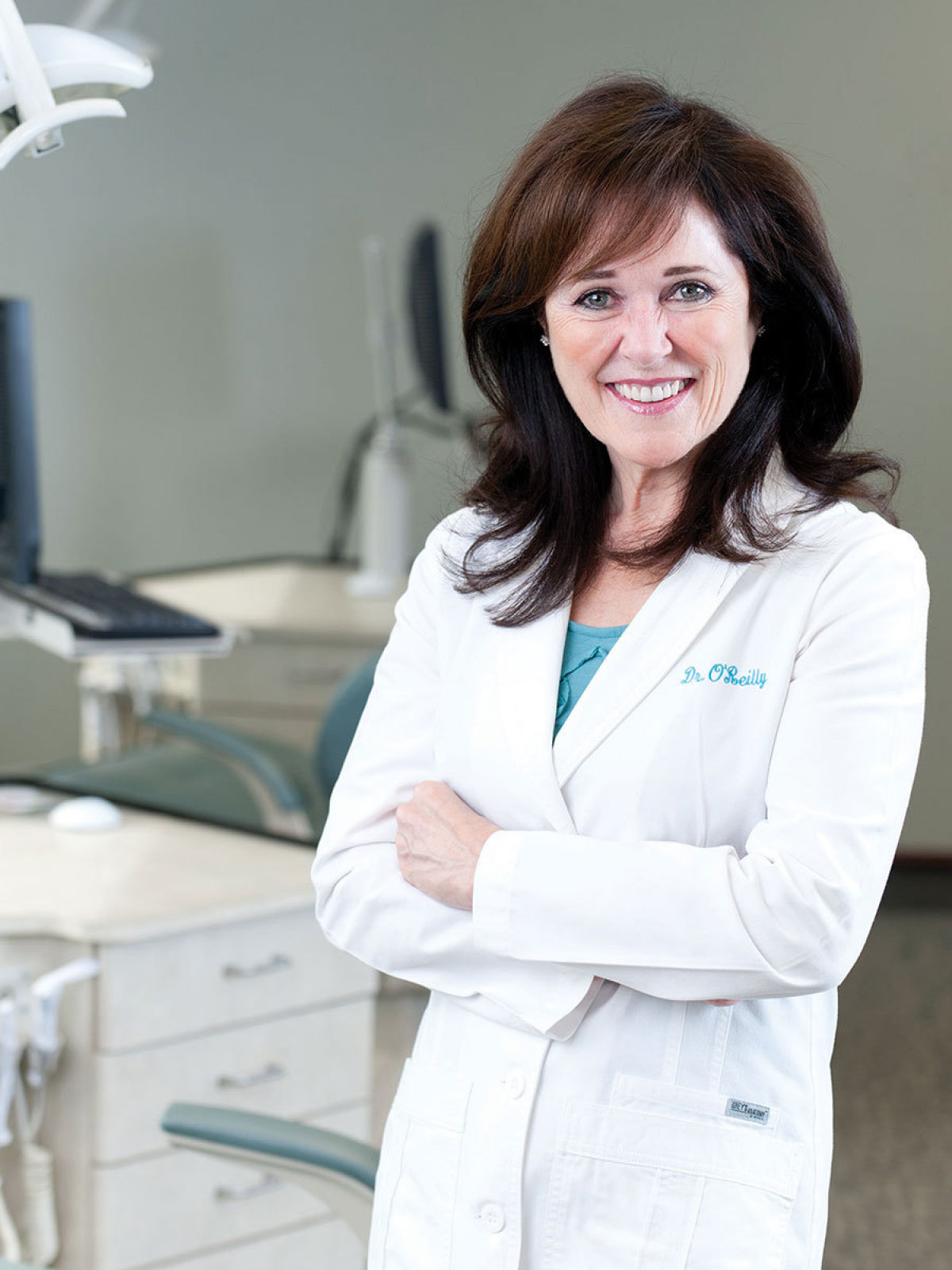 WOMEN WHO MOVE MARYLAND
Mairead M. O'Reilly, DDS, MS
Doctor of Dental Surgery
Mairead M. O'Reilly and Associates Orthodontics & Dentofacial Orthopaedics
888 Bestgate Road Suite 301, Annapolis, MD 21401
410.266.0025
Stepping into Dr. Mairead O'Reilly's orthodontic office brings a reassuring sense of peace and relaxation. Her staff's warm welcome, her soft Irish lilt, and her caring attitude keep patients not just coming back, but also becoming part of a real community where so many new clients are patient referrals.
Dr. O'Reilly received her dental training from Trinity College, University of Dublin, in Ireland, her orthodontic certification from the Eastman Dental Center in Rochester, New York, and her M.S. from the University of Rochester's Graduate School of Medicine and Dentistry. She is a Diplomate of the American Board of Orthodontics and a fellow of the World Federation of Orthodontists.
Dr. O'Reilly's goal is to obtain the best possible outcome. Beyond this caring, knowledgeable attention, however, is the promise of a smile that far exceeds both aesthetic and functionality expectations.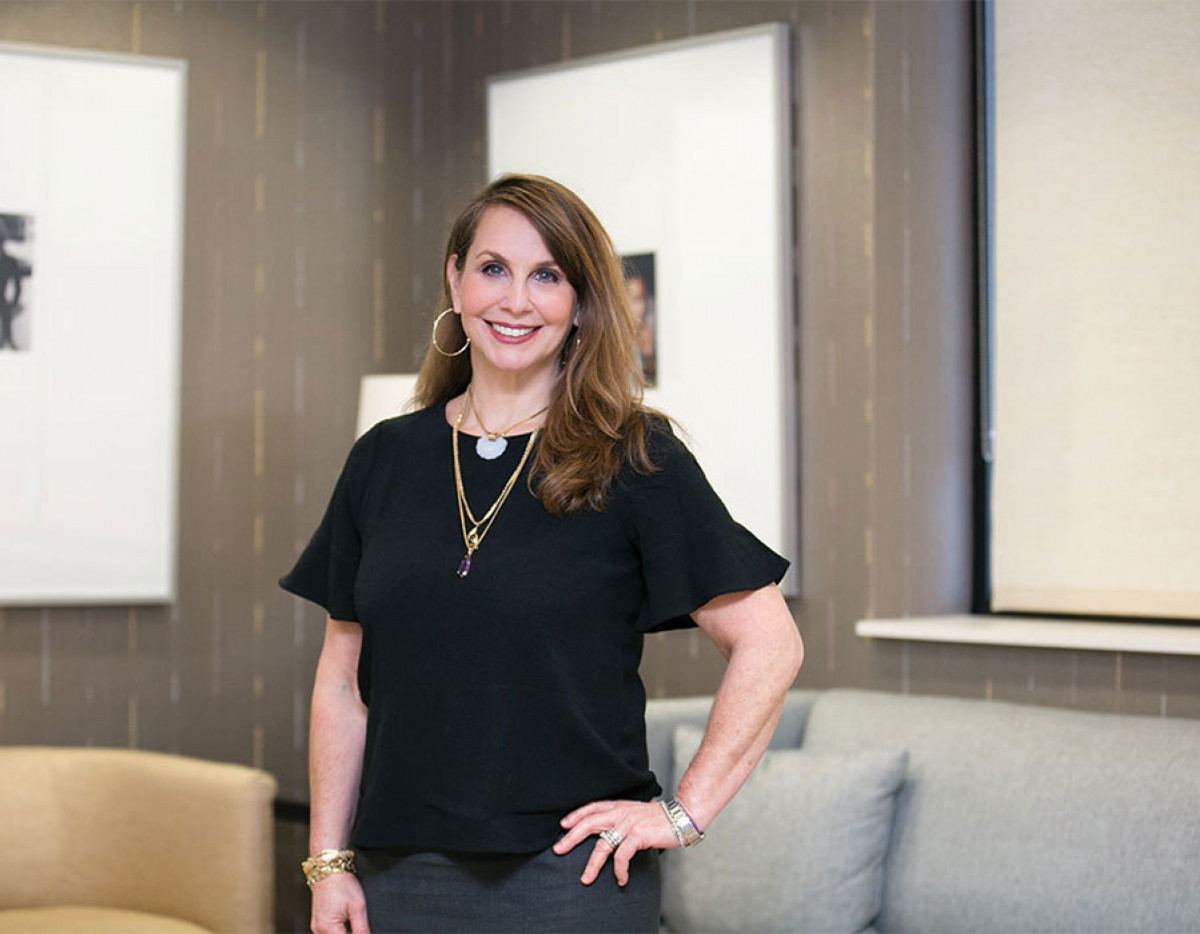 WOMEN WHO MOVE MARYLAND
Michele A. Shermak, MD, FACS
Plastic Surgeon
Michele Shermak Plastic Surgery
1304 Bellona Avenue, Lutherville, MD 21093
410.616.3000
A skilled plastic surgeon recognized in Baltimore's annual Top Doc peer survey, Dr. Shermak focuses on helping patients achieve their best visions of themselves. Expert at body contouring, mommy makeovers, facial rejuvenation, and breast procedures, she listens to patients carefully to assure their goals are met. A national leader in her field, she has written a surgical text on breast and body contouring. Currently serving as a visiting professor chosen by the Plastic Surgery Foundation to train residents across the country, her academic work focuses on patient safety and individualizing care.
After earning her medical degree from Johns Hopkins School of Medicine and serving on the Hopkins faculty for 11 years, she transitioned into private practice in Lutherville. Her motto: "This is your life: Make it beautiful!"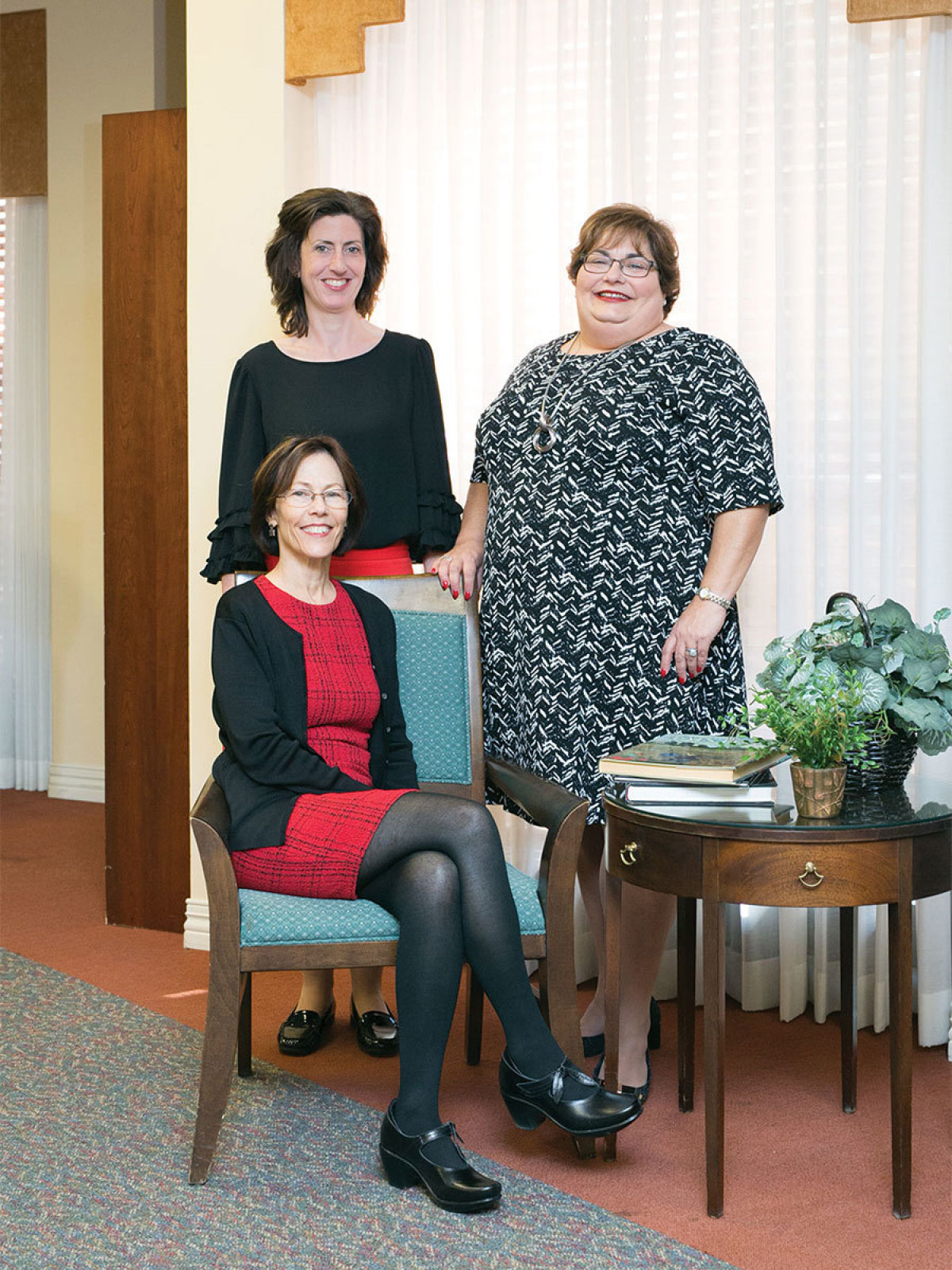 Left to right: Carmel Roques (seated), Aileen Tinney, Maria Darby
WOMEN WHO MOVE MARYLAND
Carmel Roques
President & CEO
Maria Darby
Vice President of Communications & External Relations
Aileen Tinney
Executive Director, Keswick Community Health
Keswick
700 W. 40th Street, Baltimore, MD 21211
410.235.8860
Our top-notch team provides individualized, high-quality care to restore, renew, and revitalize older adults along their health journey. In addition to providing campus-based supports—a nursing home with private rooms, a sub-acute rehabilitation program, and adult day services—Keswick now offers an extensive array of programs to older adults living in the community. These collective services help seniors manage their health in a way that enables them to continue to do the things they love.
Keswick is currently designing its new Wise & Well Center for Healthy Living to house all community-based initiatives and programming. The new center, which will be located in the existing Bauernschmidt Building on the northern Baltimore campus, will serve as a gathering place and hub for services—a place for people to pursue their health goals as they age. Residents and community members will find more opportunities for engagement through learning and physical activity. Community health programming in the Wise & Well building will focus on socialization with friends, education, arts, and activities such as line dancing, Zumba, and yoga. Chronic disease and care-management information will also be available.
Keswick is more than a community health resource—we're your health partner as you age!

WOMEN WHO MOVE MARYLAND
Janet P. Woodyard, MD, FACS
Plastic Surgeon
Janet Woodyard Plastic Surgery
20 Crossroads Drive, Suite 12 Owings Mills, MD 21117
410.363.9000
As one of the region's most experienced plastic surgeons, Dr. Woodyard feels fortunate to have been able to help thousands of patients achieve their goals. For 20 years, she has masterfully utilized a comprehensive repertoire of both surgical and non-surgical techniques to consistently provide beautiful results. A native of Baltimore and voted Baltimore magazine "Top Doc" by her peers, Dr. Woodyard is a highly skilled surgeon who also has extensive experience with facial injectables. In addition, her experienced aesthetician performs a variety of peels and offers comprehensive skin-care products to enhance the natural beauty of the skin. Dr. Woodyard trained at Washington University in St. Louis and is board-certified by the American Board of Plastic Surgery and is a member of the American Society of Plastic Surgeons. "My goal is to provide natural results with the safest, most advanced techniques available and to always do so with care and compassion," says Dr. Woodyard, whose practice focuses on cosmetic surgery of the face and body.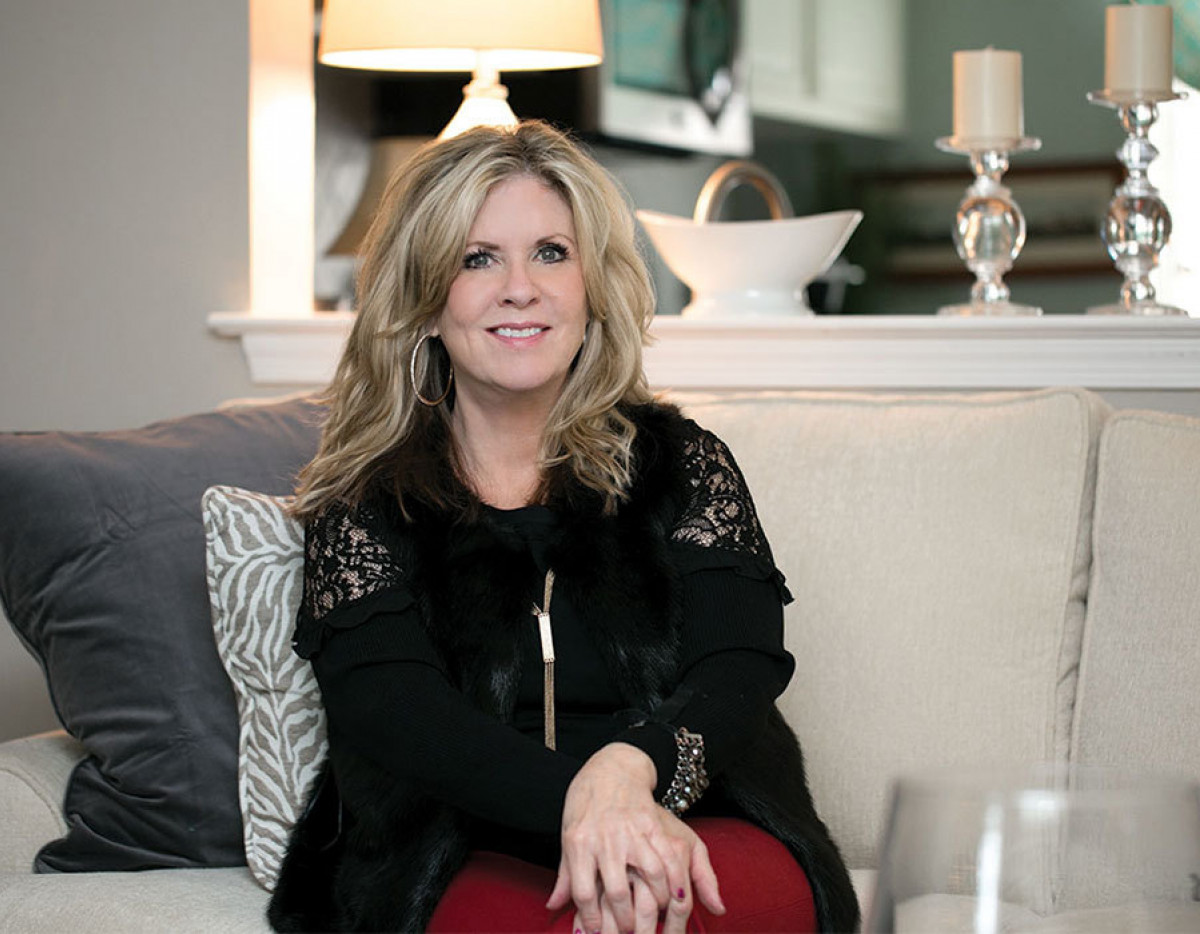 WOMEN WHO MOVE MARYLAND
Cheryl
 Millhausen
CEO/Founder

Exceptional Views

410.236.5051
When neighbors, wowed by Cheryl Millhausen's taste, began asking her for decorating help, she decided to turn it into a business. Exceptional Views, which she started in 2004 while raising her children, is now the "go to" outfit for window coverings, custom drapery, and hardware. The firm is exclusive to the Hunter Douglas brand, including Alustra, and is recognized by the manufacturer for superior customer satisfaction and product knowledge. That may explain why Millhausen increased sales by 60 percent in 2017. Look for Exceptional Views high ratings on Houzz!

WOMEN WHO MOVE MARYLAND
Maya Brooks, DMD
Doctor of Dental Medicine
Greater Baltimore Prosthodontics
110 West Road Suite 200, Towson, MD 21204
410.296.0136
Dr. Maya Brooks and her colleagues offer a full array of cosmetic and restorative procedures, including complex cases, from dental implants to full-mouth reconstruction.
After graduating the University of Pittsburgh School of Dental Medicine, she completed her residency in Brooklyn and worked in private practice before joining Greater Baltimore Prosthodontics in 2003.
She stays on top of the latest advances, using progressive materials and techniques, and works with patients so they are well-informed about the choices available to them.

WOMEN WHO MOVE MARYLAND
Tracy Lucido
Vice President, Realtor®
Bob Lucido Team of Keller Williams Integrity
9251 Baltimore National Pike, Ellicott City, MD 21042
410.465.6900
For Tracy Lucido, real estate is about more than just a career; it's about family and building relationships. You may recognize the Lucido name from the successful team Tracy runs together with her husband and business partner, Bob.
Tracy, a math major who worked on the Patriot missile after graduating from Boston College, got into real estate in 1987 when she married Bob. A few years later, they founded a new home sales and marketing company, though Tracy's main focus was raising their three children, Lauren, Robert, and Jonathan. Eighteen years later, with the kids in their teens, Bob and Tracy founded Bob Lucido Team. It was 2008, and they had just closed their new home company due to the decline of the market.
Initially Bob Lucido Team was just a handful of agents in two small rooms at their broker's office. Today, after nine years and plenty of hard work and sacrifices, Bob and Tracy have grown their team exponentially to more than 100 agents, 30 staff members, and 4 offices.
"In real estate you're dealing with people and the greatest assets they own," says Tracy. "It's a great responsibility and honor to be entrusted with that, so we don't look at it as just selling homes; we're changing lives. We strive to deliver the ultimate experience to everyone we work with—both clients who hire us and agents who join us."
They're keeping things in the family, too. Their in-house marketing department is run by daughter Lauren Lucido, and their expansion division is run by Jack Mazza, Tracy's brother.
Tracy is involved with an array of charities and foundations, and has co-chaired various events with Bob. "Being a local family business, it's important for us to give where we live."

WOMEN WHO MOVE MARYLAND
Ashley Ingraham
Owner
Home Perspective
150 Hopkins Road, Baltimore, MD 21212
443.386.3438
Ashley Ingraham loves to organize and, nearly two years ago, took what was once a favor for friends and turned it into a business, Home Perspective, offering organization and moving assistance.
With her help, clients can sort and get rid of unneeded items, which are donated, consigned, auctioned, recycled, or upcycled. She also helps with moving, whether it be to your dream home, downsizing to a smaller home, or clearing an estate, by helping with packing, directing the day of the move, and unpacking.

WOMEN WHO MOVE MARYLAND
Kimberly Orange
President
KLR Real Estate Inc.
107 Old Court Road, Pikesville, MD 21208
410.753.3673
Since Kimberly Orange founded her boutique real-estate company in 1998, her client list and revenue have steadily increased. The agency provides sales and leasing, community-association and multifamily-property management, and new-home construction throughout the metro area. Its specialty—and Orange's passion—is residential sales. She takes pride in helping her clients find that special property. Orange is also the founder of the Brittany K. Booker Foundation, providing scholarships and summer camp opportunities for girls.

WOMEN WHO MOVE MARYLAND
Annie Milli
Executive Director
Live Baltimore
343 N. Charles Street Suite 1F, Baltimore, MD 21201
410.637.3750
As executive director of the award-winning nonprofit Live Baltimore, Annie Milli's life revolves around the city. In 2017, the organization's 20th year in operation, it reached more than 223,000 people, helping to generate more than $240 million in home sales. Trained in advertising and graphic design, Milli received an M.S. in communication management from Towson University and admits to a "genuine interest in data." She is also on the boards of the Arcadia Improvement Association and the East Baltimore Community School.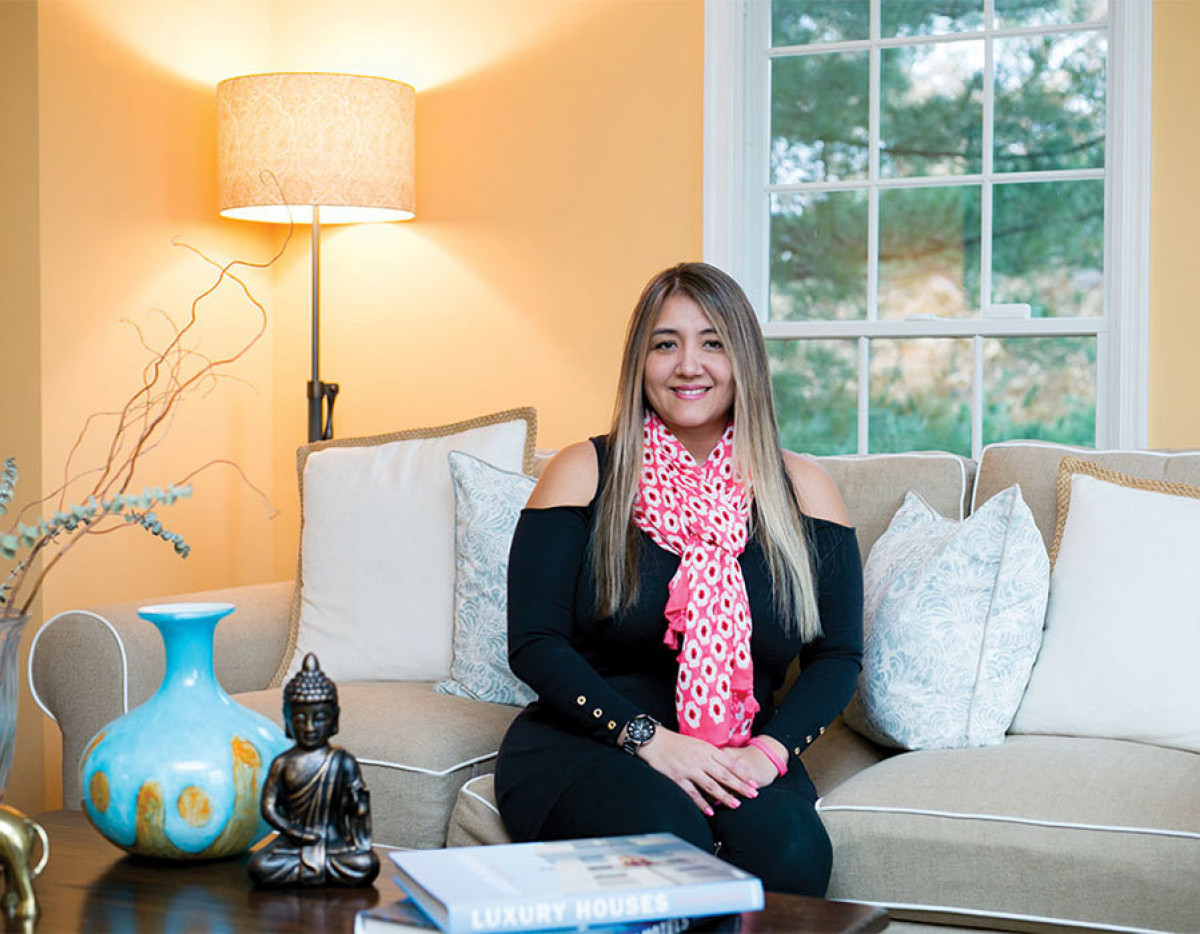 WOMEN WHO MOVE MARYLAND
Julissa Lambruschini
President
MJ Baltimore Cleaning Services
112 Galloway Avenue 1C, Cockeysville, MD 21030
410.252.2141
The staff at MJ Baltimore Cleaning Services believe that their role isn't just to clean, but to make their clients' lives easier. With 10 years experience, the family business has been lauded by Angie's List as the top cleaning company in Baltimore for its thoroughness and reliability. President Julissa Lambruschini ensures that MJ Baltimore Cleaning Services stands out from the competition by bringing a personal touch to each of its 300-plus residential and commercial customers. "We love working in the Baltimore area," says Lambruschini. "Our clients trust us, and that's what matters to me."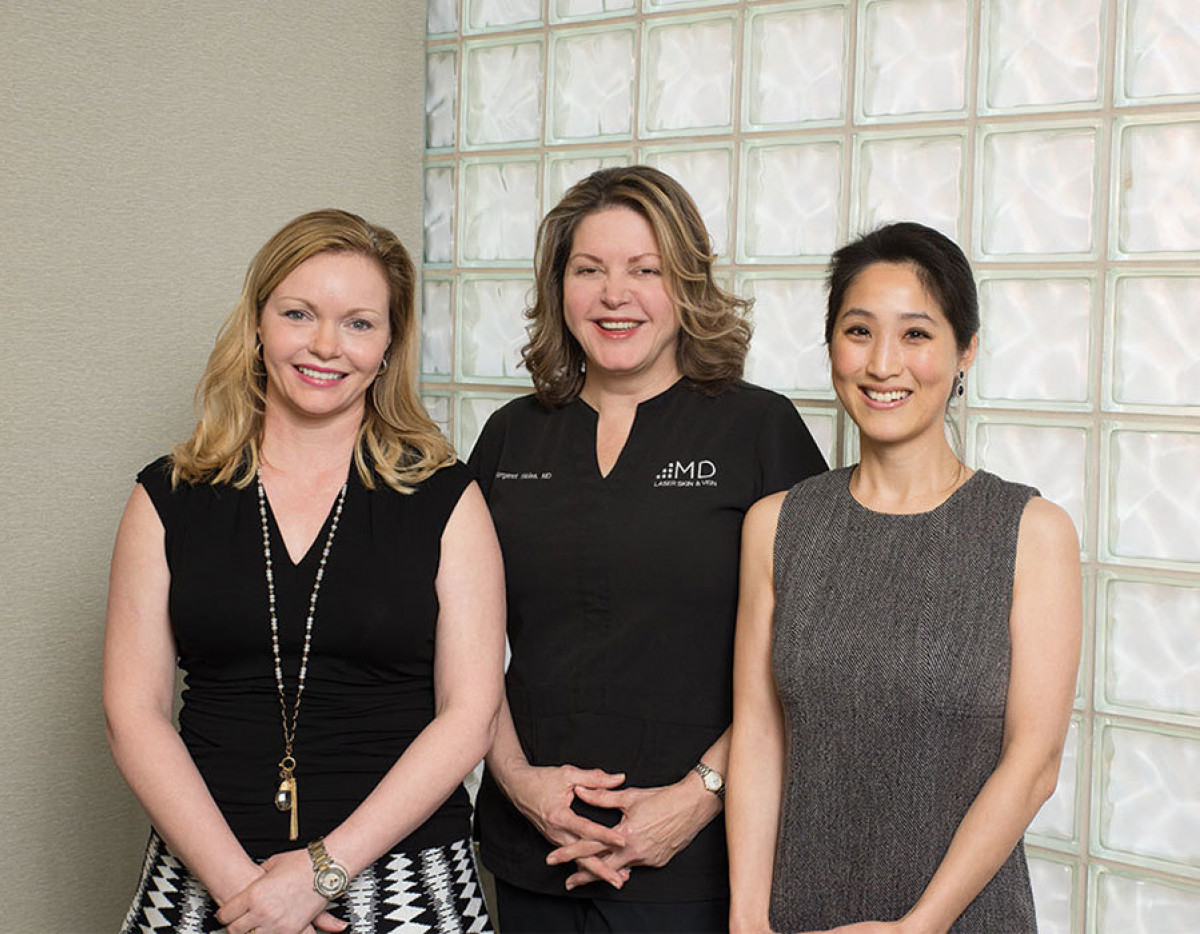 Left to right: Dr. Karen Beasley, Dr. Margaret Weiss, Dr. Sarah Hahn Hsu
WOMEN WHO MOVE MARYLAND
Karen L. Beasley, MD
Margaret A. Weiss, MD
Sarah Hahn Hsu, MD
Maryland Dermatology Laser, Skin & Vein
54 Scott Adam Road Suite 301, Hunt Valley, MD 21030
410.469.6668
Dr. Karen Beasley Dr. Margaret Weiss, and Dr. Sarah Hsu draw from their vast experience to provide personalized care to their patients.
Specializing in medical and cosmetic dermatology, laser surgery, and treatment of varicose and spider veins, Dr. Weiss co-directs MDLSV with Dr. Robert Weiss and partner Dr. Beasley, and also co-founded the Maryland Body Sculpting Center. A clinical assistant professor of dermatology at the University of Maryland, she also serves on the board of directors of the American Society for Dermatologic Surgery. After attending Princeton University, she received her B.A. and M.D. from The Johns Hopkins University. A past assistant professor of dermatology at Johns Hopkins, Dr. Weiss completed her dermatology residency as chief resident there.
Dr. Beasley graduated magna cum laude from Loyola College in Baltimore and is an Alpha Omega Alpha Honor Society graduate of the University of Maryland School of Medicine, where she is now a clinical assistant professor of dermatology. She is trained in skin rejuvenation techniques, injectables such as Botox® Cosmetic and fillers, laser surgery, and the treatment of spider and varicose veins.
Dr. Weiss, Dr. Beasley, and associate Dr. Christian Halvorson welcome Dr. Hsu as the latest associate of MDLSV. Dr. Hsu completed her B.A. and M.D. at The Johns Hopkins University, an internship at Johns Hopkins Bayview Medical Center, residency training at Boston University's Boston Medical Center, and an aesthetic dermatology fellowship at MDLSV. She brings a special expertise in Asian skin to MDLSV.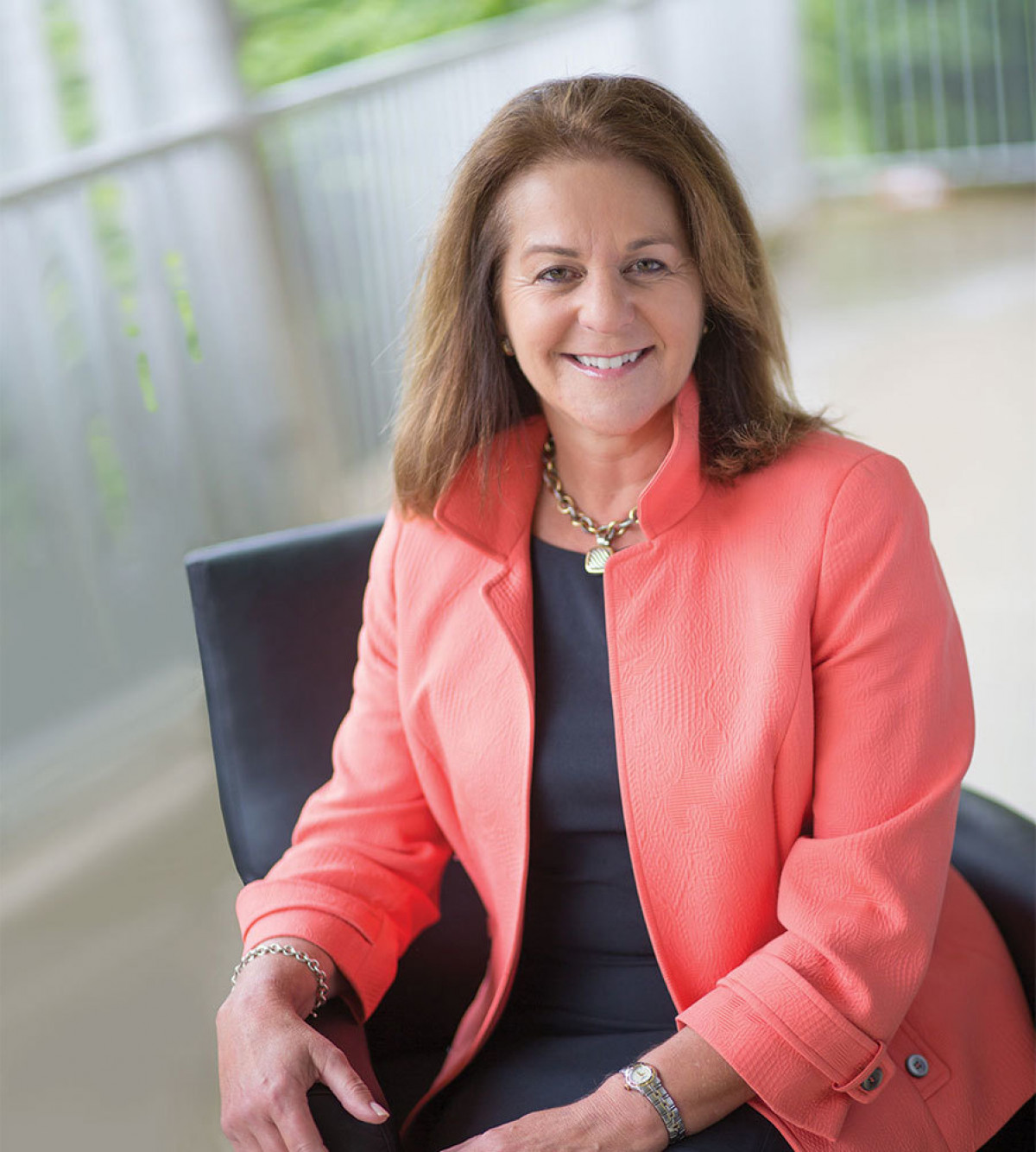 WOMEN WHO MOVE MARYLAND
Katherine Rogers
Executive Director
Penn-Mar Foundation

310 Old Freeland Road, Freeland, MD 21053
410.343.1069
Founded in 1996, the Penn-Mar Foundation supports the work of Penn-Mar Human Services through grants that provide a life of purpose and meaning for nearly 400 adults with disabilities. Traditional funding sources alone cannot support the innovation that transforms lives. The organization was recently recognized by Governor Larry Hogan for a community-based program that links individuals with disabilities to other organizations through volunteerism. Penn-Mar is also a recognized leader in securing meaningful employment for people with disabilities. Rogers serves on the board of the Baltimore County Chamber of Commerce and the Women's Board of Johns Hopkins Hospital.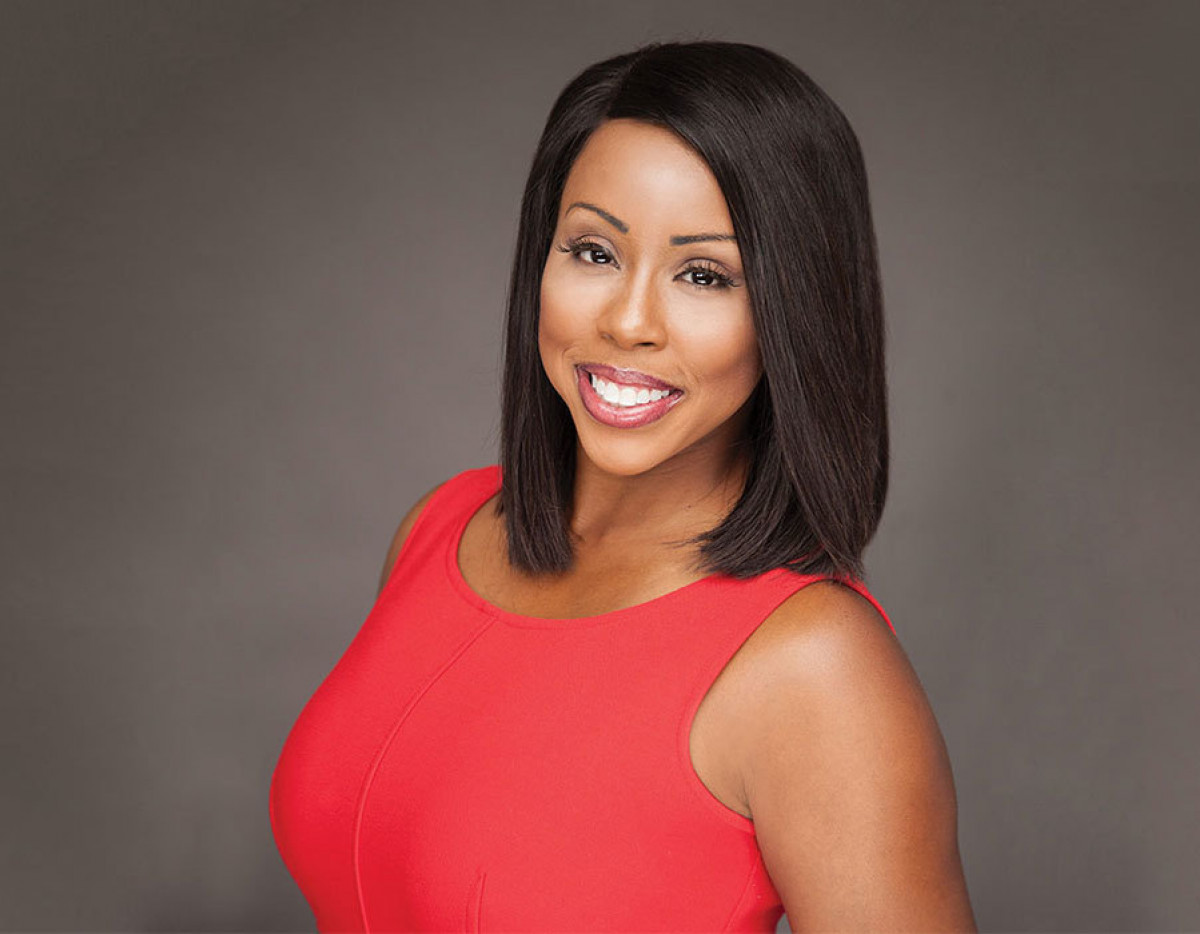 WOMEN WHO MOVE MARYLAND
Kimberly Klacik
Executive Director
Potential Me
240 W. Dickman Street, Baltimore, MD 21230
410.458.3961
Potential Me Executive Director Kimberly Klacik understands that many women have difficulty finding employment and overcoming personal adversity. After taking a job in the hospitality industry following her own personal trauma, Klacik decided to help other women. Potential Me helps to boost women's confidence to meet such challenges as finding housing and entering the workforce. The organization, which recently moved into new headquarters in Port Covington, sells donated items on eBay and uses the proceeds to take women shopping for special or professional occasions.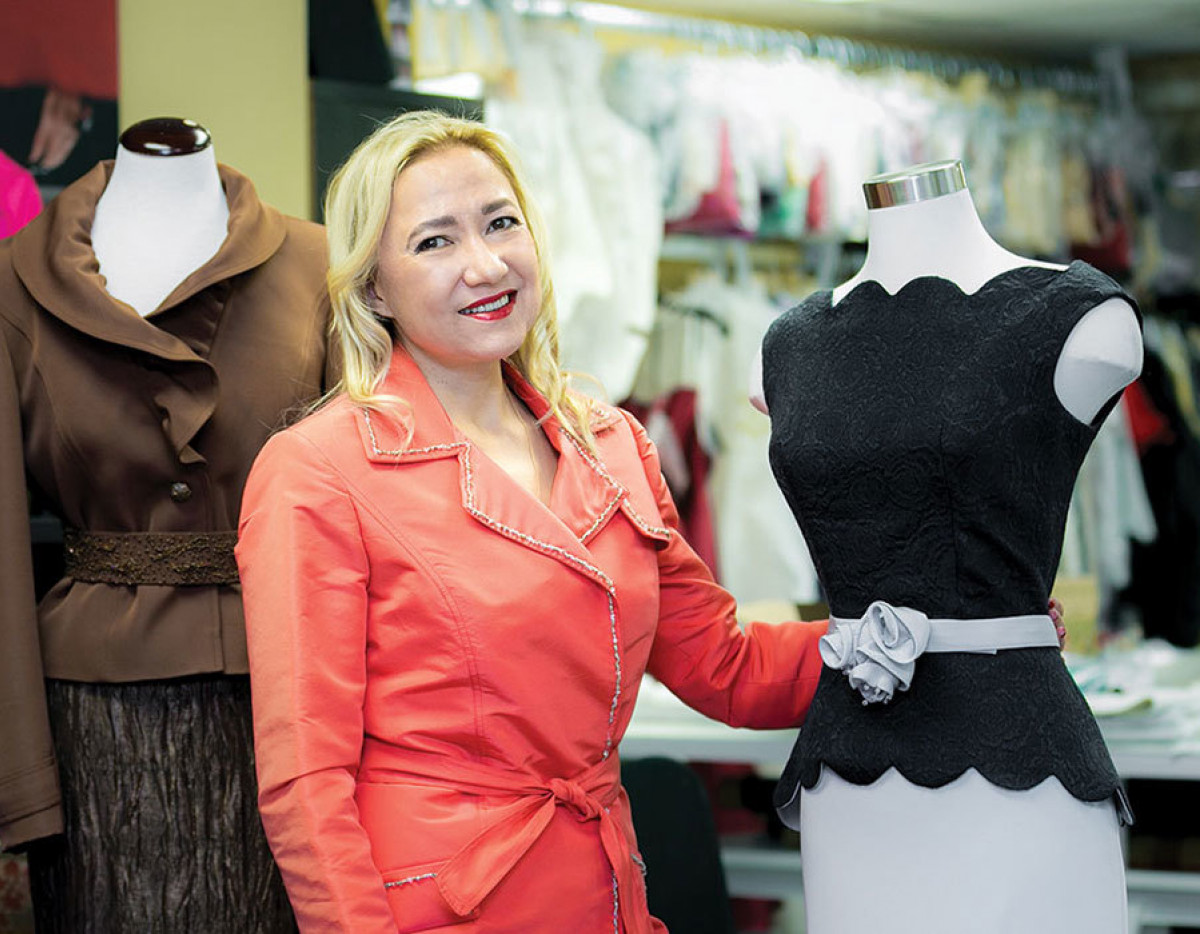 WOMEN WHO MOVE MARYLAND
Ella Pritsker
President and Creative Director
Ella Pritsker Couture
20 E. Timonium Road Suite 312, Timonium, MD 21093
410.560.3910
Ella Pritsker has come a long way since her childhood days of creating doll clothes in her native Soviet Union. Her full-service fashion-design studio, named best custom clothing designer by Baltimore magazine as early as 2002, offers custom wardrobe services, including executive couture, special occasion couture, and bridal couture. Pritsker and her team are also known for their numerous benefit fashion shows and philanthropic causes, including The House of Ruth, Safe Minds, and The Steve Smith Family Foundation.

WOMEN WHO MOVE MARYLAND
Hazel Glasper, DDS
Owner, Founder, non-profit & Coach
Revive Dental, Comprehensive Continuum, Teach Me Dental
2600 Longstone Ln. Ste. 101, Marriotsville, MD 21104
410.442.0103
Dr. Hazel Glasper, an oral healthcare advocate and owner of the full-service Revive Dental in Marriottsville, wears a lot of hats. In addition to being an ambassador for the American Health Association, she is the founder of the nonprofit Teach Me Dental, which has reached more than 4 million people and serves the most vulnerable of communities by changing how the public views oral health. Her most recent program was on interprofessional collaboration between the dental and medical communities.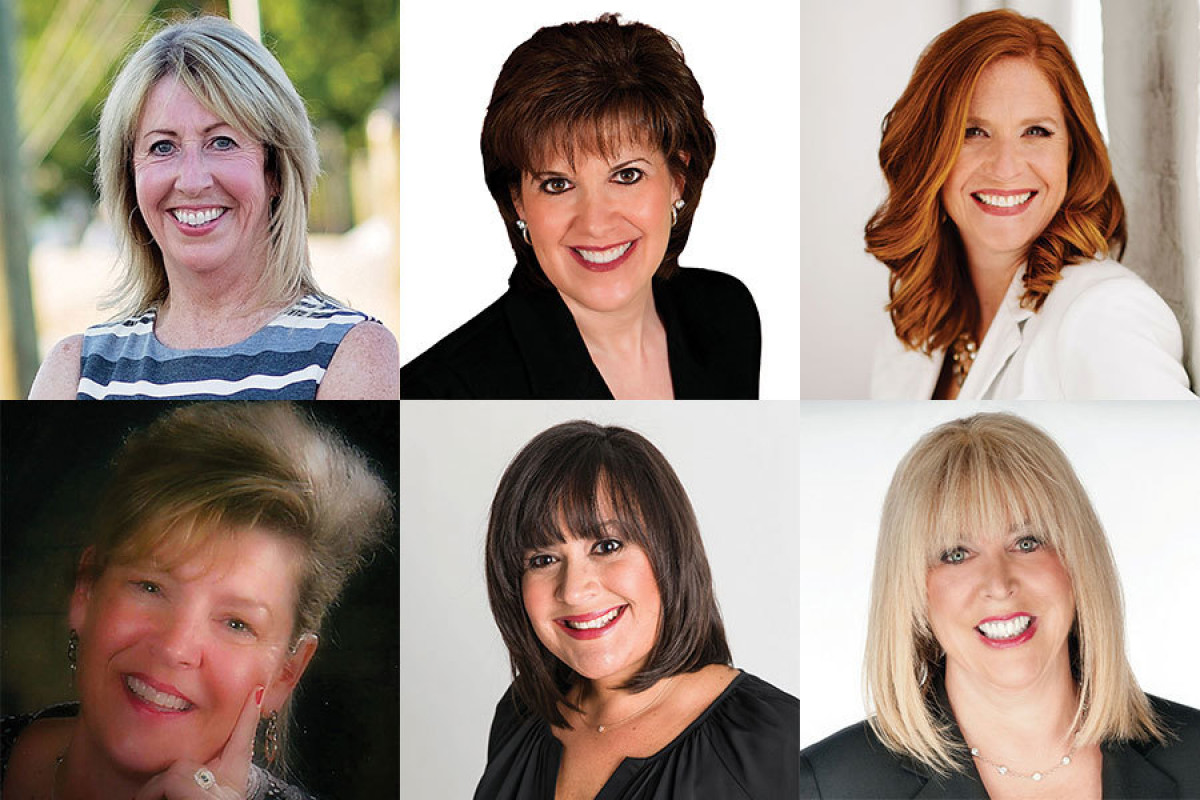 Top row, left to right: Alissa Bond, Ronna Corman-Chew, Alyssia Essig. Bottom row, left to right: Bonnie McGurn, Marni Sacks, Harriett Wasserman
WOMEN WHO MOVE MARYLAND
Alissa Bond
Realtor
Ronna Corman-Chew
Realtor
Alyssia Essig
Realtor
Bonnie McGurn
Realtor
Marni Sacks
Realtor
Harriett Wasserman
Realtor
PenFed Realty
866.225.5778
Meet six of the top female real estate agents of Berkshire Hathaway HomeServices PenFed Realty who literally move Maryland every day.
Alissa Bond: In the early 2000s, Alissa made the leap from government sales to real estate. Now she's one of the company's top producers and a mentor to newer sales professionals.
Ronna Corman-Chew: As a real estate agent, Ronna Corman-Chew is literally a woman who moves Maryland. By the thousands. This top producer's moving truck can be seen crisscrossing the state loaded with her clients' belongings as they move from old house to new. Together with her husband Bob Chew, Ronna leads the Bob and Ronna Group, one of the most successful teams in the company and is ranked in the top one percent among the highest-producing realtors in the nation.
Alyssia Essig: A longtime top-producing realtor, the Essig-Bass Team's leader believes that business success goes hand in hand with service to the community. That's why, last November, this outstanding professional, real-estate coach, and mom of two was sworn in as the 2018 president of the Greater Baltimore Board of Realtors.
Bonnie McGurn: As a native Marylander who knows the region, Bonnie McGurn has been an award-winning real estate agent since she started in the business almost 15 years ago. An avid boater, she is regarded as an expert on waterfront and estate properties and is a lifetime Masters Club member.
Marni Sacks: As the team leader of the Sacks-Reamer team, Marni has consistently appeared in the list of top producers in the region. This luxury collection specialist has amassed a long list of satisfied clients, as evidenced by her team's many 5-star ratings on Zillow.
Harriett Wasserman: Harriett's deep ties to Maryland helped her become one of Baltimore's first team leaders. Her numerous awards and 40-plus-year career have made her a local icon.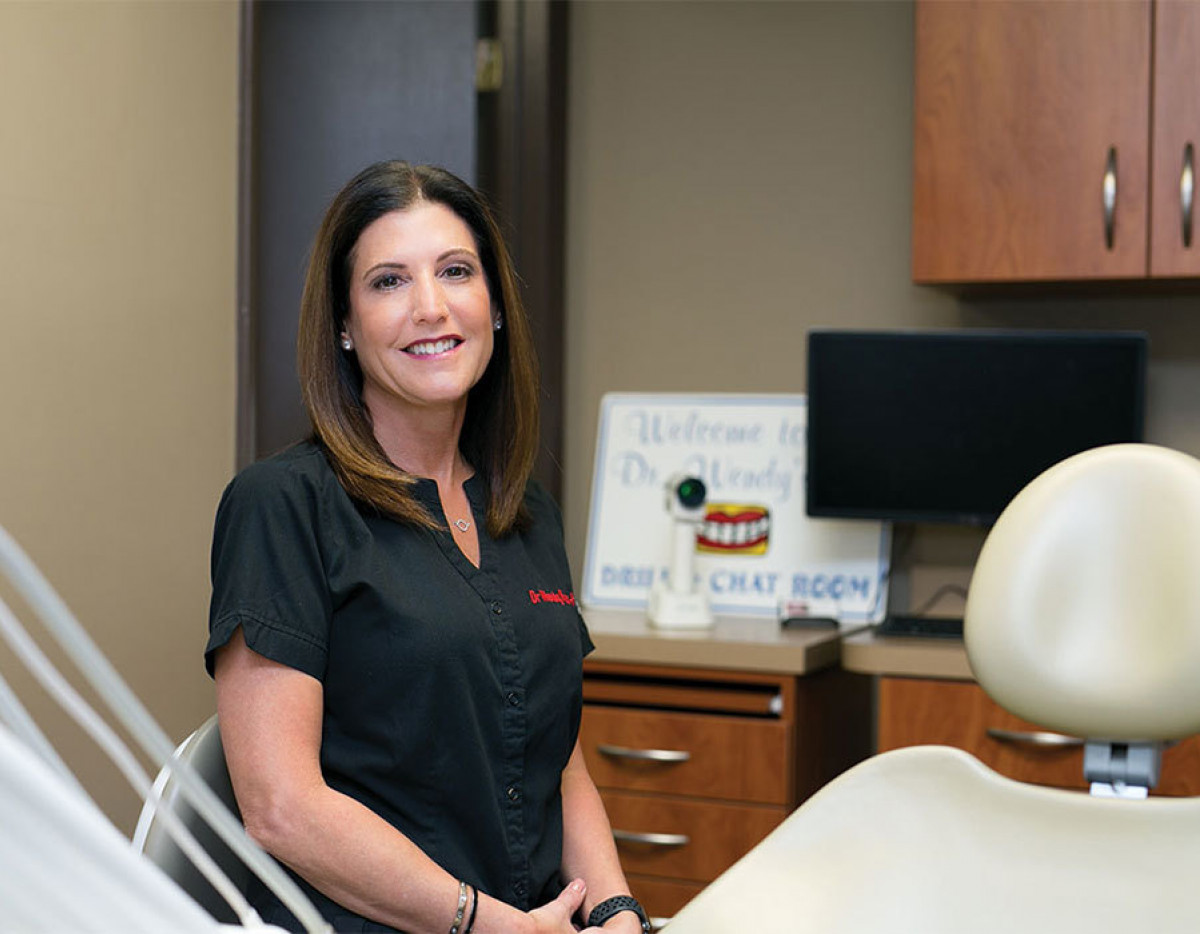 WOMEN WHO MOVE MARYLAND
Wendy Rose-Hyatt
Dentist and Owner
Rosedale Dental
8241 Philadelphia Road Baltimore, MD 21237
410.687.2777
Wendy Hyatt has known since she was 12 years old that she'd follow in her father's footsteps to become
a dentist. As a teen, she taught oral hygiene to children, and received her D.D.S. from the University of Maryland School of Dentistry in 1989. She then took over her father's Rosedale practice and renovated the office, bringing in state-of-the-art technology, while continuing to offer a caring approach to her patients—many of whom have counted on the practice since it opened in the 1960s.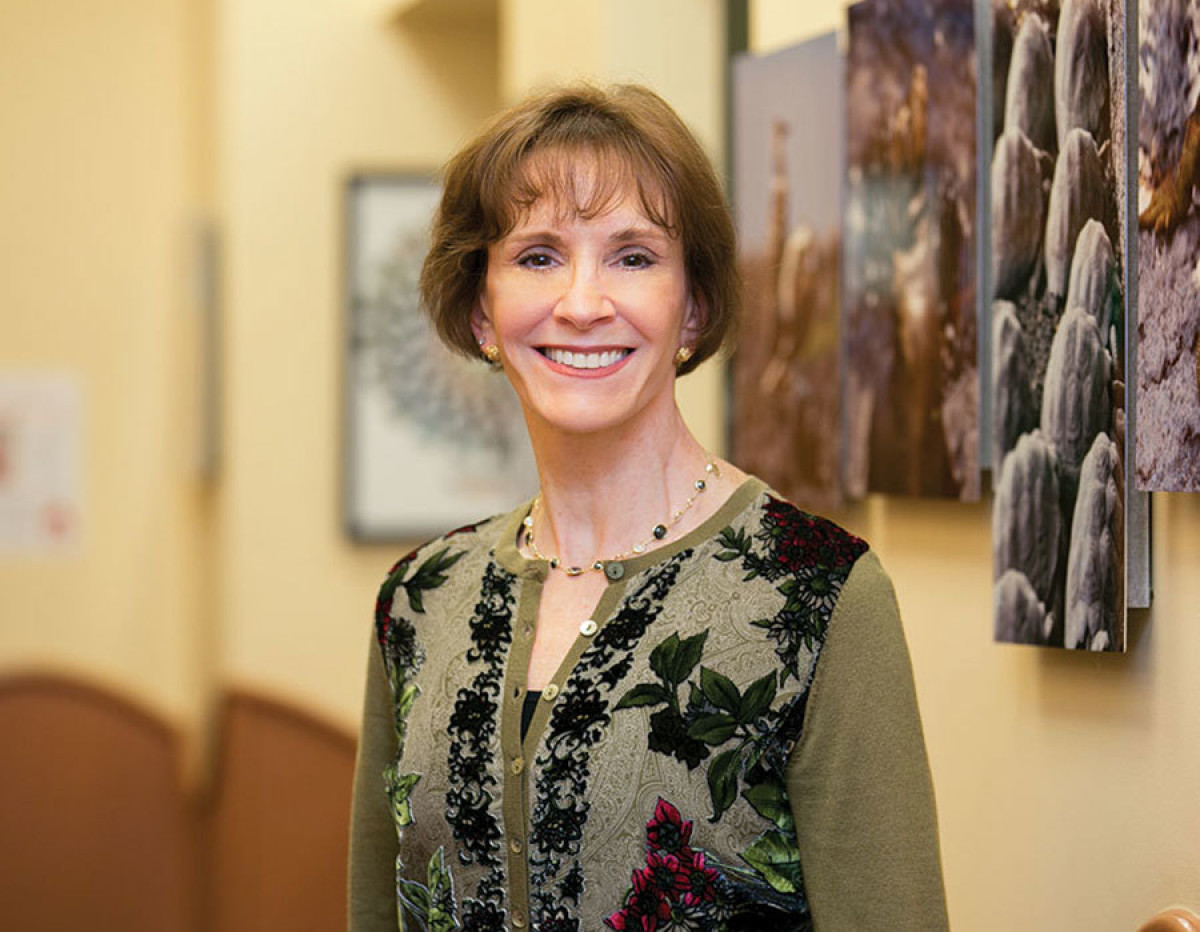 WOMEN WHO MOVE MARYLAND
Elizabeth Spannhake, DDS, MS, MPH
Orthodontist
Spannhake Orthodontics
7801 York Road Suite 315, Towson MD 21204
410.321.5004
Board-certified orthodontic specialist Dr. Elizabeth Spannhake is dedicated to giving her patients beautiful smiles and the confidence they deserve. Her early-phase treatment for young children and comprehensive treatments for teens and adults include such options as Invisalign, Teen Invisalign, and Contemporary Brace Systems. Intra-oral scanning is used so no impressions are needed to fabricate appliances. An associate professor at Temple University Dental School, she is involved in teaching and research, keeping her on the cutting-edge of her field.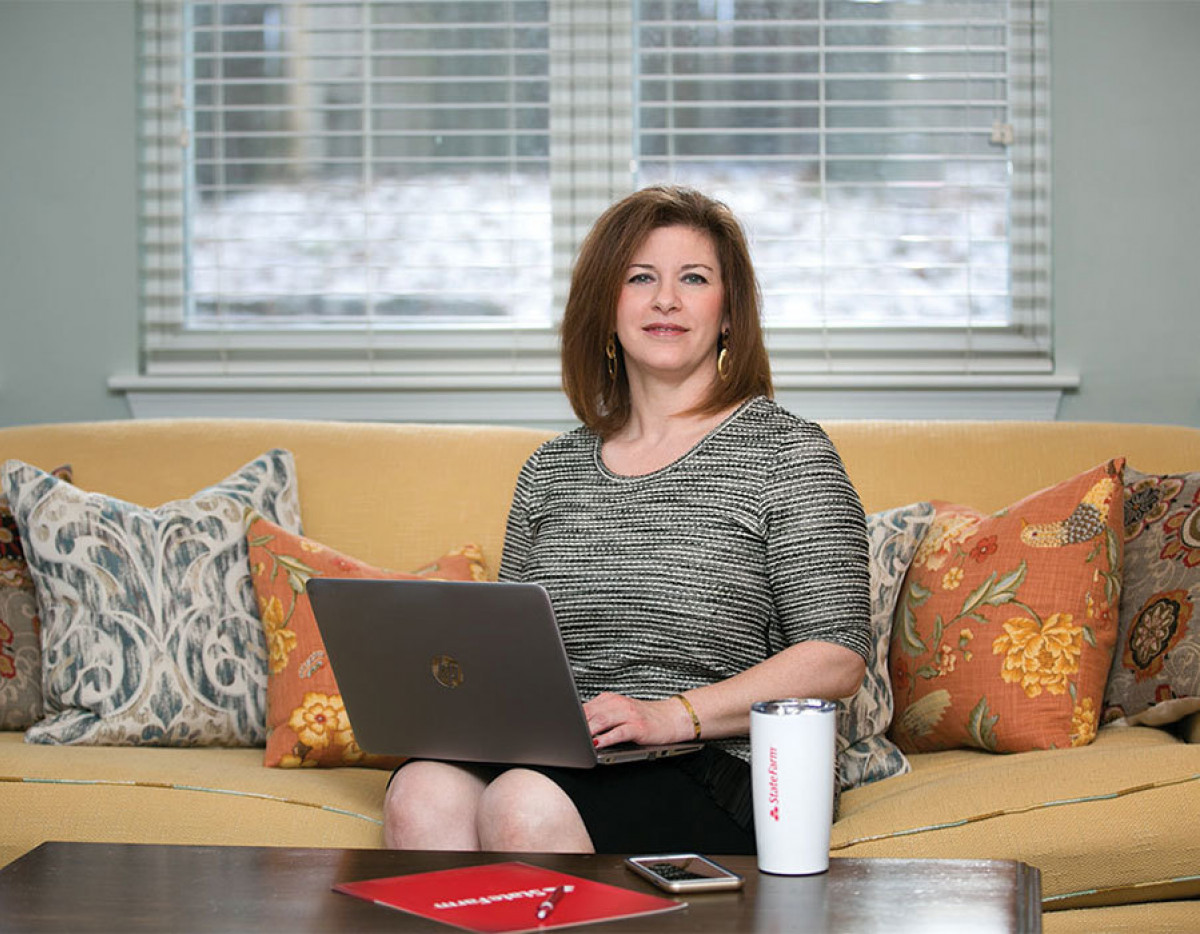 WOMEN WHO MOVE MARYLAND
Renee Wiley
Owner/Agent
Renee Wiley State Farm Agency
11100 Liberty Road Suite A, Randallstown, MD 21133
410.496.8526
In her first year of business, Renee Wiley's State Farm Agency has grown to just shy of $3 million in revenue, serving more than 1,200 households, specializing in policies for property and casualty, life and health, mortgage and annuities. Her team helps people manage the risks of everyday life, and counsels clients on the value of disability and long-term care insurance. As a bank, State Farm also offers auto loans and mortgages, as well as checking and savings accounts and credit cards.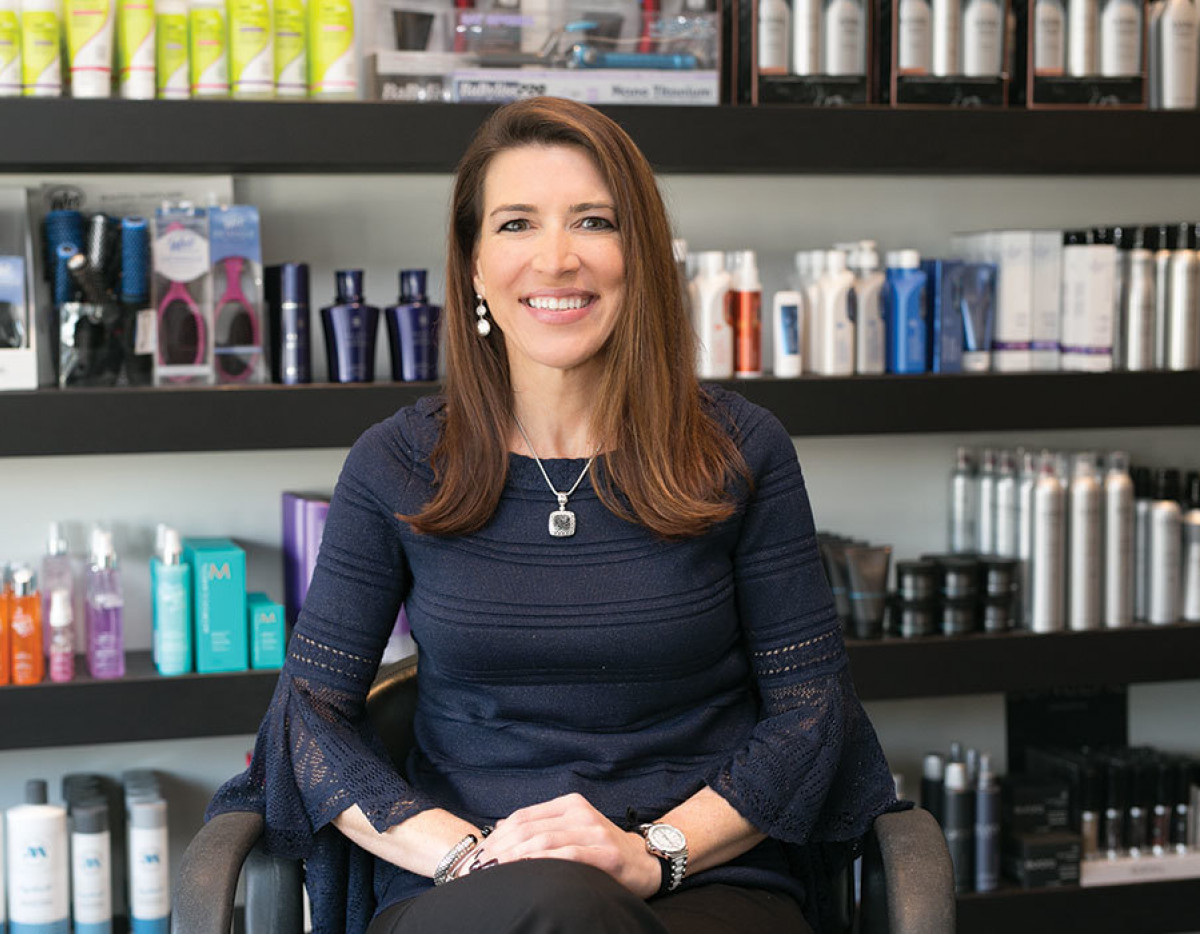 WOMEN WHO MOVE MARYLAND
Amanda Westra
Owner/Stylist
Studio 360 Hair and Nails
10 Fila Way Suite E, Sparks, MD 21030
443.338.4106
Studio 360 was founded by Amanda Westra two and a half years ago. Since its opening, Studio 360 has been named a Baltimore magazine Top Salon, and the staff has grown to 30 employees. Amanda, a Vidal Sassoon and Tigi Academy-trained stylist, originally opened Studio 360 with one goal to provide her staff and clients with a fun, professional, and upbeat place to work and visit for their salon needs. Amanda has exceeded this goal and has also been able to give back to the community by donating to local schools and sports teams, being involved in Future Business Leaders of America, and supporting the nonprofit Children With Hair Loss.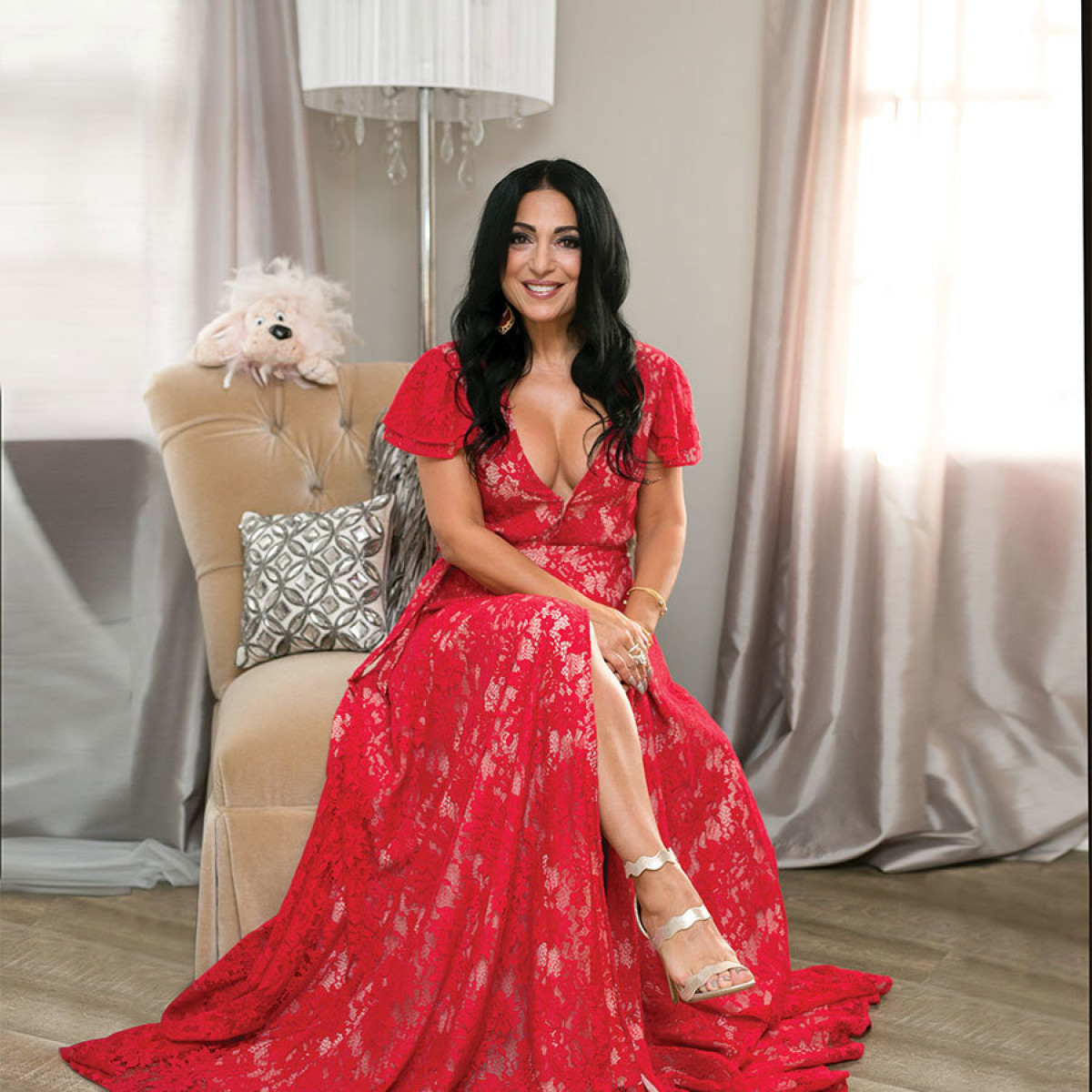 WOMEN WHO MOVE MARYLAND
Dina
 Moyer
Founder
Stronger Together
P.O. Box 86, Stevenson, MD 21153
443.418.0135
As an owner and investor in a commercial real estate company for the past 20 years, Dina Moyer has recently decided to redirect her energy and passion into writing a series of children's books and coffee-table books. In partnership with that pursuit, she has formed a nonprofit, Stronger Together, to support and raise awareness for homeless children in Baltimore. A portion of all proceeds from her book sales will go directly to this organization.
Moyer attended Towson University and then worked for The Johns Hopkins University School of Medicine for five years while attending school at Hopkins. She also began her career in real estate, selling, among other things, luxury Canton Cove condominiums for Struever Bros. Eccles and Rouse, and subsequently acquired a portfolio of commercial real estate. Moyer has also volunteered for The Johns Hopkins Hospital pediatrics department and is currently on the board of the Women's Guild for the Cathedral of the Annunciation. She has served as a Court Appointed Special Advocate (CASA) for Baltimore County and has volunteered for Ronald McDonald House.
Seeing her two children complete college has given Moyer a new direction and passion. "My goal is to shine a bigger light on the needs of own community and children," she says. "Being successful in life isn't about what you have, it's about what you can do to help other people."

WOMEN WHO MOVE MARYLAND
Kathleen Taylor
Vice President of Organizational Development
Universal Mortgage & Finance, Inc.
3158 Braverton Street Suite 204, Edgewater, MD 21037
410.919.2275
After working many years in media sales, Kathleen Taylor joined Universal Mortgage & Finance to help build the company's branding and recruiting. The direct-lending institution prides itself on its long-lasting customer relationships, whether they're hoping to purchase a new home or refinance the one they have. Since Universal's founding in 1999, it has expanded to 12 branches and is licensed in 20 states. Universal Mortgage & Finance supports Toys for Tots and the athletic department at Archbishop Spalding High School.

WOMEN WHO MOVE MARYLAND
Ashley Riddle
Owner
UpDos For I Dos
780 Elkridge Landing Road Suite 103, Linthicum Heights, MD
443.300.UPDO (8736)
When Ashley Riddle was looking for an on-site stylist for her wedding in 2005, few such services existed. A hairstylist herself, she recognized a market niche and started filling it, helping UpDos For I Dos grow exponentially. She currently has a team of more than 40 artists in four states that serve 500 brides along the East Coast each year. "Brides and their bridal parties enjoy our on-site professional wedding day services," says Riddle. "We are honored to share our talents with our clients on the most important day of their lives!"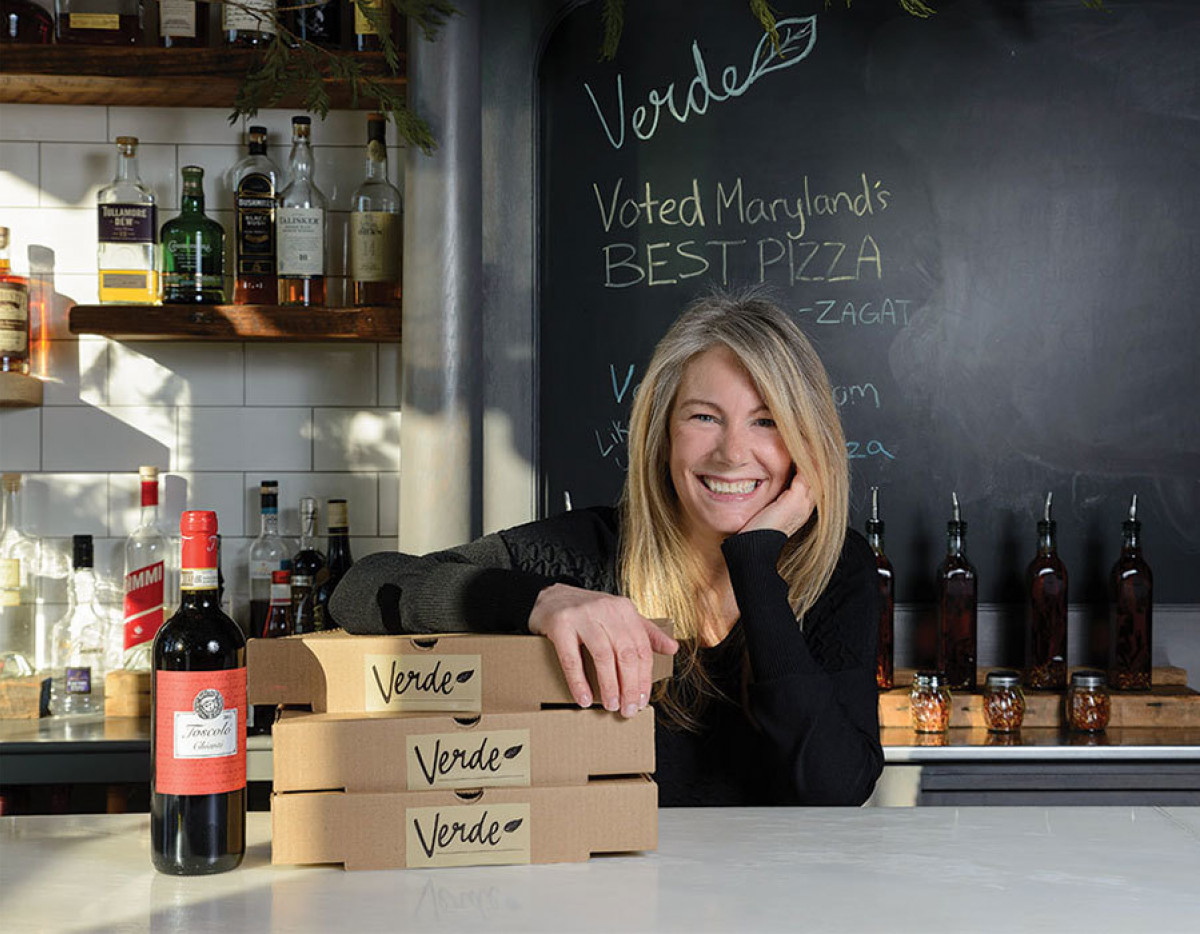 WOMEN WHO MOVE MARYLAND
Marianne Kresevich
Owner
Verde
641 S. Montford Avenue, Baltimore, MD 21224
Lauded by Zagat as "Best Pizza in Maryland" and one of Baltimore magazine's 50 Best Restaurants, Verde crafts authentic pies in the Neapolitan tradition. Co-owner Marianne Kresevich has just released a catering menu specializing in Italian sandwiches and entrees. In addition to Verde's award-winning pizzas, the catering menu features pastas, entrees, and Italian specialty sandwiches crafted with house-made bread baked in their wood-fired oven. The meats, cheeses, and produce used are imported from Italy or locally sourced when available.

WOMEN WHO MOVE MARYLAND
Devon Conklin, DDS
Doctor of Dental Surgery
Ward, Byrne, and Conklin Dental Group
1104 Kenilworth Drive Suite 102
, Towson, MD 21204

410.583.7010
A believer in working with patients to achieve a healthy smile they can be proud of, Baltimore Top Dentist Devon Conklin and partner Charlie Ward in 2012 took over the practice founded by her parents. Conklin is also a fan of Invisalign, which allows for easier care of your teeth and is a nice alternative to traditional metal braces for patients interested in improving their smile. Her goal is to have patients with healthy gums and teeth, which, she points out "helps lead to a healthy self."

Left to right: Jennifer Litchman, Dawn
 Rhodes
WOMEN WHO MOVE MARYLAND
Jennifer Litchman
Senior Vice President for External Relations & Special Assistant to the President
Dawn
 Rhodes
Chief Business and Finance Officer & Vice President
University of Maryland, Baltimore
220 Arch Street, Baltimore, MD 21201
410.706.3100
Jennifer Litchman and Dawn Rhodes are both key to steering the University of Maryland, Baltimore along its path of excellence.
Litchman first served at the University of Maryland, Baltimore as director of public affairs at the School of Medicine. Now, as senior vice president for external relations, as well as special assistant to the president, Litchman oversees Communications and Public Affairs, Government Affairs, and Community Engagement.
With degrees from the University of South Carolina, American University and a Wharton School certificate, Litchman is a member of the Leadership Maryland Class of 2017. She received an Excellence in Medical Education Public Affairs Award from the Association of American Medical Colleges, was among the Daily Record's Top 100 Women in 2016, and serves on several boards.
A native of Ames, Iowa, Litchman and her childhood friends were featured in Jeffrey Zaslow's New York Times bestseller The Girls from Ames.
As CBFO, Rhodes, with 25 years in higher education, manages a budget of $1.2 billion. With some 6,500 students in six nationally ranked professional schools—medicine, law, dentistry, pharmacy, nursing, social work, and an interdisciplinary graduate school—the university employs about 7,100 faculty and staff.
Rhodes, who came to UMB in August 2016, is spearheading the relaunch of the UMB Live Near Your Work Program, incentivizing employees to purchase homes in Southwest Baltimore neighborhoods to spark community revitalization and stabilization. She also serves on the board of directors for the National Association of College and University Business Officers and as an UMBrella coach.