The Valley Inn has slowly unveiled its personality over the past few months, starting with limited pub hours and gradually expanding service to seven days a week. Tonight, a renovated dining room will also be open for food and drinks.
The 60-seat room, pictured top, has a handsome, masculine feel with a thoroughbred-racing theme, honoring such places as Pimlico Race Course, Sagamore Farm, and Saratoga in New York. Every wall houses artwork and accouterments, including items found in a jockey's locker, pictured left.
The booths and banquets feature rich-brown sapele-mahogany tables and butternut walls. Jockey lamps will eventually light each table. Two fireplaces add to the coziness.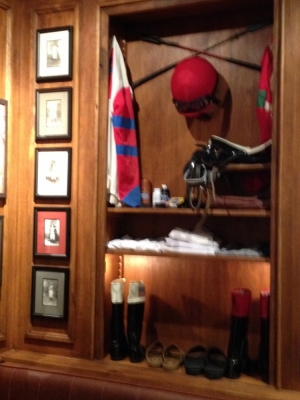 "This isn't your grandmother's Valley Inn," said owner Ted Bauer today as he pointed out various paintings he had commissioned. "There's a lot more activity."Since the decades-old building opened its doors on December 30, patrons have been filling up the bar area, pictured, he said, which is adorned with art that strives to capture the area's sporting life—from fishing to golf and horses.
A few dog pictures reflect the mid-19th-century inn's past when there were dog races on the property.
Since 1922, The Valley Inn, officially in Lutherville, was owned by two generations of the Hatfield family. In late 2010, Ted, who also owns The Oregon Grille in Hunt Valley, acquired the property.
Renovations are still continuing with two other dining areas expected to be ready in a few months.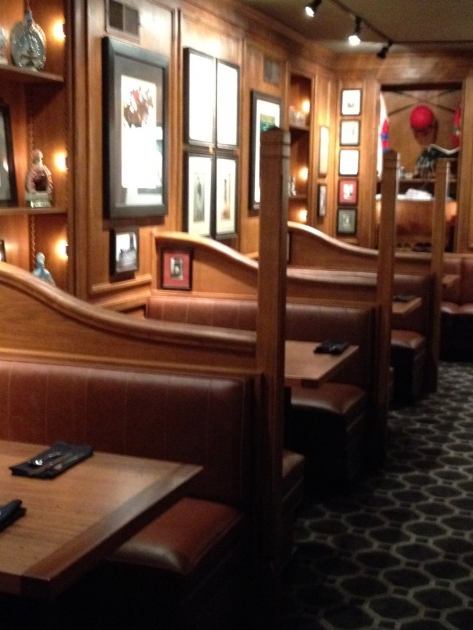 With the opening of the dining room, the menu has been expanded and will continue to grow in the next two-and-a-half weeks when lunch service begins. For now, the kitchen, headed by chef Roger Shugars, offers a tightly scripted menu with soups and salads, appetizers, and "plates" that range from a 10-ounce Valley burger to grilled mahi mahi.
The cheese-steak sliders and char-grilled oysters are very popular, Ted said. Diners will also find a jumbo-lump crab cake, mini meatloaf, house-made shrimp salad, and a grilled eight-ounce tenderloin among other offerings.
"We wanted to have a roadhouse mentality, not be high end," Ted said of the menu. "We want to be a place where people feel comfortable and come by for conversation and dinner and light fare."
The Valley Inn, which opens at 4:30 p.m. daily, is located at 10501 Falls Rd. The phone number is 410-828-0002. No reservations are accepted. Seating is first come, first serve for now.
---
---