Having competed on big-name Food Network shows like Beat Bobby Flay and Food Network Star, chef Malcolm Mitchell is no stranger to being in the limelight. But when it comes to opening restaurants, he likes to keep a low profile.
When the Columbia native launched his new gastropub concept Ryder's in the former Cockey's space in Upper Fells Point last spring, even the most informed foodies hadn't heard of it. Instead of promoting the debut, Mitchell relied on neighborhood locals to spread the word.
"There's no hoopla—the food speaks for itself," he says. "I don't like to shower people with who I am and where I came from. When you make a spectacle, neighborhoods get scared."
In keeping with his under-the-radar approach, Mitchell quietly opened a new dining destination in Butchers Hill last month. The multi-level building at 32 N. Chester Street houses prepared foods to-go concept The Kitchen Market downstairs, as well as upscale wine bar Butchers Hill Society on the top floor.
The restaurant's name was strategic: "You'd drive right past it if you didn't know it was there," Mitchell says with a laugh. "I want to create that feeling of it being this secret society for people who are really in-the-know."

Mitchell realized his love for cooking after spending four years travelling the world in the Navy, and received an Advanced Culinary Arts degree from Stratford University in 2002.
Though he has since bounced around the country—providing personal chef services and heading up kitchens everywhere from Los Angeles to Richmond, Virginia—he started to become more involved in the local food scene last year, hosting pop-ups at Federal Hill spots Liv2Eat and Blue Agave.
Mitchell explains that the landlord who owns the Ryder's property also operates the space in Butchers Hill, so the two buildings came as a package deal: "Our first priority was to open up Ryder's," he says, "But Butchers Hill Society was always the big fish."
The new spot's downstairs market highlights light fare like breakfast sandwiches, butternut squash soup, roasted pear and prosciutto flatbread, and a caprese sandwich with house-made mozzarella, as well as shelves stocked with local produce, cheeses, charcuterie, spices, nuts, fruits and vegetables, and prepared meals to-go.
In a neighborhood with a lack of supermarkets, Mitchell is enthusiastic about providing locals access to healthy food.
"We're trying to be a cornerstone in the neighborhood," he says. "It' kind of like coming over to your next-door neighbor saying 'You got any milk?'"
Upstairs, the 42-seat Butchers Hill Society space has an industrial feel, with sleek woods, stone accents, and tables made out of repurposed sewing machines.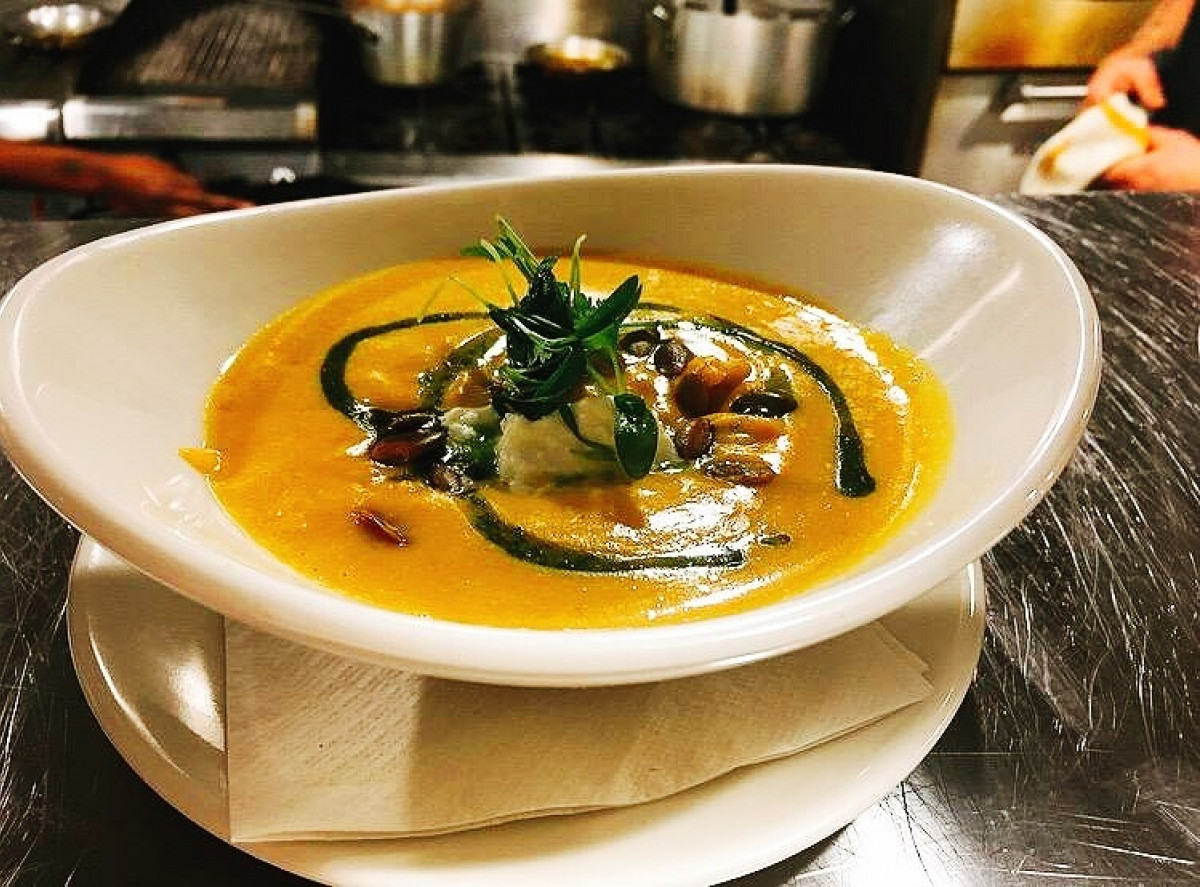 The menu at the "urban, savvy, chic" New American restaurant pairs wines from boutique vineyards with entrees like lobster tempura with truffle oil pomme frites, pheasant ragout, and bacon-wrapped lamb chops with sweet potato grits. Mitchell aims to make his own ingredients whenever possible, mentioning that things like ketchup, ricotta, and pasta dough are all created in-house.
The beverage program focuses strictly on craft beer and wine: "Baltimoreans are going to hate me, but you aren't going to find a Natty Boh on this menu," Mitchell says with a laugh. "We're trying to be unique in our own way, but at the same time, not too fussy."
With three new concepts up and running in Charm City, it's been a great year for Mitchell, but he isn't stopping in 2017. The chef already has plans in the works to open a studio kitchen in Mt. Vernon this spring, with hopes that the space will serve as an outlet for area chefs to test recipes, teach cooking classes, and host fundraisers.
Later in 2017, he plans to transform a 40,000-square-foot warehouse off of Guilford Road into a brewery and restaurant featuring whole-animal butchery, open-hearth cooking, and its own pastry team.
Though Mitchell commutes from New York City (on average spending three days per week overseeing operations in Baltimore), he's excited to continue to make his mark on the local dining scene, mentioning that he hopes get more involved in creatively collaborating with other area chefs.
"There's a fine line between being a chef and a restaurateur, you have to find a balance," he says. "The food is the heart and soul of the restaurant. I don't waver from that."
---
---