"There was so much excitement in the community when the Owings Mills Mall opened," recalls Baltimore County Councilwoman Vicki Almond. "I fondly remember taking my daughters there for the first time, and walking the long, shiny halls."
The residential match to the mall was Lakeside, a mini-village of 5,500 homes, on 429 acres surrounding a manmade lake that was to be created by damming the Red Run. Federal approval for that move, however, was difficult to come by.
Undeterred, work continued. Roads were straightened, widened, or added, including the optimistically named Lakeside Drive. The Metro opened in July 1987. Major employers, such as T. Rowe Price and CareFirst BlueCross BlueShield, relocated to town.
But there were whispers, too: that the mall was underperforming; that the new townhomes weren't quite as high-end as promised; that despite—or maybe because of—all the effort expended, it felt a little soulless.
"The idea was a good one to have areas where you have concentration of growth," says Philipsen. "But then the next step, to make these places real places, was never really pursued with any sort of diligence and planning, so what you have is . . . conglomerations of bad commercial areas."

It all seemed to come to a head in 1992, Owings Mills' annus horribilis.
In May, officials dropped efforts to win approval for the dam from the Army Corps of Engineers, which objected to the lake on environmental grounds. Remember that population of native brown trout the Susquehannock likely fished? Damming the Red Run would have raised water temps and killed them. So after an investment of $2 million and 10 years, the lake was dead instead.
In June, The Sun ran an editorial decrying the characterless feel of Owings Mills. This was true enough, but hardly unique. Owings Mills was an example of an emerging suburban phenomenon—the Edge City.
Journalist Joel Garreau coined the phrase in his 1991 book Edge City: Life on the New American Frontier, defining an Edge City as a place with "5 million square feet or more of leasable office space," "600,000 square feet or more of leasable retail space," "more jobs than bedrooms," and, perhaps most importantly, as someplace that was a "village or farmland only 30 years before."
Owings Mills checked all those boxes. But so, too, did hundreds of other places across the country: Tysons Corner, Virginia; King of Prussia, Pennsylvania; Scottsdale, Arizona; and pretty much all of Southern California.
Still, there was something fascinating about Owings Mills' unfulfilled promise. The pieces were there, and yet they just didn't fit.
"It was always an interesting example of opportunities and missed opportunities," says Michael Stern, an urban and landscape designer who taught at the University of Virginia in the 1990s and decided to build a studio course around Owings Mills.
"It had kind of the classic tensions of suburban growth. The natural environment was compelling at the same time that the built environment was not."
As stinging as the criticism must have been for planners, the worst was yet to come.
Fairly or unfairly, by 1992, the mall had gained a reputation for crime. The problem largely stemmed from a poor connection between the mall and the Metro site, which were about a mile apart. At first, a shuttle bus ran between the two, but it was discontinued in June of 1992. But even when the shuttle was running, the easiest route from one to the other was often along a makeshift path through overflow parking lots. In late September, a 28-year-old Baltimore City resident named Christina Marie Brown was murdered on the path in a robbery-gone-wrong.
Both Philipsen and Stern view Brown's death as a tragedy that might have been prevented by better urban planning.
According to multiple sources, The Rouse Company resisted efforts to site the mall closer to the Metro or to formalize a pedestrian connection between the two. It also allowed the suspension of shuttle bus service, though it would reinstitute it for a time after the slaying.
"At the time, Owings Mills was a high-end mall and . . . they had just these preconceived notions about folks who used transit being all poor, that then there would be more crime and more theft," Philipsen says. "That is an argument that is made against transit every time around. This came up with the Metro, it came up with light rail, it came up with the Red Line."
Attempts to contact former employees of The Rouse Company, which was bought out by GGP in 2004, were unsuccessful.
Though the mall would stagger on for another 24 years after the murder, it was never the same. Saks departed abruptly in 1996, and other high-end retailers followed. Even a 1998 expansion couldn't salvage it, and the last store—a JC Penney—closed last year.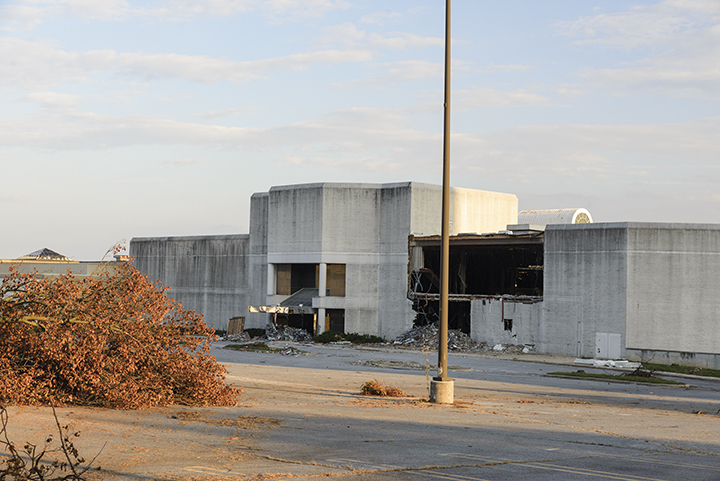 Baltimore County Councilman Julian Jones, whose district includes the mall site, says the decision not to connect it and the Metro was a mistake, but that the mall's failure can't be pinned on just one thing. Changing consumer tastes and the rise of online retail must be factored in, as must GGP's decision to "let Owings Mills wither on the vine" as the company faced bankruptcy during the Great Recession.
What is clear, however, is that the mall's failure became a black hole at the center of the community, its gravitational pull warping everything else around it. It would take something big to turn the tide.
The idea for Metro Centre was formulated in the late '90s. Looking to jumpstart redevelopment, then County Executive Dutch Ruppersberger proposed a large complex on the vast, underused Metro parking lots. After a false start with one developer, the project began to crystallize in 2002, when David S. Brown Enterprises, a third-generation development firm headquartered in Owings Mills, took over.
In its initial iteration, the development included a town green ringed by shops, offices, and 300 homes, features that were expunged somewhere along the way. But other items from the original plan—like a county library and college learning facilities—remain. In fact, you can visit them now, all glass and steel with light pouring in, students and residents streaming to and fro across a stone plaza. Opposite the plaza, the first residences—230 one- and two-bedroom apartments—are open. Underneath them, at ground level, there are shops that range from the generic (Subway) to the local (Honey House, a showcase for honey and bee-related products). When all is said and done—it's only about 20 percent complete—Metro Centre will offer 1.2 million square feet of Class A office space, a "boutique" hotel, 300,000 square feet of retail, and 1,700 residences. As officials proudly note, its scope and design are unprecedented in county history.
"The Metro Centre is the centerpiece, because that has become the county's first transit-oriented development. That is the most modern opportunity in planning today," boasts Baltimore County Executive Kevin Kamenetz. "A person can live there, go to work on the Metro, go downstairs to eat at a restaurant, go across the street to the library or the community college, all without using a car."

A mile away, along Reisterstown Road, sits Foundry Row, the second jewel in what Councilman Jones calls Owings Mills' "Triple Crown." Offering 342,147 square feet of retail space and 39,000 square feet of office space, Foundry Row could be dismissed as just another massive—albeit high-end—shopping center, except for this: It has a Wegmans.
On Wegmans' opening weekend last September, there was hardly a parking space to be found, even though most of Foundry Row's other stores had yet to open. Inside, a true cross section of Owings Mills inched through the crowded aisles.