Although we appreciate our old-school values, Baltimore is nonetheless remarkably progressive. And in one area, surprisingly (and, perhaps, disappointingly) unique.
To wit: only a handful of other large U.S. cities have been led by female mayors. Our city comptroller is also a woman; so was the city state's attorney for 16 years. A Baltimore woman leads our state's highest court, which also, for the first time, has a female majority—another rarity among top state benches. Of course, the dean of the growing U.S. Senate women's caucus is a former East Baltimore social worker. (Not to mention, the first-ever female Speaker of the U.S. House of Representative hails from Charm City, even if she doesn't live here anymore.)
But it's not just in elected positions or appointed offices that women have risen to the top. All around Baltimore, women are leading prominent institutions, including The Baltimore Museum of Art, The Walters Art Museum, the Baltimore Symphony Orchestra, and the Enoch Pratt Free Library, as well as Towson University, Sinai Hospital, Catholic Relief Services, and the Baltimore Development Corporation. In fact, last fall, the Center for American Progress, measuring three-dozen factors, named Maryland the best state for women.
Here at Baltimore magazine, we think this is welcome news—and that it's interesting to contemplate how women govern, mentor, and lead differently than their male counterparts. We also wondered if there was something specifically about Baltimore that made this a unique place for female leaders.
In March—Women's History Month—managing editor Max Weiss (a female) hosted an exclusive panel, including nearly all of the women leading the above institutions, and others, on the subject of women and leadership at the Four Seasons Hotel Baltimore. What follows is the edited version of that freewheeling, enlightening, and refreshingly candid conversation:
---
Max Weiss: We can start to my right, which is fitting. The question is: What was your first leadership role? Were you class president? Head of your yearbook? Mayor Stephanie Rawlings-Blake: The first time I sought office, 'public office,' was in middle school, seventh grade. I put my best effort forward and lost to Anthony Watson [laughter]. Weiss: She knows his name. Rawlings-Blake: He's a Ph.D. now, moved back to Baltimore, came back with his family. I think he came back to rub it in my face. But I did student government all throughout middle school, high school, college, and then joined the Young Dems and did things even when I was in law school. Chickie Grayson, Enterprise Homes, president & CEO: I never thought of myself as a leader. I just felt like I did what came naturally to me. So, I think what comes naturally to me, is that I have an opinion [laughter]. Doreen Bolger, The Baltimore Museum of Art director: The first moment I was aware of how painful it was to be a leader was when I was mysteriously elected to be head of [The Metropolitan Museum of Art's] curatorial forum. We decided to tell [director] Philippe de Montebello that we would have to take a vote of no confidence if he didn't make a certain decision about a key staff person who was being abusive to his staff. And I went up to his office to deliver this message at the age of 34. Julia Marciari-Alexander, The Walters Art Museum, executive director: And did he do it? Bolger: Yes! Weiss to Cindy Wolf, Foreman Wolf restaurants: Cindy, I know you run a tight ship in that kitchen. Wolf: I started working when I was 19. And the reason that I'm a leader is that I hated it when my mother told me what to do when I was a kid. It was Chickie who said she has opinions? I have a whole lot of opinions. Maravene Loeschke, Towson University, president: My goal was to be an actress—I was a theater major—until I came back to teach. Acting as preparation for being president, that's another story. Carla Hayden, Enoch Pratt Free Library CEO: My first story time, about 25 3- and 4-year-olds, looking at me, basically saying, 'So what are we going to do for the next 45 minutes?' Then you have Johnny, who's obviously got some issues; you've got Suzie standing right here [tugging your arm]. That experience has helped me through the rest of my career because when I think about people, I think, yeah, I bet when he was five. . . . [laughter].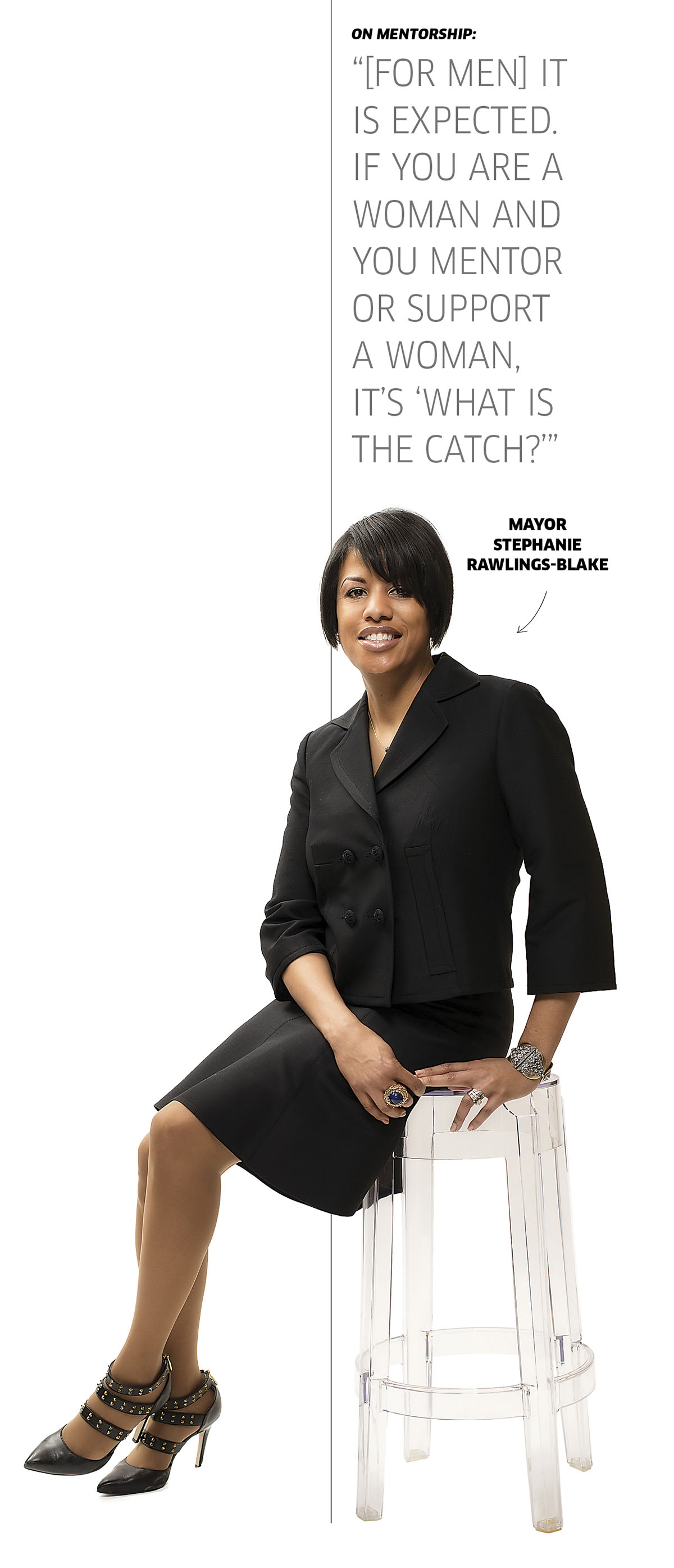 Y. Maria Martinez, Respira Medical, founder and CEO: I accidentally bumped into leadership because I was bilingual. [In Cartagena, Colombia], the largest hotel asked if I would work for them. Of course, back in that time, I had to ask my husband for permission, who then had to ask my father for permission. And, my husband went with me to the job interview, which is interesting, looking back. Two months later, I became director of reservations. Being Latina, in this emerging community, I also, accidentally, became a leader. You lift as you climb. Marciari-Alexander: I was one of 34 girls who 'opted in' to found a new, day girls' school on the campus of a six-year-old boarding and day boys' school. I was in the first four-year graduating class. I will tell you [it wasn't easy] walking into that dining room with 200 boys when you are 14, and 5-foot-10, with braces and glasses, and having every single one of those boys with their trays looking at you like, 'What are you doing here?'
---
Max Weiss: What gave you the courage to say, 'I deserve not just a seat at the table, but a seat at the head of the table?' Amy Perry, Sinai Hospital of Baltimore, president: Probably a lot of us, the way we grew up, were not expected to be leaders. We look at things a little bit differently and that becomes part of our skill set. We're planners because we have to look at the big picture. People assume, 'Oh, that man will be the leader.' But we are in back, figuring out the endgame . . . how this could be better. How are we going to navigate through this? How are we going to bring everyone with us? I think that extra thought process probably makes us a bit better [prepared]. Rawlings-Blake: I agree. As women we see how to get to that endgame a lot differently than men. We also think through, 'How am I going to navigate the minefield' that is sometimes around us because of all the 'isms.' Weiss: Do younger women face the same obstacles? Bolger: I hear sometimes: 'I'm not a feminist' among younger women. It's hard for me, coming all the way from the '60s and participating in the early feminist stuff, to understand that. What's interesting is that it [equality] keeps changing and reshaping itself. Grayson: When I started at Enterprise, I was overseeing the construction and development of several jobs. There was a job foreman at one of them and he gave me a gift one day that was a dictionary of construction vocabulary. Bolger: Did you throw it at him? Grayson: What it made me feel like was, 'Well, he's just a jerk.' It told me more about him than anything else. [But] I've always felt like being in a [leadership] position in a male-dominated world, most people really want to help you. Loeschke: One of the strongest things I remember from my entire childhood was my mother, who was a secretary—and I love my mother dearly—telling me we need to get started teaching you typing because you're going to have to be a secretary. The nurturing came from wonderful mentors. Every one of them right up on through college were men.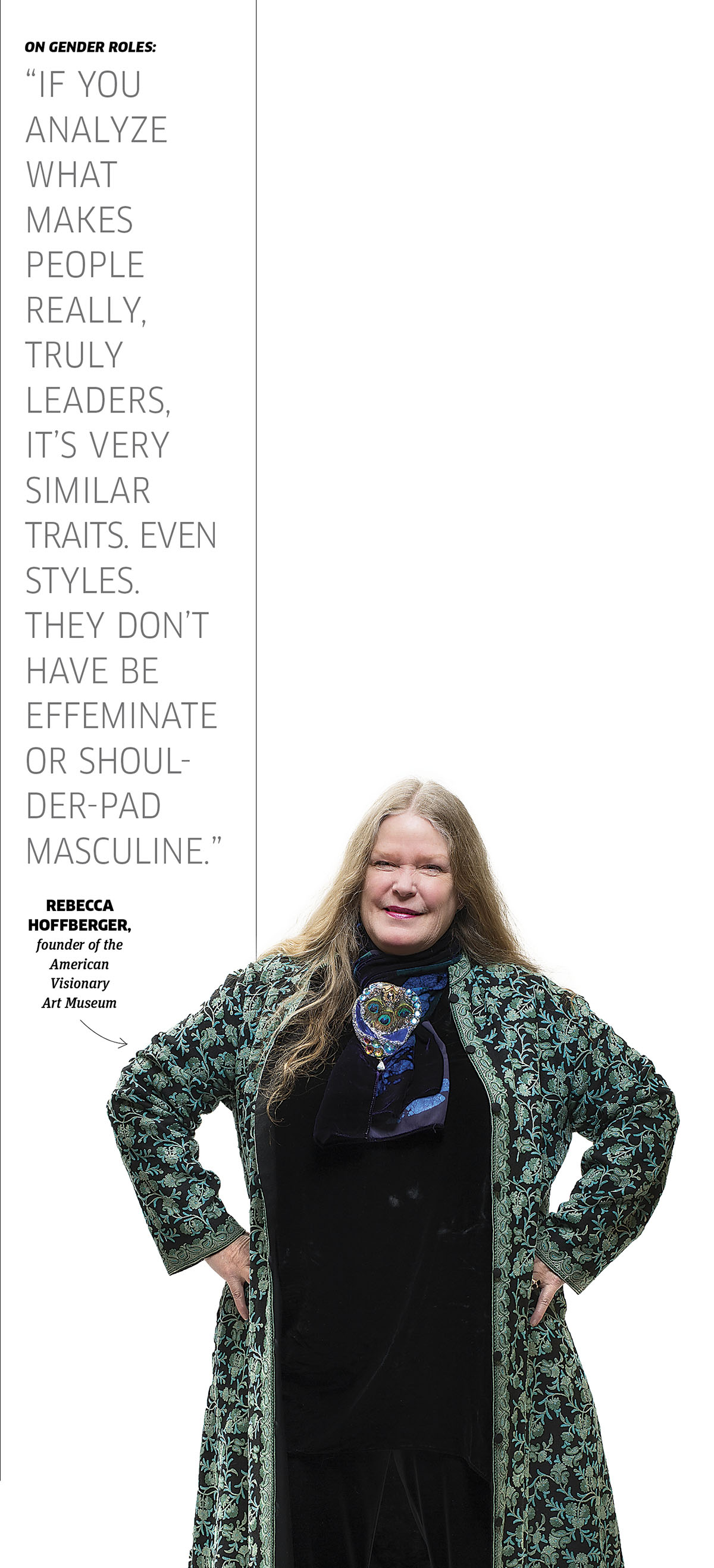 ---
Max Weiss: What, if anything, about your leadership style can be attributed to being a woman? Brenda McKenzie, Baltimore Development Corporation, president & CEO: When I was in business school, ladies wore the suit with the bowties, 'the poofs.' I thought I'd have to get the Ferragamo flats and the 'uniform.' You guys know what I'm talking about [laughter]. Perry: I'm still wearing the uniform. McKenzie: But I worked for a woman who kind of broke the mold and totally owned her femininity. And it wasn't that she wasn't decisive, it wasn't that she wasn't knowledgeable—but she was a woman. It was her style, and it really showed me at a very early stage that you could be authentic. You could be who you are. I'm analytical by nature. I'm going to gather information. I'm going to look at the facts. But that part told me I could still wear a dress. Hayden: One of the quotations I have about women in leadership says, 'Men seek power for power and women seek power to do things.' And that's a theme—women are looking at the solution. Rebecca Hoffberger, American Visionary Art Museum, founder: I'd like to disagree with you right away. There are men who seek power for shallow reasons, and there are men who seek power for very noble reasons. Hayden: Well, that's true. There are also some women who feel like they have to be more like what they think a man would be like in leadership, and so they will try to be tough and say, 'I don't care if your child is sick or [that] you can't come in if school is closed,' and things like that. Grayson: One of the things as a leader I tend to think about is, what is happening with somebody in my office? From a psychological perspective, what's going on with them? Why are they acting this way? Always with the idea that I can change it—which I never can [laughter]. I don't know that men do that. Weiss: I do think ambition tends to be encouraged more with men. Marciari-Alexander: I think that is going to change. I have twins, 7-year-olds, one each. And the way that the little girls are challenged to be ambitious, to be leaders, to succeed, is very clear. It is going to be really interesting to see when the 10-year-olds today are 30. 
Max Weiss: Are you more empathic or compassionate than a male might be? Grayson: Not necessarily. Weiss: You see weakness and you pounce? [Laughter.] Marciari-Alexander: It is interesting that there are three books [courtesy of Hayden and the Pratt Library] about Elizabeth I on the table. She said that she had to have the heart and stomach of a king, right? So that was how she led. In fact, one of the first books I read about her as a child was called, She was Nice to Mice, written by Ally Sheedy, the actress, for little girls. . . . We are still fascinated with that dichotomy. Wolf: My employees are like my family. If they need me, I'm there for them. Also, getting back to leadership, one of the first things I tell a manager is, 'You treat everyone as an individual. You figure out how to make each one of these people successful,' plus a healthy, happy environment because I don't believe in people yelling and screaming. Nah-ah. There's enough pressure. Loeschke: People ask me how many children I have—and I tell them 22,500. I doubt that a whole lot of male presidents would define [their role that way]. Students will oftentimes call me, 'Mom.' Or 'Mama Prez.' Marciari-Alexander: Going back to the question, maybe it's, 'Do we view professionalism in a different way?' Because I don't feel that I am more 'compassionate,' but I feel that my vision of professionalism includes words like being joyful. McKenzie: There has been a change in the workplace, too. It's not a 9-5 or 9-7. With these phones, you are basically on call, connected constantly, and, consequently, your work life is more your family. It's more integrated. Perry: I was hoping we would get to that. The most challenging part of my journey was not any challenge I had at work, it was dealing with being 'the mom.' [And] my husband is very much a 50-50 kind of guy. But that extra pull is an extraordinary piece of this puzzle, in terms of moving women forward. Sheryl [Sandberg] talks about it a little bit in Lean In, you know, 'Don't leave before you leave.' But it's also unrealistic. There are the three Sheryl Sandberg jobs in this world where you can leave at 5. Weiss [to Perry]: How did you, personally, overcome that in your own life? Bolger: She had to be twice as good as the men. She had to do all that and be twice as good as the men to get to where she got. 

---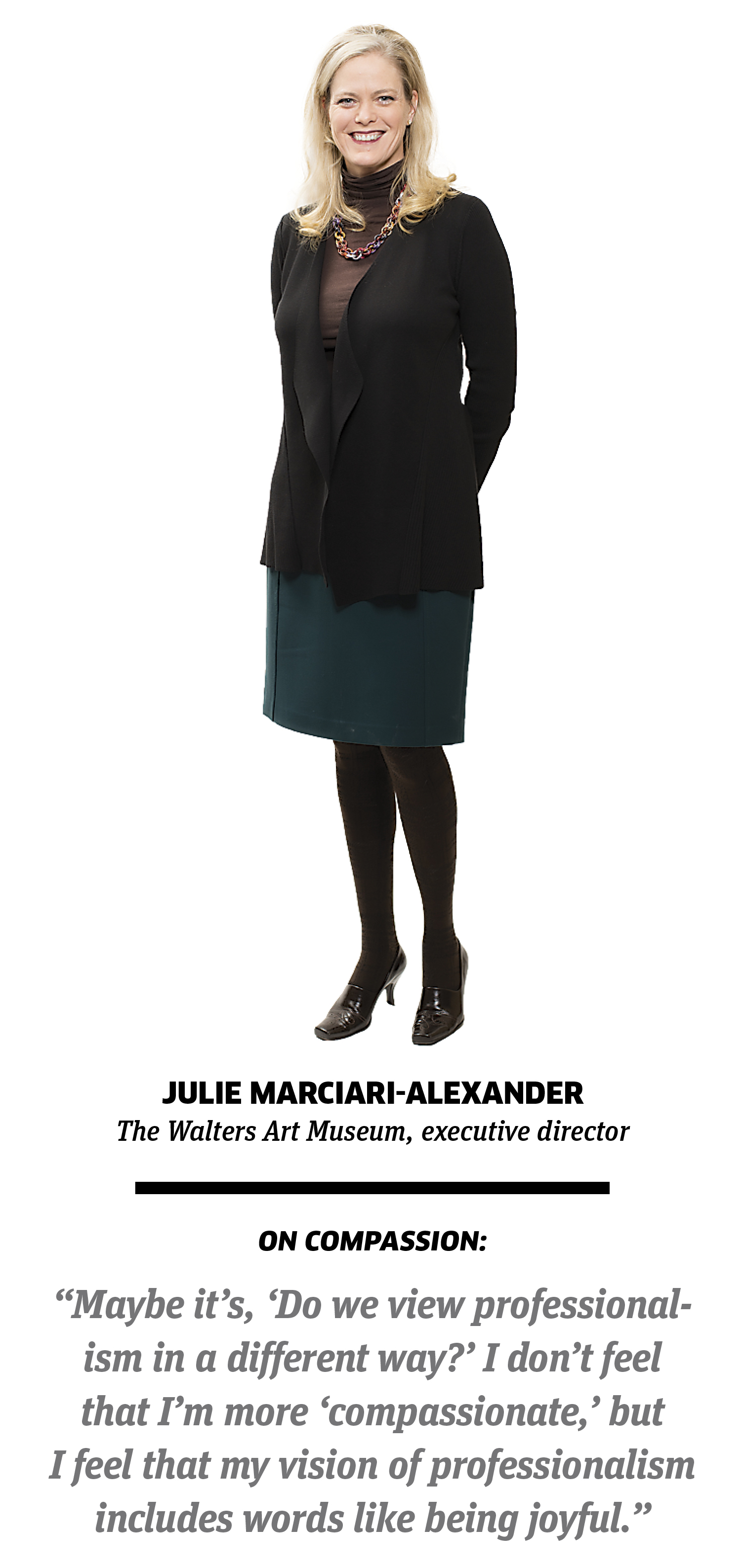 Hoffberger: I don't want to go away from the conversation, but what's emerging for me, is that I don't really think so much about what is distinctive to be a woman [leader]. I see the attributes that I'd admire in women, I'd admire in men. Jim Rouse was the most 'pro-young person' I can ever imagine. [UMBC president] Freeman Hrabowski walks that campus, and just like I admire in you Maravene—you're shaking your head, 'yes,' because you know—he knows those students. Perry: Are you trying to make the point that there are no differences? Drawing parallels, 'Look at all these men who also have nurturing traits?' Hoffberger: I think that if you analyze what makes people really, truly leaders, whatever their genitalia may be, it's very similar traits. And even styles. They don't have to be effeminate or shoulder-pad masculine. Grayson: With all the successes, I do feel like women are still at the bottom here. It's not until we have a woman President am I going to feel like that has changed. Weiss: Our culture also puts women in these positions where it's assumed they are fighting against each other. Martinez: I always welcome competition. You should see my industry. But it's doing it fairly. It's like what my mother used to say, 'Why do we always have to go up and pull someone else down?' Rawlings-Blake: Welcome to my world. Martinez: I've been hurt deeply by other women, and by some women I thought were my friends. I'm like, 'What just happened here?' But competition is healthy and wonderful. It is. Rawlings-Blake: So is support. Martinez: Absolutely, we have to do that. Rawlings-Blake [to Martinez]: But the thing is—and I don't know if you feel this—it's not that we don't have to be as fiery, but if we let that show in some positions, it just doesn't work. Wolf: You're 'emotional.' Perry: We do what works, right? We temper ourselves in certain situations.
---
Max Weiss: Mentorship is built into the structure for men, but it's taken a while for women to realize that female-to-female mentorship is equally as important. Rawlings-Blake: It's not even considered being supportive. That is expected. If you are a man and you hire another man, it is because he is the most qualified person. If you are a woman and you mentor or you support a woman, everyone's looking for, you know, what is the catch? [Playfully smiling] Is that her cousin? Wolf: So how do we change this negative part of our female culture? Loeschke: I had found that women were just in a very serious stage of negativity about other women during my growing up period. The competitiveness way overtook the mentorship. I think any woman that gets into any position of authority has an immediate social responsibility to mentor women the next day.
Max Weiss: Are you mindful of the negative stereotypes of women? The fear of being seen as 'the b-word?' Grayson: I remember when a man would typically refer to someone as a girl. I'd be 'the girl.' And 'the girl' is 35 years old, and I'd love correcting them. And then, eventually, when I was in my 50s or 60s, I'd think, 'Girl? That's a good thing.' But you're not going to change anyone's mind if you don't change what comes out of their mouth. Rawlings-Blake: I don't know if you correct that, or if you just use it because it's instructive about how they perceive you. And also, about how you can get what you need through that person. Marciari-Alexander: The girl/gal thing—people my age are very cautious about that. But they will say, 'Oh, but you're so young.' Martinez: Latino men, in particular, some, not all—the majority—they really do see women as inferior. But my father told me always to be myself. If you want to cry, cry. If you are angry, show it. But do it, he said, in a way that does not take people aback and that they understand that you are upset. He was really wonderful. Weiss: So you've been emotional in front of staff and colleagues? Martinez: Oh Lord have mercy. I will cry. People know me, what you see is what you get. Rawlings-Blake: You're just blessed to be in a profession where that is acceptable. There's absolutely no way I can do that. Weiss: But John Boehner can cry. Hayden: And Hillary better watch every little thing. And with women, especially, it's the forceful part.

---
Max Weiss: Is there something particular to Baltimore that allows you, as women, to thrive in leadership roles? Loeschke: Yes. The quality of its neighborhoods. When you have a community where its neighborhoods are as strong as ours are, people are a little more used to a family feeling that is bigger than your house [and] that can translate to the institutions that we are running. Grayson: I agree with that. Maybe it starts with your neighborhood. But Baltimore is also is a very accessible city. Weiss: How does that translate into leadership roles for women? Grayson: Access to power and knowing people. It's a city where, if you want to pitch in and do something, you can do it. You're going to get help doing it, and you're going to get recognized for doing it. Rawlings-Blake: Baltimore has a history of having a good ol' boys network, but I also think we have a history of having strong women in leadership positions, whose leadership was undeniable. Each generation has been able to build on that. Weiss: A couple of you have said one of the reasons that you came to Baltimore was that you saw other women in leadership positions here. So, were like this little microcosm that proves that women in leadership begets more women in leadership? Loeschke: There's a remarkable Baltimore phenomenon that people might not be aware of. I wrote a book a couple of years ago called Lives in Art: Sixteen Women Who Changed Theatre in Baltimore. Over the last century, 16 different theaters were run by women. There was nowhere else in the country, or the world, where that was the case. That is an incredible legacy. And little girls did grow up knowing that, when they went to the theater, the person in charge was a woman. Hayden: There is work to do here and you feel like you can make a difference. Marciari-Alexander: There's also diversity. Coming to Baltimore, you do see lots of different people from lots of different economic strata, all have different cultural paths, ethnic paths, socio-economic paths. It creates a feeling as a woman, a black woman, a Latina, a sense of hope—that it is possible here [to become a leader].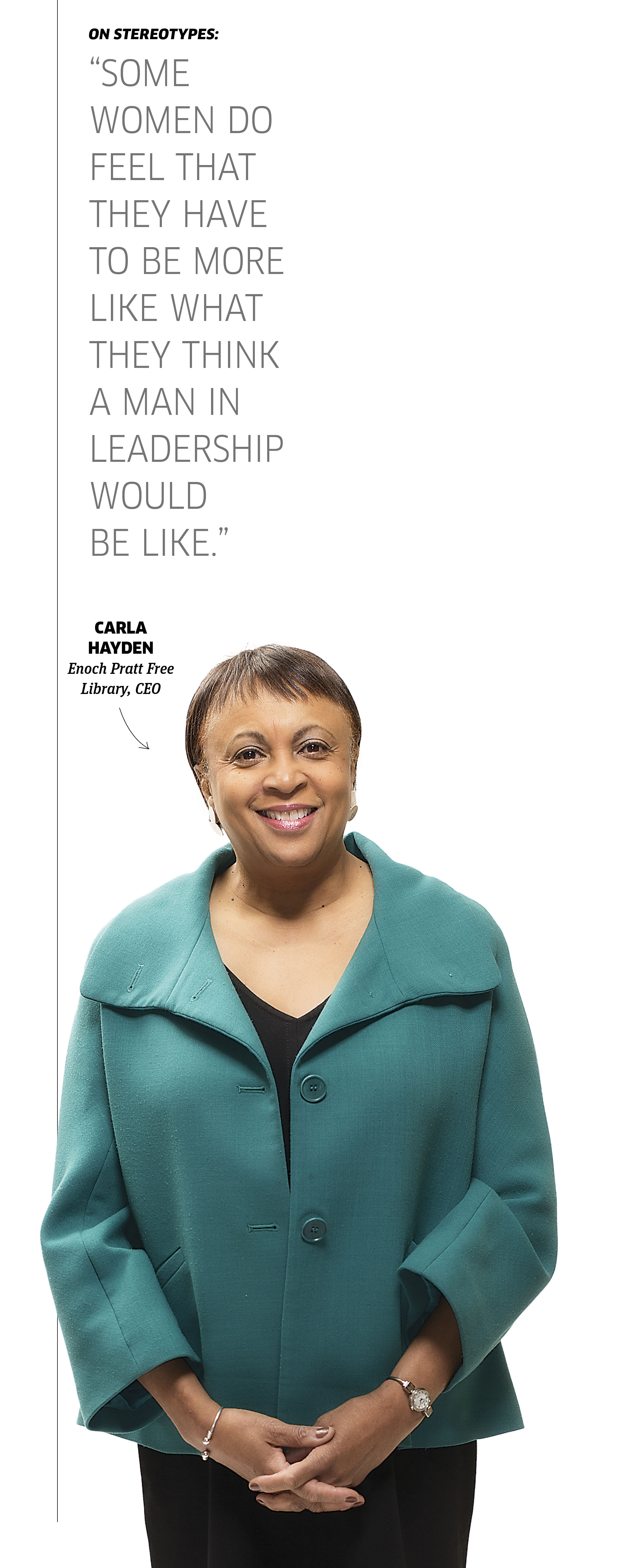 ---
Max Weiss: When one of my sales reps found out I was doing this panel, she came up to me and said, 'Ask them all where they shop.' Grayson: I was wondering when you were going to get to that [laughter]. Weiss: I'm glad you said that because my reaction was, 'I wouldn't ask a bunch of men where they shop.' Rawlings-Blake: There's probably a good reason. You probably wouldn't ask because they wouldn't be stylish [laughter]. Weiss: So, is it an appropriate question in this format? Marciari-Alexander: [Raising her hand] I hate shopping. Grayson: Love it. Love it. Who got up this morning and did not think about what they were going to wear? Bolger: I had to be instructed on what to wear [laughter]. Loeschke: Coming from theater, one of the lessons I've learned is the importance of dressing for what you are going to do that day. If I'm going to be talking to bullies, and you do that as a university president, if I'm going to the Fine Arts building or to a basketball game, I think about the height of my heels. Not just where I'm going to walk, but to whom I am speaking. Now, I hope this doesn't make the magazine—because then everybody at the office will be talking about, 'What size heel is she wearing?' Weiss: But this is going to make the magazine because these are things women have to think about. Loeschke: [Throwing down a pen in mock anger] Oh, great! Rawlings-Blake: Men say, 'Oh, I'm putting on my power tie today,' but it looks just like the tie they put on yesterday. For me, I do feel like it's one thing I can do to bring in a little creativity. Depending on what you are doing, you are projecting. One thing as a woman, we have more tools in our tool box to convey messages than men have. And I take advantage of it. Weiss: Do women have to worry about being perceived as being shallow? Grayson: I don't think so anymore. Rawlings-Blake: Oh, come on. I did a crime walk, and I had on heels because I walk in heels, and they work for me. I was at the front of the walk the whole time, I didn't lag behind, I didn't trip, I didn't cause any trouble. The first line in the article [about it was], 'In gold stilettos.' How ridiculous. By a woman writer. Hayden: Well, that's a way to undermine women. Rawlings-Blake: Don't get me wrong, it's not that I didn't want people to notice the shoes. But it doesn't have anything to do with the article. McKenzie: Because I do work on business development and promoting business activity, I take it slightly differently. I try to shop local and that was your question, 'Where do you shop?' So, I'm wearing Jody Davis, a local designer.

---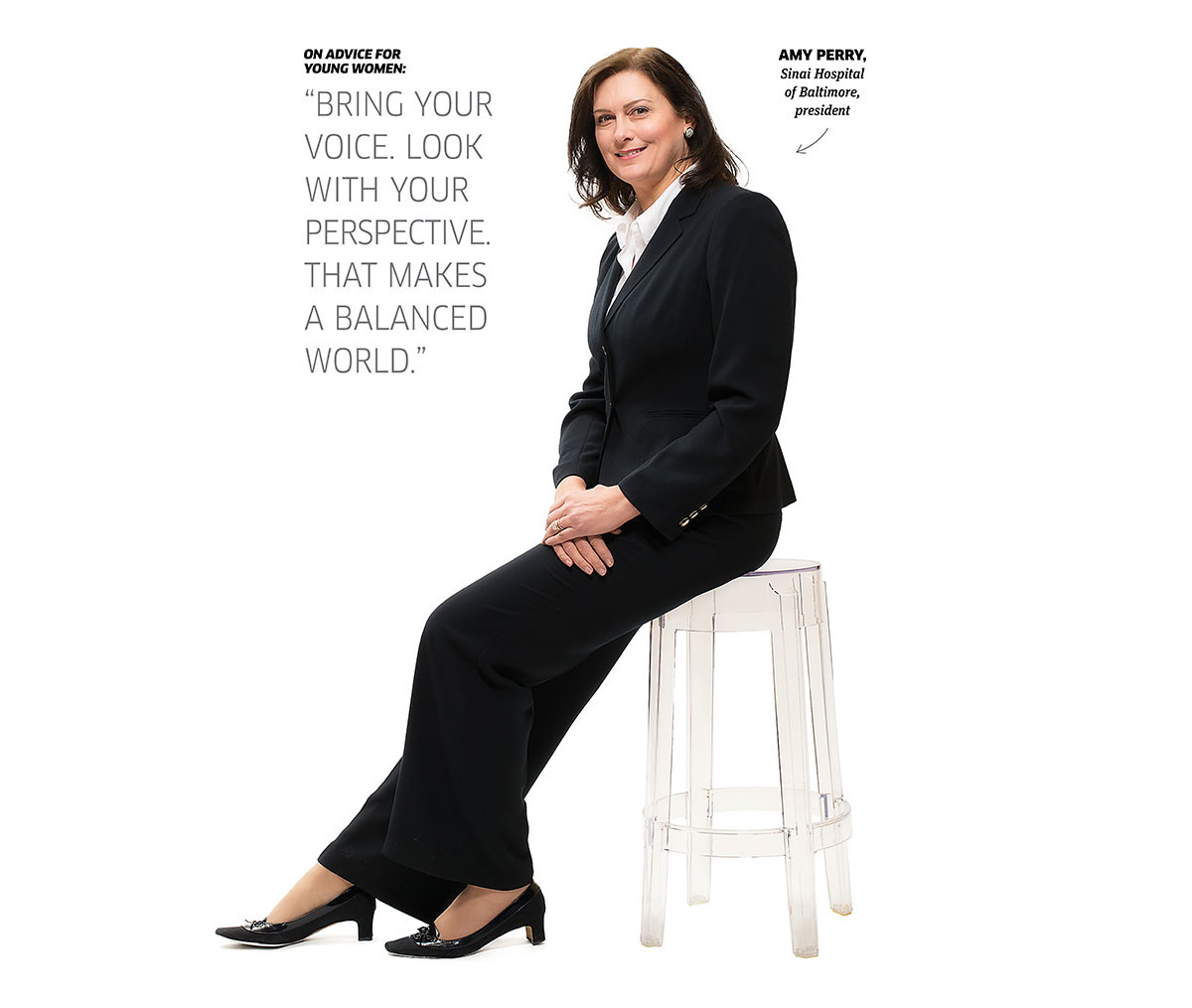 Max Weiss: Love the dress. Final question. What advice would you give to young women who aspire to leadership? Grayson: I would say, 'Follow your passion. And good luck finding it out. The minute you do, stay with it. That's what going to move you.' Wolf: Find someone that's very good at what they do and go work for them. Marciari-Alexander: Don't let things happen to you; make choices. Perry: Use your unique voice. Women bring a different perspective to everything they do. I bring a perspective to the hospital, it's not just cardiology, it's, 'What are the symptoms of a heart attack for a woman? How are they different than a man? And how are we providing that education?' I am bringing a different voice, with a different priority set. I would tell young people, including my daughters, 'Bring your voice.' Look at things with your perspective. That makes a balanced world.
---
Women in Leadership Roundtable Reading List
---
Outtakes: Women in Leadership Roundtable