Smack dab in the center of 60-plus miles of sandy beaches known as the Grand Strand, Myrtle Beach is one of South Carolina's top tourist destinations. It is also, apparently, one of Maryland's. According to the Myrtle Beach Area Convention & Visitors Bureau, the Old Line State is a top 10 visitor point of origin for Myrtle Beach, with Baltimoreans comprising the greatest contingent of Marylanders. Once you get there, it's easy to see why. Myrtle Beach has the same unpretentious, family-friendly vibe as our own Ocean City—and many of the same types of attractions—but with an extra dose of Southern hospitality and Low Country charm. And now that low-cost Spirit Airlines flies daily direct from BWI to Myrtle Beach, popping down to the Palmetto State for a long weekend is both an economically viable and timely option.
Packed with amusements, entertainment venues, world-class golf, casual restaurants, and, of course, wide white-sand beaches, the city of Myrtle Beach makes a good base camp for a family vacation, but branching out into the greater Myrtle Beach area, which runs from the North Carolina border down to the resolutely laidback Pawleys Island, yields many pleasures, as well.
Getting from the bright and airy Myrtle Beach Airport to what locals call The Strip—beachfront, hotel-lined Ocean Boulevard—in Myrtle Beach takes about 10 minutes, maybe 15 in summer beach traffic. Many of the mid-rise hotels and low-slung motels offer the same basic amenities—beach access, pools, air-conditioned rooms, Wi-Fi—but some do it with a little more luxury and style than others. The recently renovated Island Vista Resort (6000 N. Ocean Boulevard, 843-449-6406) is a nice higher-end option offering sizable rooms and plush beds, three pools (two outdoor, one indoor), two Jacuzzis, a lazy river, oceanfront cabana massages, a fitness center, a tiki bar, and an award-winning restaurant, The Cypress Room, serving breakfast and dinner daily. Its location, a couple miles removed from The Strip's nightlife hub, makes it an excellent choice for those who want more relaxation and less recreation in their vacation.
Still, a trip to The Strip is de rigueur. As with Ocean City, the fun centers on the town's boardwalk, with arcades, ice cream parlors, souvenir shops, bars and clubs, and amusements lining the way. But unlike the boardwalk in O.C., The Myrtle Beach Boardwalk & Promenade is not historic. In fact, the 1.2-mile path only opened in 2010, but that hasn't dimmed enthusiasm for it with both Travel + Leisure and National Geographic naming it one of the best boardwalks in the U.S. Many of Myrtle Beach's most iconic attractions can be accessed from the wending walk, which starts at the 2nd Avenue Pier (110 N. Ocean Boulevard, 843-626-8480), a 906-foot wooden landing built in 1936 with one restaurant and one bar attached. Like all the piers in Myrtle Beach, it is privately owned, which means there are fees associated with its usage, but they are nominal. It costs $1 to walk on the pier and $9 for an all-day fishing pass (bait and tackle cost extra), a good value since the pier is open until 1 a.m. all summer. On Wednesday nights, the pier closes, but for good reason, as it hosts a fireworks display that all can enjoy for free. Continuing up the boardwalk, do peek in to the improbably named Gay Dolphin Gift Cove (916 N. Ocean Boulevard, 843-448-6550), which has been hawking its wares since 1946 and bills itself as the East Coast's largest gift shop. When combing its nine cluttered floors crammed with over 70,000 items of bric-a-brac ranging from novelty shot glasses to shark's teeth, it's easy to take this as fact rather than boast.
The SkyWheel's one million LED lights sparkle in a light show each evening.
Further vestiges of old Myrtle Beach, Family Kingdom Amusement Park (300 S. Ocean Boulevard, 843-626-3447) and the adjoining Family Kingdom's Splashes Oceanfront Water Park (843-916-0400), are the only oceanfront amusement parks in town and compulsory stops for thrill-seekers. All attractions are pay-per-ride, and those rides include corkscrew waterslides, two roller coasters, a log flume, bumper cars, go-karts, and a Ferris wheel, which was the highest in South Carolina until 2011. That was the year the postcard-perfect SkyWheel opened (1110 N. Ocean Boulevard, 843-839-9200). Rising 187-feet above the boardwalk, the SkyWheel is a smaller, faster version of London's Eye. Ensconced in glass pods, riders get three full rotations (lasting about 10 minutes) to take in the spectacular views of the Atlantic, The Strip, and the surrounding Low Country. The wheel's one million LED lights sparkle in a light show each evening, and, since it's open until midnight during the summer, it's a great perch for enjoying the fireworks.
While there are many places along the boardwalk to grab a hot dog and fries, more refined fare can be found at the storied Sea Captain's House (3002 N. Ocean Boulevard, 843-448-8082), which began life as a modest vacation cottage but has been a restaurant since 1962. Today, it serves three meals a day and is known for its sea views from the enclosed porch and several house specialties, including she-crab soup and hummingbird cake, a Southern layer cake featuring pecans, pineapple, and bananas, and slathered with cream-cheese frosting.
Of course, for many, Myrtle Beach is all about one thing—golf. The course that put Myrtle Beach on the map is The Dunes Golf & Beach Club (9000 N. Ocean Boulevard., 843-449-5236), which opened its first nine holes in October 1949. Extensive renovations—especially those made by famed course designer Robert Trent Jones in the early 1990s—have kept the facility in demand. Unfortunately, it's a members-only club and opportunities to play are difficult to come by unless you know someone or are staying in an affiliated hotel. Never fear though, because you are never far from a first tee in Myrtle Beach. There's the Caledonia Golf and Fish Club (369 Caledonia Drive, Pawleys Island, 843-237-3675) with its ancient oak-lined fairways or the Arnold Palmer-designed King's North at Myrtle Beach National (4900 National Drive, 843-448-2308) with its treacherous par 5 sixth hole known as "The Gambler." Several sites, including myrtlebeachgolf.com and golfholiday.com aggregate golf vacation packages for easy browsing. Plus, there are the bounteous mini-golf complexes boasting every theme from Peter Pan to Polynesia. Taken together, it proves that Myrtle Beach earns its title as "the supermarket of golf."
From left to right: Aerial shot of Barefoot Landing; Utan's feeding time at Alligator Adventure. -left to right: Courtesy of Barefoot Landing; Courtesy of Alligator Adventure.
Sometimes it rains, even at the beach. On such days, it's best to head up to North Myrtle Beach and its Intracoastal Waterway-adjacent entertainment complex Barefoot Landing (4898 Highway 17, 843-272-8349). A hive of dining, entertainment, and shopping options, the sprawling campus is clustered into villages connected by footbridges, and includes concert venues (House of Blues, Alabama Theatre), clothing stores such as Izod and White House Black Market, plus dozens of eateries, including a fudge shop, ice cream parlors, steakhouses, seafood grills, and Italian restaurants. If you're not in the mood to dally though, head straight next door to Alligator Adventure (4604 Highway 17, 843-361-0789) an indoor/outdoor zoo specializing in Crocodilians—alligators, crocodiles, caimans, and the like—plus numerous other exotic species, including red kangaroos, gray wolves, red-ruffed lemurs, and macaws. Oddities abound, including albino alligators (referred to as "swamp ghosts" by Low Country locals), a tailless American alligator named Bob, and 50-year-old, 2,000-pound Utan, the largest croc on exhibit in the U.S. Don't miss the five daily feeding shows. They're as fearsome and fascinating as you'd imagine.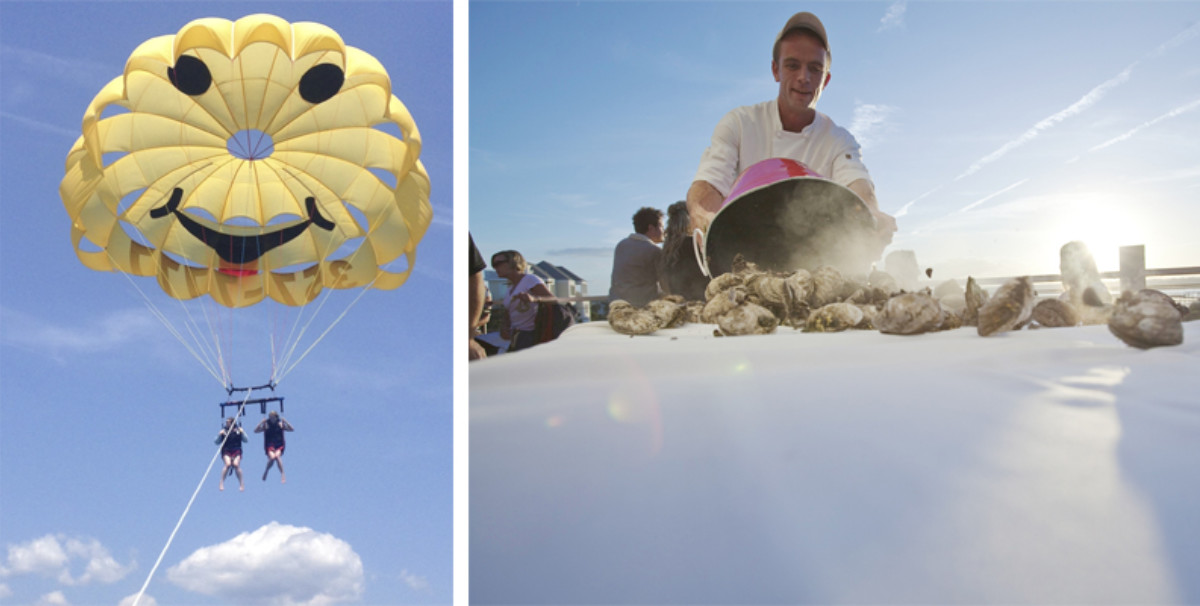 From left to right: Courtesy of Express Watersports; Courtesy of Kimberly Miles, Fahlgren Mortine. -From left to right: Parasailing with Express Watersports; Gulfstream Cafe.
Once the sun reappears, head to Murrells Inlet at the southern end of the Grand Strand for water sports. The area is peppered with outlets willing to fly you above, tow you through, or plunge you under the water, but Express Watersports' (4042 Highway 17-Business, 866-566-9338) U.S. Coast Guard-inspected boat and highly experienced staff set it apart. Whether you choose to scuba, parasail, jet ski, kayak, paddleboard, or cruise off shore in search of dolphins, sharks, sea turtles, and rays, the team at Express Watersports can get you out there safely and bring you back with a smile on your face. While at the inlet, partake in one of the many casual seafood restaurants that line the creek. Many, like Bubba's Love Shak (4037 Highway 17-Business, 843-651-5850) ooze a sort of swampy bohemia that can't be faked. (Bubba describes himself on his restaurant's website as "a big fan of NASCAR, country music, fishing, eating crabs, adult entertainment, shagging, and taking care of Goat Island," the latter of which is a thin sliver of land on which he tends goats and peacocks during the warm months.) If real-estate daydreaming is your thing, across the marsh, there are the million-dollar beach houses of Garden City and the fine views and fresh seafood of Gulfstream Café (1536 S. Waccamaw Drive, Garden City).
Continuing off the beaten track, discover another side to Myrtle Beach at Huntington Beach State Park (16148 Ocean Highway, 843-237-4440), a secluded, peaceful 2,500-acre tract of protected wilderness just south of Murrells Inlet and Garden City. Formerly the estate of American sculptor Anna Hyatt Huntington and her husband, Hispanic scholar Archer Milton Huntington, the couple's Moorish Revival-style winter home Atalaya Castle is open for tours as is an adjacent sculpture park, Brookgreen Gardens, which showcases over 1,000 works by Hyatt Huntington and her American contemporaries. Named one of the Top 10 Public Gardens in the U.S. by Coastal Living magazine, the serenity of the space is the perfect counterbalance to the frenetic fun of Myrtle Beach, a place to recharge before heading back to The Strip's electric night.
---
---