It's obvious to most anyone (even those without an eye for the arts) that Baltimore is brimming with eager entrepreneurs who double as craft creators. We've got painters, woodworkers, print makers, jewelers, and knitters galore. These crafters' creativity, paired with Baltimore's "I've got your back" attitude, fosters a community of consumers that are chomping at the bit to nab goodies made by their neighbor.
Rachel Brand, the mastermind behind Byrdie Jewelry is a new homeowner of a lovable fixer-upper. Luckily between sanding her dining room floors and picking out kitchen cabinets, she still finds time to craft her unique antique influenced jewelry for craft shows and boutiques, both near and far. On an unseasonably warm November day, we sat down with Brand (on fold-out lawn chairs, no less) in the heart of her home's reno-zone to chat about her wares, her favorite festivals, and what drives her to create.
When and how did Byrdie Jewelry come about?
Rachel Brand: It was October of 2010 so it was just over five years ago. I actually did the Apple Festival in Darlington just for fun and I wasn't planning on starting a whole jewelry business or anything but I made jewelry so I was like, 'Oh, I'll bring some stuff and see if I can even get accepted to this festival.' And I sold everything. So many people were like, 'Do you have a website? Do you have an Etsy shop?' I had to scramble to put together an Etsy shop and a website so it happened pretty quick.
What materials do you use?
RB: I do a lot with natural materials. I like stones like pyrite and quartz. I use a lot of brass because it keeps the cost down for me so I can sell pieces for less. I'm an antique-aholic and one of things I've been finding recently are these old transit tokens. They're really neat, but I'm out of Baltimore ones. I'm all about antiques, flea markets, that sort of thing. Old stuff. I just found this collection of Norwegian coins that have cool moose on them. I just got that lot and I was like 'Oooh!' I just got a stamping kit so I'm having fun writing things like 'party animal' on things. I made one for myself that says 'tom boy.'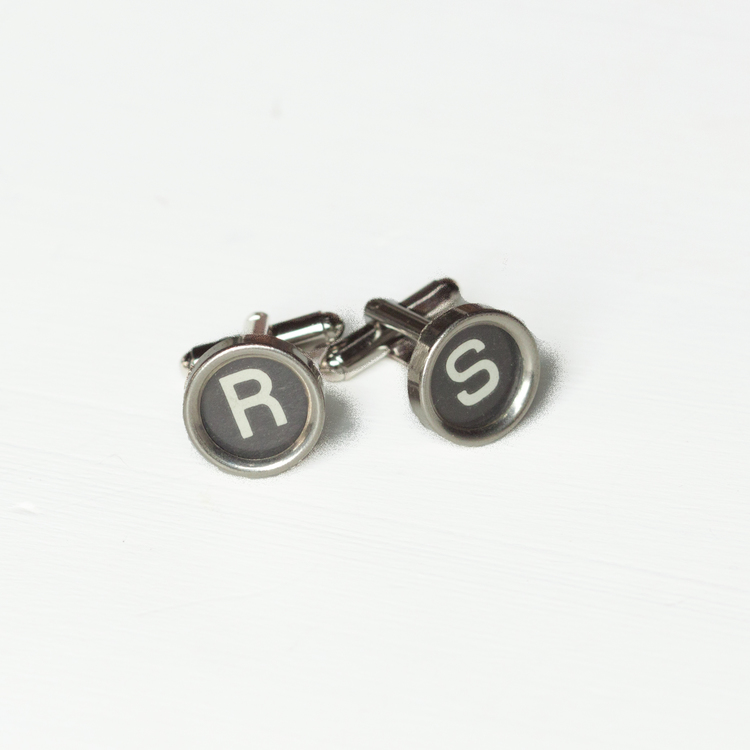 And these are cufflinks?
RB: Yep, those are made from old typewriter keys. I actually just got a wedding order for those. Thank God it's for the spring! You have to find the typewriter keys that match each other. My friend Muriel did those for her wedding last year. The girls got necklaces and bracelets.
Besides "old stuff," what other things inspire you?
RB: I'm starting to get into more modern stuff. Like the necklace with the blocks on it. I'm just trying to use more geometric shapes. I love design, so more modern design and mixing in antiques with that. I actually also just started knitting little bibs and the idea would be to either knit a cord or doing a chain for a necklace.
Tell us about all the craft shows that you go to.
RB: I do them almost every weekend. I'll try almost any one twice because you never know the type of people who are coming in . . . I'm doing Bazzart this year, it's at the American Visionary Art Museum. All my friends who are artists and have done it say that it's a really great show so I'm really excited about that one. I've never done this one before, but it's a free event called Pints and Panic at the Heavy Seas Brewery on December 12.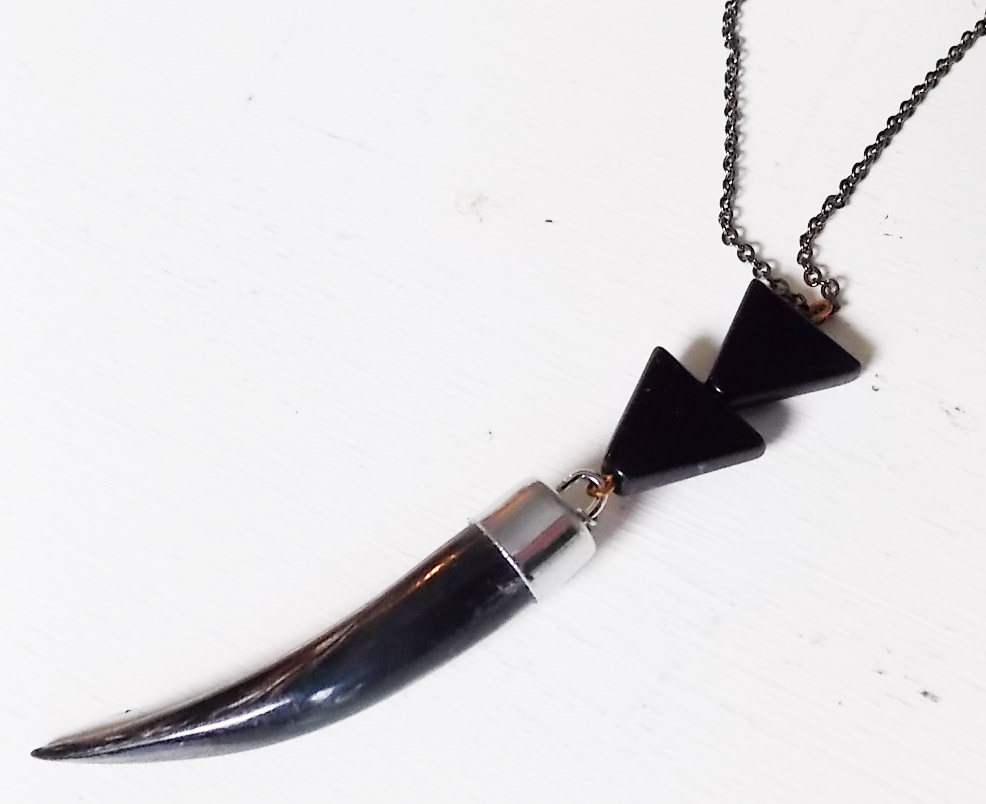 What is the most rewarding thing about making jewelry?
RB: People get so excited about it. It's such a nice job. When I'm at festival, people come into the booth in a really good mood because they find a piece that they like or a piece that they're going to gift to somebody. It's also fun to see people who are like, 'I saw you at Artscape three years ago! I wear that necklace all the time. I love it.' I love hearing that. I'm lucky to be able to see people who are just excited about finding new things.
What is the most important thing about what you do?
RB: Doing what I love to do. I just have a need to design. I love crafting, I'm a craft-aholic. I do lot of other arts and crafts so just being able to do that for a living is really nice.
What's a local brand you can't get enough of?
There's a potter named Kathy Schuetz. I love her stuff. I should actually get some for my booth because it would look nice with my display. My friend Marshall Adams is a muralist. He and I split booths together sometimes. He made me an awesome sign that said 'Byrdie Jewelry' and had a big lightning bolt through it. I love his murals. Leah Boelman, too. Her company is called Little Green Things. I met her in her first weekend in Baltimore when we had booths next to each other at an event.
---
---