Local Flavor Cookbook
Baltimore chefs share their favorite home recipes.
By Jane Marion & Lauren Cohen | Photography by Scott Suchman - December 2016
This recipe collection was inspired by a simple question: What do chefs cook once they've doffed their toques?
For the men and women in white, it turns out that there's no such thing as leaving work at the office. Whether they're assisted by sous chefs and line cooks over an eight-burner Vulcan range or feeding family and friends from the comfort of their home range, they cook because it fuels them.
We've asked five beloved Baltimore chefs to design menus that reflect the way they like to eat at home, then photographed them in their own kitchens, from Michel Tersiguel's cozy space in Ellicott City (his Great Dane named Gale kept at bay during the mouthwatering photo shoot) to Cindy Wolf's gleaming new personal (yet highly professional) kitchen in Sparks. (Her scrambled eggs were the best we've ever eaten.)

We watched as they blowtorched meringue, pounded chicken breasts, and braised a pork shoulder. And we were wowed as they showed incredible grace under pressure, whipping up gorgeous, multi-course meals in a matter of minutes, despite the crowding—as is often the case in every home's heart—in their kitchens.
So whether you mull these menus for fun, or decide to throw an impromptu party, we hope these pages inspire you to roll up your sleeves, preheat the oven, and pull out those pots and pans. No matter how great our ever-expanding food scene, there's still nothing like a meal that's cooked in your own kitchen.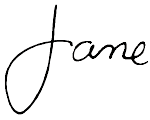 Jane Marion
Managing Editor
---

Cindy Wolf
Co-Owner, chef / Charleston
Cindy Wolf fell hard for the four-bedroom ranch-style home on a picturesque 15-acre parcel of land in Sparks. It had a long allée of trees and rolling farmland reminiscent of the French countryside. When she moved in last October, the James-Beard-Award-nominated chef and co-owner of Charleston and five other restaurants welcomed the opportunity to renovate the kitchen and realize her design dreams. With a set of copper pots swinging from a wrought-iron pot rack on the ceiling, a stainless steel La Cornue range with copper fittings, and an industrial sink good for both gardening and washing her French porcelain plates, the kitchen is what Wolf desired for decades. "I wanted this to be as much like work as possible," explains Wolf. "In fact, I've always wanted for all my kitchens to be that way, but this is the first one that really is. There are no cabinets at all and everything is very open, with plenty of workspace."
Even when she's not at work, Wolf is most content cooking for others and throwing dinner parties. "I've always cooked pretty similarly at home as the restaurant," she says, "but it's very different cooking for four people than between 60 and 150. That means I can do a whole chicken—I'm not serving portion by portion. I'm cooking for one group and no one after that—and that's what I love."
Another dream come true? Wolf built vegetable and herb gardens filled with squash, tomatoes, tarragon, and more. "As a chef, I've always dreamed of having gardens on the property," she says. "To have a farm and a small garden to pick from and have that inspiration each day as I do a daily menu is incredible."
---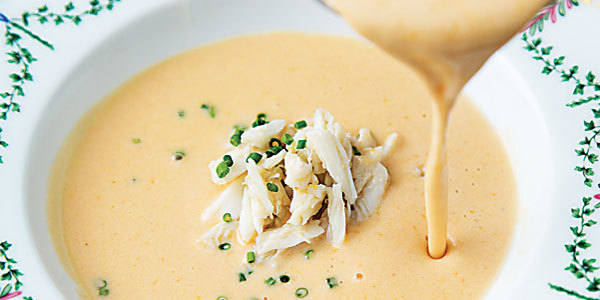 She-Crab Soup
---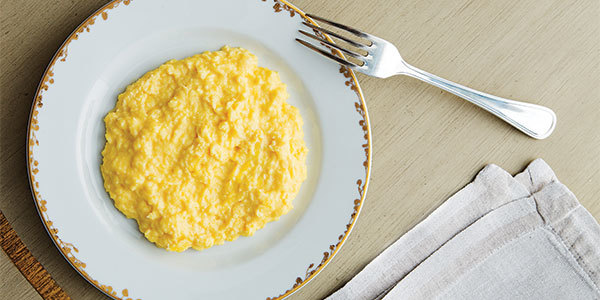 Scrambled Eggs
---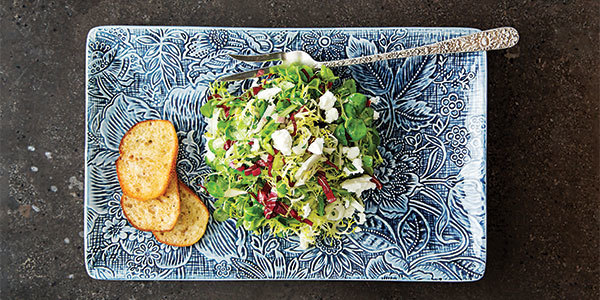 Goat Cheese & Mâche Salad
---

Linwood Dame
Co-Owner, chef / Linwood's
Linwood Dame is a big believer in practice makes perfect. "One of the golden rules when it comes to entertaining is to practice the dish before you serve it to a crowd," says Dame. "Don't try something new when you're having a dinner party."
When he's not working at his fine-dining restaurant in Owings Mills, Linwood is fond of throwing gatherings in his Cockeysville home—though his dining directive is to keep things easy. "When we entertain, it's never over-the-top," he says. "It's always about simplicity. The product is always good, but I don't want to spend a ton of time in the kitchen."
Dame's dinner party menu was inspired by a spontaneous get-together he had while on a vacation visit to his Nantucket cottage last summer. "We were out that day and ran into some people," he recalls. "And I said, 'Hey, what are you doing tonight? Come on over, let's have dinner.' But by the time I was done inviting a few couples, I was like, 'Oh boy, now I have to whip up dinner on the fly. And I only have a few hours to shop, prep, and cook.'
So I whipped up this whole meal in two hours, and although I have a recipe for lemon pound cake here, I bought a pound cake from the farm bakery that looked pretty good, sliced it, buttered it, toasted it under the broiler, and served it with warm berries and ice cream."
---
Citrus Chicken
---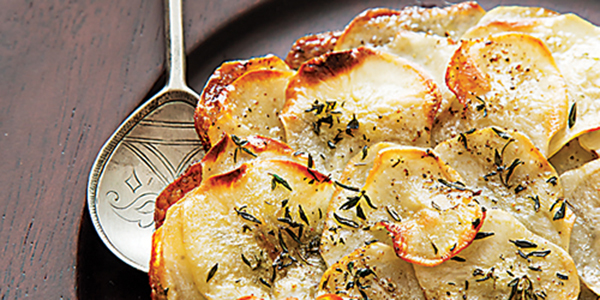 Potato Tart
---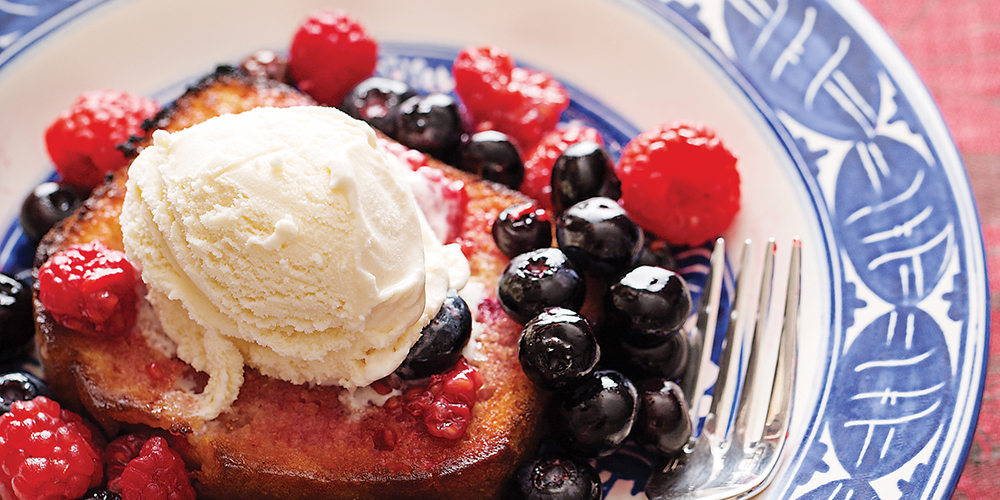 Lemon Pound Cake
---

Donna Crivello
Co-owner, Donna's / Executive chef, Cosima
Though there are chefs who prefer to go it alone when entertaining at home, Donna Crivello loves company in the kitchen. Her "more-the-merrier" philosophy stems not only from her Sicilian roots (making large batches of ravioli and cannoli was a family affair), but from teaching cooking classes throughout her 25-year career. "It's always good to have an extra hand to stir or ladle something in, and, for me, it really enhances the experience," says Crivello, co-owner of Donna's and executive chef at Cosima. "Especially if you're around people you don't get to see often, it's great to chat about the food and share stories together."
One of Crivello's favorite stories is the tale behind her saffron risotto, a recipe inspired by many trips to Venice with her husband, Peter. "That's where I really got the risotto down," she says. "It's a great foundation for vegetables and seafood, and I love the idea of transforming it from such a basic stage. It's just a little bag of raw rice, but once you add stock and saffron it changes color and volume. I love how it's transformed into a rich, creamy dish."
Whether preparing for dinner service at the restaurants or hosting a get-together at home, Crivello says that the key to success is staying organized. "When I'm cooking at home for family, it's definitely a different pace, but I still have a lot of that same energy."
---

Roasted Pear/Gorgonzola Salad
---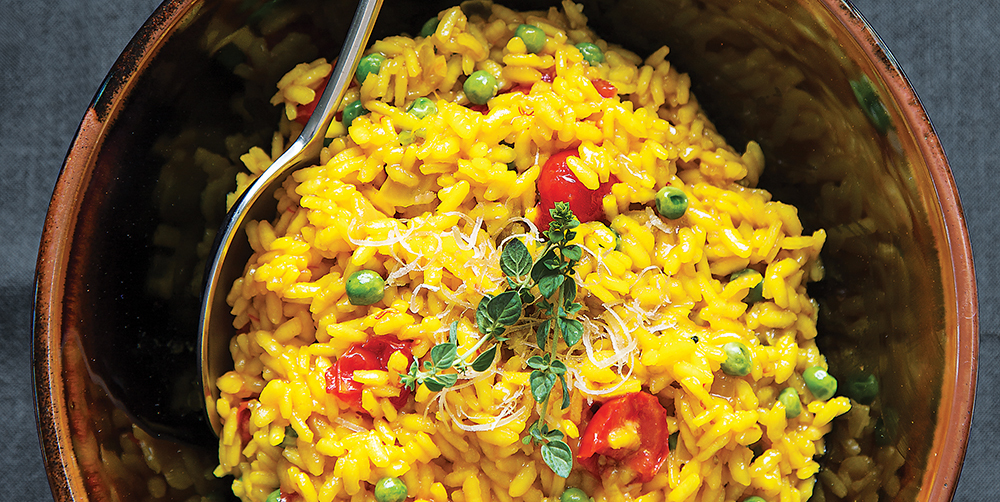 Saffron Risotto
---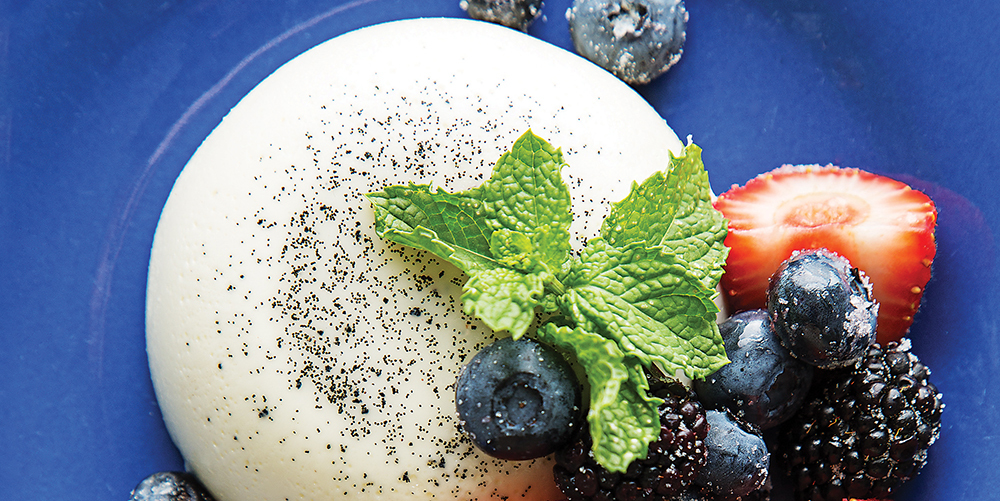 Panna Cotta
---

Michel Tersiguel
Owner, chef / Tersiguel's French Country Restaurant
Just before dinnertime at his Ellicott City home, Michel Tersiguel takes a blowtorch to a hulled-out pineapple filled with peaks of meringue. "This was the first dish I ever made when I was 12 years old," recalls Tersiguel, executive chef and second-generation-owner of Tersiguel's French Country Restaurant in Ellicott City—which recently reopened after sustaining damage in the historic flood that devastated Main Street last July.
The Culinary Institute of America grad was introduced to
the pineapple dessert on a childhood trip to his parents' native Brittany, France. "I remember coming home and making it on the third floor of my parents' restaurant for my father to sell to special tables," he recalls. "We had a tiny, old-fashioned oven up there and a little hand mixer, and we had to bake it because, back then, there were no blowtorches. But I just remember it being such a proud moment."
Though he once dreamed of becoming a professional soccer player, ultimately the pull of the family business was too strong. For Tersiguel, whether cooking at the restaurant or whipping up a meal for wife Angie and their two young sons, food is all about the memories that it evokes. "Cooking is such a large part of us all," he says. "It was always a connection that I had with my parents, getting stuff from the garden and cooking at home with them. And I love serving dishes that bring people back to that happy place from when they were younger. It's what I like to call 'the Ratatouille moment.' It's very emotional."
---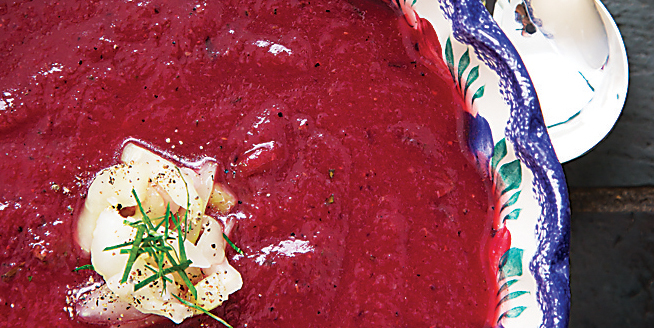 Beet Soup
---

Halibut with Oven-Dried Grapes
---

Pineapple Surprise
---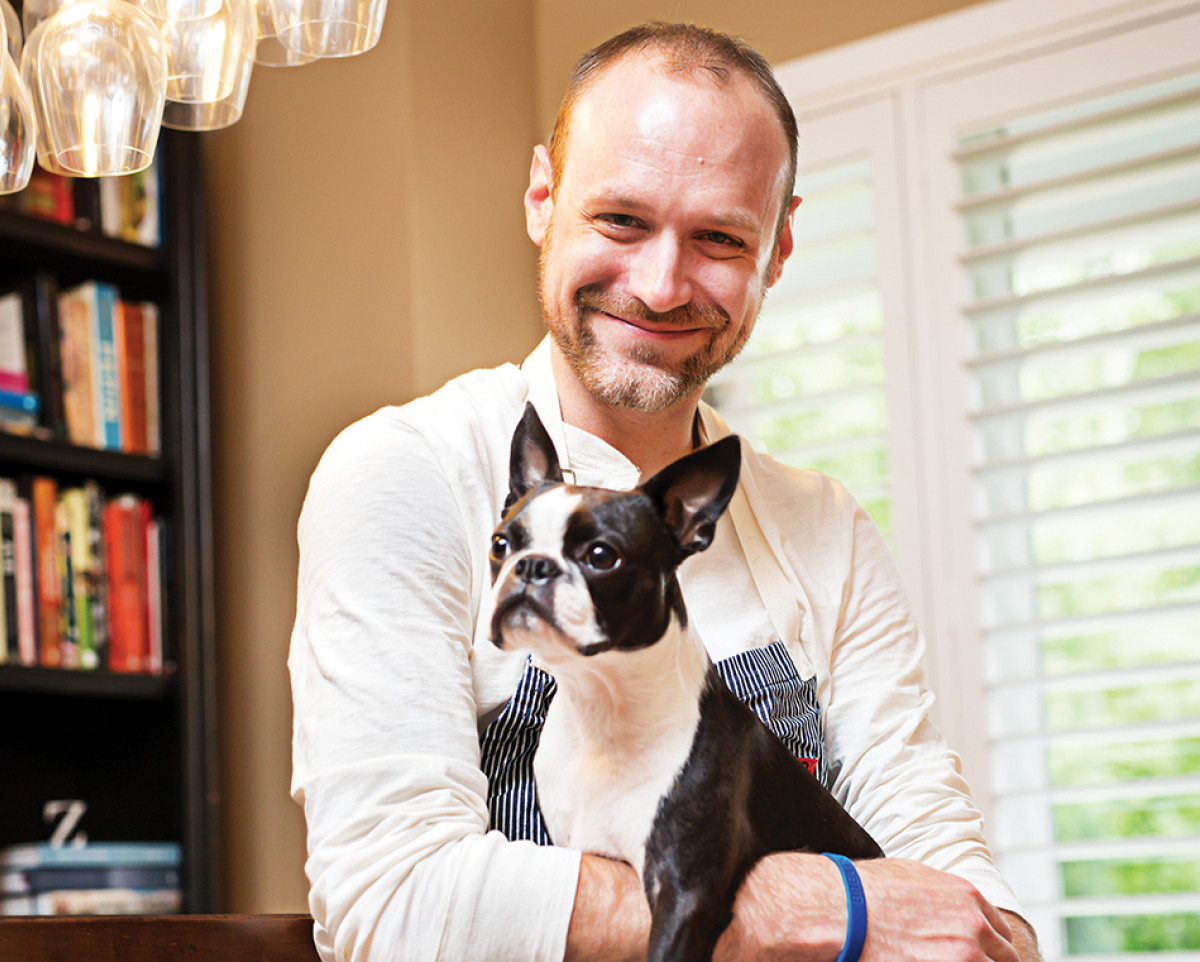 Zack Mills
Executive chef / Wit & Wisdom
When Zack Mills landed the executive chef gig at Wit & Wisdom in 2013, he and his wife, Alexandra, ditched their D.C. digs and started house hunting in Maryland. Mill's only
requirement: a gas stove. "I can't cook on electric," he says with a laugh. "If I walked into a house and saw an electric stove, I just turned around and walked out."
In addition to a gas stove, his Annapolis kitchen is equipped with all of the essentials, including blenders, food processors, scales, and an impressive collection of cookbooks penned by the likes of the late Michel Richard and his mentor, Michael Mina. "Our house is very food-centric and it always will be," says Mills, who also shares his space with his Boston Terrier, Pickles. "Whenever I get ideas in my head, if I can't wait to work on them at the restaurant, I like to play around at home. I have to make sure that I have enough tools so I can almost treat it like a commercial kitchen."
Mills's love of experimentation comes in handy when it's his turn to prepare Sunday dinner, a family tradition that has stuck since childhood. "All family gatherings revolved around food, so as far back as I can remember, the two things have always gone hand in hand," he says. "I remember my grandmother used to say, 'If you don't have an appetite, you must not be happy.'" Though choosing one menu to satisfy upward of 14 people can be tricky, Mills says that these dishes are definite crowd-pleasers. "There has to be an hors d'oeuvre, that's just a thing in my house," he says. "The soup is as traditional as it gets, and the braised pork pasta is a really comforting, easy, one-pot thing."
---

Cream of Crab Soup
---
Smoked Salmon Crostin
---

Pappardelle & Braised Pork
---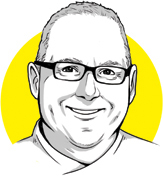 Illustration by Danielle Dernoga
Whether preparing a dinner for two, or a holiday feast for the masses, it's important to have a carefully curated cupboard. To find out which ingredients are absolutely essential, we turned to chef Jerry Pellegrino, co-owner of Schola cooking school in Mount Vernon. "A smartly stocked pantry allows you the ability to whip up meals without much planning on any given night, add some excitement to standard recipes, or just make a quick snack in between meals," says Pellegrino. Salt and pepper aside, here are the items that no home cook should go without.
Spice Blend
"Choose one depending on what you like or try a new one each month," says Pellegrino. "But whether it's herbes de Provence, garam masala, Creole Seasoning, or Italian herbs, having one of these in the cupboard allows you to add instant excitement to any dish."
---
Garlic and Onion Powder
"So many dishes start out with onions and garlic," says Pellegrino, "but keeping the fresh ones around can be a challenge. Although not as good, these two powders get you pretty close to the real thing."
---
Honey
"Vinaigrettes, stocks, soups, stews—they all can benefit from a little sweetness to balance them out," says Pellegrino. "You could just keep sugar on hand, but honey provides an added complexity to foods. And since it is the only natural product that never goes bad, it's perfect for the pantry."
---
Extra-Virgin Olive Oil
"We pour this on everything," says Pellegrino. "Although it's not the ideal oil to cook with, buying a price-conscious brand like our local Pompeian makes you feel good about it. Drizzle it on bread, cheeses, and salads, or sauté anything to make a quick meal."
---
Dried Pasta
"One big and one small shape—pasta is the perfect foil for anything you have left in the fridge; chop it up, sauté it, and toss with cooked pasta—easy meal," says Pellegrino. "For the big version, we prefer bucatini or penne. For the little version, it is hard to beat the delicious taste and texture of Israeli couscous."
Yellow Cornmeal
"Maybe you're not in the mood for pasta but need to get rid of leftovers," says Pellegrino. "Making polenta can fix that. But cornmeal has other uses. Make a batch of skillet cornbread, [or make a] cornmeal crust and fry anything from oysters to onion rings."
---
Balsamic Vinegar
"Vinegars are good to have on hand, but balsamic is king," says Pellegrino. "It adds dimension to sauces, makes the perfect vinaigrette, and can be reduced to a syrup served with fruit and whipped cream."
---
Canned Fish
"Use these in a pinch to add protein to salad or pasta, puréed to make dip, or mix with simple ingredients for a sandwich," says Pellegrino. "There's tuna, King Oscar sardines, Double 'Q' wild caught Alaskan salmon, and Trader Joe's has a great proprietary smoked canned trout."
---
Dijon Mustard
"Dijon's acidic, sharp taste adds great flavor," says Pellegrino. "Start with honey and Dijon mustard vinaigrette, then move onto using it to glaze hams, add it to pan sauces, mix it into potato dishes, and rub it on lamb as the 'glue' to hold on an herb crust."

---
Your Favorite Hot Sauce
"Whether it's Tabasco or Sriracha or Louisiana, there's always the need to provide heat to certain dishes," says Pellegrino. "They also provide heat to sauces where pepper just won't work; hollandaise, cheese sauces, béchamel. We also stir them with mashed potatoes and add them to marinades."
---