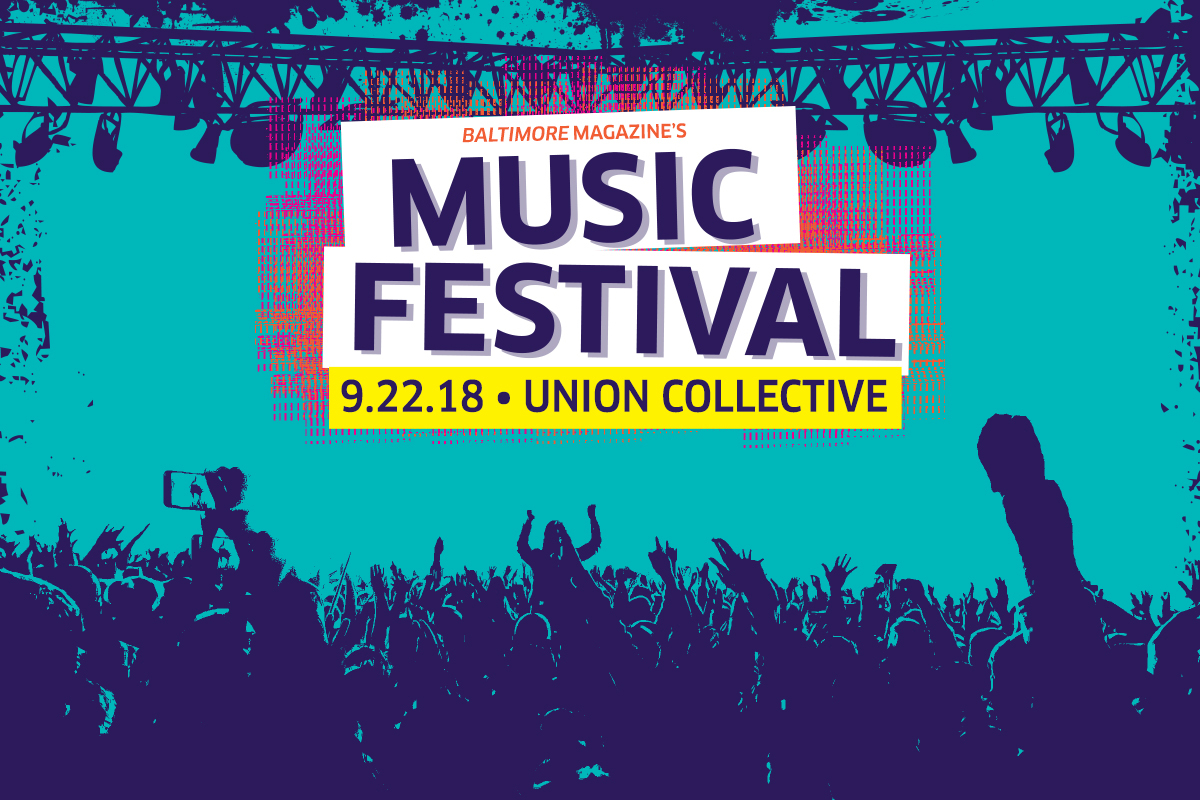 General Info
Baltimore's music scene deserves some celebration. Over the past decade, it has evolved into a dynamic, diverse, and potent melting pot of musical talent, sealing Charm City's status as a music city to watch. And we couldn't agree more. That's why we dedicated our May issue entirely to covering some of the Baltimore's most exceptional musicians who create the soundtrack of this city. And since you can't have a Music issue without a party, why not throw a big one?
Join Baltimore magazine and Union Craft Brewing at the brand-new Union Collective on September 22 for our first-ever Music Festival, featuring a lineup you won't want to miss.
Event Details
The main stage will be inside, but fingers crossed for a beautiful day to allow for jamming to live tunes and sipping on brews in Union Craft Brewing's outdoor beer garden.
Enjoy eats and drinks from Union Craft Brewing, Well Crafted Kitchen, The Local Oyster, Farm to Charm, The Charmery, and Vent Coffee.
Light it up with iFly and your friends in our light painting photo booth.
Take a load off in the Mixolo community lounge and connect with other festival-goers coming out on their own.
Parking at Union Collective is limited. We highly suggest rideshare (especially when there's brews involved).
Giving Back
Baltimore is proud to partner with Believe In Music as the event beneficiary of the Music Festival. A portion of event proceeds will be donated towards the nonprofit's vision to transform Baltimore's children into advocates for their community by providing a platform for them to tell their own stories.
TICKETS
Tickets will be available on-site for $25 at the door.
---
Thinking of flying solo for this epic music event? We've partnered with Mixolo, the solo-friendly social network, to bring you a fun way to connect with other festival-goers coming out on their own. Stop by the Mixolo Community Lounge and hang out with like-minded music fans at the festival. All guests are welcome!
Music Festival Sponsorship Opportunities
Reach our engaged and affluent audience in a meaningful and memorable way by aligning your brand with Baltimore. Through robust multi-platform pre-event marketing campaigns to in-person interactions at our events, our sponsorship packages combine your message with our mission to create relevant and lasting value that resonates well beyond the event date.
We recognize that every company has a unique set of marketing goals and objectives. Following conversations to better understand what those are for you, we'd love to put together a custom package that meets your needs.
Our first-ever music festival is one you won't want to miss out on.
For more information on sponsorship opportunities, contact our director of marketing and audience development Amanda Brown at [email protected].