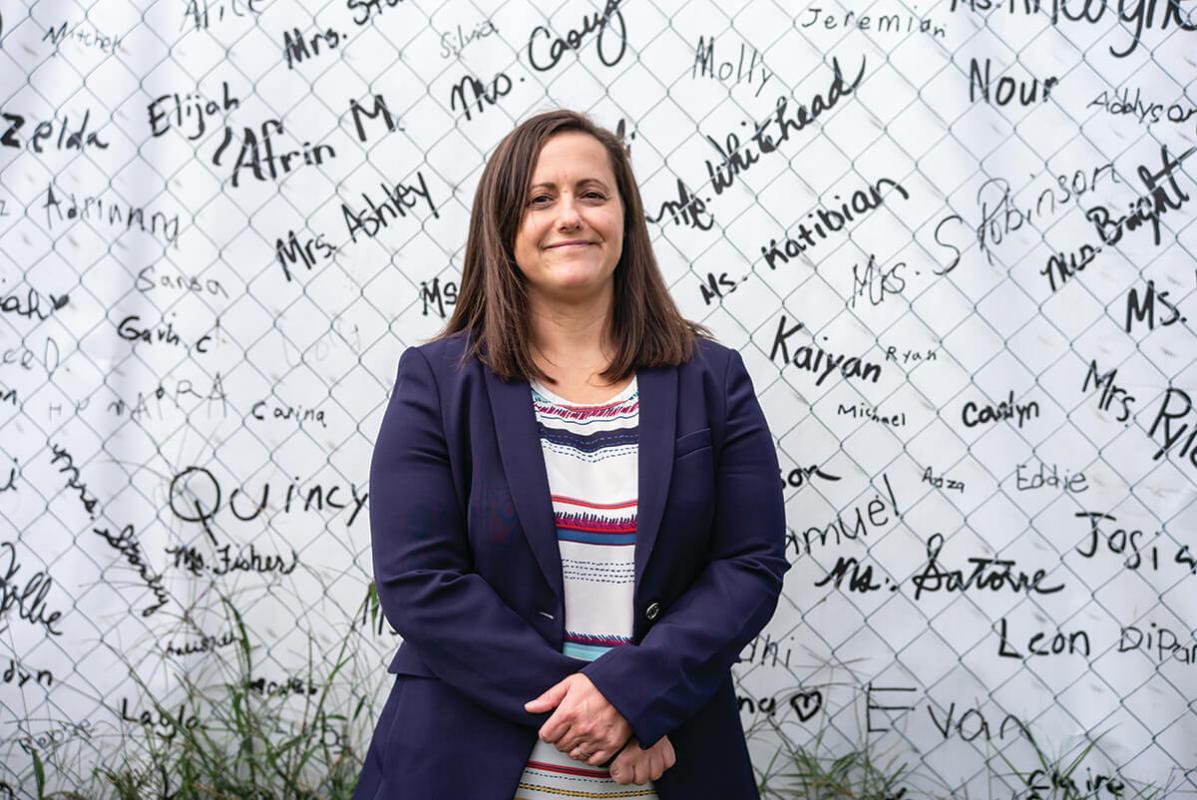 Medfield Heights Elementary
Amber Kilcoyne
Amber Kilcoyne's superpower as a principal? Making her office a space that students actually want to visit—and though things could get crowded in pre-COVID times, their presence is everything to Kilcoyne. "No matter what I do, it's important to me to give my students a voice," she says.
Her open-door policy is just as meaningful to her students: As one of her staff members says, "Kids are excited about coming to school, because they feel like they matter and that Ms. Kilcoyne sees them as people." With an exceptionally large leadership team of nine, she's just as laser-focused on a collaborative approach to decision-making with staff, too.
At Medfield Heights Elementary, Kilcoyne takes an inventive approach to problem-solving, guided by a "the worst they can say is no" philosophy. She has built relationships with numerous community partners to provide essential resources for her students, from Vision Baltimore to the Ravens Book Mobile to Live Baltimore.
During the 2019-2020 school year, Medfield Heights moved to a temporary space while a new facility was being built. Kilcoyne worked tirelessly to ensure this foreign territory was infused with special Medfield traditions, from creating a safe play space for students to painting games like four square on the blacktop. Her leadership during this time of transition served as just a small taste of what was to come in the wake of COVID-19, when she hit the ground running to make sure her students had access to the tools they needed.
Ultimately, Kilcoyne is most proud of the fact that her students—who come from more than 19 countries—enjoy school and come back to visit long after they leave. "We have one of the most diverse populations out there, both ethnically and socioeconomically," she says. "It's a special place with an amazing group of empathetic kids, plus parents who do whatever it takes to lend a hand." (Just check out the school's 'product' description on Facebook: Lovely humans.)
In the words one of her staff members, she's truly the glue that holds it all together. "Ms. Kilcoyne is the lighthouse of Medfield Heights, standing tall, day and night, guiding children through rough waters," she says. "She isn't just a principal. She's a warm hug, she's a funny joke, she's a shoulder to cry on. On any given day, Ms. Kilcoyne is a security guard, an accountant, a therapist, an administrator, a coach, a translator, a librarian, a janitor, a nurse, and a friend."
Meet the other winners here.