Louder Than a Bomb
Baltimore's champion poets are redefining the arts scene—and the national poetry movement.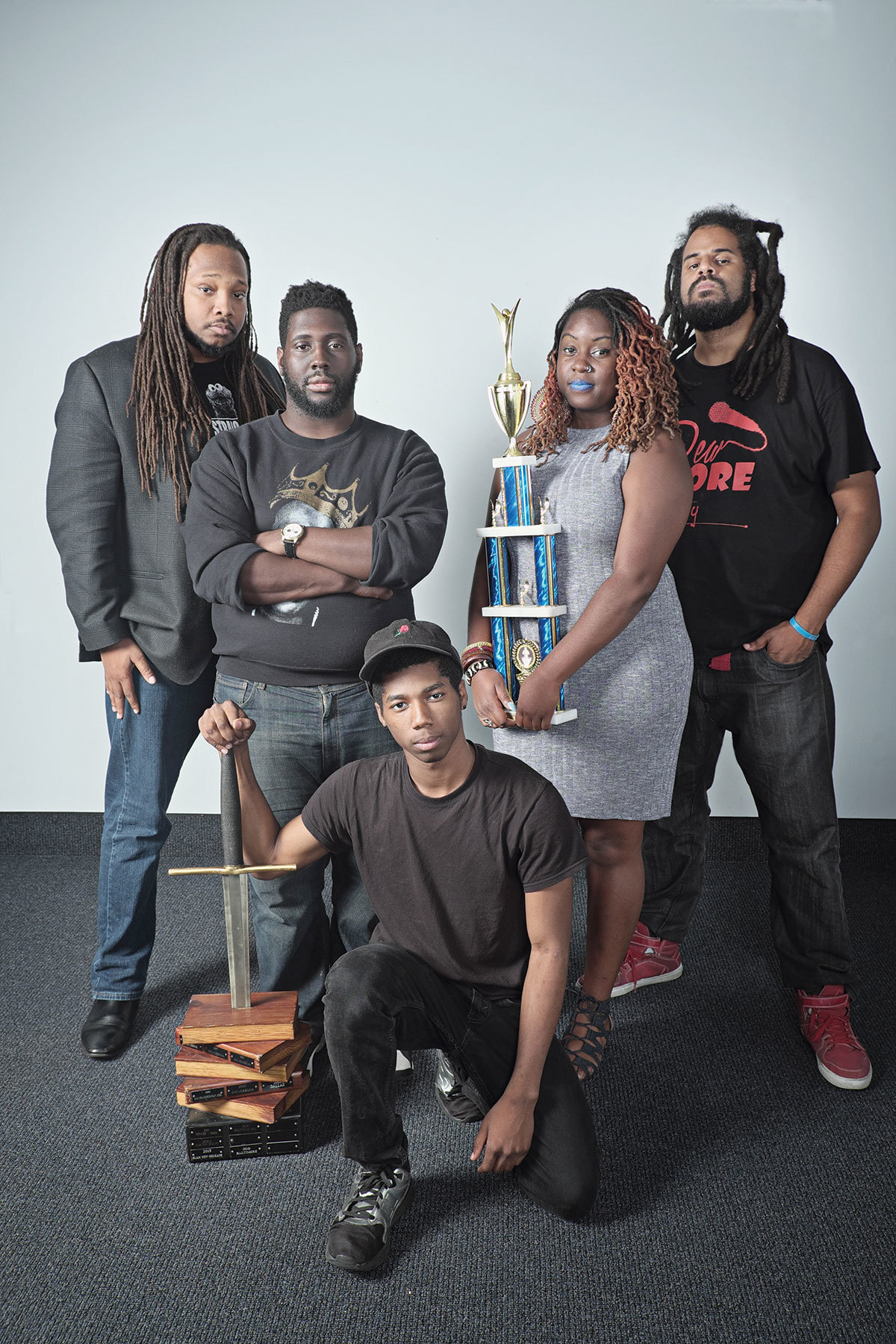 Mecca Verdell stands in the doorway, wearing a long black dress, her bare toes gripping the red patterned carpet. Her brain whirs as she desperately tries to order the words that are buzzing through her head. "This is it," she tells herself. "This is my chance." She gazes unflinchingly at the crowd that's sitting on chairs in the city council chambers at Baltimore's City Hall. The storied building, with its ornate trim and marble accents, lends extra gravitas to what is about to occur. This is a colossal moment in Verdell's young life—if she were named the city's third youth poet laureate, she would become a voice that speaks for Baltimore, and perhaps most importantly, have a personal platform on which to be heard.  
But first, she has to perform two of her poems and impress 10 judges enough that they will give her a higher rating than 11 of her peers—most of whom she knows well enough to swap writing advice with. Her eyes scan the crowd to find her friends and her teammates and coaches from the poetry team at Western High School, her alma mater. Still, she remains focused. "You look like you're about to cast a spell," one friend whispers as she squeezes Verdell's hand. "You're beautiful—you're amazing."
"We have one poet left in the first round," the emcee says. "Show some love for Mecca!" 
Verdell steps to the microphone. The silence hangs heavy in the air. Then, she opens her mouth to speak.
This time last year, a group of Baltimore poets stood on a similar precipice as Verdell. But their stage was much larger—it was the National Poetry Slam in Atlanta, where hundreds of North American poets competed in teams for the championship title. And Baltimore's five-person team surprised everyone, winning the title for the first time ever. 
"We were the underdog," says Lady Brion, a member of the team. "No one knew much about Baltimore—before 2014, we hadn't been to the national poetry slam in 10 years—and we had a style no one was ready for. We have a gritty, in-your-face kind of poetry. We aren't afraid to touch issues that people skirt around, like racism, police brutality, human rights, or the lack thereof. It was a shock to some, who were like, 'Wow, you just said that.'"
As if that weren't enough, Baltimore made an even bigger impression when the five young poets who made up the city's youth team won their own international championship, a competition called Brave New Voices—the first time in anyone's memory that both the adult and youth teams from the same city won these titles in the same year. 
"Baltimore made a splash," says Porsha Olayiwola, a Boston-based poet who won the 2014 Individual World Poetry Slam and coaches Massachusetts's youth team. "Everything we hear about Baltimore is Freddie Gray, the riots, and the protests, so it's good to see a different kind of fire. It's probably fueled by the same injustice, but it comes out in poetry, which forces the national community to look."
On the national poetry circuit, there's a notion that teams are a microcosm of the cities they represent. That is particularly true of Baltimore, says adult team member Victor Rodgers, better known as his poetry persona Slangston Hughes. "Walk through Baltimore, and the substance and soul is anything but lacking. People said that we are a living manifestation of the city, and I would call it very unapologetically black, very truth-based, very in-your-face, and not sugar-coated at all."
Take, for instance, the poem performed at the national championship by poets Kenneth Morrison and Black Chakra, called "F&*! Robert Frost," which decries white supremacy in the literary world. One line that drew enthusiastic applause is, "White privilege be like, 'Write a poem about trees, but never reference the black bodies that hung from them.'" 
The team's personification of Baltimore is recognized nationally, says Olayiwola, who called the city a poetry "mecca." "I think a lot of what defines Baltimore is raw emotion and heart," she says. "It's not something you can express in words, but that's what makes it most compelling."
The poets returned home from the national slam to much fanfare. A buzz of excitement persisted at readings, open mics, and slams (essentially high-energy poetry competitions), particularly when one of the members brought along the championship trophy—a sword piercing a pile of books. But as spring rolled around, and a new fold of poets prepared for competitions that would determine the adult and youth teams and recognize the city's youth poet laureate, a question persisted—could Baltimore take the crowns again this year?
It's a beautiful April day—the sun is beaming, a slight breeze ruffles the trees, and car stereos provide a background beat to the residents strolling down North Avenue.
Verdell is immune to all of this. She sits at the Ynot Lot, a gathering place at the corner of North Avenue and Charles Street that today has become her writing space—today, she is working on becoming MeccaMorphosis, her poetry persona. Her laptop is open, but her eyes are closed. It's one week until the youth poet laureate competition, and the Community College of Baltimore County student has started a new poem, one that she hopes will encapsulate social outrage, racial disparity, and her world view into one perfect piece of poetic commentary. In the past, she wrote about love and relationships, but now she also likes to write about political issues that anger her. Her chosen subject is the outrage over disappearances of black girls. 
The poem was born on scraps of notebook paper, which Verdell scrounges for in her purse when an idea comes to her. As it takes shape on her computer, what she's jotted down on those scraps become lines and snatches of verse. She pauses to read the beginning aloud. "If a penny saved were a black girl returned / would it be easier for you to pay attention? / To our gaps in evidence and aggravation / so black lives don't hold precedence / unless it involves dead presidents."
Sometimes, it strikes Verdell as crazy that she's only been writing poetry for two years. "In every group, I feel like there's always that one person that came out the blue. And that person was me," she says. A friend took Verdell to Western High School's poetry team practice when she was a senior, and the bug bit her hard. She helped the team reach second place in the city's high school poetry competition and was part of the team that won the 2016 Brave New Voices competition. For her, the youth poet laureate title would be the peacock plume in her cap covered in feathers. It would give her a platform to help young, black artists like her—"that's something I really want really badly," she says. The disappointment of her fourth-place finish last year sticks with her still, moreover, now that she's 19, this is her last year to compete.
Verdell is stuck on her ending. She taps a green painted fingernail filed to a point on her computer keys, her lips moving soundlessly. She can't stop thinking about what will happen when she faces City Hall.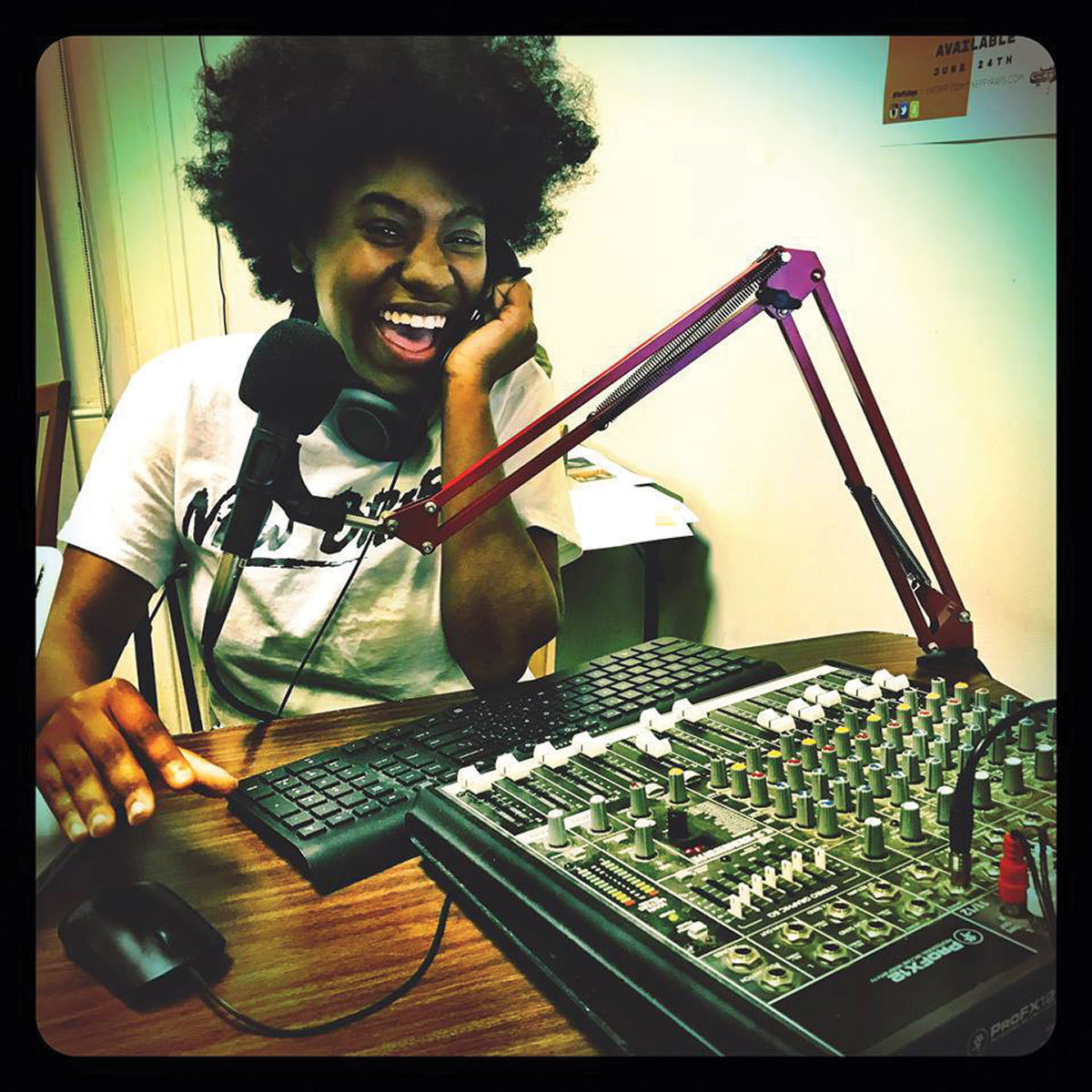 In the beginning there were just poets. These versifiers emulated the style of Amiri Baraka, Sonia Sanchez, and others in the Black Arts Movement, and birthed a vibrant scene during the late 1990s with readings and open mic nights throughout the city. Eventually, they started competitions called slams, where poets deliver impassioned, visceral versions of their poems, with the emotion mattering almost as much as the verse. The poets need to impress not just the crowd, but a panel of judges, who declare a slam champion.
 Slangston Hughes arrived in Baltimore from Pittsburgh to attend Coppin State University in the early 2000s and found himself exposed to an art form that recalled the hip-hop rhymes he spit. "I thought, this is what I do when there's no beat," Hughes recalls. "There was so much going on, and I was caught up in it. At times, I was like, man, I got to get financial aid so I can come back next semester and go to all these open mics!"
Back then, there was an organization that had started a citywide youth poetry team, coached by poets like Hughes. There was also an adult team that traveled to national tournaments, opening up the scene to poetry from across the country.
Then, as sometimes happens with the passing of time, the energy faded and the stars of the scene moved on to other things. But a few years later, just as organically as it had begun, slam poetry popped up once again. In 2009, HBO premiered the series Brave New Voices, which covered an international youth poetry competition in Washington, D.C., and that got the attention of poetry instructor Kenneth Morrison. 
Morrison has been hooked on poetry since he performed a poem as an eigth grader in Baltimore and got a standing ovation—"the first time that I can recall that my community acknowledged that I did something great," he says. After watching Brave New Voices, he became frustrated that Baltimore wasn't part of the national scene. "Teams were participating from Richmond, D.C., P.G. County," he says. "I was teaching creative writing at a high school, and I decided I was going to start a youth poetry program, to make sure our students had an opportunity to participate." He joined forces with the more established poet Olu Butterfly Woods, and he eventually founded DewMore Baltimore, an organization that, among its many programs, runs the citywide youth slam championship called Louder Than a Bomb, and the youth poet laureate competition.
For his part, Hughes started a monthly competition, Slammageddon, in 2012 and it has moved from art galleries and spaces like Station North's Impact Hub. "A lot of our students from last five years have become the scene," Hughes says. "It's interesting to see that, wow, they're picking up the torch themselves." One of the students he's speaking of is Grim Jackson, who was on both the adult and youth slam champion teams. Another such student is Mecca Verdell.
The day before the youth poet laureate competition, Verdell has gathered a few friends to serve as an emotional backbone in the basement Mount Vernon coffee shop NuBohemia. In this spot, where she holds open mics for young poets, she has set her sights on memorization. Nervousness has set in.    She recites her new poem, now called "Penny Dreadfuls," letting her body move to the rhythm of her voice. When she masters the first stanza, she's onto the second. "These pretty pennies getting lost, in couches in mattresses / In the streets of D.C. in / Baltimore in Nigeria, 60 years ago 200 years / ago, and 1000 more years to come." She trips up a few lines later. "Blah," she says, then starts over. 
Verdell is worried she'll speed through the verses, and knows she has to slow down to emphasize certain ideas—such as her point that black girls have been forgotten throughout history. She also thinks about the mood she'll set, her stage presence, and the emotion she has to display—along with how far to push herself. "Poets have super powers, and some of them can really trigger emotion," she says. She knows this firsthand as she has found herself tearful and shaking after delivering a particularly raw verse.
Most importantly, Verdell doesn't want to forget a line. "If I do lose tomorrow, I just don't want to say it was because I messed up," she says. "But if I do lose and I still did my best, I'll be fine." She stops, and a slight smile plays on her lips. "Kind of," she adds. 
It was probably a given that competing at the national level and winning championships would change Baltimore's poets. Lady Brion used to refer to the Baltimore poetry scene as "burgeoning," but, she says, "I think it might be past that now. It's at a pivotal moment, and slams and open mics are popping up all over the city. But there's still such a small sect of people who are connected, and I wish that it was more well-known in Baltimore."
After years of watching the poetry movement's ebb and flow, Slangston Hughes sees the pros and cons of Baltimore's scene. "In places like Los Angeles and New York, there's an infrastructure that can be plugged into. In Baltimore, there's no such thing," he says. "In some regard, when you don't have industries trying to modify and commercialize your art, it's a good thing because you can make it what you want it to be. But on the flip side, there's a lack of resources, and exposure isn't easy to come by. You really have to push the cart and the horse on your own."
Lady Brion is hoping to bring more attention to the scene. She put in a bid for Baltimore to host a national, all-women's slam in 2020. Kenneth Morrison wants DewMore Baltimore to continue to breed new generations of poets and poetry lovers who will support the scene. "Our young people deserve an audience and they deserve to be surrounded by excellence," Morrison says. "And our students are after us. They plot and scheme to take our crowns. And we give them everything they have because one day, we know our mentees will replace us."
But what has perhaps been the most surprising is how Baltimore has influenced poets nationally. The team's brazen style went from being unorthodox to standard, and the 2017 team is figuring out how that will affect them at the National Poetry Slam this month. "We changed the criteria for what is cutting edge and envelope-pushing," says Slangston Hughes. "Now, it's like the floodgates have been opened and people are more free to talk about racism and not offend someone."
 "Some of the work blows me away, and I'm glad to see that," says Morrison. But at the same time, he notes, "we have to turn up our volume. It doesn't mean get more aggressive—it's kind of the opposite. We have to figure out what's the next level, what separates us."
No one knows how this year's competition will go. Hughes is sticking to what he knows. "Maybe the content will be more relevant to what's happening now, but the spirit and energy will be the same," he says. "You never know what will happen at a slam."
A lottery determines that Mecca Verdell will be the last to perform at the youth poetry laureate competition. This is a curse because she has to battle her nerves while watching her peers perform, and a blessing because hers will be the last voice the judges hear. 
Though the competition started with 12 poets, the judges trimmed the group to nine after the first round. Verdell went last then, too, performing a poem about infidelity's affect on her childhood. When she finished, people ran up to congratulate her—friends and fellow poets gave her hugs, and one of her high school teachers kissed her cheek.
In round two, Verdell is conscious of the competition. Though stage fright hit a few poets, most of them deliver verses in strong, direct tones. Their poems are both timely and personal—dismantling capitalism, facing hunger, and battling depression. The day before, Verdell was prepared to perform the new poem, but she couldn't shake the feeling that she should stick to what she knew best. At the last minute, she switches to one she's more confident in that's less political, but packs a more personal punch. 
"When my grandma died," she begins, "my uncle stopped smoking the grass she was buried beneath / and became a scientist." From there unfolds a poem about the complicated world of addiction and family, her voice a near scream at some points and breathless at others. It's clear that she's giving this everything she has. She's met by thunderous applause, and then takes her spot at the front of the room with the other young poets. The emcee reads the results.
Verdell hears her name—but too early. She has come in second.
She's the epitome of graciousness though, hiding her disappointment, rushing up to the winner, Mohamed Tall, who tearfully tells the crowd what the honor means, especially given that his mother was recently diagnosed with cancer. "I got second place!" she posts later on social media. "That's an honor because there was some crazy dope poets in this slam."
Verdell sets her sights on what is to come. She graduated from Baltimore's youth team to join the adult team—and her heroes Morrison, Hughes, and Lady Brion—for a regional tournament in Louisville, Kentucky, in June. They emerged the champions. She also runs an internet radio show, SoapBox Poetry, and she's been working what is now called "Pennies for the Thoughtless," keeping it on hand for perhaps another performance. Next year, she'll be waiting in the wings to go to her Super Bowl, as she calls the National Poetry Slam. She feels privileged to be a part of the pipeline laid down by her  mentors.
"Kenneth [Morrison] told me he was proud because I didn't follow anybody else's straight path to what poetry means," Verdell says. Like the city whose story she is honored to tell, "I made my own lane."