Plenty of theater-loving kids belt out show tunes in the car and spend their time at musicals dreaming of one day being the one on stage, but not many get the chance. Bryn Mawr School alumna Annie Sherman is one of the lucky ones.
Now based in New York and fresh off a national tour of The Sound of Music, Sherman is now gracing the stage in another Rogers & Hammerstein classic, The King and I. Sherman is donning Anna's iconic hoop skirt to star as the plucky governess tasked with teaching in the court of the King of Siam in select performances throughout the show's national tour. We caught up with her ahead of the show's run at the Hippodrome from February 19-24.
How has The King and I's tour been going thus far?
It's been amazing. I was on a different tour last year and I didn't expect to be on another one so soon, so it's such a lovely surprise. But it certainly feels different. This production, I saw it on Broadway with Kelli O'Hara a couple of years back, and it made such an impression on me. To be able to now step into that production, and of course into that role, is a total dream. We've been going for about two months now and the group of people that we have is just so amazing, so unparalleled. It's really special. So many of our cast members are international as well. So I now have all these new friends from all over the world, which is awesome. And I'm able to tell this really poignant, beautiful, and still quite relevant story.
This story includes romance, but it's not quite a love story, right?
It's fascinating because our director, she kind of doesn't allow us to use the words "love" or "romance." And in my mind, because I used to watch this movie all the time when I was little, I always thought of it as a love story between the king and Anna. But when you examine it today, it really isn't. It's not like it doesn't go into romance at all, but what our director wants to focus on is really the charged relationship between them. It does kind of dance around [romance] in that one scene, which is fascinating, but they are so at odds the whole show. It's just so different from what I remembered as a kid.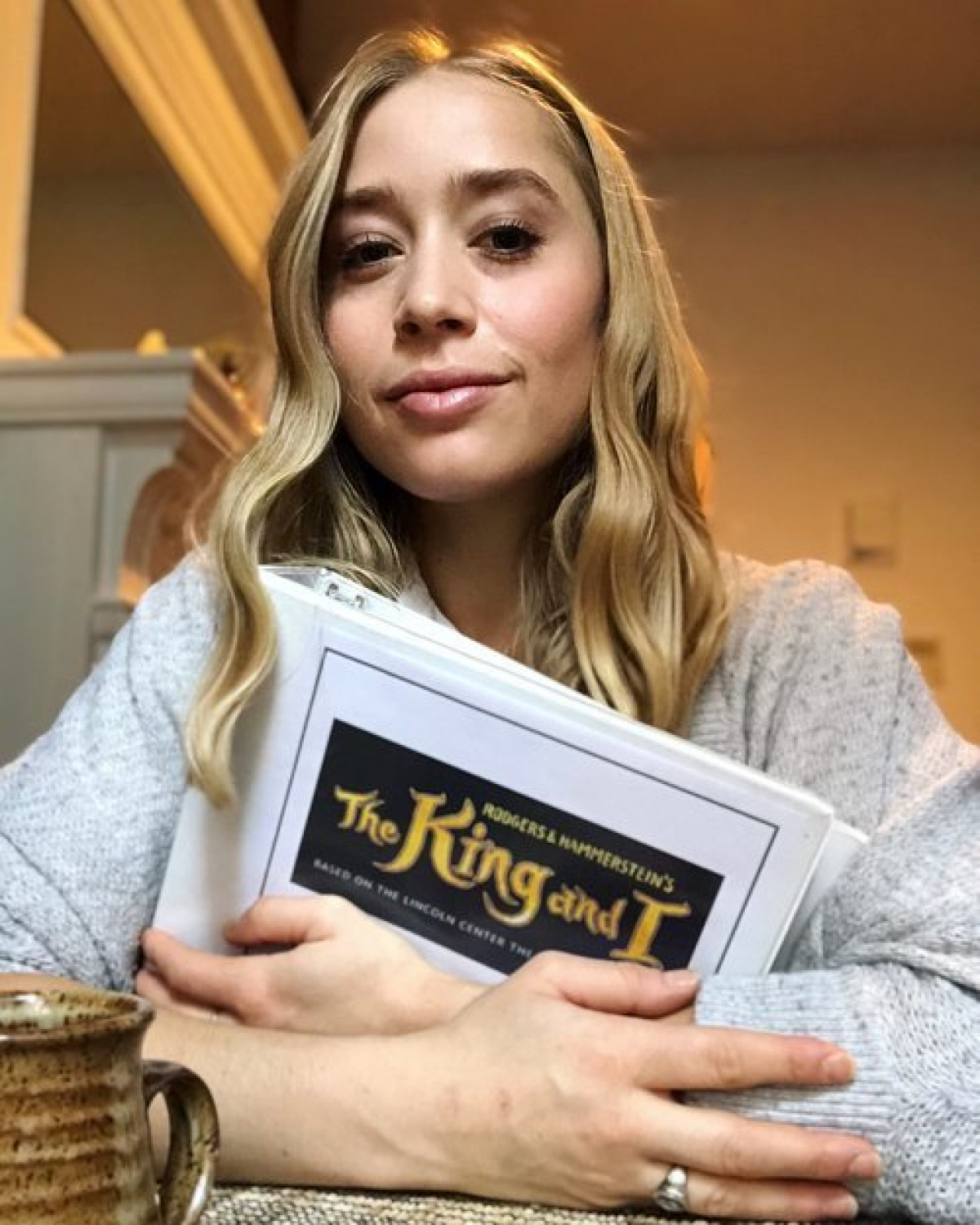 Sherman will perform as Anna in select performance of 'The King and I' at the Hippodrome. -Photo courtesy of Annie Sherman
What does it mean to you to bring this show home to Baltimore?
On a personal level, I'm just so excited to be able to show this to the people who trained me. I have a whole bunch of teachers coming who had a part in my development and people from all parts of my upbringing who are going to be able to see this. And I'm so, so proud to be able to show them what we've been working on. Then to be performing at the Hippodrome for the first time—it's going to be amazing. I grew up going to shows there, I saw Avenue Q and Wicked there, just sitting in my seat looking out at the performers and wishing I could be up there on the stage. So that'll be really special. I also think people from Baltimore are going to love this show. It's such a classic and it's also about a clashing of cultures, which I know that Baltimore is very familiar with.
Do you find yourself identifying with Anna at all?
I do feel I identify with Anna. I love to travel. I took time off before I went to college to go travel around, and a lot of that I did on my own. What I love so much about Anna is that she is so fiercely independent. She traveled to a country that she had never been to in 1862 as a woman alone, just with her son. Just to get there was such a feat, let alone to stay for as long as she did and have such a hand in the development of the country. She also has really inspired me to stick up for myself more. You know, she's such a feminist in a time when "feminist" wasn't even a word that was being used. Her gumption and her belief in sticking up for not only what she believes women deserve, but what she deserves, that has been inspiring to me.
She's definitely not the damsel in distress you get in a lot of classics.
Oh, absolutely. I've played my fair share of those, and you always have to kind of, in some senses, swallow a pill and be like, "Okay, I know I'm portraying the person. It's part of the history of the show." But it's cool to really be able to stand behind what this woman is practicing and saying. One of my favorite moments is right before "Hello, Young Lovers." She basically learns that these women do believe that women are more lowly than men. And she immediately takes action and helps these women to know that women are just as good as men and they are as important and as intelligent, which is of course mind-blowing to these women at that time. And that is really what launches her into singing, "Hello, Young Lovers." This is her way of trying to connect with women from a completely different culture. She thinks, "How can I get on the same page with them?" Love is something that universally we can connect about.
Do you have a favorite number in the show?
Oh my gosh. It's "Getting to Know You." It holds all of the sentimental value for me. I mean I sang that song with my mom in the car growing up. But also just to be on stage with all the children and all the female ensemble, just truly enjoying ourselves, is wonderful. They're dancing, they're singing, I get to pick up children. I think that that song really embodies a lot of what the show explores and preaches, really coming to understand people who are very different from you and learning to love, and maybe more importantly, choosing to learn.
What part of this show are you most excited for Baltimore to see?
I'm excited for people to see the show with fresh eyes. I think a lot of people will come into it expecting kind of a sing along, but I'm really excited for them to see it now in 2019 and realize how incredibly poignant and groundbreaking it was and how we still need it to be learning from this story.
---
---