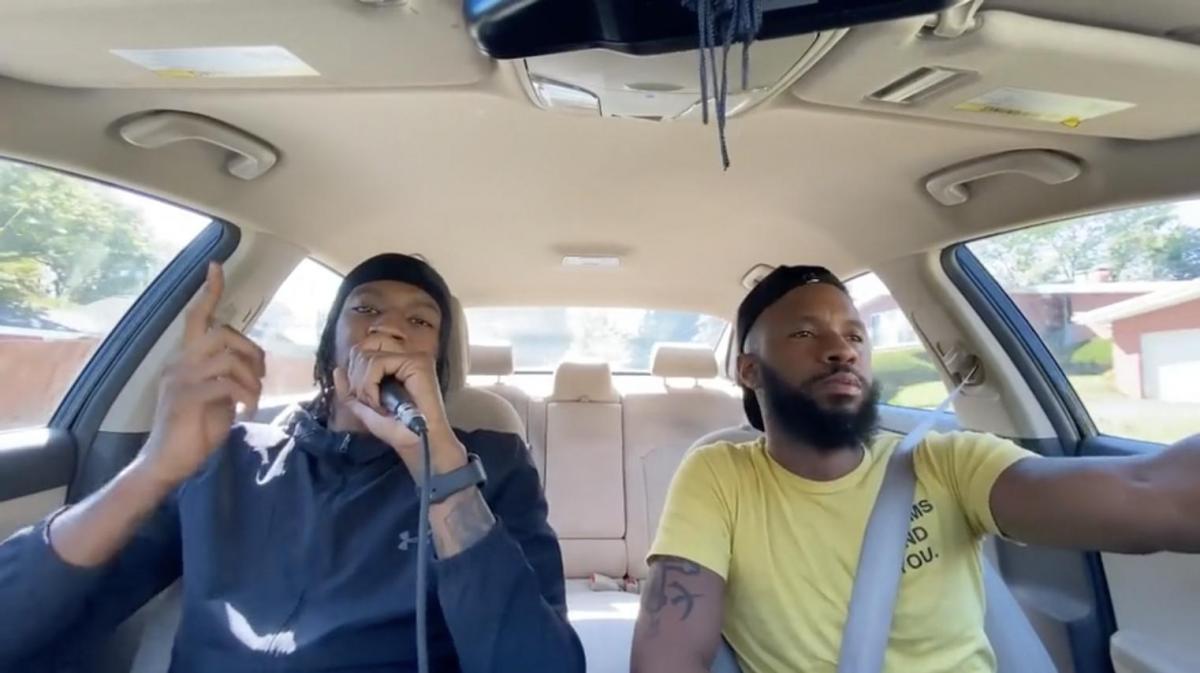 Jacobs (right) with rapper Ima Stay Humble. —Courtesy of Rickie Jacobs
If you're in Baltimore, you're a music lover, and you're on social media, then you might have caught wind of a new web series conveniently named Carcerts, in which creator Rickie Jacobs chauffeurs local artists around the city and films their passenger-seat performances. "As long as you're a dope artist, you can have a Carcert," says Jacobs, a former rapper from Park Heights who now focuses more on producing and curating. 
Jacobs created the inclusive platform off the cuff while recording his podcast Liquor With Friends, with the mission of inviting local artists to perform their original music while driving through the city that, in many cases, inspired it. Since its inception in June 2020, the Carcerts series has grown in popularity, hosting homegrown talents from R&B singer-songwriter Bobbi Rush to rapper and producer Tate Kobang ("Bank Rolls.") We recently sat shotgun with Jacobs to learn more about the inspiration behind the series and how it's making an impact on the local music scene. 
So, who is Rickie Jacobs?
I'm a Baltimore native born and raised in Northwest Baltimore. I'm from Park Heights—Zone 15. I'm an artist, curator, content creator, director, and producer. And I'm a digital illustrator, I make cartoons and stuff like that. I'm like a Renaissance man, for lack of a better term.
I like that. Are there many people from Zone 15 who are Renaissance people? What was it like growing up in Park Heights?
I'm starting to discover more creators from my neighborhood that are doing their thing in the city. But growing up, I really wasn't around a lot of kids that were similar in the sense of creating, you know, getting into the arts and stuff like that. I've always been creative. I've been drawing ever since I was about five, and then music came a little bit later.
And you have kids, right? How many kids do you have?
I have three kids. Sometimes I have to think about it. (Laughs.) Yeah, I have three.
And Carcerts is also your baby. What inspired you to create the series?
The craziest thing about that process is that it wasn't anything that I premeditated. It just kind of happened out of the blue. I have a podcast called Liquor With Friends, [for which] I interviewed different creatives and artists [from the car.] I was on my way to do an interview with Al Rogers Jr. He's a dope person and all around just a really grounded guy. And I just had this idea out of nowhere that maybe he could perform after we did his Liquor With Friends interview. He was with it and we shot it and that was that. 
At that point Carcerts wasn't really a thing. It didn't even have a name, but the reaction from it was beyond anything that I could imagine. The reaction catapulted the idea into something bigger and I was just like, I gotta keep doing these. From that point, I was just like, I'm not even going to do interviews anymore. I'm just going to do the Carcerts. And it wasn't until I did one with Zadia—she was actually the first person to call it a Carcert. I made an Instagram page and I just kept doing them. Sometimes I think about it, like, I can't believe nobody thought of this.
It is something that I associate as being very Baltimore-bred. And there are so many amazing Baltimore and DMV-based artists who have been on Carcerts. Who have been some of your favorites?
I just mentioned Al Rogers Jr. He was the first one that actually kicked it off. He set the tone for what people now know as Carcerts, followed by Zadia, Mike C., and then we reached out to Soduh. Brandon Woody…
An amazing musician. And…rapper?
Yeah, that was the dopest part about having Brandon on Carcerts because I don't think, at that time, anybody knew that he could rap. I had some of the younger guys on the scene in Baltimore, like 4kMicheal, YTK, and Blaqstarr—who is a legendary figure in the Baltimore club scene and just Baltimore in general. That was very exciting for me. There have been a lot of dope artists and participants—young, mid-age, a little older—so it's just a melting pot of different demographics.
Are there any dream performers that you hope to have on?
I have plans to reach out to some of our legends and iconic figures like Bossman, Tim Trees, Skarr-Akbar, names like that. I even wanted to have Mario ["Let Me Love You"] on here, but that's going to be work. I gotta be persistent. I want to have Sisqo. I really want to make it a Baltimore-focused platform. I've had artists that weren't even born in Baltimore, but they were just dope artists based in Baltimore. If they are a part of our culture and they have the same love and passion and respect for Baltimore, that's good enough for me.
We're a very welcoming and warm city, especially when it comes to arts and culture and the DIY scene. I'd also love to talk about your history with music and producing.
That's my first passion that will never truly go anywhere. But the level of passion I have for it kind of declined. I get bored easily. And I don't like to toot my own horn, but I also like to acknowledge when I'm good at something, and I think I reached my peak musically. It was time for me to move on to the next thing. I still record music from time to time, but I just do it because it's therapeutic and that's how it all started.
But with Carcerts, I get acknowledged for being the creator—it's bigger than me. Every time I put one out, it's a reminder of that. It's not even about me. That's the type of attention that I want. At the end of the day it's more rewarding because I am curating the show, but it's more so about the artists that are showcasing their skills and performing original music. 
Especially because we haven't seen a lot of live shows in the past year due to the pandemic. So what do you hope to give artists by creating a platform like this? I feel like there's a gap between what Baltimore artists have and what they need.
No matter how much we evolve, from where we were five years ago or 10 years from now, there will still be gaps. As people and as artists, we'll have cultural disconnects, we'll have generational disconnects, and we may even have musical disconnects. So my focus is bringing artists together and bringing an audience to them. 
A lot of people are conditioned to support what is already established. I just want [patrons of the arts] to know that there's some dope guys that exist inside the city. Instead of them going out of their way when Beyonce or Travis Scott comes to town and makes a couple million dollars, Carcerts show people that there are artists here in Baltimore that you can pour into. Help the artists in Baltimore get to that level that they want to be at, versus helping a machine do it. Let's support them when these guys are coming up.
Carcerts are one of those tools that I want artists to use in their repertoires. I love when artists tell me that doing a Carcert was on their bucket list. It's a gratifying feeling and it also reminds me that this is something that people care about.
[Editor's Note: This interview has been edited for length and clarity.]