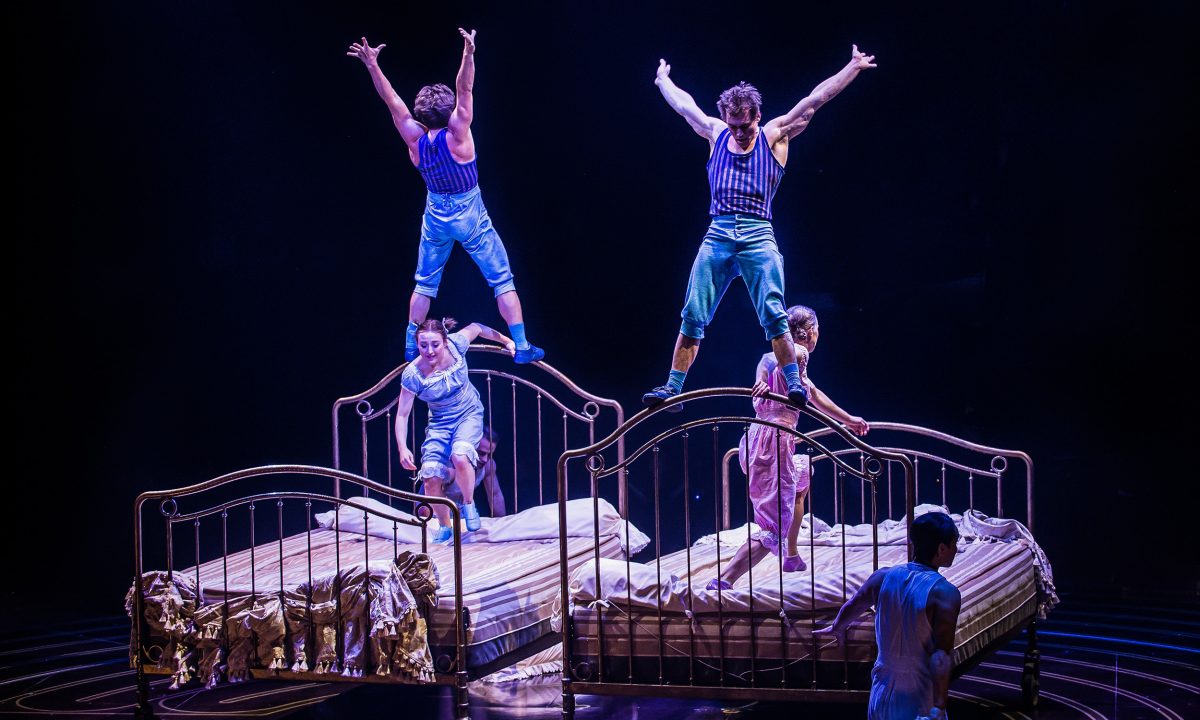 Courtesy of Corteo
Cirque du Soleil is what dreams are made of, but not many people get to live out the dream of being a gymnast with the largest theatrical producer in the world. Annapolis native Betsy Zander is one of the lucky few to travel and perform with the Canadian entertainment company. From July 3-7, Zander is returning to her home state for the enchanting arena production of Corteo at Royal Farms Arena.
Corteo is the story of a clown Mauro's funeral, but instead of mourning, the procession celebrates memories and the hereafter with laughter and exuberance. Zander participates in an act titled "A Bed That Puts Some Bounce Into Life," which is a celebration of the mischievous prankster's gleeful past. We sat down with Zander to talk gymnastics, the message of Corteo, and her favorite memories of Baltimore.
How long have you been practicing gymnastics?
I've been doing gymnastics since before I can remember, and I love it now just as much as I did when I was a little kid. I started when I was 2 years old at Docksiders Gymnastics [in Millersville] and continued through division one athletics at George Washington University. I auditioned for Cirque du Soleil after graduation.
What is your day-to-day like working with Cirque du Soleil?
The day-to-day work mostly revolves around recovery, training, and generally maintaining a healthy lifestyle in order to perform the way we do. Unlike many other professional athletes, we don't train for one or two competitions or games every so often. It's a marathon, not a sprint. We perform every night, sometimes two to three times per night. So the day-to-day training really evolves into a lifestyle for us.
What is the hardest part of your routine for Corteo?
Corteo was touring as a big top show from 2005-2015, where the big top tent would stay in one city for one to two months. In 2018, it was brought back as an arena show that travels to a new city every week. So one of the hard parts about it is the constant travel. We all live our lives out of suitcases. One of the craziest realizations is finding out how much stuff you don't really need. The average person would find it hard to live out of two suitcases, but that's our normal. A couple of nice pairs of clothes, some good shoes, toiletries, and training clothes gets you a long way.
What is the atmosphere like behind the scenes?
The atmosphere backstage is just as intense as it is onstage. There's a show going on for the audience, but there's also a show going on behind the curtain. Between technicians, artists, coaches, and wardrobe everyone is "on" during the show. We all work so hard to produce the same level on premiere night as we do for the last show of the city. Sometimes it chaos, but it's organized chaos.
How do you connect with the overall message of Corteo?
Something so special about Corteo's story is the humanity of the show. The performers don't apply a ton of makeup. We are portraying real feelings everyone has had in their own life, whether that be joy, sorrow, or just pure excitement. What you see on stage is an emotion every person can connect with. The overall message of the show is a celebration of life, and for me personally, connecting with that isn't difficult. As one of the trampo-bed artists, if I can't be happy going to work jumping on a bed and throwing pillows at my friends, there's something wrong.
How is the performance in Baltimore going to be different for you?
Personally, the performance in Baltimore is so unique because my people are in the audience. Whether that be family and friends, or just Maryland folk, this is where I grew up. I couldn't be more proud to represent that.
What is your fondest memory of visiting Baltimore growing up?
I started going to Ravens tailgates when I met my now fiancè, and there is truly nothing like it. There is so much pride and heart in the city of Baltimore. It's contagious.