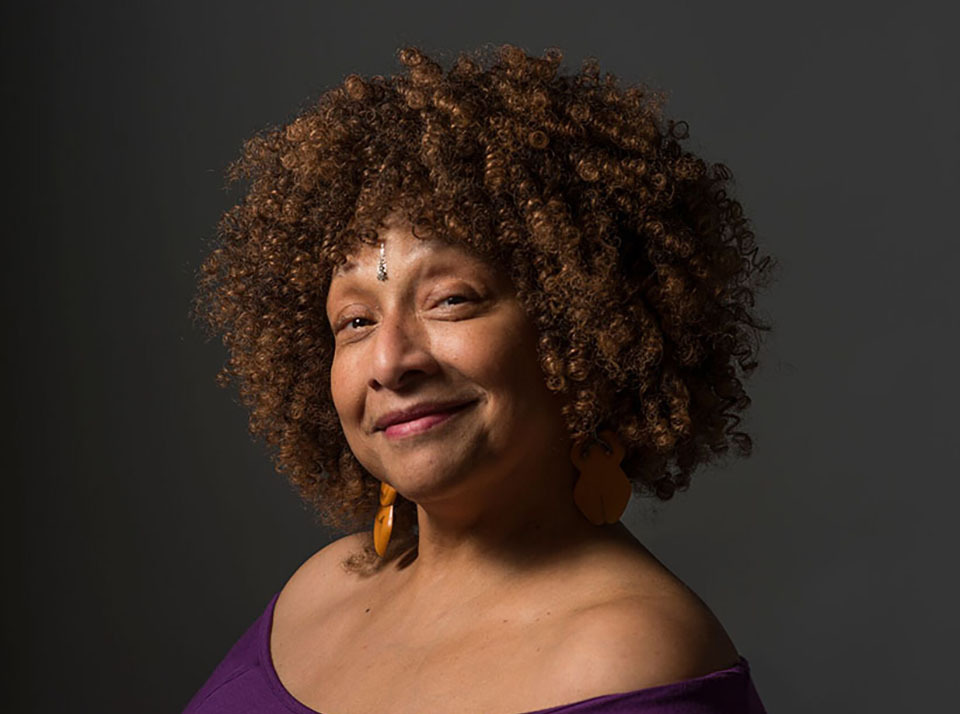 John Dean Photography
Visual Art
Maren Hassinger: The Spirit of Things
Maren Hassinger's four-decade career in art is rooted in sculpture and dance. A selection of her sculptures, made with wire rope, plastic bags, and newspapers, are on exhibit in the Contemporary Wing of the Baltimore Museum of Art in the solo show The Spirit of Things. Some have been reconfigured for this exhibition, which also contains video installations of her performance art and dance. She's also known for her role at the Maryland Institute College of Art as director of the Rinehart School of Sculpture, which she has served since 1997. July 18-Nov. 25, performance and conversation with the artist at 3 p.m. Sept. 8. BMA, 10 Art Museum Drive.
ISLA: Regarding Paradise
Ironically, the etymology of the word "paradise" goes back to its Greek and Old Iranian roots meaning "walled enclosure." In this group exhibit at Towson University, curated by Baltimore artist Jackie Milad, contemporary artists working in an array of mediums examine the figurative and literal walls that enclose the pristine beach images of the Caribbean islands, a place that has worked toward political autonomy and environmental justice. Sept.7-Oct. 20. Reception on Sept. 6. Center for the Arts Gallery at Towson University, 8000 York Rd., Towson.
DOS-à-DOS
Baltimore artists L. Nef'fahtiti Partlow-Myrick and Jenny O'Grady met as students in the Creative Writing and Publishing Arts master's program at the University of Baltimore and will now exhibit the fruits of their labor: a collection of art books, made from a variety of materials both traditional and unorthodox (paper—but also metal and beans, for example). The show's title references a bookbinding technique that ties together two text blocks with a shared spine-that spine being the MFA program, in this context. Sept. 7-30. Hamilton Gallery, 5502 Harford Road.
Baker Artist Awards 2017 & 2018
Recent Baker Awards awardees—Abraham Burickson (interdisciplinary, 2018), Sara Dittrich (interdisciplinary, 2017), David Marion (visual art, 2017), and Amy Sherald (visual art, 2018)—will show work in an exhibit at the Baltimore Museum of Art. Included in the show will be Burickson's "The Odyssey Works Box," an archival box filled with books, photographs, and other ephemera, accompanied by a video tour of the history of the arts collective Odyssey Works; Dittrich's wall sculptures, arranged with hundreds of clay ears; Marion's multimedia sculptures "Extinction Event" and "Fracking," which explore violence perpetrated on the natural environment; and two portraits by Sherald. Sept. 12-Oct. 14, with a free opening event with performances on Sept. 13. Baltimore Museum of Art, 10 Art Museum Drive.
Balancing Act
Joseph Paul Cassar has been working in Baltimore for 13 years as a visual artist and art historian, and is a professor at the University of Maryland University College. He's shown his work around the world, and this month will exhibit in our city, when Y:ART Gallery in Highlandtown shows his recent work in Balancing Act—drawings in ink and pastel, paper cut-outs, collage, and acrylic on canvas. Sept. 12-Oct. 20, opening reception from 6-9 p.m. Sept. 15, artist talk from 4-6 p.m. Oct. 13. Y:Art Gallery, 3402 Gough St.
Mark Bradford: Tomorrow is Another Day
Renowned contemporary artist Mark Bradford represented the U.S. at the 2017 Venice Biennale and will bring that work to Baltimore for the exhibit Tomorrow is Another Day, accompanied by a new site-specific installation, at the Baltimore Museum of Art. Bradford explores themes from his personal life, black identity, Greek mythology, and the universe through mixed-media pieces, paintings, and video. Sept. 23, 2018-March 3, 2019; opening celebration, 1-5 p.m. Sept. 23. Baltimore Museum of Art, 10 Art Museum Drive.
What Makes Us (Us)
Gina Pierleoni exhibits some 200 paintings and mixed-media portraits of people encountered over a 25-year period in Baltimore and beyond. She'll lead a coinciding workshop which will include live music to help to dig deeper into questions of place and perception. Aug. 25-Sept. 29; workshop, 6-7:30 p.m. Sept. 15. Creative Alliance, 3134 Eastern Ave.
AfriCOBRA: The Evolution of a Movement
This group exhibit at Galerie Myrtis celebrates artists in AfriCOBRA, aka African Commune for Bad Relevant Artists, a coalition that was born from the black arts movement that began in the 1960s and is now celebrating its 50th anniversary. The aesthetic of these artists emerged from activism and aims to speak to black people specifically. The show will display paintings, photographs, prints, and 3-D pieces by the group's earliest and most recent members, including Akili Ron Anderson, Kevin Cole, Adger Cowans, Michael D. Harris, Napoleon Jones-Henderson (founding member), James Phillips, Frank Smith, Nelson Stevens (founding member), and Renee Stout. Coinciding programming will include Tea with Myrtis (as in, founding director of Galerie Myrtis, Myrtis Bedolla) and an art salon with AfriCOBRA members who will talk about their artwork and its impact on the black arts movement. Sept. 15-Oct. 17, with an opening reception from 5-7 p.m. Sept. 15. Galerie Myrtis Fine Art, 2224 N. Charles St.
Music
Taste of Tuva
Celebrated artist Joyce Scott will host this special evening featuring the music, art, and food of Asia. Alash Ensemble, a trio of throat singers from the Central Asian state of Tuva, will bring both their music and culinary specialties, while collaborating with Baltimore musicians Shodekeh and J Pope. The event supports the Asian Arts & Culture Center at Towson University. 6-9 p.m. Sept. 15. TU South Campus Pavilion at Towson University, 8000 York Rd.
Abdu Ali's Last Show of 2018
Baltimore music artist Abdu Ali will perform their last live show of the year this month at Metro Gallery, joined by Kotic Couture (hip-hop with pop, Baltimore club, and underground art influences), Pamela_ and her sons (the solo music project of Alessandra Hoshor), and W00dy (Philadelphia-based experimental pop artist). 8 p.m. Sept. 5. Metro Gallery, 1700 N. Charles St.
BeatClub at the Lewis
Over the years, Bmore BeatClub has met regularly inside clubs, bars, and initially a record shop to celebrate hip-hop and beats. Novice artists rap alongside experts at these gatherings, and this month's event will be extra special, as Bmore BeatClub will bring hip-hop, spoken word, and poetry to the Reginald F. Lewis Museum. 7 p.m. Sept. 28. Reginald F. Lewis Museum, 830 E. Pratt St.
Theater
Fades and Fellowship Barbershop Stories
Barbershops are places of conversation and camaraderie—and from this idea came the production Barbershop Stories by Baltimore-based theater troupe Fades & Fellowship. A cast of real barbers will perform the stories overheard in the shop—and then give actual haircuts to selected audience members. Sept. 28. The Motor House, 120 W. North Ave.
Literary Arts
CityLit Swing: A Special Celebration Honoring Kwame Alexander
CityLit will honor poet, educator and New York Times bestselling children's author Kwame Alexander with its Chic Dambach Award for Service to the Literary Arts during a celebratory evening at The Motor House. Sliding-Scale tickets are available for this CityLit fundraiser, which will include lite fare, libations, jazz, and a reading by Alexander. 6:30 to 8:30 p.m. Sept. 13. The Motor House, 120 W. North Ave.
Small Press Expo
The annual Small Press Expo celebrates indie cartooning and comic arts, bringing more than 4,000 creatives to Bethesda for readings, workshops, and to meet with one another. 11 a.m.-7 p.m. Sept. 15 and noon-6 p.m. Sept. 16. Bethesda North Marriott Hotel & Conference Center, 5701 Marinelli Road, North Bethesda
Miscellanea
Mortified: Share the Shame
Everyday adults share their most mortifying moments via teenage diary entries, poems, love letters, lyrics, and locker notes in this popular show. 6 and 8 p.m. Sept. 22. Creative Alliance, 3134 Eastern Ave.
Mono Practice
Founding director Ruri Yi is opening a new contemporary art gallery, Mono Practice, in Station North this month, with a focus on abstract and reductive art. The inaugural exhibit, Pointing To The Sun | An Exercise In Abstraction, is curated by Rod Malin and will feature work by Baltimore-based artists David Brown, Zoë Charlton, Ariel Cavalcante Foster, Terence Hannum, Stephen Hendee, Bill Schmidt, and Yi. Sept. 6-Oct. 13, with an opening reception from 6-9 p.m. Sept. 6. Mono Practice, 212 McAllister St.