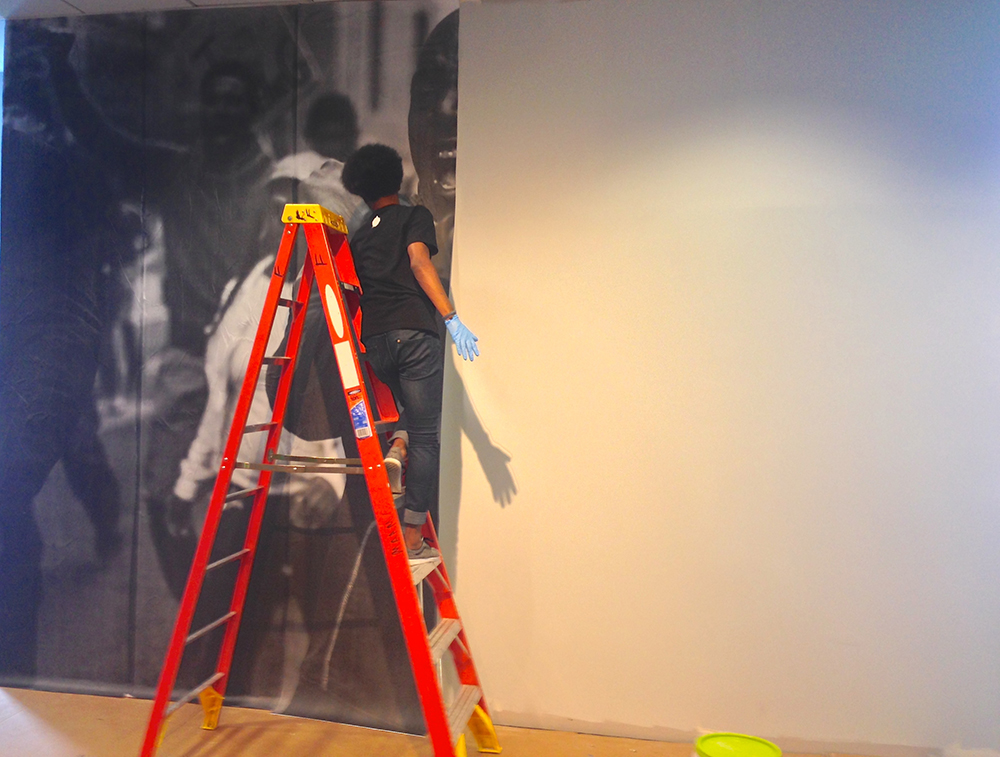 Photography by Jess Mayhugh
Every time Devin Allen walks into the front room at the Reginald F. Lewis Museum he can't help but smile.
There, displayed on a wall, larger than life, is his photograph that graced the cover of Time magazine following unrest in Baltimore this spring—a man wearing a kerchief running from a line of police officers in riot gear. It's so big that Allen sees things he never noticed before—the number of officers, people off to one side running for cover.
"It's just amazing," Allen said Wednesday morning. "I'm reliving those moments and seeing things in those pictures. I'm so used to looking at them on Instagram or looking at it on my camera."
There are other photographs, too, which Allen and museum staff are in the process of pasting to the gallery walls. A police officer with tears in his eyes, the personal favorite of the museum's executive director, Skipp Sanders. A boy wearing a police hat looks out through glass windows onto President Street.
It's all part of a new exhibit, and Allen's first solo show, called "Devin Allen: Awakenings, In a New Light" that runs July 10 through Dec. 7. The exhibit is free, and takes over most of what was the gift shop on the museum's first floor.
There's also going to be a photo timeline of the events following the death of Freddie Gray, arranged on a chalkboard-painted wall so viewers can share their reaction to the photos, or where they were on that day.
When selecting these photos, Allen said he was looking for a good mix of protesting, rioting, and unity, and included prints that are not as frequently seen. In one, a man bows his head to the ground in front of a cross. In another, a white protestor who's been maced has milk poured in his eyes.
The timeline is what Allen is most excited about. "I want to see what everyone is thinking. What do you feel, what do you see? Everybody is going to look at the pictures and get something different," he said.
Then, he ascended a ladder to smooth one of his photos onto the wall.