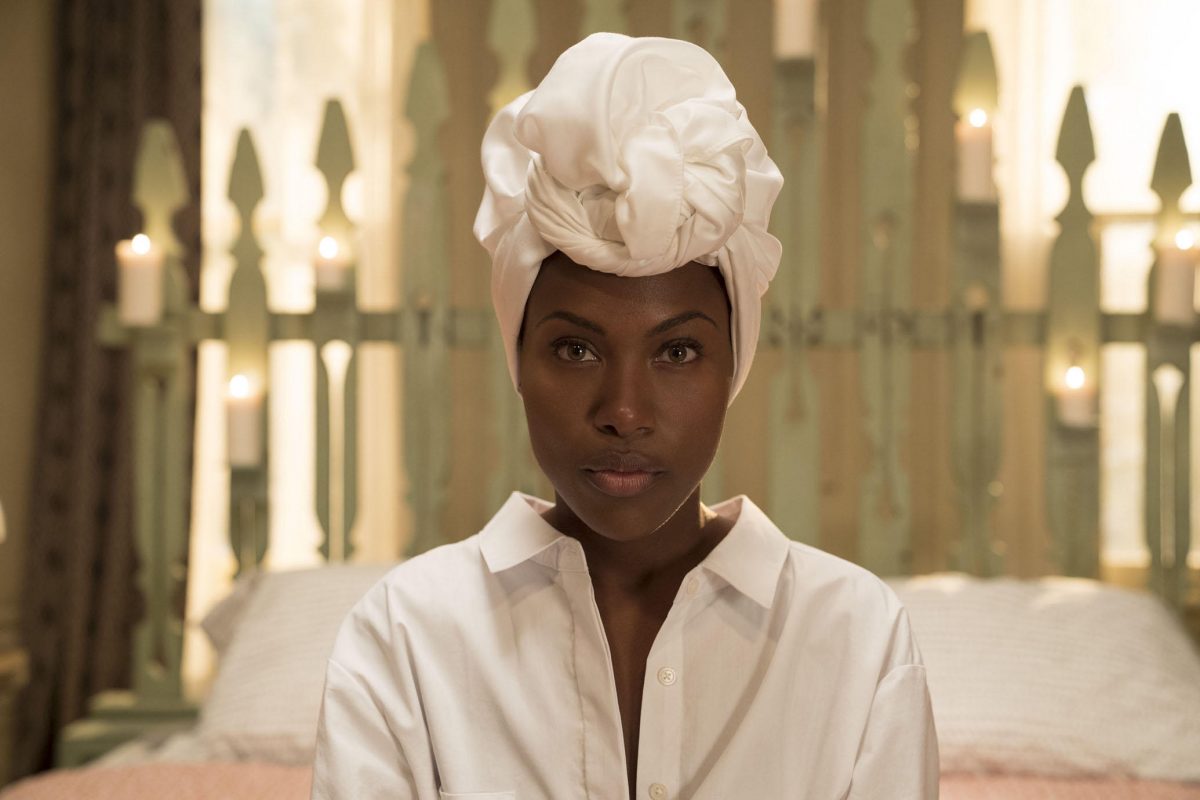 Netflix
If power and persistence were to exist in the form of a woman, she would be DeWanda Wise, a Baltimore native and the star of Spike Lee's new Netflix series She's Gotta Have It. Having grown up in Woodlawn, Wise plays the titular character Nola Darling in the new dramedy series based on the 1986 film of the same name. We recently talked to the actress about her journey full of bullseyes and do-overs, why she fell in love with the character of Nola, and the industry's need to portray more people of color. 
You started out doing theater in high school. Was it in college that you decided that acting is what you wanted to do? 
Oh yeah, I don't think I would have gone to college. Before I wanted to be an actor, I wanted to be a therapist but I wanted to be a therapist but the more I learned about the industry, while taking AP psych at Atholton [High School], I was like, 'Maybe not . . . this.'  I was still a kid and I was still very much like, 'Black people don't go to therapy,' and those were the people I wanted to serve and that's what it was at the moment. And then I discovered, or rather, Nathan Rosen forced me to discover acting and I was like, 'Oh this is where it all goes!'
This year it's like you shot out of a cannon! I know it didn't just happen in a year, it's been a process. In 2016-2017, you did Underground, Shots Fired, and She's Gotta Have It. How does that process work?
While I was doing Shots Fired, I taped for Underground and went to the call back in Savannah, Georgia and that was from August literally through filming She's Gotta Have It. I wasn't done filming Underground yet when I started filming She's Gotta Have It in mid-October and finished early February 2017. So I was filming all of 2016.
Were you in New York for most of this?
I was in Charlotte, North Carolina for Shots Fired and then Alano and I went Savannah, Georgia for Underground and then I was in Brooklyn for She's Gotta Have It. That was all of 2016 and all of them had been like seeds. Shots Fired was Gina Prince-Bythewood, Reggie "Rock" Bythewood, and the first time I had ever encountered either of them was in 2007 at my audition for Notorious. The second thing I was up for he [Reggie Rock] had a pilot called Gun Hill at BET and I screen tested for that and then I went in for a small role in Beyond the Lights. So this was my fourth time going in for anything with them. I went in for three roles—Sanaa, Ashitey, and Shameeka.
In your story, I hear a lot of persistence. I hear you saying that you've got to just keep going and keep trying.
You do and I feel like there are a lot of artists who are uncomfortable with the business component of it because it's just like, 'Listen I just want to create my art.' My mom reminds me that I was such a theatre snob and that I was like, 'I want to only do theater' when I was in school which was so dumb. Unless you are on Broadway every week you are not making money in American theater. You can't support yourself. 
But that's not the point. The point is she reminds me that really what I was experiencing was that I didn't believe that the work existed in film and TV that was compatible with what I wanted to do or what felt like what I would do.  It all goes back to say that having an understanding of the business of how casting works is important and that it's really not personal. It wasn't a blow to my spirit or psyche and I feel like that kept me in it more than anything. Then it became a matter of being like, 'Oh let me find my tribe. Let me find people whose work is compatible with what can I contribute.'
How do you prepare for a role?
Physically, I try to workout in a way that's organic to the characters I'm playing. For Nola, that meant spin class and yoga because she's always riding her bike and goes to dance class with her friends. In terms of research, I was also an Urban Studies major, so I was fortunately very familiar with the major themes of the show. Outside of that, I do my actor work and trust the collaborators around me.
You are very transparent on social media about what your needs are as an artist, how important is it to have the proper guidance in your industry.
Everyone before the show came out were like, 'Are you ready? Are you ready?' and what's beautiful about stepping into the skin of Nola, as a 'Type A' human being, is it opened my process up and it opened me up to being less controlling, to being more open in a way to what things are and not being presumptuous about what it was going to be. There have been a ton of things in my life that have been like that. That have been like, 'Maybe don't walk into this with preconceived notions.' Maybe don't walk into it like, 'This is who I am' because who I am is constantly evolving. 
So all that is to say there is no real preparation for someone who comes from a for real place and comes from a working-class background for what Hollywood is. In terms of my transition to where I am now, I have had the grace and the fortune to see my husband become a principal actor on a show and I have had close friends that have 'blown up' before my eyes. There is a lot of peer engagement, there are a lot of people who this is happening to at the same time, we call it 'hatching."
I can bounce ideas back and forth with them, but when it comes to that intergenerational conversation, people who have already moved through this space, it is presumed that they don't have the time [to mentor]. I am trying to make sure that I am transparent about younger actors and younger activists knowing that I am making the space and the room for them and also not being afraid to reach up and be like, 'Is anyone up there making the space and the room?' When things come up it would be nice to have someone who [already] moved through it to help.
What motivates you and your husband, Alano, to do the independent film work that you do? What informs that work?
It speaks to working with Gina, she has an indie film background. It speaks to Spike and I being kindreds—he is still even at 60 still so inherently indie-minded. My first project, I was still in college, was an indie called Spinning In A Butter and it was about the undercurrent of race relations on a predominantly white campus. I think that in my bone and marrow and by the will of God, the stories that I have wanted to tell have always been through an independent lens. 
In the very beginning, I was hit on multiple fronts with challenges in my career path. We had the writer's strike, the recession, there were a number of things that forced me even further into an independent space. If I wanted the work to exist, it wasn't paid. I have a ton of short films that were just for the love of story, for the love of art. In addition to any formal theater you see on my resume, I was a part of several small theater companies in and around New York. So it has always been an aspect of my career and it always will be. 
I am literally filming an indie right now. A director I know was like, 'What are you doing in December?' and I was like, 'We makin' a movie?' So doing indie film came from a need, a hole in the industry of stories of color, underrepresented marginalized communities, people we just do not see. My need to create in an independent space has always come from the recognition of something that is lacking.
There is so much going on with the #MeToo movement and women's empowerment. She's Gotta Have It couldn't have come out at a better time.
What I was drawn to in Nola is seeing a woman in process. I do think it is very easy to see her and have strong feelings about how messy and not graceful she is in the midst of that process, but I think throughout it all what struck me and what continues to encourage me is knowing that it is okay for us to be in process. These narratives about us saving the world or being strong and resilient and beautiful women we are, while that is very important and it's in our DNA, it's also okay for us to be fragile and vulnerable. 
Many of the women that we look up to, the Michelle Obamas, the Maxine Waters, the Oprahs were all at once and still are, even though we don't see it behind the scenes, 'in process.' We shouldn't get so caught up in the whirlwind of trying to 'make it' that you don't take up the space to be. 
Where do you see yourself in 10 years?
Creatively, I would love to be producing more in 10 years and be providing opportunities for other artists. I anticipate a great deal of public service and philanthropy. And still madly in love with Alano.