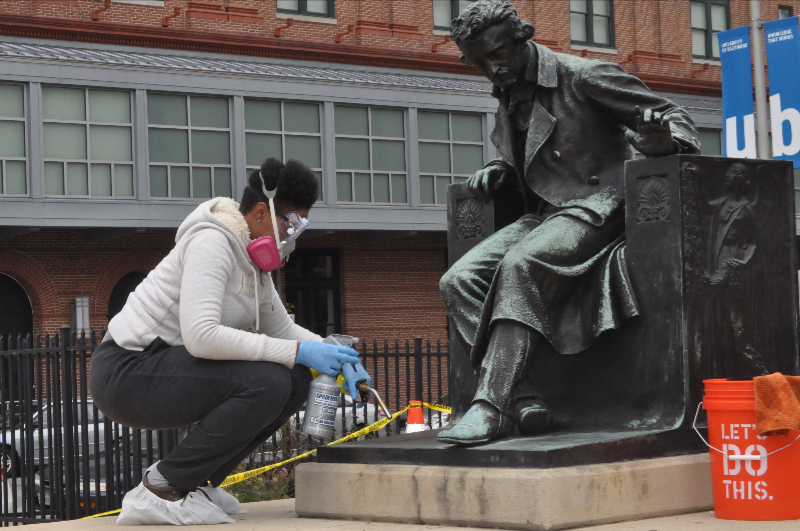 Courtesy of Jeff Feeser Photography
Edgar Allan Poe is getting a spiffy new look for his birthday this year.
The statue at the University of Baltimore plaza that depicts the iconic poet and author, who spent his last days in Charm City, is getting years of corrosion taken off, to restore him to his gleaming black self. And just in time, too—today he would have turned 207.
The restoration is the work of conservator Kenya Brown, a Baltimore native who first grew to love Poe in middle school when she did a dramatic reading of his classic short story "The Tell-Tale Heart." She says she first noticed how green he had become after walking on Mount Royal Avenue during last summer's Artscape festival, and remarked to her fiancé, "Gosh, he really needs some work."
After seeing the statue months later in the same shape, she called the University of Baltimore, and they contracted her to restore it. Brown says the greenish hue is the result of sulfates and nitrates from car exhaust—the Jones Falls Expressway is nearby—and the salt air from the harbor.
"Once it gets under the skin of the metal, it causes corrosion, " she says.
Brown is using the compound potassium sulfate to clean Poe up, then she'll give the statue a coating that will keep the corrosion from coming back so quickly. She started work on Jan. 4, and if you want to catch her in action, make sure you stop by the campus this week—she's hoping to wrap up work by Friday.