Making It Big
A towering presence in-person and online, Evan Wallace shoots for breakout success.
[Editor's Note: Evan Wallace, aka e-dubble, passed away on February 13 at the age of 34. According to XXL, the rapper was suffering from "an aggressive infection, which spread throughout his body." Fans from all over the world have taken to social media to mourn his loss, including one from Ontario, who simply said, "He will always be a king in our eyes." In 2014, we recounted his rise to underground fame and detailed the legacy he leaves behind."]
These days, success is measured in hits, tweets, and likes. So if
we're talking about a Baltimore musician with 23 million YouTube views, 9
million streams on sites like Spotify, and 91,000 fans on Facebook, you
might expect to have heard the buzz. In the case of Evan Wallace, aka
e-dubble, chances are you haven't. It's an ironic wrinkle in this
virtual-marketing era that a rising rap star like e-dubble—a short form
of Wallace's initials—can reach millions of fans around the world yet
remain largely unknown at home. Physically, the 31-year-old Wallace is
hard to miss. Nearly 7 feet tall, he is a mountain of a man with dark
green eyes radiating intensity. In a brown zippered cardigan, 501 jeans,
and a Polo beanie pulled over his brush cut, he looks more like an art
student or a lumberjack than a typical hip-hop artist.
His music is atypical, too. Wallace eschews the genre's classic
themes—street life, mayhem, various ways of spending lots of money—to
write about the trials of a regular guy. "Honestly, I wasn't sure it was
a story worth telling," Wallace says, sitting on the couch in the South
Federal Hill apartment he shares with his manager, Justin Barker.
"He's just a normal person with normal problems, and a lot of
listeners can relate to that," adds Barker, unpacking Starbucks
breakfast sandwiches in the kitchen. Barker, like Wallace, doesn't fit
the hip-hop mold. With his pale blue eyes and blond curls, he could be
straight outta Minnesota.
"I don't know if I'd say normal," Wallace replies. The reticent giant
and his buttoned-up best friend bicker and correct each other
constantly. ("They never stop, they're like an old married couple,"
notes Brandon Lackey, who records Wallace's tracks in his Parkville
studio.)
Their high-ceilinged, modern apartment has a minimalist feel, mostly
because Wallace hasn't found time to unpack since they moved in six
months ago. Only two things have made it onto the walls so far: a large
whiteboard covered with tour dates and a small painting of a young
Wallace holding a toy gun that was commissioned for an e-dubble album
cover.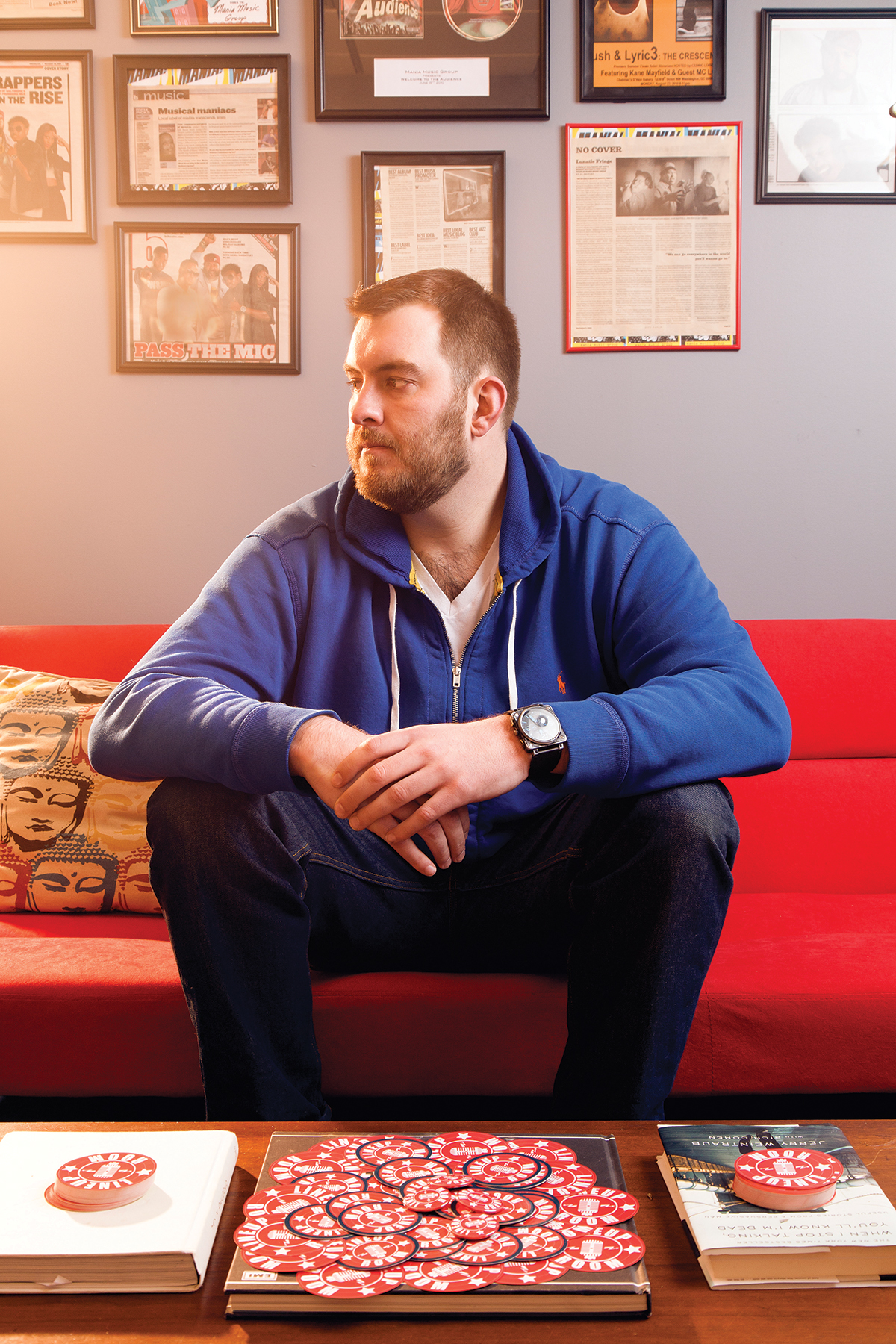 There are exactly four books on the shelves: Shel Silverstein's Where the Sidewalk Ends, The Joy of Sex (a gift from a college girlfriend, Wallace mumbles), Can't Stop Won't Stop: A History of the Hip-Hop Generation, and a musician's guide to PR and marketing.
While Barker's room is neat as a pin, Wallace's is a morass of
clothing and size 15 sneakers interrupted only by home-studio equipment
(computer, microphone, MIDI keyboard, and pre-amp) for recording demos
and rough mixes.
The apartment includes one other inhabitant, Wallace's beloved dog,
Lewis, a golden retriever/mutt he rescued. "I think she knows I saved
her," he says, as she gazes at him devotedly.
It's taken Wallace and Barker years of work to get to this point: the
impressive Internet presence, steady concert bookings, and a revenue
stream that supports both of them and pays the rent. The next step is a
big one, though—the one where e-dubble steps into the spotlight.
And there have been unexpected stumbling blocks in the past.
Wallace
grew up outside of Philadelphia, the youngest child of a principal and a
schoolteacher. Like a lot of boys in the early 1990s, he and his
friends fell under the spell of hip-hop cast by Snoop Dogg and Dr. Dre.
He played center—of course—on the Wissahickon High basketball team and
dreamed of being a rapper. As a white guy, he didn't have many role
models for being a solo MC. In fact, the only one he knew about was the
much-maligned Vanilla Ice.
Then, Eminem hit it big with the Slim Shady LP in 1999. "I
remember how hyped we were," recalls Wallace. "Eminem showed that a
white rapper could have a career. It was about skills, whether or not
you could do it."
By then, Wallace had begun making his own beats using a drum machine
and sampler from RadioShack. But writing rhymes to go with them didn't
come as easily.
"There's a kind of outgoing, boisterous MC personality that wasn't me
at all," he explains. "I was never the guy who was gonna take over a
room."
He kept thinking he'd meet a rapper to work with, but by the time
he'd graduated from St. Mary's College of Maryland with a degree in
political science, no one had materialized. Finally, he started writing
himself. And if his story—sensitive white boy from the suburbs drinks
beer, likes girls, is alienated—wasn't as dramatic and violent as those
of the rappers he admired, maybe those differences gave it legitimacy.
Wallace's first album, 2009's Hip-Hop Is Good, was virtually
a one-man effort, written, recorded, and produced while living in a
Hampden warehouse with college friends. One of them helped with the
cover art. Barker took on marketing and business duties.
To get attention, he and Wallace developed an ambitious strategy that
involved releasing a new e-dubble track every Friday for an entire
year, starting in January 2011. They bombarded key rap bloggers with
the weekly releases, hoping to get exposure via social media.
It started slowly, one Myspace post and Facebook comment at a time,
as listeners noticed that Wallace's version of hip-hop was a little
different from anything they'd heard. He sampled Guns N' Roses, The
Black Keys, and Tom Petty; recorded long, idiosyncratic outros in which
he mentioned NCAA scores, current events, or football news; and, where
other rappers peppered their songs with shout-outs to Biggie and Tupac,
Wallace rapped about Diane Rehm and name-checked John Cusack, Carrot
Top, and Tracy Chapman.
"Honestly, I didn't like him at first," says Jacob Moore, founder of the influential Pigeons and Planes blog. "I thought he was kind of corny."
But, by the 37th installment of Freestyle Fridays, Moore had changed
his mind. "The sample translates perfectly into a contagious
I'm-gonna-hum-you-all-day beat," Moore wrote about that track (simply
titled "Get On Board"). "E-dub's message and delivery is as clear and
sharp as a shard of glass."
Once converted, Moore became a key ally, posting praise and featuring
Wallace at a showcase in New York. By the time Wallace and Barker
released a mix-tape of the Freestyle Friday songs, titled
Written Thursday,
on their Black Paisley Records label, their plan was working. The
compilation was downloaded 10,000 times the first month it was posted,
T-shirts were printed, and shows were booked at The 8×10 Club and out of
town. Wallace quit his day job at a Fells Point bar.
But just when Wallace's career was gathering speed, it took a sudden
U-turn. The intense schedule of Freestyle Fridays had gotten Wallace
into a "routine I can't recommend to anyone," he says, noting that he
was working furiously for half the week and celebrating the other half.
"And by celebration, I mean vodka," he adds.
Soon he was running on empty, depressed, and questioning his choice
of careers. "I was in euphoria for so long I didn't realize there was a
ceiling—until I hit it," he says.
He went to a therapist, who put him on a cocktail of anti-depressants
and other drugs. They seriously backfired. The manic episodes that
ensued included wild drives on the Beltway, a crazy night spent painting
all the mirrors in the house blue, and another night punching holes in
the walls.
Barker watched the meltdown with extreme concern, before finally
breaking down and calling Wallace's father for help. After a week in a
psych ward, Wallace spent nine months living in Philly with his parents
and his dog. "Lewis had been with me for every single Freestyle Friday I
recorded," he says, "and she was my muse and my sounding board as I
started working again in my parents' basement."
Writing was the best therapy of all, Wallace found. "Not only was it
cathartic to put the feelings into words, but it rebuilt my self-esteem
and confidence," he says.
By the time he and Lewis returned to
Baltimore, Wallace had finished Reset, an album telling the story of his
breakdown and tracking his recovery.
With its video-game metaphor for getting a second chance—Hit a little button, everything will be all right—the title song is a generational anthem with an infectious melody and a name-check of Han Solo.
Released in November 2012, Reset was welcomed by the growing army of
e-dubble fans. It debuted at No. 8 on the iTunes hip-hop chart and was
pegged as a "Heatseeker" in
Billboard.
Since then, Wallace and Barker have been working to expand their
reach. "There's only so much you can do with two guys and a computer,
working your ass off with three hours of sleep for years on end," says
Barker. "At a certain point, you need a live show, videos, and a touring
setup, and that takes money, relationships, and credibility."
Those things have begun to come together. Wallace has been gigging
with a backing band just like fellow Philly natives The Roots. (Full
disclosure: my son, Vince, is his bassist.) He's been touring mostly up
and down the East Coast and into the South, and, in March, he'll play
South By Southwest, the music industry's biggest showcase event, in
Austin, TX.
At this point, Jacob Moore suggests that Wallace's reserved
personality is the last serious stumbling block he has to surmount. "For
the first year or so of being familiar with e-dubble," he says, "I
didn't know what he looked like, who he was, what he was all about. He
refused to sell himself. He didn't even have real press pics. For a
while, I remember he was using one where his face was blurry and a dog,
[Lewis], was sitting on his lap. One picture of him, well-styled and
looking 7-feet tall, and he could have gotten a lot of attention.
Instead, he's sending out iPhone pics of the dog."
Wallace admits it's true. He hates self-promotion, and has always
wanted to believe the music would speak for itself. But he has come to
understand that image is essential. "For the music to be heard, I need
to be seen," he says.
As he talks about upping his profile, Barker pulls out his phone and
pulls up an e-mail that floated a possible Puma endorsement Wallace's
way. Coming via
The Fader magazine, it mentioned providing Wallace "cool kicks and gear" for his South By Southwest show.
Though the Puma connection could reap some reward, Wallace doubts the
company will have anything in his size. "It would have to be double-X,"
he says.
"Double?" repeats Barker dubiously. "You mean triple."
"I wear double-X sometimes," Wallace counters.
In any case, it's gonna have to be big. It's all gonna have to be
big. E-dubble is going big, and it's not just his sneakers and gear.
---
Listen to Wallace's recent work, including "The Grey (radio edit)," below.