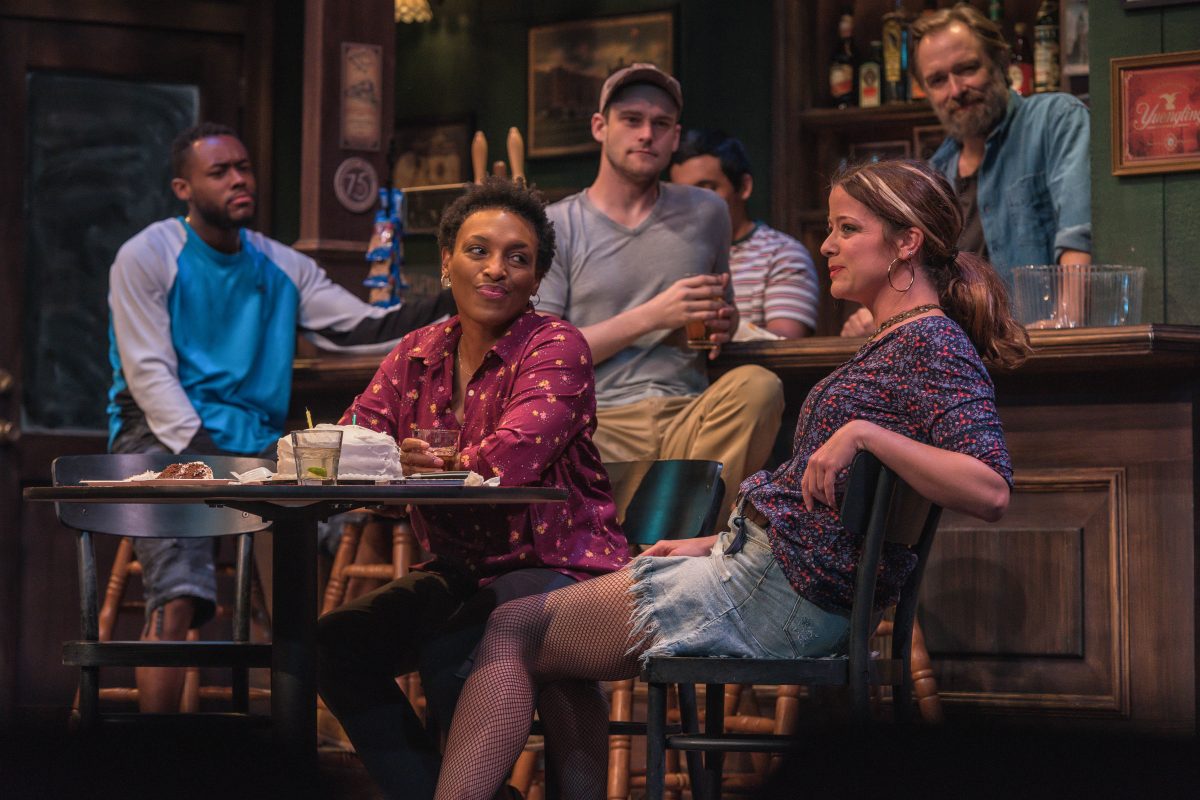 Everyman Theatre
Some might think that visiting the same playwright four times in as many years would get repetitive. Not so with Everyman Theatre's return to Lynn Nottage's Pulitzer Prize-winning work with this month's Sweat. The play tells the story of a group of friends, family, and coworkers, most ticking multiple boxes on that list, as they deal with the closing of the local mill and the personal and professional consequences that come with it.
A wrenching, compassionate look at people caught in the wake of the financial collapse of the early- and mid-2000s, Sweat looks to the past but feels firmly locked into the present. We all know these people. Some of us are or were these people. While the story plays out in Reading, Pennsylvania, in 2000 and 2008, the conversations and problems could unfold in any working-class bar in any blue-collar town.
In a time when we feel so divided and so at odds with one another, Sweat does not come bearing a message of hope, or unity, or some other seemingly unattainable thing. What it offers instead is a reminder of how we got here in the first place—a chance to understand the frustrations and situations that, allowed to fester and escalate, gave rise to the problems plaguing us today. Maybe, in order to move forward, we first have to look back. Lynn Nottage's work gives us time to do that.
It's done through relatable people (in this case, a talented mix of both the resident company and several actors in their Everyman debuts) in the most relatable of places, a local bar. At the end of each day, it plays host to celebrations and screaming matches, moments both triumphant and unspeakable. It's an extension of these characters' homes, and in fact is more real and tangible to us than any other location. Its illusion of familiarity can be credited in part to resident set designer Daniel Ettinger, who transformed the Everyman stage into a working pub, complete with taps pouring actual (non-alcoholic, there are lines to be remembered after all) beer, faded local ephemera on the walls, and a jukebox dispensing '70s and '80s hits as the stage literally revolves to move from scene to scene.
"I was lucky that the crew at Everyman has been developing their skills in motor control and moving scenery quite a bit lately, which let us pull off a lot of the things that would've been very difficult for us the three, four seasons ago," Ettinger says. "The technical growth of the company has really been exciting lately. It looks simple from out front, but there was a lot of technology going on."
We caught up with Ettinger to discuss his process, how he created a Reading bar on a Baltimore stage, and what the new setup offers future performances.
Where do you start when preparing to design pieces for a new show?
I absolutely begin with texts and the story that the director and the company is trying to tell and how the visuals of that story can impact an audience and help them understand the events we're trying to describe to them. I've got to go through the script multiple times and look at the intention and requirements and that sort of thing to know what's going to need to happen in a space. I kind of need that in my head as I began to then look for the inspiration of how to start.
How did you choose what sort of spaces to create for Sweat?
I looked at a lot of research about Reading, Pennsylvania. I was lucky that Deb Hazlett drove up to Reading and she had taken some local photographs as well, but there's a lot of visuals available. The play deals with serious economic issues and the collapse of the financial infrastructure of the town, but the place where this group of friends is accustomed to going to for years and years, even before the play takes place, was once something that was actually quite nice. It's very much still a neighborhood bar. It's not that the financial collapse happened and suddenly the walls fell down.
So we wanted to make sure that there was a real sense of home and almost safety and comfort and familiarity in how the bar feels today. Then I wanted to set it all in some sort of gray void that told you nothing about what was going on outside, but that would just exist in a state of unease so that really the only way to find a place was to come inside the bar. The outside, it was kind of nothing but steel smoke, if you will. I didn't want to describe the town of Reading or what's outside the windows. I wanted it to be this mass of gray that all of their lives had been thrust into. And so I wanted to put the set in the middle of that sort of gray box.
What challenges came with designing the different spaces you needed to tell this story?
It all goes back into extreme practical. We were given such a beautiful text, and when you're given a theater space and you're given time and money and this really talented staff, choices begin to emerge that would not emerge without all of those elements in place. Coming up with the conceit of the splitting of the other side of the revolve in half for the parole offices and the two apartments for example. And thinking about the revolving terms of the way that it moves time forward and backward, which was really helpful as well. We've done some smaller turning pieces on stage before, but this is the first time we've done what is nearly as large a turntable as we could fit into the space. We were squeezed in in a way that we've not really done before. Just technically speaking, we couldn't have done this before. Fortunately the revolve has been built to where it comes apart and it can be stored for future seasons. So it's a real asset.
On top of the regular visuals, you also had to create a working bar for this show. How was that experience?
Yep! It's tight back there. There's not a lot of depth. They're pouring non-alcoholic beers on tap, so there's a keg and the ice chest, it's all back there. There's quite a bit happening behind the bar and a very narrow space when you go through. There's a little swinging door in the back area of the bar that, when you go in that room, we really feel like we're in the back storage section of a bar. There are also all those images that are covering the wall, which were done with the help of Jillian Matthews, who's the prop master there. Except for the few images like the Yuengling labels or the whiskey labels, all of the pictures of the sports teams and the celebrities are people from Reading, Pennsylvania.
You're working on a couple other shows this season. What upcoming projects are you excited about?
I'll tell you the approach we're taking with the holiday show, The Importance of Being Earnest, is just really going to be fun. Capital letters all the way across.The director, Joseph Ritsch, has got a really great visual idea. It's a great cast and it's going to be a lot of fun. It's coming up way too quickly. The other piece I'm doing is called Everything is Wonderful. It's a story set on an Amish farm. The playwright has been very careful to not be too specific as to where, but we have our thoughts about that. It's a beautiful, beautiful play. I couldn't put it down, and I really was moved when I finished the piece.
I feel so lucky that I love telling a wide variety of stories. I've been at this for quite a while, and sometimes people ask me, "Well, what else would you like to do?" And I'm like, "Well, no, sorry, this is kind of it." Every time you sit down with a new play, even a play such as The Importance of Being Earnest, which might not be new, but it's with a new creative team and the new director, there are new things happening out in the world that change what a play has to offer to an audience.